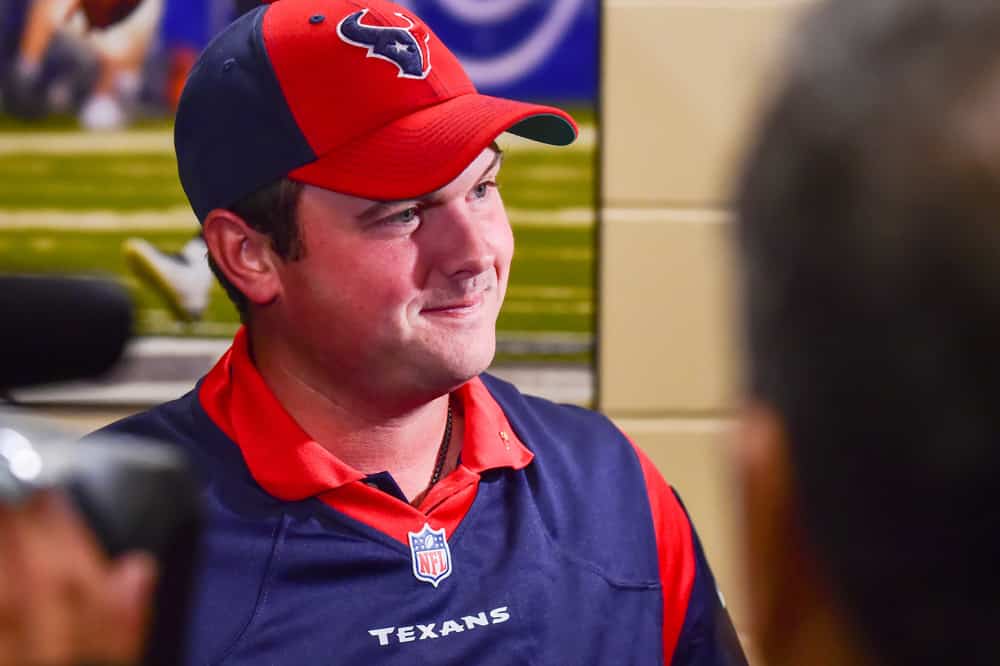 There are hundreds of ways to bet on Super Bowl 55. From betting the coin toss to what color Gatorade is dumped on the winning head coach, Sportsbooks stretch their imagination to offer exotic props for bettors to gamble on.
Cross-sport props are a very popular avenue for gamblers during the Super Bowl. Not only does it tie in other sports played on Super Bowl Sunday, but if handicapped correctly it can offer a gambler a better line or price than a standalone prop. Predicting outcomes in golf is a great way to beat the book on Super Bowl props offered.
These Super Bowl 55/Golf cross-sport props are from the brainchild of Jeff Sherman of the Westgate Super Book. Many books will then copy these to offer on their own. Occasionally, however, you'll be able to find a book that does not respond to the market movement of the standalone prop by changing the line of the cross-sport prop. That provides for both arbitrage or grabbing a better line on a player prop total if you're confident about what will happen with the golfer.
Related: Super Bowl 55 Player Prop Bets
Here are a few Super Bowl 55 and Golf cross-sport props to bet this weekend:
Jon Rahm 4th Round Birdies (-0.5) vs. Leonard Fournette Receptions
Standalone Super Bowl Prop: Fournette Receptions – O/U 3.5
Projected Rahm Birdie Total: 4
Jon Rahm Analysis: Jon Rahm's career at TPC Scottsdale is quite strong. Entering the 2021 tournament, Rahm gained 2.3 shots per round on the field in 20 career rounds. He also averaged 4.3 birdies per round at the tournament since 2017. Rahm is also one of the more prolific scorers on the PGA Tour. He routinely outpaces the field in birdies per round, averaging more than 4 per round every year as a professional on the PGA Tour.
In the final round of the Waste Management Phoenix Open, however, Rahm has struggled. Rahm averages 1.7 strokes worse in the final round at TPC Scottsdale than his career scoring average at the course. In the 2020 final round, however, Rahm did card five birdies. But in the three years before that he only carded six combined.
Golf is such a variable sport that handicapping based on what a player does in a particular round can be very misleading. Taking what a golfer does over the long term is much more reliable. Given Rahm's strong play and very favorable weather conditions on Sunday, four birdies for Rahm is probably a very solid number. This is also what the book is projecting based on this cross-sport prop.
Leonard Fournette Analysis: Since the bye week and Ronald Jones' injuries, the Bucs have utilized Leonard Fournette more in the passing game. Over his last six games, Fournette has averaged 4.7 targets per game, and 5.7 per game in the playoffs. Meanwhile, the Chiefs have been quite generous to pass-catching running backs recently. The Chiefs enter the Super Bowl allowing running backs to catch at least 6 passes in 4 of their last 5 games.
The Bucs may look to try and slow the game down to keep the Chiefs offense off the field. One way to do that is by utilizing dump-offs to the running back to burn the clock for small chunk plays.
How To Beat The Book: On this book, money is on the side of the over for Fournette's standalone reception prop. The over is currently at -150. Given that 4 birdies for Rahm is a reasonable forecast, a bettor who likes the over on Fournette's receptions might find this prop very appealing. This prop is currently at -115 each way. Betting Fournette Receptions +0.5 saves a bettor a significant amount of juice.
The Pick: Based on tournament conditions this year, Rahm has a very good chance of putting a lot of circles on the scorecard. As of this writing, fourteen holes played under par in the second round of the Waste Management Phoenix Open.  Conditions at TPC Scottsdale resemble that of a dome. With temperatures in the 70's and little wind, the golf course is very gettable.
With easier scoring conditions, Rahm stands a great chance to put up five-plus birdies on Sunday. While Fournette has seen more targets lately, matching an anticipated high birdie total for Rahm seems like a tall order. And complicating Fournette's usage is a healthy Ronald Jones II. Rahm -0.5 birdies over Fournette receptions is the play.
Xander Schauffele 4th Round Score vs. Chiefs Rushing Yards (-9.5)
Standalone Super Bowl Prop: Chiefs Rushing Yards – O/U 82.5
Projected Schauffele 4th Round Score – 73
Xander Schauffele Analysis: Similar to Jon Rahm, Xander Schauffele's fourth rounds at TPC Scottsdale have not gone well. In three career tournaments, Schauffele's average final-round score is 71.3. That's almost three shots worse than his career scoring average at the golf course.
As mentioned above, though, relying on such a small sample size can backfire spectacularly. Xander overall plays the golf course very well. In addition, Xander's averages 68.9 in all his final rounds on the PGA Tour over the last three seasons. The final round at TPC Scottsdale is expected to have very favorable weather conditions for scoring. Schauffele should have a solid final round.
Chiefs Rushing Analysis: Most of the praise for the Chiefs offense is through the air, but they've found good success on the ground too. They ranked 13th in rushing DVOA in 2020. Excluding Week 17 (where the Chiefs rested their starters), they've averaged 125 rushing yards per game over their last five contests. And with Clyde Edwards-Helaire healthy, the Chiefs have a three-headed monster in the backfield. Patrick Mahomes also should be healthy to chip in with rushing yards on QB scrambles too.
However, they have sustained some recent injuries to their offensive line that may negatively impact the rushing attack. It's poor timing given they face the #1 Rushing Defense per DVOA in Super Bowl 55. The Bucs are fresh off of shutting down the Packers and their vaunted rushing attack. The combination of their strong defensive front and the injuries to the Chiefs offensive line could mean tough times for the Chiefs rushing attack.
How To Beat The Book: Here's an example of how a book has not adjusted the line on the cross-sport prop based on the market movement. The Westgate first set an over/under on Chiefs Rushing yards at 78.5. It has since moved about 3-5 yards higher depending on the book. If they've set the Chiefs rushing total that high, then their projected final round score of 73 for Xander Schauffele to cover the standalone prop is way too high.
No one in the world has gained more strokes per round over their last 50 rounds than Xander Schauffele has. He's gained over two strokes per round on the field the last 50 times he's teed it up. The average score of the field through two rounds of the Waste Management Phoenix Open is about 69.5. Given Xander's prolific success, his final round over/under should be more like 68. In order for the Chiefs to cover, they'd have to rush for only 77.5 yards.
This gives a bettor interested in betting the Chiefs rushing total a choice. If they love the over on Chiefs rushing yards, this prop is a great bet for them. Over bettors can hit this at the same price as the standalone prop knowing they have 5 free yards given to them. Those who like the under, however, are better off betting on the standalone prop of 82.5.
The Pick: Though the Bucs are a formidable foe, there are a lot of ways for the Chiefs to rack up a significant amount of rushing yards. It could come through traditional handoffs to their trio of running backs or jet sweeps to their speedy WR's. Mahomes is also expected to be under a lot of pressure with the injuries to the offensive line. He's more than capable of scrambling out of the pocket for big gains on the ground.
Add to it that Xander's projected score is too high, the Chiefs should cover the 9.5 yard spread over his final round score.
Standalone Super Bowl Prop: Godwin Receptions – O/U 5.5
Projected Johnson Birdies – 5
Dustin Johnson Analysis: There's no questioning if Dustin Johnson is capable of putting lots of birdies on the scorecard. Dustin Johnson won the Masters in record-breaking fashion and has firmly recaptured the title of the Best Golfer in the World.
But Johnson's ability to put up a low score in the final round of the Saudi International might not be up to him. Complicating matters is the weather forecast. The golf course is located on the outskirts of King Abdullah Economic City and sits squarely on the shores of the Red Sea. Due to its proximity to the coast, conditions can be quite windy. Winds are forecasted to blow between 15-25 MPH on Sunday.
The golf course is very exposed to the elements, and the wind should make for tough scoring conditions. It's set up as a repeat of the final round of last year's Saudi International. While Dustin Johnson had two eagles and a birdie, the remainder of his card were mostly pars. Scores overall in the field were much higher than of those in the inaugural tournament because of the windy conditions.
Chris Godwin Analysis: With nagging injuries and many mouths to feed, Chris Godwin's usage and production slipped in 2020. After a fantastic 2019, Godwin's receptions, yards, and touchdowns all declined in 2020. Since the Buccaneers bye week, Godwin averaged only 4.3 receptions on 7.4 targets per game.
The optimism for Godwin, however, is his performance against the Chiefs in November. Godwin enjoyed one of his most productive games with 8 receptions for 97 yards. The Buccaneers may look to deploy a similar strategy for quick strikes to Godwin to move the chains and burn up the clock.
How To Beat The Book: Given the tough scoring conditions in Saudi Arabia, five birdies for Dustin Johnson in the final round might be a little ambitious. If you're someone who loves the over on Godwin receptions, this prop is for you. Johnson's birdie total should sit around 3 or 4, giving a bettor a lower Godwin reception target in order to cover. If you like the under on Godwin receptions, however, then betting the standalone prop is the way to go.
Pick: The projected Dustin Johnson total is a shade too high in this prop. In addition, Cameron Brate and Antonio Brown come into the Super Bowl on the injury report. That should benefit Godwin. He's shaping up for a floor of five receptions. That should be enough to cover the spread over Dustin Johnson final round birdies.
Patrick Reed 4th Round Score vs. Tyreek Hill Receiving Yards (-19.5)
Standalone Super Bowl Prop: Hill Receiving Yards – O/U 100.5
Projected Reed 4th Round Score – 81
Patrick Reed Analysis: Patrick Reed has very little success at the Saudi International. He finished 56th in 2019 and missed the cut in 2020. His career scoring average at Royal Greens G&CC is 70.4, which is slightly over par on the scorecard.
Reed's struggles at the golf course have continued in 2021. Through two rounds, Patrick Reed sits in a tie for 52nd at -1. He limped to the finish line in Round 2 with a nasty double bogey on his final hole. Despite his mediocre play, he made the cut and will play the final two rounds. With tough scoring conditions expected on Sunday, it's not very likely he'll post a score under par.
Tyreek Hill Analysis: Tyreek Hill torched the Buccaneers secondary in their November meeting. By halftime, Hill had over 200 yards receiving and three touchdowns. Hill continued to find open space on the field and punished the Buccaneers secondary with his blistering speed.
Hill's dominance continued in the postseason. In two playoff games, Hill averaged 8.5 receptions for 141 yards. He comes into the Super Bowl fresh and ready to repeat the dominating performance he had over the Buccaneers once again.
How To Beat The Book: This is another example of a book not responding to market changes to the cross-sport prop. The line on this prop was originally set with a Tyreek Hill over/under receiving yards of 90.5. It has moved to as high as 100.5 and as low as 95.5 depending on the book.
But even if we take the low end of this range, to cover the spread Reed would have to suffer an absolutely disastrous final round. Based on where the market is on the Hill receiving yards standalone prop, Reed would have to shoot between 76 and 81 to cover. Even with Reed's struggles, that number is far too high.
This once again provides a bettor a choice. If a bettor loves the over on Hill yards, this prop is a perfect fit. A bad final round score for Reed is realistically in the low 70's. If Hill eclipses 90 yards, he'll very likely cover this spread. This prop gives an over bettor 5-10 yards for free.
On the flip side of the coin, if a bettor loves the under for Hill receiving yards, they'd have better luck just betting the standalone prop.
Pick: Like the Schauffele/Chiefs Rushing prop above, the line set for Reed's final round is way too high. The public has pounded the over on Hill's receiving total this week, which makes it a little nerve-wracking to side them. But being able to get 5-10 yards for free off his standalone prop is way too tempting to pass up. Hill should exceed Reed's final round score by more than 19.5 yards.