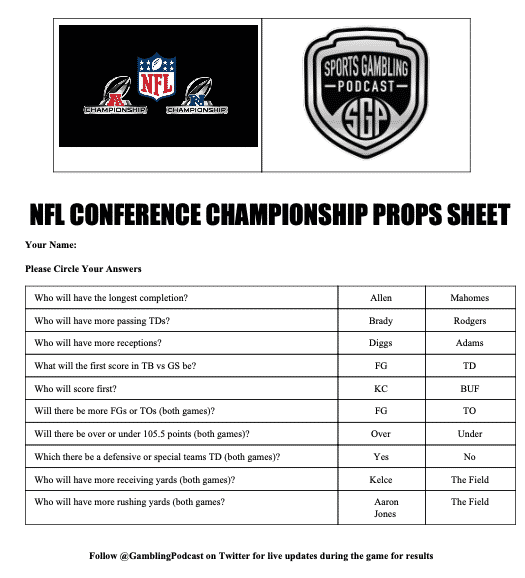 Are you throwing a NFL Conference Championship party (well make it virtual or at least socially distanced, ok?!) and looking for ways to engage even the most casual fans? Then check out the NFL Conference Championship Props Sheet!
Download the printer-friendly PDF version here: NFL Conference Championship Props Sheet
Prop bets have become everyone's favorite way to gamble on the NFL playoffs. That's because you always have something to root for at every step in the game. Which hunky QB will throw the most TDs, Brady or Rodgers? Who will score first, KC or Buff (wait a second – Buffalo is good again?!)? Will Kelce gain the most receiving yards, or will the field? Bet enough of these and you'll always have something to cheer for.


How to Run a NFL Conference Championship Props Pool
Print out enough copies for everyone at your party to play.
Set an entry fee per submission and collect the money when you hand out the Props Sheet.
Make sure everyone understands they have to circle one choice for each answer, plus add the tiebreaker guess at the bottom.
Cut off the submissions BEFORE the National Anthem and collect all the sheets.
Follow @GamblingPodcast on Twitter for live updates during the game for results. That way, you can get drunk and not worry about paying attention to every moment of the game.
After the game ends, add up the correct answers and award the winners.
Most importantly, don't forget to enter SGP's Championship Sunday NFL Playoffs Player Props contest!
Championship Sunday #NFLPlayoffs Player Prop contest! Comment with your four favorite props from this list, hit them all and win a LOCK, DOG, TEASE t-shirt! pic.twitter.com/YmeCol2U5p

— Sports Gambling Podcast (@GamblingPodcast) January 21, 2021
READ MORE