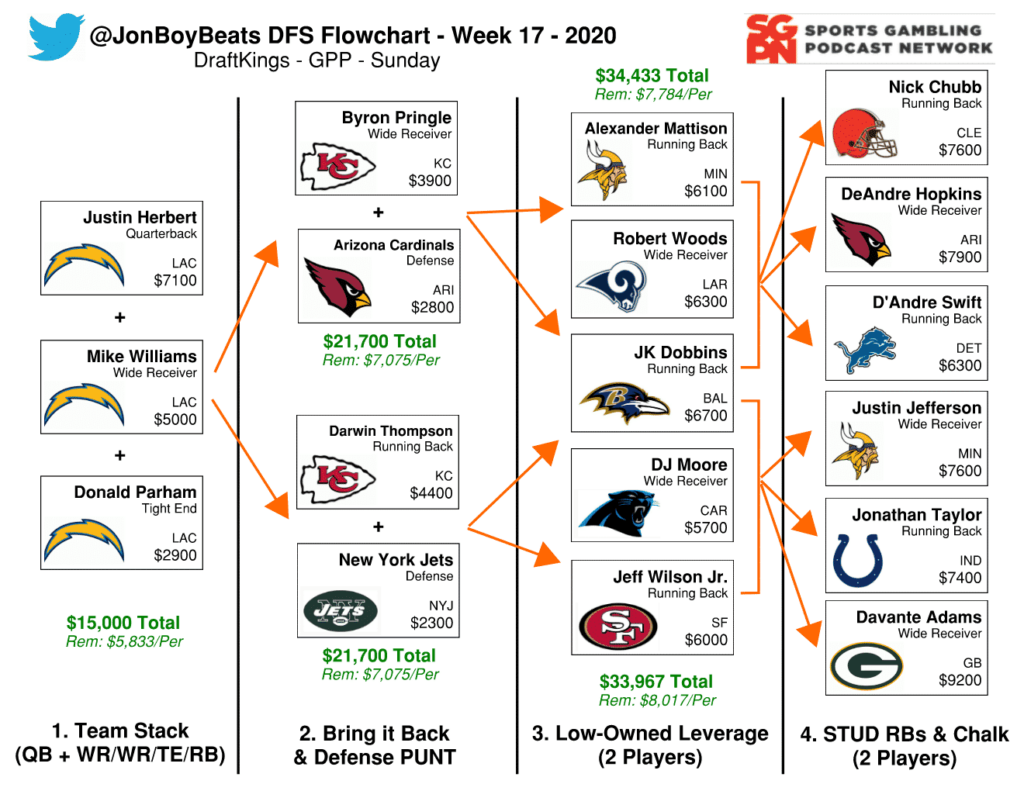 We made it to Week 17 of the 2020 NFL season everyone! If you would have told me back in April that I would be writing up the flowchart for the final week of the NFL season on time and on schedule, I'm not sure that I would have believed you. COVID has hit the league pretty hard this week and plenty of players have found their way to the reserve list. In addition, there are quite a few teams who don't have much motivation to play in the final week of the season. Thankfully we have a ton of games with playoff implications that we can really dig our teeth into for this DFS slate available for the DraftKings Flowchart this week.
Before we jump in, I want to caution everybody on a couple of things this week, both of which revolve around narratives. First, the playoff/motivation narrative (like I touched on above) is definitely an impactful one to be cognizant of. However, I don't think we should simply cross out all teams who are already eliminated. There are plenty of young players out there still trying to make their name in this league, and if the Jets have taught us anything over the last couple of weeks, it is hard for the public to gauge a team's motivation levels. The other narrative is the season-long statistical benchmarks that a lot of players are striving for in this final game. You will see plenty of articles and tweets about players who are just shy of the 1000 yard mark. Or just need a couple of catches, TDs, rushes to set some sort of contractual bonus. I don't think we should completely ignore these narratives, but for me, they are more of a tie-breaker rather than a starting point when looking at the player pool.
Enter the FFPC Playoff Challenge For Only $200!
Week 17 NFL DraftKings Flowchart
Team Stack
I am going right back to the well this week with Justin Herbert and a Chargers double stack. Herbert massively failed us last week, however with Keenan Allen on the COVID list, Mike Williams and Donald Parham are once again in really juicy spots against this Kansas City team who is planning to rest a lot of their key players. Even though the Chargers are eliminated, I do think that Anthony Lynn is still trying to coach to save his job and Herbert will try and continue to push for the Rookie of the Year Award. I am really having trouble figuring out why Williams and Parham are not projecting to be more popular plays this week since they are arguably in a better spot than they were last week. Either way, I am all in on the Chargers against the Chiefs' 2nd string for this week's DraftKings Flowchart.
Bring Back Stack
It appears that almost every fantasy-relevant Kansas City Chiefs player is going to sit this week, including potentially LeVeon Bell and Mecole Hardman. As of me writing this Hardman and Bell are trending to play but I could see both of those guys end up not getting a lot of run. If the Chiefs decide to suit up but sit Hardman and Bell, then I would expect Byron Pringle and Darwin Thompson to be the main beneficiaries. These aren't the sexy value plays that are popping up as the talk of the industry this week, but I am fine just plugging in a Chiefs skill position player and banking on that volume they should see against the Chargers.
Low Owned Leverage
Due to all the roster fluctuation this week, there are a lot of players who are popping up as huge values this week. At this point, we should all be comfortable with how the DFS community reacts to news during the week. We have continued to see players who are popular because of early-week news, lose some steam by the time the slate locks. They oftentimes give way to the chalkier players who pop up due to inactive news late in the week on Friday/Saturday. Lastly, Sunday morning news does not have as much of an impact as it really should, mostly because people are already locked in on their lineups and are less willing to put in the work and change things up so close to kickoff. I want to prepare everyone to be pretty nimble this morning when it comes to changing your lineups before lock. It is an absolute must in Week 17.
Robert Woods and Alexander Mattison are examples of players who were popular earlier in the week but may lose some steam here as we get closer to the slate locking. Woods will most likely be lining up in the slot with Cooper Kupp out and he should be a target monster this week. Let everyone else play Josh Reynolds and Malcolm Brown, we will focus on the Rams WR1 from this 2020 season. Mattison is going to be the starting running back this week for the Vikings against a porous Lions defense. A lot of people will be looking to Justin Jefferson and Irv Smith Jr. (who are both good plays) due to some of the uncertainty regarding Mattison's recent workload. I am willing to embrace the uncertainty and go in on Mattison as a workhorse running back this week. JK Dobbins, DJ Moore, and Jeff Wilson Jr. aren't really players who are going to see increases to their workload because of injury news, but I do think that they are locked and loaded to perform well this week and they all come in at cheap prices and low ownership.
Studs and Chalk Plays
It sounds like Larry Fitzgerald is trending towards being doubtful this week and Christian Kirk has already been added to the reserve/COVID list, so DeAndre Hopkins is in a smash spot this week against the Rams. Yes, I know he has a tough matchup against Jalen Ramsey, but this is DeAndre freaking Hopkins in a must-win game. Absolute gimme for the DraftKings Flowchart.
Justin Jefferson is 111 yards away from setting the rookie record for receiving yards, and that's the kind of narrative that seems impactful this week. It is an achievable mark, and the Vikings don't have much else to play for so they will probably load up the rookie with targets.
Jonathan Taylor and Davante Adams are popping up as two of the best plays of the day, and they both come in at an elevated price tag. We have that flexibility by using the cheap Chiefs players earlier in the flowchart to be able to load up on these two guys. Love it.
Good luck this week and I hope you can end the 2020 NFL regular season with a bang! I will continue to put out flowcharts over the next couple of weeks for the playoff slates, so keep your eye on that. Also, I have started a 3-part strategy series for the FFPC Playoff Challenge, and Part 1 was posted on Thursday. Go familiarize yourself with that contest and be on the lookout for the next two parts early this week.
Past DraftKings Flowchart Performance
Week 1 – Optimal Lineup 157 DKPts, min-cash in GPPs (top 20%)
Week 2 – Optimal Lineup 175.4 DKPts, 3X-4X cash in GPPs (top 4-5%)
Week 3 – Optimal Lineup 122.3 DKPts, no cash
Week 4 – Optimal Lineup 171.3 DKPts, 2X cash in GPPs (top 7-10%)
Week 5 – Optimal Lineup 178.92, 3X cash in GPPs (top 3-4%)
Week 6 – Optimal Lineup 180.2, 2X-3X cash in GPPs (top 5-6%) (ALL LINEUPS CASHED)
Week 7 – Optimal Lineup 153.34, no cash
Week 8 – Optimal Lineup 140.12, no cash
Week 9 – Optimal Lineup 174.26, 3X-4X cash in GPPs (top 4-5%)
Week 10 – Optimal Lineup 178.92, 10X-15X cash in GPPs (TOP 1%)
Week 11 – Optimal Lineup 168.12, 2X-3X cash in GPPs (top 4-5%)
Thanksgiving – Optimal Lineup 187.42, 2X-3X cash in GPPs (top 5-7%)
Week 12 – Optimal Lineup 189.5, 3X-4X cash in GPPs (top 3-5%)
Week 13 – Optimal Lineup 194.16, 4X cash in GPPs (top 2-3%)
Week 13 Monday – Optimal Lineup 156.14, 5X-6X cash in GPPs (top 1-2%)
Week 14 – Optimal Lineup 137.44, no cash
Week 15 Saturday – Optimal Lineup 147.92, no cash
Week 15 – Optimal Lineup 156.82, 1.5X min-cash (top 20%)
Week 16 Saturday – Optimal Lineup 170.38, 1.5X min-cash (top 20%)
Week 16 – Optimal Lineup 131.82, no cash
RELATED CONTENT
Odds Shark Capper Cup Week 17 Picks
DraftKings Sunday Night Showdown Picks