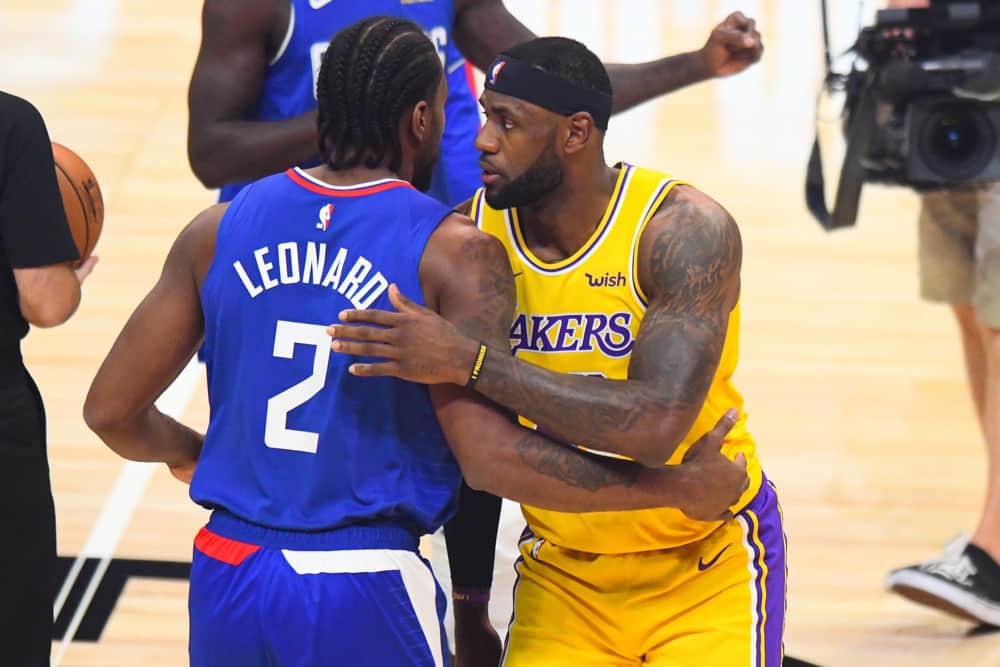 Hello everyone! NBA opening day is almost here. Playing DFS for the NBA adds another element of excitement to the games, but putting together the perfect lineup can be tricky. Luckily, I'm here to help guide the way. Today, I'm going to share my lineups for the two showdown slates.
The NBA opening night returns Tuesday, and I'm confident that I'm not the only one amped for it. On opening night, we have a nice two pack of games as Golden State will face Brooklyn followed by a battle between the Clippers and the Lakers.
I'm personally looking forward to these to games as they should feature no lack of offense. With plenty of offensive weapons on either side of both games, these slates will be tricky. However, I bring a nice NBA DFS track record with me and I'm confident I can take us to paydirt.
NBA Opening Night DFS Picks
Warriors vs. Nets Showdown
This opening game will be missing a few key weapons (specifically on the Warriors side) as Klay Thompson will miss the season with another injury. Golden State could potentially be without the paint services of Draymond Green and James Wiseman. Both of these guys were late to camp and could potentially see their minutes limited until they are up to speed.
Captain – Stephen Curry ($15,000)
It's easy to overthink this captain play given the options available, but don't let that happen. Stephen Curry played in two preseason games and he looked as though he hasn't missed a beat. In both games, he scored 29 points in 28 minutes followed by 29 minutes of playing time.
Curry's usage is normally already high, but with Thompson out his usage will skyrocket. It's a no-brainer for me to play Steph at the captain. He was only second to Kyrie Irving in average DFS points last season, and his ceiling is through the roof. Expect big things from Curry on opening night.
Flex – Kevin Durant ($10,600)
Don't look now but it appears that Kevin Durant is finally fully healthy. He's had a nice two games in the preseason, averaging 20 points through 25.5 minutes a game. It can be easy to overlook KD for this DFS lineup given how long he's been out. However, we're not going to let that happen.
There's a little bit of a revenge factor here for KD as well. Although I don't think there was any hard feelings from him towards Golden State, he's going to want to show out against his old team. KD could be worth a look at the captain as well, but I can't play him there because Kyrie Irving will cut into his usage quite a bit.
Flex – Kelly Oubre Jr. ($7,200)
Kelly Oubre Jr. could be one of the most sneaky plays on this slate. He's most likely going to draw the start at SF, and this will give him arguably the best defensive matchup with Joe Harris most likely starting at SF for Brooklyn. Don't overlook him for some bigger names.
The injury to Thompson was unfortunate for Golden State as a team, but it also leaves Oubre Jr. with a big opportunity in front of him. He's looked solid all preseason and he seems to have adjusted to his new team quickly. I expect Oubre Jr. to be one of Golden State's top scorers consistently.
Flex – Caris LeVert ($7,000)
My second Brooklyn player for this lineup is last year's team hero Caris LeVert. He only played one preseason game and he could potentially come from the bench as they ease him back into action. However, first unit or second unit I still like playing LeVert in my DFS lineup.
He added 18 points in 21 minutes his one preseason game. I thought he looked ready to return to the starting lineup and given the magnitude of this game, he most likely will Tuesday. I'm expecting big things from LeVert this year as all eyes won't be on him. He could even potentially be a sneaky candidate to lead the team in scoring Tuesday night.
Flex – DeAndre Jordan ($6,000)
The next player for our DFS lineup is the rebounding machine DeAndre Jordan. He's been taking reps with the first team all preseason, and this is a great matchup for him. The Warriors aren't going to be the best team in the paint until Wiseman and Green get up to speed, and this is a great opportunity for Jordan to dominate the paint.
DeAndre Jordan hasn't always been the most consistent player on the offensive end, but he can rebound and play defense against some of the best in the NBA. For that reason, I will play him in this lineup. I love what we're able to get in this lineup with Jordan, and there's a chance of low-ownership leverage here as well.
Flex – Taurean Prince ($3,800)
We're going to wrap up this lineup with Taurean Prince. He is going to be a vital part of Brooklyn's rotation, and I like taking a flyer on him to win Sixth Man Of The Year as well. Joe Harris is expected to start at SF, but Prince will play just as many minutes as Harris if not more.
Due to Prince's size and defensive ability, I expect the Nets to move KD to SF and play Prince at PF for a good chunk of the game. A price tag of $3,800 gives us super value on a player that will see plenty of playing time. You can expect Prince to turn in a nice stat line on opening night.
Warriors vs. Nets Lineup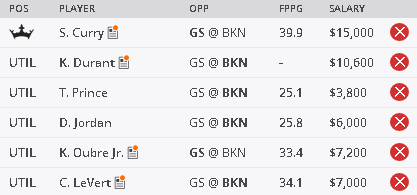 Clippers vs. Lakers Showdown
The second game of the night is going to be a barn burner. There's a ton of offensive talent on both sides of the ball, and this could be a high scoring affair. If you're playing a classic lineup also, this is the game you want to stack from the most.
Captain – Anthony Davis ($16,500)
The captain seat for this DFS lineup can be easy to overthink with all of the weapons available. However, Anthony Davis is going to be your best option. He's the clear leader offensively for the Lakers, and he's drawing a good matchup as well. Serge Ibaka could be out as well which boosts AD's value even more if this is the case.
Even if Ibaka plays, I expect AD to be the player of this game. Ibaka, Ivica Zubac and Patrick Patterson are the only centers on the Clippers' roster. AD will have his way with Zubac, and both Ibaka and Patterson are banged up and could even miss this game. Throw Anthony Davis in your captain spot with extreme confidence.
Flex – Kawhi Leonard ($10,000)
This is another no-brainer play here. Kawhi Leonard is the clear leader of the Clippers and he's been known to play well against the Lakers. LeBron will be guarding Kawhi, and it's hard to imagine LeBron being able to shut Kawhi down completely given that LeBron is now 35 years old.
Kawhi Leonard was second in DFS points per game last season on this slate, only 0.9 behind Anthony Davis. Kawhi will be involved in all aspects of this game, and he's one of those guys you have to play every game. He's a pricy option, but you're going to get what you pay for with Kawhi.
Flex – Paul George ($8,800)
We all know Kawhi Leonard will be the go-to guy for the Clippers, but Paul George will see no limit of opportunities either. He's going to draw the better defensive matchup and this could be one of those games where PG13 carries the team.
Paul George had a decent preseason, and he capped this with a 16 point effort in their last preseason game. A lot of his value lies in three pointers, and if he can get them going then you can expect a nice DFS night from George. There's two must-have players from the Clippers, and we now have both of them in our lineup.
Flex – Marc Gasol ($5,200)
The veteran big man Marc Gasol will be an overlooked player on the court for the Lakers this year. We know his offensive and defensive abilities are good although he's not quite what he was five years ago. However, with Anthony Davis across the paint from him, this should open opportunities for Gasol.
Marc's been drawing the start at center during the preseason, and I expect he will do the same in the regular season. Although he's been more or less only useful for rebounds in the preseason, he will have games where he finds buckets as well. I like using Marc as a cheaper option here as he should add between 20-25 fantasy points here.
Flex – Patrick Beverley ($4,800)
Getting a starter for this price is downright disrespectful. Although he may not see the most minutes at PG for the Clippers, Patrick Beverley is a solid DFS play. He's coming into this season "pissed off" and I expect Beverley to have a great opening night if he can avoid foul trouble.
The Clippers are a team that has added motivation this year, and Beverly has been known to be a team leader. His defensive skills are some of the best in the NBA at point guard. There's no way you can play this slate without playing Patrick Beverly in your lineup.
Flex – Kentavious Caldwell-Pope ($4,400)
We're getting another great value player here in Kentavious Caldwell-Pope given his pricing. He may even be in the starting lineup for the Lakers if Dennis Schroder is unavailable to return for opening night. He put up 15 points followed by 16 points in two preseason games, and he looks ready to roll.
KCP brings a unique angle to our lineup. He has a great defensive skillset and he is no offensive slouch either. There's an extra added benefit that he could be a low-ownership player as well. If KCP can get the three ball going, then you can expect a great DFS game from him.
Clippers vs. Lakers Lineup
READ ALSO