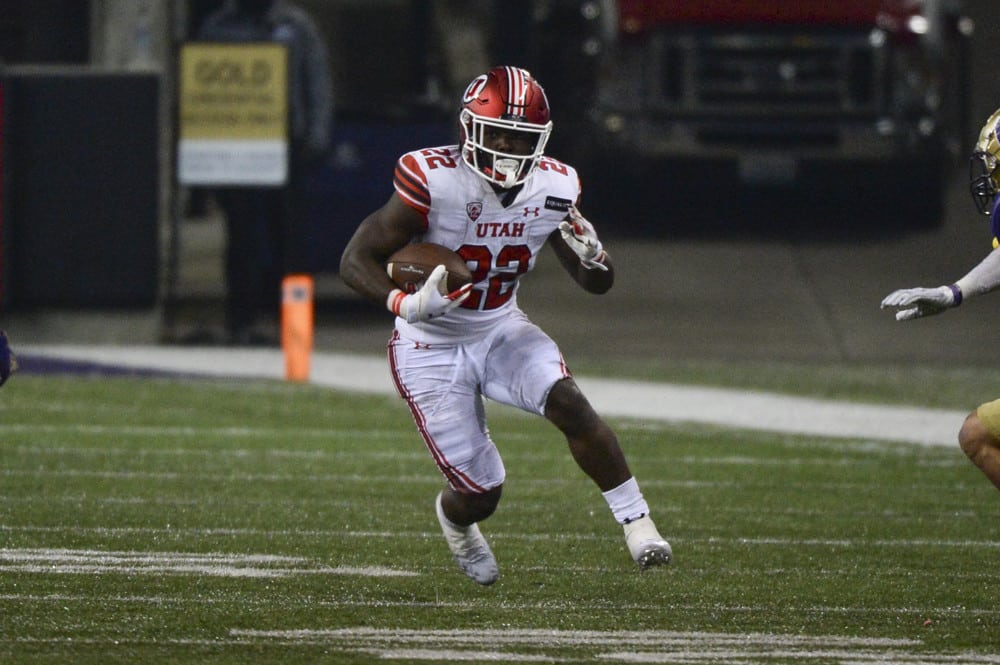 It's conference championship weekend along with a smattering of other random games. For us College Football Daily Fantasy nuts, it's another opportunity to do what we love and maybe win some cash along the way.
As usual, this column will cover the main College Football Daily Fantasy Saturday afternoon slate. Tune into our weekly podcast (which can be found on The College Experience) for our picks for the Friday and Saturday night slates.
Let's do this!
College Football Daily Fantasy Picks: QB's
Big Money Man:
Justin Fields – Ohio State ($9,800)
Another Buckeye game and another stellar performance by Justin Fields. What else is new? Of course, you are going to pay up but no one else in this slate provides a guaranteed 30 fantasy points with an upside north of 40.
They tell me Northwestern might have one of the best defenses in the country. Well, they haven't played Ohio State yet. There's no slowing down this offense and there's no containing Justin Fields.
Middle of the Road Joe:
Brock Purdy – Iowa State ($7,000)
Mr. Reliable. While Brock Purdy may lack a high ceiling, you know what you are going to get from the Cyclone QB. Expect between 20 and 30 fantasy points this week vs Oklahoma. While the Sooners D is playing better ball than earlier in the year, nobody is going to confuse them for the Steel Curtain.
I usually like to diversify my roster with a couple guys with high ceilings and a couple straight-up, dependable dudes. Purdy is definitely the latter and is deserving of consideration.
Bottom of the Barrel:
Max Johnson– LSU ($6,800)
The 3rd LSU QB to start a game this year, the true freshman from Watkinsville, GA looked pretty darn impressive last week vs the Gators. In the process of putting up 26.8 fantasy points, Johnson threw for 239 yards and 3 TD's while also rushing for over 50 yards.
The Tigers play an Ole Miss team this weekend that is giving up 38.8 points per game and over 350 passing yards per game. Max Johnson will have another solid game vs another bad defense and he's priced nicely.
College Football Daily Fantasy Picks: RB's
Big Money Man:
Kyren Williams – Notre Dame ($7,500)

With so many attractive RB's in this slate, it'll be tough to hone in on just two. For me, the Notre Dame tailback is incredibly hard to overlook. Williams has exceeded 100 rushing yards in 3 of his last 4 games while also catching at least 3 passes. In the first game vs Clemson this year, Williams scampered for 140 yards and 3TD's.
It doesn't matter if Trevor Lawrence is back for the Tiger offense. This defense remains the same and Notre Dame has the nation's best offensive line. Additionally, the Fighting Irish might have a chip on their shoulder and will surely be out to prove that the first matchup was no fluke.
Middle of the Road Joe:
Ty Jordan – Utah ($7,000)
There's a true freshman running back in Salt Lake City that most people haven't heard of yet. After splitting time during the first two Ute games, the keys to the backfield have been given to Jordan. He responded with 27 carries for 167 yards and a TD vs Oregon State and 17 carries for 147 yards and 2 TD's vs Colorado.
We all know Kyle Whittingham wants to play smash mouth football and it appears Ty Jordan will fill in nicely for Zach Moss from a year ago. They play a Wazzu D this week that allows 36.3 points per game and almost 440 yards per game. Jordan is an under the radar pickup that should help differentiate your lineup from others.
Bottom of the Barrel:
Christian Beal-Smith – Wake Forest ($5,900)
I had Beal-Smith as my "Middle-of-the-Road Joe" last week but he failed to deliver on a decent game. You could tell the whole Wake Forest offense was out of sorts after not playing in almost a month. Well, I still have faith in my boy. Plus, his price tag dropped $700 bucks.
I'm back on the Beal-Smith bus and ready for another ride. It helps that Wake is facing Florida State on Saturday and the 'Noles are allowing 36 points and 200 rushing yards per game.
College Football Daily Fantasy Picks: WR's
Big Money Man:
Garrett Wilson – Ohio State ($8,000)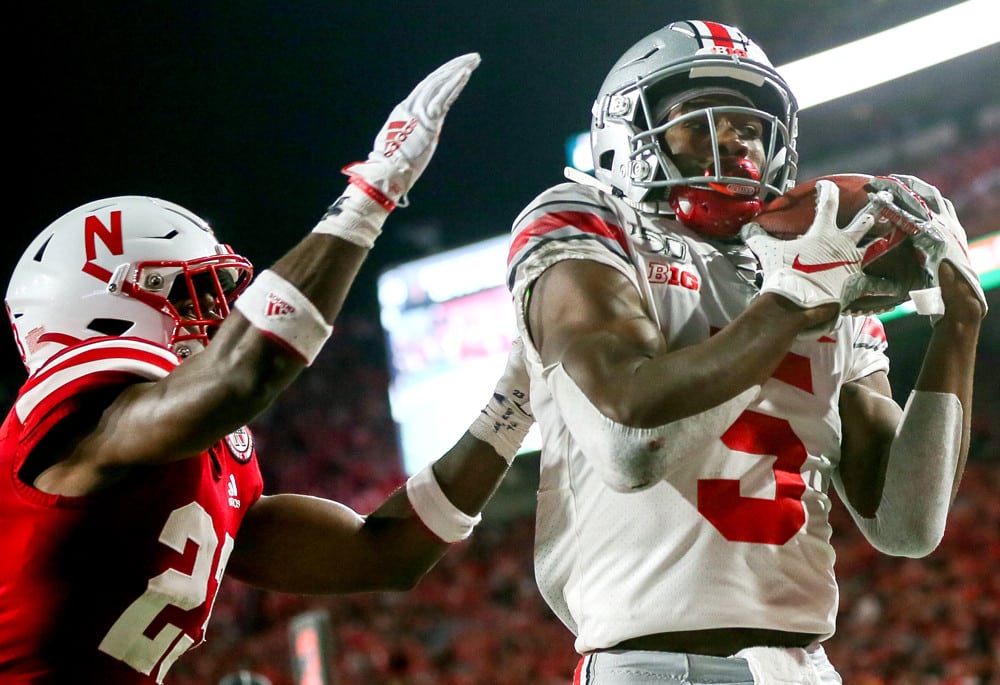 While I've had the other Buckeye WR Chris Olave in this column a couple of times, this is Wilson's first appearance. He's been an absolute beast in his sophomore season.
In only 5 games, Wilson has caught 34 balls for 572 yards and 5 TD's. Coming off his quietest game last week vs Sparty, I expect a big bounce back.
Middle of the Road Joe:
Kayshon Boutte – LSU ($5,700)
LSU has been waiting for a receiver to step up since Terrace Marshall opted out. Well, the true freshman Kayshon Boutte has now put up back to back games with 5 or more catches for over 100 yards. The future is certainly bright for this guy and he'll be squarely on my radar next year.
However, before we get to 2021 we get another week to grab Boutte on the cheap. $5.7K is a steal. I'll stack Boutte with Max Johnson and stack up my winnings afterwards.
Bottom of the Barrel:
Isaiah Likely – Coastal Carolina ($4,000)
Of course, I must get a tight end into this column. A couple of weeks ago, I had Likely in this same spot but the game was cancelled due to COVID. Well here he is again.
The big 6'4" 245 lbs Chanticleer TE is a mismatch and his growing rapport with Garret McCall has been evident. At only 4K, I'm getting a guy that's averaging almost 4 catches and over 70 yards in his last 4 games. Sign me up and Mullett up!