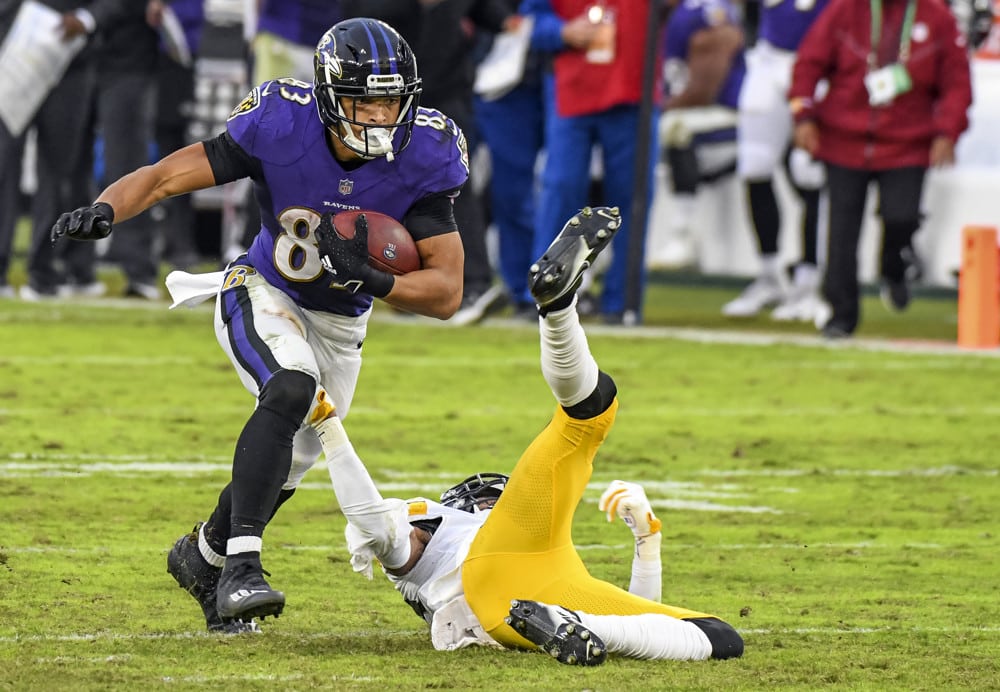 Monday Night Football Info
Time: Monday, December 14th @ 5:15 PM Pacific
Location: FirstEnergy Stadium, Cleveland, OH
Weather: 35f Partly Cloudy
TV: ESPN
Spread: Baltimore -3
MoneyLine: -155 | +130
Total: 45
Odds courtesy of MyBookie.ag *Promo Code SGP*
Monday night marks the second matchup of the season for two AFC North rivals. The Browns are hosting the Ravens in the second act of the 2020 season. Their first meeting in week one saw Baltimore completely destroy Cleveland. Things are a little different now as the Browns are up on the Ravens by two games in the division and are playoff contenders. The Ravens are on the outside looking in and will need to win out with some help to get into the postseason. They are hoping that starts this week.
Here are a few players that I think will have a positive impact on your DraftKings Monday Night Showdown Week 14 lineups. Some are obvious, some not so much. As always, the players below are not meant to be considered a "core four." These are simply players to consider as you are building your lineups. Play one, play them all, it is entirely up to you. My job is to help you see the reasoning behind selecting these players and how they can help you win.
DraftKings Monday Night Showdown Week 14
1. J.K Dobbins – Captain $12,300; Flex $8,200 RB Baltimore
This slate comes with many questions not the least of which is, "which Ravens running back will have the best day." Finding out the answer to that question will probably be the single most frustrating thing about Monday night. Dobbins has been the one to get the most consistent work. He's out snapped both Mark Ingram and Gus Edwards overall this season and owns the target share of the three. His 22 targets are more than tripled those of his running mates.
In Baltimore's week one meeting with the Browns, the rookie began his career with two trips to the endzone on 7 carries. Twelve weeks later he is facing a Cleveland defense that has been a formidable test to opposing running backs. This put Dobbins as the back to roster given his usage in the passing game. Before last week, he had run at least 15 routes on 4 of his last five games. Should any of the four rushing threats prove ineffective on Monday night, Dobbins' value gets a bump.
2. Willie Snead – Captain $8,700; Flex $5,800 WR Baltimore
Marquise "Hollywood" Brown is the flashy name on the Baltimore wide receiving corps. But, so far this season, Snead has kept pace with Hollywood. In his last five outings before finding himself on the Covid-19 list, he amassed 262 yards and 2 touchdowns on 18 catches. He should slide back into his pre-Covid spot just in time for a more than favorable matchup this week.
Cleveland allowed Snead to be the only Ravens receiver to find the endzone when they met in week one. He managed to come down with all four of his targets for 64 yards. That was good enough for second in that category behind Brown. Since that meeting, the Browns have found themselves on the wrong end of a big game on more than one occasion. In fact, they have surrendered such games to multiple receivers in the same game multiple times.
Just last week, Corey Davis took them to task with an almost 200-yard game. Right behind him, A.J. Brown was a catch or two away from 100-yards himself. The opportunity is there for both of the Landry and Snead to have a productive day making this an enticing piece to your lineup.
3. Donovan Peoples-Jones – Captain $7,200; Flex $4,800 WR Cleveland
Sometimes opportunity dictates a play. This is exactly why Peoples-Jones is in the mix for consideration on your DraftKings Monday Night Football showdown roster. KhaDarel Hodge has been ruled out this week opening the door for DPJ to have an extended role. The rookie had seen only 7 targets heading into his breakout game last week in Tennessee. Against the Titans, he enjoyed a 92 yard outing on two catches finding the endzone on one of them. His best output before that was a 3 catch day for 56 yards and a touchdown against the Bengals two weeks ago.
The Ravens passing defense has been roughed up a few times this season. It has sprung a major leak over the last three weeks especially. During that span, the Cowboys, the Steelers, and Titans receivers combined for 138 fantasy points. For Cleveland to take advantage of this, Mayfield can't just rely on Jarvis Landry. What makes this pick work is the fact that the Browns are paper thin at the position. The edition of Marvin Hall could take a bite out of DPJ's value, but there should be enough to go around that it won't hurt much. He'll make a nice DraftKings Monday Night Showdown Week 14 pick.
4. Marvin Hall – Captain $300; Flex $200 WR Cleveland
A change of scenery can sometimes revive a stagnant player. The Browns are hoping that Hall can find a spark in his new home. Recently claimed off waivers, the former Lion's wideout comes to the Browns just in time for a prime matchup. The Ravens are no strangers to allowing opposing receivers to go wild against them. Luckily for Hall, Cleveland is down a few pieces in that aspect of their game. This will mean Hall stands a better than average chance to hit the ground running and contribute right out of the gate. He won't be one of Mayfield's top options, but his veteran status might garner him a few extra looks over some of his younger teammates.
Cleveland has a fairly balanced run/pass ratio, and as has been documented, the Ravens pass defense is not scary. This game should not be as one sided as the 38-6 beating the Browns took in week one. This should put all of Mayfield's weapons in play, even the new ones. But even if it was a blowout favoring Baltimore, the pass game would be elevated and Cleveland pass catchers become even more valuable. At his price, he will unlock every possible combination for your DraftKings Monday Night Showdown Week 14 roster.
Related Topics
NFL Week 14 ATS Picks (Ep. 920)