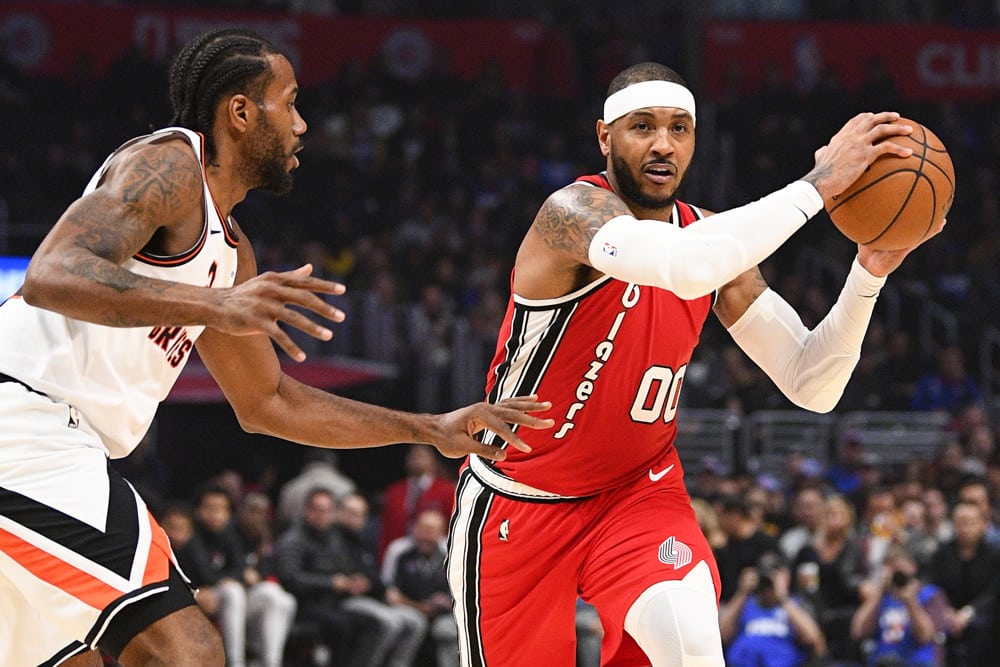 NBA regular season team win totals 2020-21 continues to be the big discussion on NBA Gambling Podcast. Last episode, hosts Ryan McKee and Zach Broner covered projected win totals for the eight teams with new head coaches. Today's episode covers the additional 10 playoffs teams from last season that didn't change coaches: Milwaukee Bucks, LA Lakers, Boston Celtics, Denver Nuggets, Miami Heat, Utah Jazz, Toronto Raptors, Portland Trail Blazers, and Orlando Magic.
NBA Playoff Teams Win Totals 2020-21
At the top of the show, Ryan asks Zach for his take on the John Wall for Russell Westbrook trade. They discuss how that affects the Houston Rockets' and Washington Wizards' starting lineups and projected season win totals. After that, the guys rapid-fire through 10 teams' offseason moves, last seasons' stats, RPM projections, updated started lineups, draft picks, and biggest player losses. The podcast moves from highest projected win total (Bucks' 49) through lowest (Magic's 31.5). Ryan and Zach both gives their OVER or UNDER picks for each teams' regular season win total. However, their final best bets for each team will be released later this month, right before the season begins.
Subscribe to NBA Gambling Podcast on Apple and Spotify.
Buy Ryan McKee's new book Modest Proposal Anthology available on Amazon and anywhere you buy books.
Powered by RedCircle
NBA Gambling Podcast Outline for Episode 101
Milwaukee Bucks
Projected Win Total: 49
2020 Wins: 56
Kevin Pelton RPM Projection: 44.5
Added
Jrue Holiday
Torrey Craig
D.J. Augustin
Bryn Forbes
Bobby Portis
Lost
Eric Bledsoe
Wesley Matthews
Robin Lopez
George Hill
Starting 5
Jrue Holiday
Donte DiVincenzo
Khris Middleton
Giannis
Brook Lopez
Note:
Is Coach Bud holding them back in Playoffs?
LA Lakers
Projected Win Total: 48
Kevin Pelton RPM Projection: 43.3
2020 Wins: 52
Added
Dennis Schroder
Marc Gasol
Montrezl Harrell
Wesley Matthews
Lost
Danny Green
JR Smith
Dion Waiters
Dwight Howard
JaVale McGee
Starting 5
LeBron James
Wesley Matthews
KCP
Anthony Davis
Marc Gasol
Boston Celtics
Projected Win Total: 45.5
Kevin Pelton RPM Projection: 39.3
2020 Wins: 48
Added
Tristan Thompson
Jeff Teague
Aaron Nesmith (14th Draft Pick)
Payton Pritchard (26th Draft Pick)
Lost
Gordon Hayward
Enes Kanter
Brad Wanamaker
Starting 5
Kemba Walker
Marcus Smart
Jaylen Brown
Jayson Tatum
Daniel Theis
Notes:
Kemba Walker won't return to game action until January at the earliest.
Denver Nuggets
Projected Win Total: 43.5
Kevin Pelton RPM Projection: 40.3
2020 Wins: 46
Added
JaMychal Green
Zeke Nnaji (22 draft pick)
RJ Hampton (24th pick)
Lost
Torrey Craig
Jerami Grant
Mason Plumlee
Starting 5
Jamal Murray
Gary Harris
Michael Porter Jr.
Paul Millsap
Nikola Jokic
Notes:
Is Will Barton best as a sixth man?
Miami Heat
Projected Win Total: 43
Kevin Pelton RPM Projection: 39.9
2020 Wins: 44
Added
Avery Bradley
Moe Harkless
Precious Achiuwa (20th pick)
Lost
Derrick Jones Jr.
Jae Crowder
Solomon Hill
Starting 5
Goran Dragic
Duncan Robinson
Jimmy Butler
Meyers Leonard
Bam Adebayo
Notes:
How many minutes does Erik Spoelstra find for Tyler Herro, Kendrick Nunn, and Andre Iguodala?
Utah Jazz
Projected Win Total: 43
Kevin Pelton RPM Projection: 40.8
2020 Wins: 44
Added
Derrick Favors
Udoka Azubuike (Drafted 27, Center from Kansas)
Resigned
Jordan Clarkson
Starting 5
Mike Conley
Donovan Mitchell
Joe Ingles
Bojan Bogdanovic
Rudy Gobert
Notes:
Chemistry issues? Is Gobert a locker room problem?
Dallas Mavericks
Projected Win Total: 41.5
Kevin Pelton RPM Projection: 39.9
2020 Wins: 43
Added
Josh Richardson
Josh Green (Drafted 18, SG Arizona)
Tyrell Terry (Drafted 31, PG Stanford
Resigned
Trey Burke
Willie Cauley-Stein
Lost
MGK
Seth Curry
Starting 5
Luka
Josh Richardson
Tim Hardaway Jr.
Kristaps
Willie Cauley-Stein
Returning from Injury
Dwight Powell
Jalen Brunson
Notes:
Kristaps injury? Projects to play 44 games.
Toronto Raptors
Projected Win Total: 41
Kevin Pelton RPM Projection: 43.7
2020 Wins: 53
Added
Aron Baynes
Alex Len
Deandre Bembry
Malachi Flynn – Picked 29th
Jalen Harris – Picked 59th
Resigned
Fred VanVleet
Lost
Marc Gasol
Serge Ibaka
Starting 5
Kyle Lowry
Fred VanVleet
OG Anunoby
Pascal Siakam
Aron Baynes
Notes:
LOCK bet for OVER
Portland Trail Blazers
Projected Win Total: 40.5
Kevin Pelton RPM Projection: 38.2 (has Phx slightly ahead)
2020 Wins: 35
Added
Robert Covington
Enes Kanter
Derrick Jones Jr.
Harry Giles
Resigned
Carmelo Anthony
Rodney Hood
Lost
Hassan Whiteside
Starting 5
Damian Lillard
CJ McCollum
Derrick Jones Jr.
Robert Covington
Jusuf Nurkic
Notes:
Is Gary Trent Jr. better for starting small forward than DJJ?
Orlando Magic
Projected Win Total: 31.5
2020 Wins: 33
Added
Dwayne Bacon
Cole Anthony (Drafted 15 PG North Carolina)
Resigned
Michael Carter-Williams
Gary Clark
James Ennis
Lost
D.J. Augustin
Injured for Season
Jonathan Isaac
Starting 5
Markelle Fultz
Evan Fournier
Dwayne Bacon
Aaron Gordon
Nikola Vucevic
Notes:
How much does Mo Bamba play?
Will Aaron Gordon finally be traded?
Probable to drop out of playoffs and drop wins to teams like the improved Wizards and Hawks.