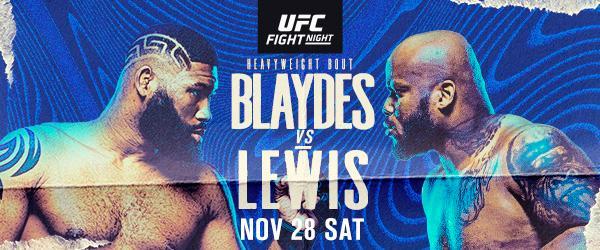 (editor's note: this article was written before Curtis Blaydes tested positive for COVID-19, causing the main event to be cancelled)
I'm digging myself quite the hole here with my UFC predictions for 2020. But I'm just doing it to drum up some suspense and sympathy. Everyone likes to root for the underdog, and that's the position I've put myself in.
However, the year is quickly coming to a close, so it's probably time I stop playing around and start making winning UFC predictions. So, here are all the winning picks for this Saturday's UFC Fight Night: Blaydes vs Lewis (aka UFC Vegas 15).
All odds courtesy of MyBookie
UFC Predictions Vegas 15
Curtis Blaydes (-390) vs Derrick Lewis
Two big boys and knockout machines (29 KOs between them) square off in the main event. 'Razor' Blaydes is the obvious choice due to his dominant wrestling, but he also has all my 'key stats' in his favor – striking and grappling statistical advantage, one inch of reach, six years younger. He's also on a four-fight win streak – let's make it five after Saturday.
Devin Clark (+115) vs Anthony Smith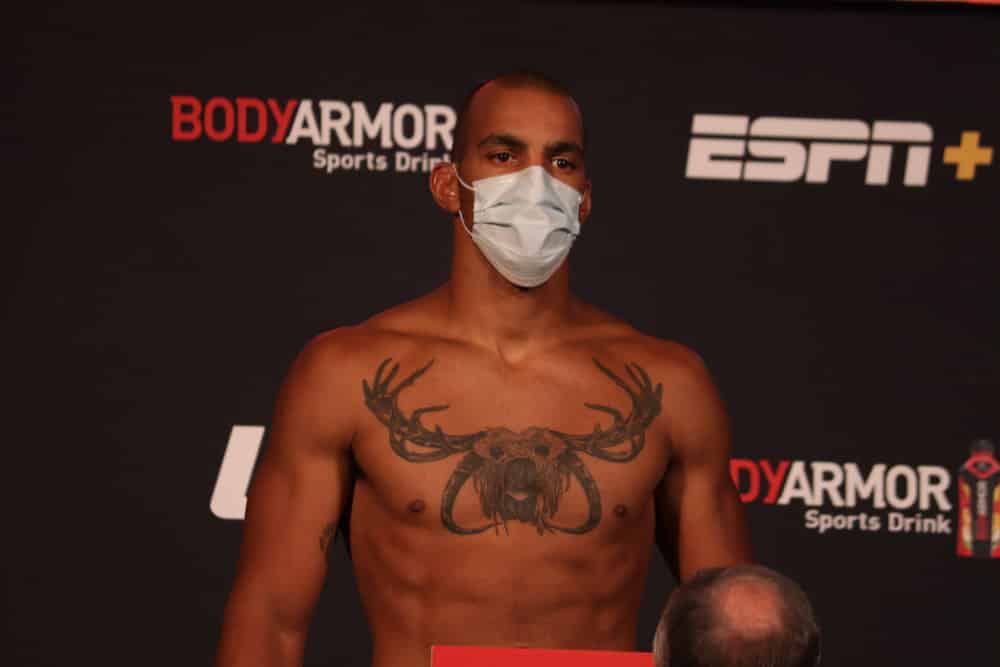 Anthony Smith has had a precipitous fall from the top. Since challenging Jon Jones for the UFC Light Heavyweight Championship, he has gone 1-2, dropping his last two, and doesn't seem to have much left in the tank. His opponent this weekend, Devin Clark, is the younger fighter on a two fight win streak. He also has the ever-important striking and grappling stats in his favor. Sounds like easy plus money to me (but there is no such thing as easy money when it comes to UFC predictions).
Josh Parisian (-200) vs Parker Porter
Parisian makes his UFC debut on the wave of six-straight (T)KOs. He's also much bigger and much younger than journeyman Parker Porter (who, with that name, very well could be Spider-Man in his spare time). Considering he's finished 12 of his 13 pro wins, and Porter has been stopped five times in his career, a (T)KO prop bet might be worth your time.
Miguel Baeza (-160) vs Takashi Sato
This should be a fun one. Both men are knockout artists, and both have had success in the UFC. I'm counting on 'Caramel Thunder' to move to 10-0 as a pro on Saturday due to his size and superior striking skills.
Spike Carlyle (-180) vs Bill Algeo
This could be a fun slugfest as well. Algeo showed plenty of fight in his UFC debut against Ricardo Lamas, but ended up losing. I think the 'Alpha Ginger' will use his superior size and youth, not to mention his powerful striking, to push his UFC record to 2-1.
Ashlee Evans-Smith (-145) vs Norma Dumont Viana
The battle of the women with three names headlines the prelim portion of Saturday's card. I'm going with veteran 'Rebel Girl' due to her superior striking ability. Many bettors seem to agree with my UFC prediction here, as the line on her has moved from -110 to -145 over the course of a few days.
Martin Day (-160) vs Anderson dos Santos
This is more than likely a good old fashioned 'loser leaves town match', as Day is 0-3 in the UFC and Anderson dos Santos (which, if you were creating a Brazilian fighter, would be the name you'd give him) is 0-2. I'm betting on Day staying gainfully employed after this weekend – he's bigger, younger, and has superior striking stats.
Gina Mazany (-150) vs Rachael Ostovich
Mazany will be coming down from featherweight for this flyweight battle, so she'll be much bigger than Ostovich. I also think she's way better, so she should be able to halt her three-fight losing skid on Saturday night.
Jonathan Pearce (+240) vs Kai Kamaka
I made this pick earlier in the week before the lines were posted, so I didn't know I was riding with such a big underdog. But ride with him I will. He's much bigger than Kamaka, who'll be taking this fight on short notice, which hasn't bode well for fighters this year. Let's get that big plus money!
Su Mudaerji (-320) vs Malcolm Gordon
Going to the other extreme with this pick and taking a big betting favorite. Mudaerji is too good and too young for Gordon to handle (you can read more about the Chinese fighter here).
Nathan Maness (+115) vs Luke Sanders
This fight has moved from a pick 'em to Maness being a dog, with is fine by me. He's much bigger and much younger than Sanders, so look for him to go 13-1 as a pro.
UFC Predictions Overall Results 
Record: 179-114
Earnings:  -($601.61)
Return on Investment:   -(2.1)%
UFC Predictions Related Posts
8 UFC Stats That Will Win You Money