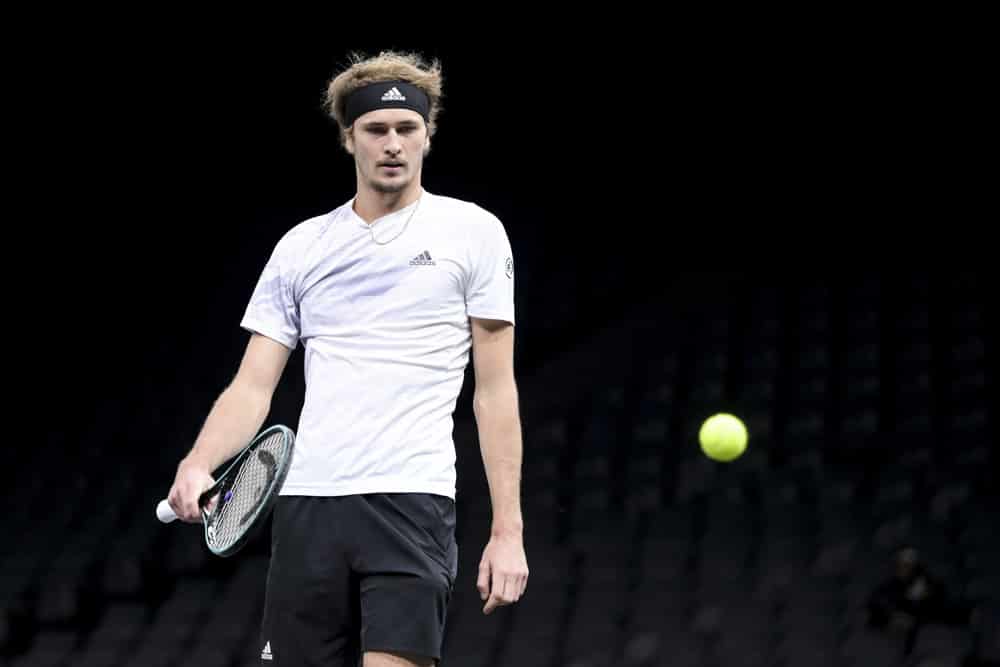 Hello my friends! Although it is the middle of the week, there is still money to be made! The beauty of betting on tennis is that it provides a great sweat on days that you normally wouldn't take any action. If you're itching for some action on this lovely Wednesday, then I have just the play for you. Today, we're going to take a look at a four-leg tennis parlay with a nice +663 payout attached.
#DegensOnly Tennis Parlay of The Week
Alexander Zverev (-400) over Diego Schwartzman
The first leg we're going to take in this parlay comes to us from the ATP Finals. This tournament is played in London on an indoor hard court. These two have met four times in the past, with three of those meetings being best-of-three set matches. Two of those three have been played on hard courts and only one has been played on an indoor hard court (a match in which Zverev won easily). Zverev has a powerful serve and 10.2% of his serves come as aces. Zverev had won 12 straight matches before dropping his finals match with Daniil Medvedev in the Paris Masters last tournament. I expect him to return to his winning ways with relative ease against an opponent he just beat 6-2,6-1 just a month ago.
Novak Djokovic (-250) over Daniil Medvedev
The second leg of this parlay also comes from the ATP Finals. As the odds would imply, there is certainly a higher risk for upset here but I don't expect it. Djokovic is coming off a surprising upset at the hands of Lozenzo Sonego and he will certainly not be trying to take another early exit. Djokovic holds a 4-2 record all-time against Medvedev as well as a 3-1 record against him on hard courts. I wouldn't expect Djokovic to take this match with ease as Medvedev is no pushover. However, I do expect the 33 year old veteran Djokovic to squeeze out a win over the 24 year old that he's beaten once already this year.
Aslan Karatsev (-166) over Maximilian Marterer
For the third leg of this parlay, we're going to look into the ATP Challenger Tour. This battle comes from the Sparkasse Challenger 80 which is played on a hard court. There isn't a ton of things statistically that separate these two players, but I noticed something that stuck out. Aslan Karatsev has some recent wins over tough opponents such as Marc-Andrea Huesler and Alexei Popyrin. Meanwhile, Maximilian Marterer has been playing well lately but hasn't beaten anyone of note and he's dropped a recent match with Huesler. Karatsev is 16-8 on hard courts in 2020 while Marterer is only 8-5 on hard courts in 2020. I look for Karatsev to take care of business against a very beatable opponent and move into the next round of the tournament.
Stuart Parker (+174) over Ryan Peniston
We're going to wrap up this parlay with a little first round ITF action. This play comes to us from the M15 Heraklion 2020 which is played on an outdoor hard court. The ambidextrous Stuart Parker has been really good this year, especially on hard courts. In fact, he holds a 23-9 record with a great 20-8 record on hard courts in 2020. On the other hand, 2020 has been a year to forget for the southpaw Ryan Peniston. He's only played in tournaments on hard courts and holds an 11-10 record on the year. Although neither player has many wins over notable opponents, I feel we're getting a steal with the better player in Parker at plus money who's also been in much better form recently.
Not a Tennis Parlay, But Other #DegensOnly Bets
College Football Picks Week 12 – Sports Gambling Podcast (Ep. 907)