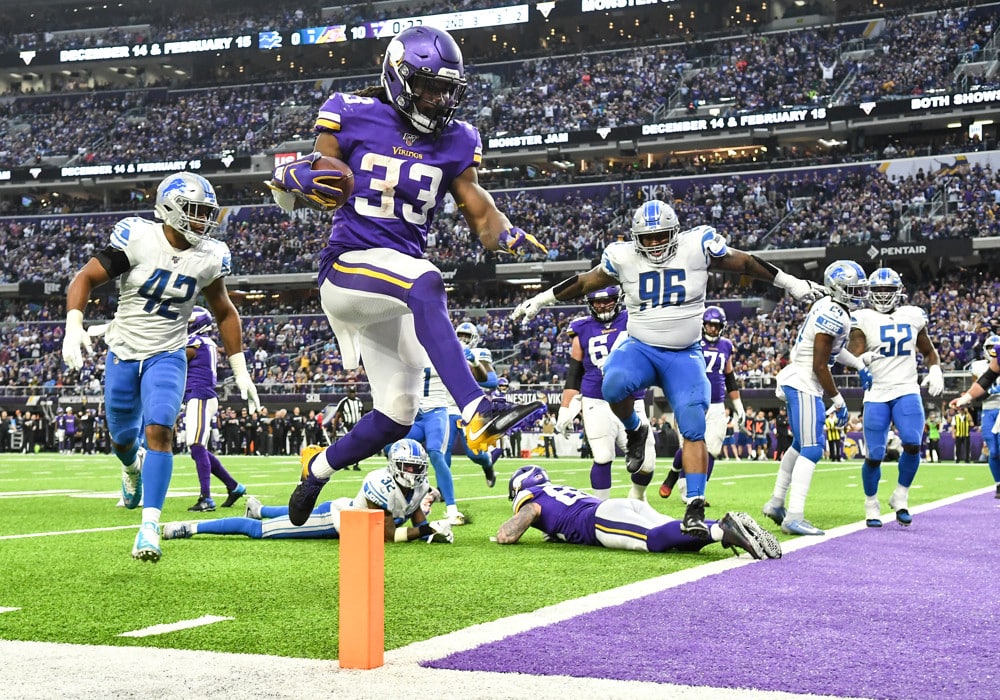 My week 10 column highlighted four potential games and I personally settled on Green Bay. The upset-minded Jags didn't make it easy on us Packers backers, but we got the W and we keep moving on. The Steelers and Saints took care of business as well so the only decent upset was the Patriots over the Ravens. Hopefully most of you are still with us for Week 11 Survivor Pool Picks. Making it unscathed through 10 weeks in the NFL ain't easy, so cheers if you have!
Let's do this!
RELATED
NFL Week 10 Recap – Sports Gambling Podcast (Ep. 906)
College Football Picks Week 12 – Sports Gambling Podcast (Ep. 907)
NFL Week 11 Survivor Pool Picks
Pittsburgh Steelers (–10 @ Jacksonville Jaguars)
It appears that Pittsburgh's come from behind victory over the Cowboys was the wake-up call the team needed. The Black & Gold responded with a 36-10 thumping of the Cincinnati Bengals this past week. At 9-0, the Steelers are the only undefeated team left in the NFL and travel down to Florida to face the 1-8 Jaguars.
There's not a whole lot more to say here. We have a double-digit favorite and a 9-0 team playing a 1-8 team. You do the math. I'll say this – of Jacksonville's eight losses, only two were by more than 10 points. Since bringing in Jake Luton at QB, the Jags lost a two pointer to Houston and a four pointer to Green Bay. They're still fighting, they just don't have the talent. If you haven't taken the Steelers yet, you should now.
Kansas City Chiefs (-6.5 @ Las Vegas Raiders)
These two teams last faced off in week 5, when the Raiders went into KC and handed the Chiefs their only loss of the season, 40-32. You have to give it up to Jon Gruden and his 6-3 Raiders. Not many expected them to be doing this well. In addition to beating Kansas City, they can also brag about taking down the Saints 34-24, back in Week 2. They've beat arguably the best team in the AFC and in the NFC.
However, I believe the Chiefs will have revenge on their mind in the Sin City this weekend. There's still a long way to go in this regular season, but KC needs to keep within reach of the Steelers in the race for home field advantage thru the playoffs. With that said, I expect the Chiefs to win this game. They aren't getting swept by Vegas.
Miami Dolphins (-3 @ Denver Broncos)
Surprised to see the Miami Dolphins on this list? As am I. I'm also surprised they are sitting at 6-3, in the midst of a 5 game win streak, and currently in the playoffs if the season ended today.
On the other end of the spectrum is the 3-6 Denver Broncos who have lost three of their last four games. While one team is tending upward and one trending downward, I'd still tread lightly here.
The Broncos come home after a two game road trip and the high altitude and potential weather can wreak havoc on visiting teams. Choose elsewhere this week.
Los Angeles Chargers (-8.5 vs New York Jets)
Welcome back from your bye, Jets. I missed not having the opportunity to bet against you last week. The Jets are the only winless team in the NFL and travel way out West to face the Chargers this week. NYJ is clearly tanking this year which is probably why they haven't fired Adam Gase yet.
Meanwhile, the Chargers have a much better roster but still just a 2-7 record. Their only wins this year are against fellow basement-dwellers, the Bengals and Jaguars. They play everyone close, they just can't find ways to win. In total, their seven losses are by a combined 32 points, or 4.5 points per loss. This past week was their biggest margin of defeat and it was only eight points to the Dolphins.
The Chargers should win this game but they are the most untrustworthy team in the league. I've made it this far, I can't lay it all on the line backing this Anthony Lynn coached team.
NFL Week 11 Survivor Pool Picks Winner!
Minnesota Vikings (-8 vs Dallas Cowboys)
A few weeks ago, the Vikings were sitting at 1-5 and it appeared Kirk Cousins was on the brink of being benched. Three consecutive wins (all against divisional foes) since that low point has Minnesota back in the playoff hunt. Remember, this is a team that beat the Saints in a wildcard game last year before losing to the 49ers in the divisional round. The defense has struggled and Cousins is the epitome of an average QB, but the Vikings have some nice pieces, especially in the skill positions.
Dallas, on the other-hand, is 2-7 and coming off their bye week after dropping four straight games. It would appear that Andy Dalton will be back under center which is at least a slight upgrade over those other guys. It will be interesting to see how the Cowboys come back after the week off. One thing is certain, the defense will still be a mess.
Look, going with a below .500 team that has one less day of rest (Vikings played Monday night) against a team coming off their bye, will never give me a warm feeling. However, after being mostly bottled up against Chicago, I expect Dalvin Cook and the Vikings ground game to run wild against the Cowboys. This game is the best of not-so-great options. Go Vikings!!!
Teams already taken this year: KC, AZ, Indy, Baltimore, Dallas, Miami, Buffalo, TB, Pittsburgh, Green Bay
READ ALSO
FAAB Week 11 Waiver Wire Guide