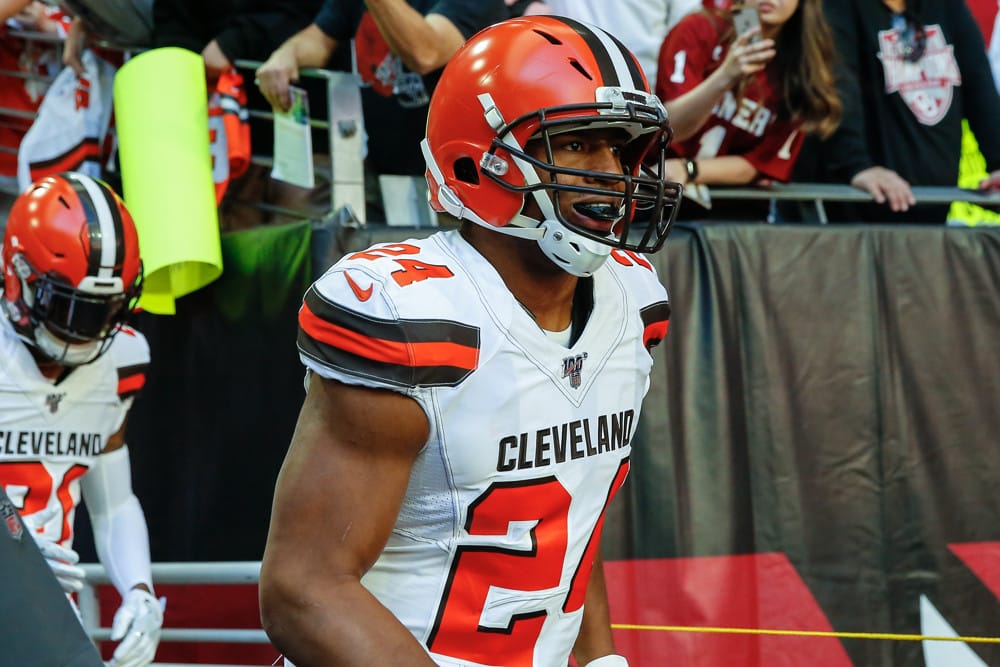 Every week, Sports Gambling Podcast hosts Sean Green and Ryan Kramer give out their best lineups to pay in the DraftKings Millionaire Maker NFL tournaments (promo code SGP). And in case you've never listened, Sean won $200k with one of his lineups. Today, we have DraftKings Millionaire Maker Week 4!
SUBSCRIBE TO PODCAST:
APPLE
SPOTIFY
Just in case you missed some of their picks or rationale behind them, I'll be breaking down their DraftKings Millionaire Maker picks each week in this column. I might even through in a little advice of my own.
As a result, it is time to breakdown some players to target in DFS for Week Four of the NFL season.
DraftKings Millionaire Maker Week 4 Picks
Quarterbacks
Jared Goff
After an inconsistent 2019 campaign, Goff has looked like his old self in 2020 as he has 863 passing yards and five touchdown passes through three weeks. Now, he gets to face the Giants who just allowed Nick Mullens to throw for 343 passing yards in his first start of the season so it is safe to assume that Goff should have a pretty big afternoon through the air. Plus, New York now has an injured secondary so its pass defense might look even worse which should allow him to throw for at least two touchdowns.
Ryan Fitzpatrick
Ryan Fitzpatrick might not be the quarterback that you would want to start a franchise with but he is always a candidate to put up some massive performances in DFS. Last week was a perfect example of that as he torched Jacksonville for two passing touchdowns along with one rushing touchdown. Now, he gets to face one of the worst secondaries in the league this Sunday in what should turn into a shootout. Plus, Miami should be trailing late which should allow Fitzpatrick to pad his stats during garbage time.
Running Backs
Nick Chubb
Nick Chubb might be one of the most underrated running backs in the league and he has the chance to explode this Sunday. Chubb already has 292 rushing yards along with four rushing touchdowns so he has been performing extremely well but he might find himself an even bigger workload against Dallas on Sunday since backup running back Kareem Hunt is currently dealing with a groin injury. Hunt will most likely play but he will be less than 100% so Chubb might get more snaps to work with.
Carlos Hyde
Carlos Hyde is definitely a cheap option for a DFS running back with tons of upside as he will most likely be the starting running back for one of the best offenses in the league on Sunday. Seattle had Chris Carson as the starter but he suffered a knee injury last week and he will most likely be unavailable for this game which means that Carlos Hyde should be receiving the bulk of the carries on Sunday. Although Seattle prefers to throw the ball, Hyde should be getting all of the goal line work while potentially catching a few passes out of the backfield.
James Robinson
Jacksonville might have known something when it let Leonard Fournette leave during the offseason and James Robinson appears to be the reason why. Robinson has been amazing ever since he became the starting running back and he is entering this game following a great performance in Week 3 as he recorded 129 total yards and two touchdowns. Now, he gets to face the worst rush defense in the league so one can expect him to put up some solid numbers on Sunday. Plus, he is a solid pass catcher so he should be getting a lot of touches for all four quarters.
Devin Singletary
Devin Singletary might be in the middle of a mediocre season but he has a great matchup on Sunday that can get him back on track. Singletary recorded over 100 total yards in a game for the first time this season in Week 3 and he now gets to face Las Vegas' abysmal rush defense which means that he should be in a great spot to put together another great performance on Sunday. Plus, backup running back Zack Moss is dealing with a toe injury which could keep him out of this game so Singletary could be in line for another huge workload.
Wide Receivers
Kenny Golladay
Kenny Golladay was viewed as a top-ten fantasy wide receiver before the season started and it appears that people might have already forgotten just how good he was after he missed the first two weeks of the regular season. In Week 3, Golladay looked great as he recorded 57 receiving yards and one touchdown. Now, he gets to face a New Orleans secondary that has gotten torched over the past two weeks. Plus, star cornerback Marshon Lattimore has been dealing with a hamstring injury this week so he should be at less than 100% for this matchup.
Cooper Kupp
With Jared Goff as the quarterback, wide receiver Cooper Kupp has seen a lot of targets over the years and this season has been no different. Through three games, Kupp has a team-high 21 targets along with a team-high 228 receiving yards. Plus, he is entering this game following a great performance against Buffalo in which he had nine receptions for 107 yards and one touchdown. Now, he gets to face New York's awful secondary as he should be able to break 100 receiving yards for the second straight week.
DeVante Parker
DeVante Parker has been the best wide receiver on the Miami Dolphins for the past year and he now gets a very easy matchup against one of the worst secondaries in the league on Sunday. Ryan Fitzpatrick is a capable quarterback who is not afraid to take some shots downfield and Parker should be the recipient of several downfield targets during these four quarters. Parker has the potential to put up a monster performance if Seattle's defense continues to let opposing receivers get open at will and he is always a solid red zone target due to his length and size.
Allen Robinson II
After suffering through the Mitch Trubisky era, Allen Robinson II might finally have a capable quarterback throwing him the ball as Nick Foles was named the new starting quarterback. Foles took over in the middle of last week's game and Robinson II responded by putting up 123 receiving yards and one touchdown. Now, he gets to face an Indianapolis secondary that is nothing special so he should be able to put up some solid numbers as Nick Foles' favorite target.
Odell Beckham Jr.
Although Odell Beckham Jr. has had a lackluster season up to this point, he is always a threat to go off at any moment and his matchup against Dallas on Sunday is the perfect spot for him to get back on track. Dallas' defense has allowed nine passing touchdowns over the past two weeks and Beckham Jr. is Cleveland's number one receiver so he should be able to find some opening in this defense on a regular basis. Cleveland's ability to run the ball effectively should open up some play action passes deep down the field as Beckham Jr. should be able to find himself in some favorable one-on-one coverages.
Keenan Allen
While having a rookie quarterback might be a bad thing for most receivers, Keenan Allen is the exception as he has put up some massive numbers ever seen Justin Herbert became the starting quarterback. In two games with him at quarterback, Allen has an absurd 29 targets along with 20 receptions and 228 receiving yards. Now, he gets to face a Tampa Bay secondary that is pretty mediocre so he should be able to continue playing well. As long as Allen keeps receiving this amount of volume in the passing game, he will always be a threat to finish as a top-five receiver in DFS.
Tight End
Ian Thomas
While Ian Thomas is a bit of an unknown to most football fans, he is a potential sleeper this week due to his above average matchup. Thomas gets to face off against an Arizona defense that has allowed at least four receptions to every starting tight end this season. Plus, Arizona allowed seven receptions and a touchdown to opposing tight ends last week so perhaps Thomas can find some opening in this defense on Sunday. At just $3,000, he is definitely underpriced which makes him a value play at the tight end position.
Darren Waller
After that ridiculous Monday Night performance against New Orleans, Waller was held in check by New England last week as he only recorded nine receiving yards. However, Belichick is a defensive mastermind who obviously went out of his way to organize a defensive gameplan just to stop Waller. Now, Waller gets to face a Buffalo defense that got torched for 130 receiving yards by Mike Gesicki earlier this season so he should be able to use his elite athleticism to expose these linebackers. Plus, the Raiders are dealing with injuries to several starting wide receivers so he should receive a bit of a boost in terms of targets.
Flex
Antonio Gibson
Even though Washington has struggled lately, Antonio Gibson has not as he has recorded a touchdown in two straight weeks. Now, he has to face a stout rush defense in the Baltimore Ravens but he is simply too talented to be at $4,500. Gibson has a knack when it comes to finding the endzone and he should also be able to catch some passes in garbage time if Baltimore blows this game open like oddsmakers expect which should lead to some extra points due to PPR.
DK Metcalf
DK Metcalf has been one of the best fantasy receivers in the league this season and he now gets to face Miami's below average secondary on Sunday. Metcalf has also been extremely consistent as he has recorded at least 92 receiving yards and one touchdown in each game this season so he is a very reliable option for DFS lineups. Plus, Miami should be without cornerback Byron Jones once again so Metcalf should be able to find the endzone at least once on Sunday while having the potential to score multiple touchdowns.
Defense
Cleveland Browns
Even though Dallas has a solid offense, it has struggled a bit when it comes to pass protection as he has been sacked at least once in all three games. Plus, Cleveland is actually tied for first in the league with 2.3 takeaways per game so it has done a great job at capitalizing on mistakes made by its opponents. While Dak Prescott might be a very good quarterback, he tends to make some poor decisions over the course of a full game while should allow the Browns to create at least one turnover during this game while also sacking him several times.
Los Angeles Rams
After getting torched by Josh Allen and the Bills last week, one can expect the Los Angeles Rams' defense to be extremely motivated for this contest. Luckily, it comes against one of the worst offenses in the league as the New York Giants come to town so this is a perfect storm. New York has failed to score more than 16 points in a game up to this point and it has the second-most turnovers in the league so the Rams should be able to rack up a lot of fantasy points as the Giants continue to trip over themselves offensively.
DraftKings Millionaire Maker Week 4 Lineups
Sean 'Stacking The Money' Green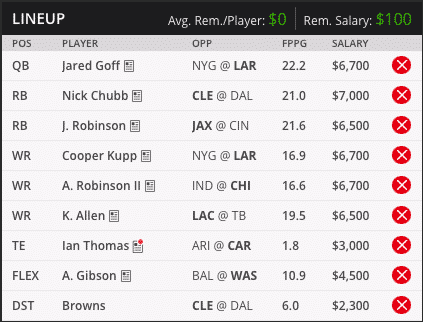 Ryan 'Real Money' Kramer