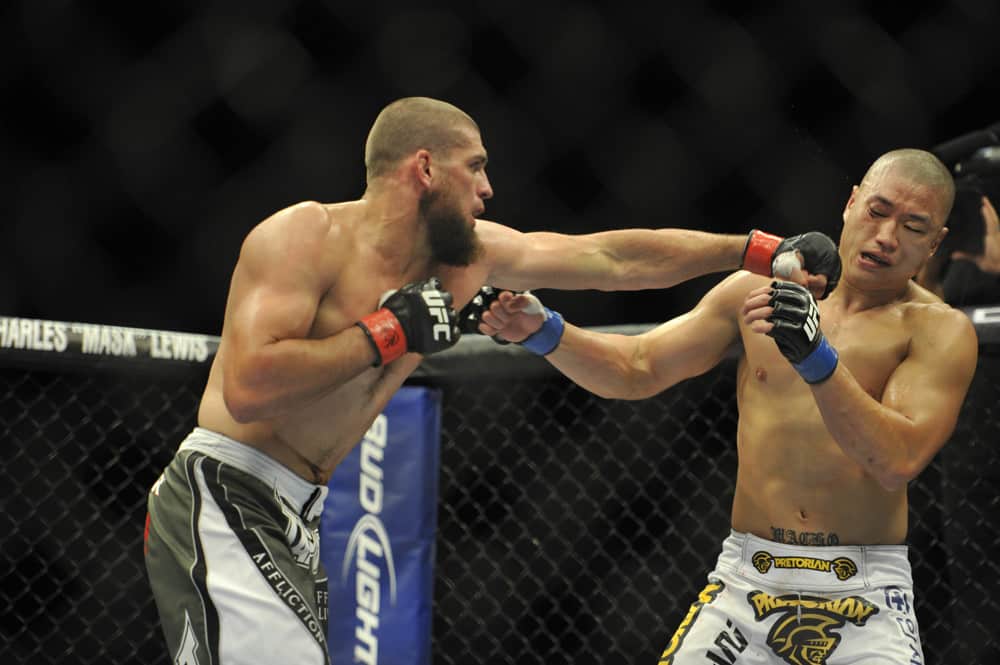 This space got back on the winning foot last week at UFC 253 – not a hugely profitable night, but profitable nonetheless. Onward and upward from here with UFC Fight Night Picks.
The UFC continues their second run at "UFC FIGHT ISLAND" on Saturday with UFC Fight Night: Holm vs Aldana, headlined by fan favorite and former champ Holly Holm.
Here are all the winning picks for all of Saturday's fights. Only winners from here on out, promise, cross my heart.
All odds courtesy of MyBookie
UFC Fight Night Picks
Holly Holm (-125) vs Irene Aldana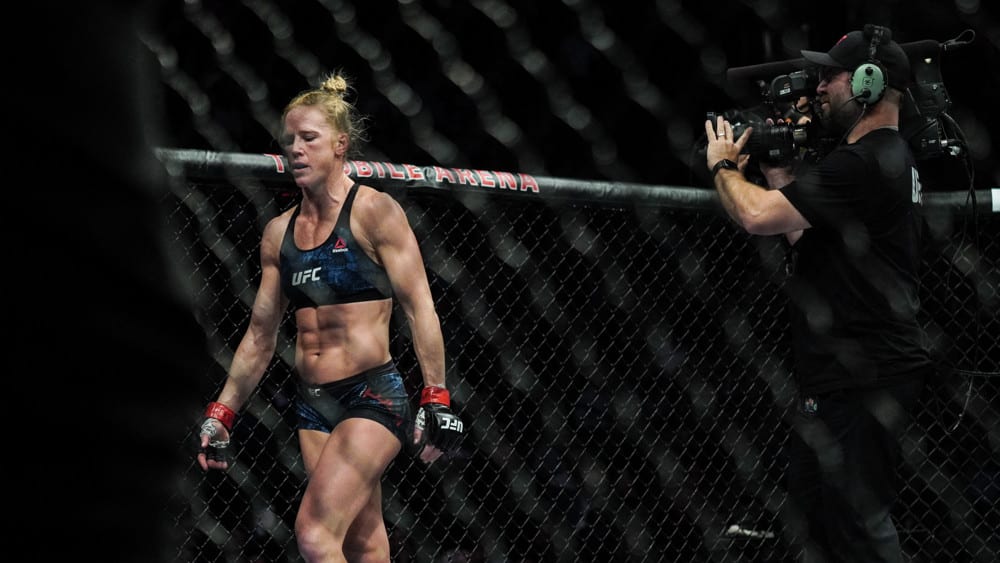 I really, really want to pick Irene Aldana in this one – she's younger, she has superior striking stats as well as grappling ones. But until Holly Holm loses to anyone other than the elite of the sport, I have to pick her in any fight she's in. In her career she's lost to Miesha Tate, Valentina Shevchenko, Germaine de Randamie, Cris Cyborg, and Amanda Nunes – only the best of the best. Aldana hasn't proven to be among that class, at least not yet. Plus she's coming off of a nasty battle with COVID-19. So Holm is the pick.
Yorgan De Castro (-245) vs Carlos Felipe
Two beefy heavyweights collide in the co-main event. Two beefy, inexperienced heavyweights. "The Mad Titan" is my choice to win this one – he's a better striker and grappler. At least on paper. The fact these two are in the second-to-last fight of the night shows how weak a card this is.
Germaine de Randamie (-140) vs Julianna Pena
Everything I wrote about our main event applies to this fight – on paper Julianna Pena looks like the pick, but until former bantamweight champ Germaine de Randamie loses to anyone not names Amanda Nunes in the UFC, she has to be the pick. Pena having only fought twice since January 2017 due to having a baby and being injury is a red flag as well.
Kyler Phillips (-450) vs Cameron Else
Cameron Else makes his UFC debut on a six-fight win streak, but if you look at the records of his opponents he's beaten during that stretch, it's 99% cans. Plus, Else is a late replacement in this fight. Kyle Phillips, meanwhile, has fought tough competition and is 1-0 in the UFC. Hence, the -450 odds.
Dusko Todorovic (-320) vs Dequan Townsend
Seeing a number as large as -320 beside a UFC rookie is a rare sight, but Dusko Todorovic is an impressive 9-0, with some solid scalps on his mantel. And Dequan Townsend is 0-3 in the UFC. Todorovic should win this striking battle, perhaps via a finish since he's stopped eight of his nine victims.
Court McGee (-135) vs Carlos Condit
Carlos Condit hasn't fought in almost two years, and hasn't won a fight in FIVE AND A HALF YEARS!!! While Court McGee is on a two-fight skid, and hasn't won in two years, I still can't pick Condit with a clean conscience with his track record of late.
Charles Jourdain (-445) vs Josh Culibao
While the -445 number seems to be a bit steep, even if Charles Jourdain is a good ol' hoser like me, I like him winning this fight. Josh Culibao might be a bit bigger than him when they step into the cage, but Jourdain should have the advantage everywhere else.
Jordan Williams (-140) vs Nassourdine Imavov
Two UFC newbies square off in this prelim bout, and I'm going with the more experience Jordan Williams. His last five fights have been either on Dana White's Contender Series or a Bellator card, so UFC jitters under the bright lights need not apply to him.
Loma Lookboonme (-145) vs Jinh Yu Frey
Two fighters with cool names who are better suited to the non-existent (in the UFC) atomweight division (105 pounds) collide here. I'm going with the Thai to beat the Korean-American – she's way younger and a superior striker.
Casey Kenney (-315) vs Heili Alatang
Heili Alatang is an impressive 2-0 in his nascent UFC career, but nevertheless I'm going with Casey Kenny in this matchup. He's bigger and a better striker, which should equal a W.
Jessin Ayari (-115) vs Luigi Vendramini
Our curtain jerker of the night is a pick 'em currently on the board. I'm leaning towards Jessin Ayari, as he's a better striker and has fought a much higher level of competition.
UFC Fight Night Picks Overall Results 
Record: 142-86
Earnings:  $199.48
Return on Investment:  0.9%