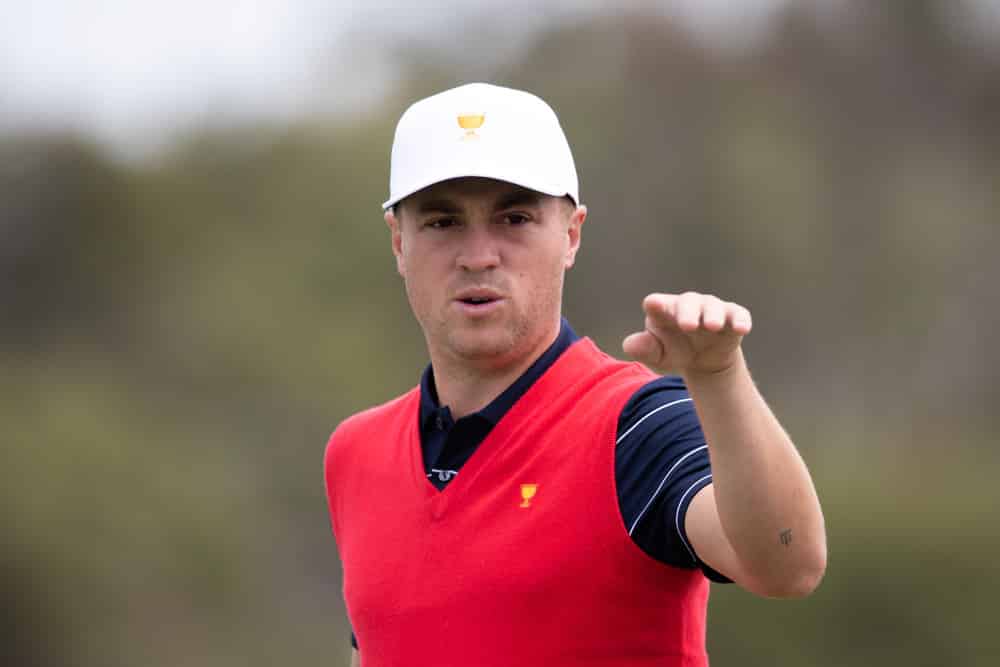 The boys head east to compete for a major championship in the 2020 U.S Open. They will try to tackle the brutal Winged Foot Golf Club. The course will play long at 7,469 yards, with very penal rough and lightning-fast greens. Only the top 60 golfers will make the cut, unlike the usual 65 man tournament. You can expect to see the world's best golfers struggle this week. We predict a winning score to be above par. Let's dive into this week's key and Daily Fantasy Golf Picks.
Key Stats:
Putting- Poa
Ball-Striking
Par 4 scoring 450-500 yds
Fairways gained
Daily Fantasy Golf Picks for 2020 U.S. Open
Justin Thomas – $10,700
U.S, Opens require golfers to have a complete game. You have to be in the fairways, but also long. You need to be accurate on approaches because the greens are like concrete. Due to the rock-solid greens, you need to be able to chip. Simply everything is going to matter at Winged Foot.
If you look at the field in the past 36, 50, and 75 rounds, JT is number 1 in strokes gained tee-to-green for each of them. He has been having an under-the-radar great season. We think he'll be lower-owned than guys like DJ and Rahm. For his price, we love JT as our top play among daily fantasy golf picks.
Webb Simpson -$ 9,400
You can't go wrong picking Webb Simpson this weekend. As a former U.S Open Champion, Webb is meant for these types of courses. His approach play and putting is in a class of its own. Webb has won twice this season and enters Wingfoot in good form. He has gained 2.3 strokes on approach, 4.1 strokes tee to green and 1.7 strokes putting in his last five events. Simpson is an excellent POA putter. With wicked fast greens this week, it should give him a nice edge on the field of daily fantasy golf picks.
Tyrell Hatton – $8,100
Tyrell Hatton is a nice value play this week. He's having a very consistent 2020 season: making the cut in 9 of 10 tournaments, with 5 top tens and a victory at the API. Hatton took 21st last year and 6th in 2018 at the U.S. Open, so you know this guy is capable of competing at these difficult tracks.
He finished in 7th at the Tour Championships gaining 2.4 strokes putting on the field. Like Webb Simpson, Hatton prefers POA greens and with putting being so important this week, we believe Hatton is a quality DrafKings play.
Looking for a free shot at millions of dollars in prizes? Download the DraftKings app and use promo code SGP
Kevin Kisner – $7,600
You most likely have been hearing that this course will require a grinder, and one of the best at that is the bulldog and match play champion, Kevin Kisner. Kisner is only about 5'9″, but I am fairly confident he could kick the shit out of most of the players on tour. The guy just oozes mental toughness. For a golfer at $7,600 he hits well in a lot of the stats we like this week such as, 18th in SG: Total, 16th in doubles avoided, 30th in fairways, and 16th in SG: Approach. Usually, Kisner is not long enough to compete at a US Open. However, the rough will be so penal this week you need to have guys who can hit fairways. We think there is a good chance to see Kisner packing dips and sinking birdies this week.
Brendon Todd – $7,400
The Todd Father is one of our conservative plays of the week. Todd is not one of the longest hitters on tour but is extremely consistent off the tee. With the rough being so penal this week, we have put extra emphasis on fairways gained and there is no one better in this category than the Todd Father. Not only does Todd hit fairways, but he had an exceptional 2020 season finishing with four top tens and two wins. Todd may not be long enough to win this week, but he is a quality play to make the 60 man cut.
Chez Reavie – $6,900
When dipping down into the 6k tier players, our strategy is to play the most consistent golfer. The ultimate goal is to get 6/6 golfers to make the cut and we believe Chez gives us a good opportunity to do so.
The Chezsticle is coming off a great performance at the Safeway finishing in 3rd place. He gained 9.8 strokes tee to green on the field. Chez like the Todd Father hits a lot of fairways. It is a big reason he took 3rd at last year's U.S Open. We are hoping for another quality performance out of him.
Daily Fantasy Golf Picks Related Articles
Looking for a free shot at millions of dollars in prizes? Download the DraftKings app and use promo code SGP