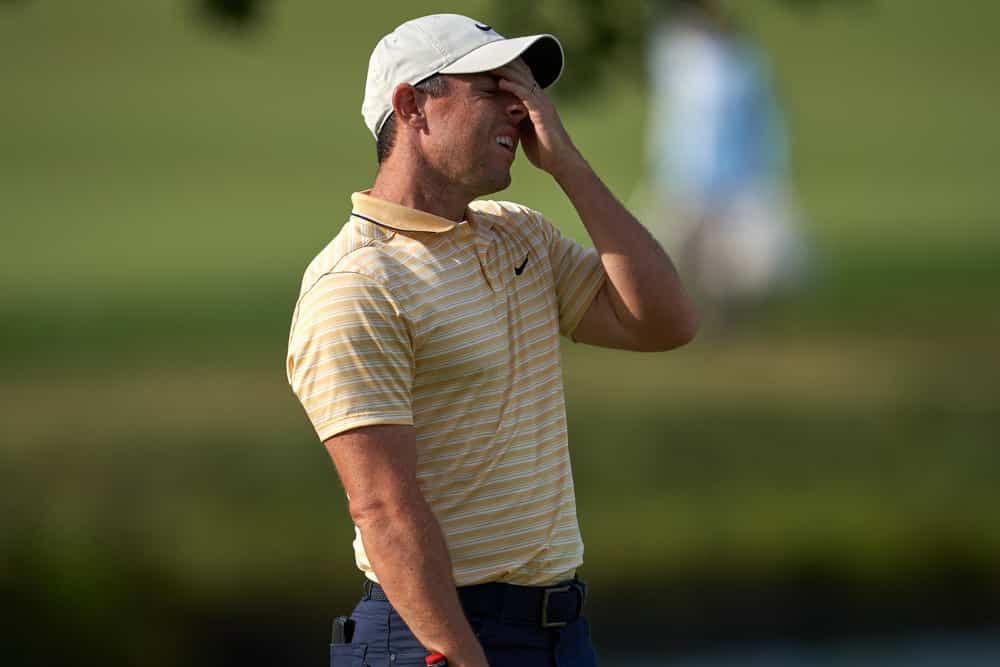 For those who missed it, please check out the 2020 U.S. Open Preview and Betting Strategies column  for the types of golfers you should look to target for your U.S. Open Top Prop Bets. With that in mind, here's some of the best props to bet on for the 2020 U.S. Open (with odds courtesy of MyBookie.ag).
RELATED
U.S. Open DFS Picks & Best Bets | Golf Gambling Podcast (Ep. 5)
U.S. Open Top Prop Bets: Positional Props
Tony Finau Top 10 – +350
Until I see Tony Finau win a tournament with a field full of the best of the best, I refuse to bet on an outright ticket on him. But I'm more than happy to do one on a Top 10, as Finau continuously thrives on firm and fast tournament conditions like we'll see at Winged Foot. The only concern I have with him is his driving accuracy, and while most everyone will be missing fairways at a higher rate he'll have to do a little better than his baselines in order to compensate for it.
Otherwise, Finau's ball striking and scrambling has been very good since the PGA Tour restart, and I expect another close call for him this week.
Hideki Matsuyama Top 20 – +120
What's odd about Hideki's recent good form is that his ball striking numbers haven't been all that great. But what has carried him recently is his scrambling, which is vitally important this week. Hideki is too good of a ball striker to have sub-par numbers, and I expect a regression to the mean and be the ideal golfer tee-to-green to be in the mix.
But where I have deep concerns is his putting. With how difficult the greens are at Winged Foot, guys are going to face several tricky 4-8 foot par putts a round and that has never been Hideki's strong suit. He did well in this category at the BMW Championship in U.S. Open style conditions to help put him in contention, but overall in his career this is a very shaky area for him. His performance tee-to-green makes a Top 20 finish a very realistic expectation, but that's about as much as I'm willing to wager on Hideki this weekend.
Matthew Fitzpatrick Top 20 – +225
Personally, I think he's a little overrated as a player. People seem to think he has this all-world short game, but it's never translated that well over in the United States. But Fitzpatrick has a few key things going for him this week for the potential for a good finish – driving accuracy and his high conversion of putts 4-8 feet.
In addition, the times Fitzpatrick has thrived most while playing in the United States is on firm, fast and tough conditions. His best results have come at the Memorial and Bay Hill, which always feature tricky, fast and firm greens with penal rough. He also played well at the BMW Championship that featured U.S. Open like conditions a few weeks back, and he's finished T12 in consecutive U.S. Opens.
He's a trendy pick to win this week, and while I won't go that far I do like getting more than 2/1 on him for a Top 20 finish.
Rickie Fowler Top 20 – +250
2020 has been a bad year for most everyone, but it's been a very poor one performance wise for Rickie Fowler. He hasn't had a Top 10 since the American Express back in January, he missed the cut at the PGA Championship and failed to advance past the Northern Trust in the FedEx Cup playoffs. And more alarming, all his ball striking numbers have been very poor both all year and in recent form.
It's going to be a difficult ball striking day for most people at Winged Foot this week thanks to the firm and fast conditions, and while Rickie should struggle as well he has three key things going for him. He's one of the more accurate players off the tee in the field, he's one of the best scramblers in the field and he's one of the best putters from 4-8 feet in the field. All three things should give him an edge over his competitors this week, and that could mean a decent showing for him.
Other Top 20 to Consider:
Harris English – +275
Louis Oosthuizen – +300
Sebastian Munoz – +400
Jason Kokrak – +400
Alex Noren – +400
Brian Harman – +450
Cameron Smith – +450
Corey Conners – +500
Zach Johnson – +500
Joel Dahmen – +650
Mark Hubbard – +650
Lee Westwood – +650
U.S. Open Top Prop Bets: Missed Cut Props
Rory McIlroy – +300
We finally found out what was ailing Rory of late. His mind was focused on the birth of his first child and admittedly it took his focus away from the golf course. After the birth, he came out storming in East Lake with an opening round 65 before fading towards the back of the pack with some of the same issues that's plagued him for months – poor iron play, scrambling and putting.
While it's a bold call to say arguably the most talented player in the field won't make the weekend, the combination of that and his struggles in U.S. Opens makes betting 3/1 he won't make the cut an alluring option. Rory missed the cut at Oakmont, Erin Hills and Shinnecock Hills three consecutive years before a Top 10 last year at Pebble Beach. But considering the U.S. Opens he's normally struggled on have come at some of the more firm, fast and tough golf courses in the world, it's gives me enough concern that Rory will bomb out and surprisingly miss the weekend.
Bryson DeChambeau – +240
The attributes of a player who should win the U.S. Open is one that best combines length and accuracy off the tee, possesses great iron play, scrambles well and can hit medium range par putts with confidence.
That player is not Bryson DeChambeau.
DeChambeau seems to have become way too obsessed with increasing distance off the tee that he's let accuracy, iron play and scrambling all falter to really terrible levels. All of those elements are needed to play well this week at Winged Foot, and if he thinks he can bomb and gouge it like he did TPC Harding Park, he's in for a rude awakening.
Others to Consider:
Jason Day – +210
Viktor Hovland  – +200
Justin Rose – +175
Gary Woodland – +150
Sergio Garcia – +150
Joaquin Niemann – +130
Ian Poulter – +125
Cameron Champ – +125
Bubba Watson – +115
Phil Mickelson – +115
Matt Kuchar – +110
Danny Willett – -125
U.S. Open Top Prop Bets: Matchup Props
Rickie Fowler -110 over Justin Rose
My affinity for Fowler is above. As for Justin Rose, I don't know what to make of him any more. For a year the golf world blamed is poor performances on his equipment, and after he made the switch back to TaylorMade all seemed to be well. But since the RBC Heritage he's struggled mightily with his game. While he did finish 9th at the PGA Championship, that was primarily on the strength of hot putting. Nothing in his form tee-to-green suggests he's a great fit for Winged Foot, and Fowler should beat him head to head.
Collin Morikawa -120 over Bryson DeChambeau
My disdain for DeChambeau is above. As for Morikawa, while his form has slipped since winning the PGA Championship, he's the mold of a player who should fare very well at Winged Foot. Morikawa has a good combination of length and accuracy off the tee and is one of the most accurate player with an iron in his hand on the PGA Tour. His scrambling has also improved since he debuted on the PGA Tour. Morikawa should beat Bryson head-to-head and may have this prop wrapped up by the end of Friday.
Louis Oosthuizen -105 over Gary Woodland
Louis has been in great form over the last few months, gaining a little over 0.9 strokes per round tee-to-green with good ball striking and scrambling. He's shown a good combination of length and accuracy off the tee and his nails on putts from 4-8 feet. As for Woodland, I don't expect this to be a long or successful defense of his U.S. Open victory last year. His form has very badly tailed off in almost all categories, and the struggles with his accuracy off the tee have now bled into his approach game and scrambling. Oosthuizen should beat Woodland head to head.
RELATED
U.S. Open DFS Picks & Best Bets | Golf Gambling Podcast (Ep. 5)