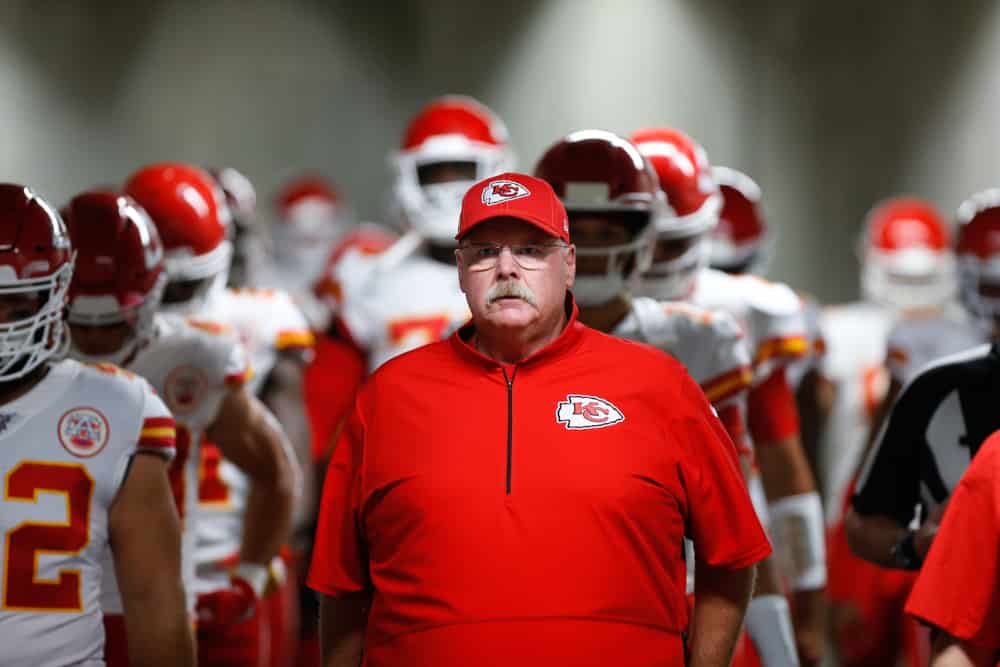 Picks in your NFL survivor pools (aka eliminator, suicide, knockout) should follow a few simple guidelines. This isn't breaking new ground. Your best survivor pool pick week 1 should adhere to these rules:
1. Pay attention to point spreads.
2. Steer clear of road teams, especially in divisional games or west coast teams traveling to the East Coast for 1PM kickoffs.
3. Identify the worst teams and pick against them often.
4. Avoid Thursday night games. They are shit shows where teams don't have time to fully prepare or get fully healthy. (Opening week doesn't count.)
5. Go with your gut.
In addition to these golden rules, my philosophy is usually more of a survive and advance approach. I don't bother trying to plan out 17 weeks as too much can happen in between. I may only look a week or two into the future.
Best Survivor Pool Pick Week 1
Kansas City Chiefs (– 9.5 vs Houston Texans)
It's the largest spread of the week. The defending Super Bowl Champions are at home. Andy Reid has an outstanding record when he has more than a week to prepare for a game.
Will there be a Super Bowl hangover? Maybe. The Chiefs should win but DeShaun Watson and the Texans at least have a puncher's chance.
Baltimore Ravens (-8 vs Cleveland Browns)
This is the second largest spread of the week BUT the Browns did beat the Ravens in Baltimore last year 40-25 (week 4).  With the shortened preseason, coaching and continuity will matter.  The Ravens have both. The Browns might not have either.
Buffalo Bills (-6.5 vs NY Jets)
The Bills have a lot preseason hype. Maybe too much preseason hype? Some are even picking them to win the AFC East over Bill Belichick's Patriots.
On the other hand, the Jets are the Jets. Head coach Adam Gase is a favorite to be first coach fired. Buffalo only beat the Jets 17-16 in week one last year at home.  They lost 13-6 in week 17, but a large number of starters including Josh Allen sat out.  The Bills could be a best survivor pool pick week 1.
Indianapolis Colts (-7.5 @ Jacksonville Jaguars)
This would go against rule #2 above. However, home field advantage will be less important this year with stadiums not at capacity. I'm expecting big things from the Colts this year.
The Jags defense may be atrocious and an improved Indy D will limit Minshew & Co. The Colts will win.
Best Survivor Pool Pick Week 1: Kansas City Chiefs
I'm not going to get fancy or over-think this. The Chiefs are Super Bowl Champions and at home. They are the best survivor pool pick week 1.
The Texans offense is now without DeAndre Hopkins leaving a mediocre group of skill players for DeShaun Watson to get the ball to. Their offensive line is in the bottom half of the league and JJ Watt and the D have been on the decline. Under Andy Reid, the Chiefs are 6-1 in season openers and have won their last five. Make it six in a row and 7-1.
READ ALSO
NFL 53 Man Roster Cuts Fantasy Impacts
DraftKings Promo Code: Best Way To Use Your Bonus