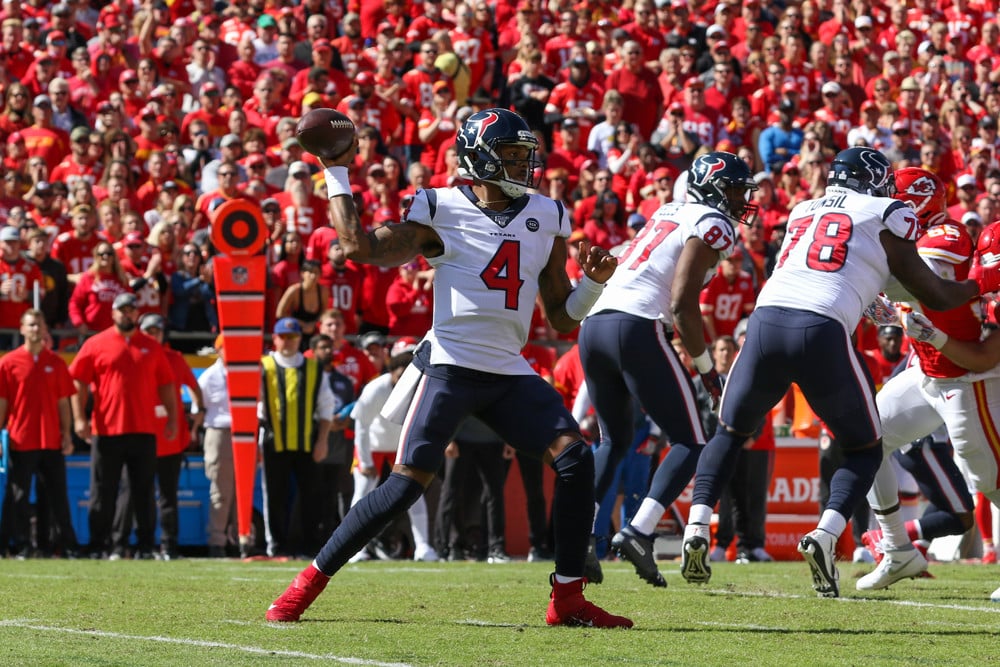 Football is back! NFL opening night presents a glorious chance to have all kinds of sweet, sweet action going on in addition to some close NFL spreads for Week 1. Including a 1.5 spread for Seahawks – Falcons, and also Titans – Broncos.  There's more than just the game line, the total, and your fantasy season getting underway, it's imperative to also look at the prop market. Why not!?!? Here's a handful that I'm targeting Thursday night. Good luck and happy gambling.
Thursday NFL Player Props
Total Passing Yards: DeShaun Watson more than Patrick Mahomes, +163
In both games last year, Watson threw for more yards than Mahomes (280 vs 273 and 388 vs 321). Why am I getting it at +163? Sign me up. Additionally, if the Chiefs are up, the Texans will be slinging the rock more in the second half while KC tries to run clock.
David Johnson: At least 3 receptions, +106
Expect both Texans RBs to be heavily involved in the passing game. DeAndre Hopkins is gone plus Brandin Cooks may not play due to injury. The Texans will have to pass often to keep up and someone will have to catch some passes.
Kenny Stills: Over 47 yards receiving, -117
In last year's divisional playoff matchup, Stills caught 3 balls for 80 yards and a TD. The 14 targets that went to Hopkins that game now have to go elsewhere. Cooks missed practice on Tuesday and may not play.
Check in again Thursday. If Cooks is truly out, Stills will be on the outside opposite Will Fuller. His big play threat could easily obtain over 47 yards.
Go here for more info on NFL betting sites.
Darrel Williams: Over 30 rush yards, +170
Darrel Williams: Scores a TD, +225
Look, we know CEH is the lead back in KC. However, all signs have pointed to Darrel Williams securing the backup role as both RBs have split first team reps. Reports out of KC have stated that "Williams has been exceptional at every task in the offense" and is viewed as the team's top pass-blocking back. I expect Andy Reid to ease Edwards-Helaire into his first ever NFL game by giving Williams a good chunk of playing time and touches.
Clyde Edwards-Helaire: over 30 yards receiving, -112
Speaking of CEH, I expect him to show off his receiving chops in this game and clear the low total of only 30 receiving yards with relative ease.
Thursday NFL Game Props:
Hou Over 1.5 Field Goals, +109
This should be a high scoring affair Thursday night. Fairbairn attempted two FGs in both matchups against the Chiefs last year. The Texans will be able to move the ball against KC, but expect the offense to stall out in the red zone often.
Team to score first: Hou +163
I'm envisioning a scenario where the Chiefs' Super Bowl hangover gives them a slow start.  I can see Houston going down the field and hitting a FG on the opening drive to kickoff the scoring.
Team to Score last: Hou +130
The Texans might just be the team to score both first and last and still lose the game. If the Chiefs can build a lead, a garbage time score by the Texans with KC in prevent mode is more than possible.
Three straight scores by Either Team: No +334
I expect a tight game with a back and forth flow. KC might make me look foolish here but at +334 it's worth the risk.
Thursday Night Player Props Related Articles
DFS Showdown Picks: Texans vs. Chiefs