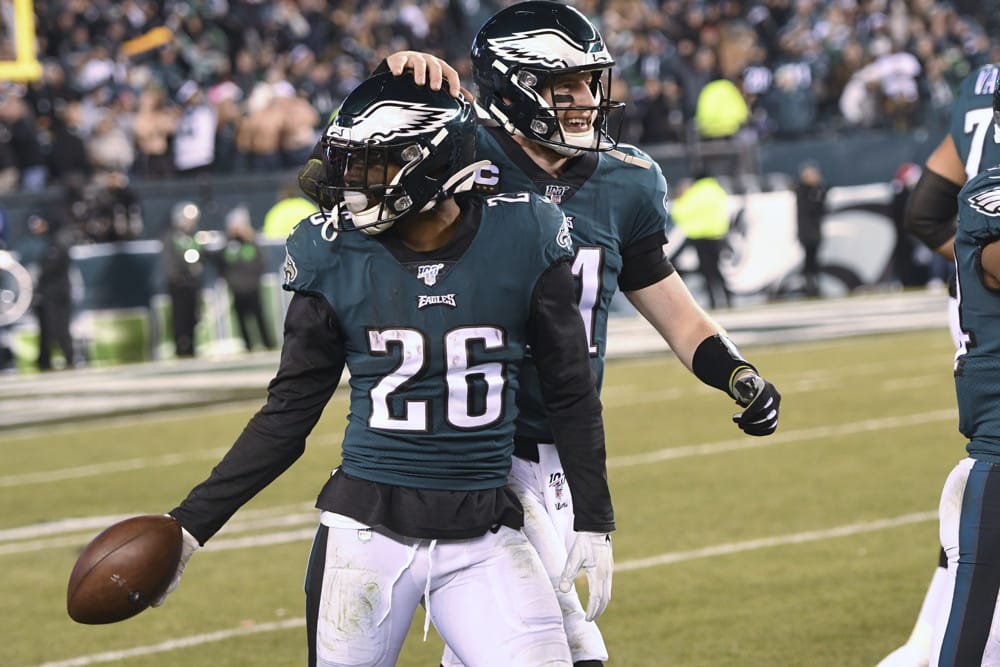 Powered by RedCircle
Every week, Sports Gambling Podcast hosts Sean Green and Ryan Kramer give out their best lineups to pay in the DraftKings Millionaire Maker NFL tournaments (promo code SGP). And in case you've never listened, Sean won $200k with one of his lineups.
Just in case you missed some of their picks or rationale behind them, I'll be breaking down their DraftKings Millionaire Maker picks each week in this column. I might even through in a little advice of my own.
DraftKings Millionaire Maker Picks
Quarterbacks
Josh Allen (Sean)
At $6,500, Allen possesses a lot of upside due to his elite running ability and his week one matchup. The Jets shipped off their best defensive player during the offseason and their star linebacker opted out of the season so Allen should be able to pick apart this short-handed defense. Plus, Allen should see low ownership with so many big name quarterbacks also playing so you will be in a great position to cash if he goes off just a bit.
Gardner Minshew (Ryan)
It is no surprise that the Jaguars will be a disastrous football team for the upcoming NFL season as they got rid of virtually everything of value in sight including running back Leonard Fournette. As a result, the Jaguars do not have much of a running game anymore which should force them to throw the ball a lot. Plus, Minshew might be the frontrunner for "Garbage Time King" in daily fantasy sports because he will get a ton of free passing yards when his team is trailing by double digits in the fourth quarter. At just $5,800, he has a ton of upside for a guy who could potentially throw for over 300 passing yards along with two passing touchdowns against a somewhat underwhelming Indianapolis secondary.
Looking for a free shot at millions of dollars in prizes? Download the DraftKings app and use promo code SGP
Running Backs
Christian McCaffrey (Sean)
At $10,000, one should be looking for consistency along with a serious chance for a monster performance and McCaffrey is a great candidate to do so. With a brand new coaching staff and a conservative quarterback in Teddy Bridgewater, one can expect a ton of work for McCaffrey who is arguably the best running back in the league. Plus, McCaffrey is an elite receiver out of the backfield so he should receive at least 20 touches in this game which makes him an extremely attractive option due to the volume. It also helps that he is going up against one of the worst defenses in the league so he is in a prime position to have a monster week one performance.
Chris Thompson (Sean and Ryan)
At just $4,000, Thompson has the potential to be a week one gem for daily fantasy players. Jacksonville has a bit of a crisis at running back now that Fournette is no longer on the team and Thompson should be the third down back due to his elite pass catching ability out of the backfield. Despite never being a true runner in between the tackles, game flow should benefit Thompson as Jacksonville is expected to get blown out by Indianapolis so one should expect to see him on the field during the bulk of the fourth quarter once the Jaguars completely abandon the run. As a result, Thompson should be able to rack up some points due to PPR while also possessing receiving touchdown upside.
Austin Ekeler (Ryan)
Last season, Ekeler became the face of Los Angeles' backfield once original starter Melvin Gordon got injured. Now, Gordon is no longer on the team so one can expect Ekeler to get as much volume as he did in 2019. Ekeler is a skilled runner and receiver so he should be getting a ton of opportunities on both running and passing plays. Plus, new quarterback Tyrod Taylor has never been much of a gunslinger so one can expect him to check it down a decent amount which should allow Austin Ekeler to get a decent amount of targets. At $7,000, Ekeler is definitely worth consideration due to the sheer volume of touches that he should be getting against a terrible Cincinnati defense.
Wide Receivers
John Brown (Sean)
At $5,600, Brown possesses some value due to his week one matchup against the New York Jets. New York has one of the weakest secondaries in the league and Brown had over 1,000 receiving yards last season so he seems to be a bit undervalued in this spot. Plus, Stefon Diggs will force the Jets into covering him in one-on-one situations which should allow Brown to get a lot of quality chances to record some receptions.
Anthony Miller (Sean)
Similarly to Brown, Miller might benefit from having a borderline elite receiver on the same roster as Allen Robinson should be receiving a ton of attention from Detroit's secondary. It is safe to assume that rookie cornerback Jeff Okudah will be given the sole assignment of guarding Allen Robinson which should give Miller a lot of opportunities to make an impact on this game against Detroit's other cornerbacks who are extremely underwhelming. While it is always risky to grab a piece of Mitch Trubisky's offense, $5,000 is a very cheap price for a wide receiver who should get a decent amount of targets in a dome game.
Michael Thomas (Sean)
It should not take much convincing when someone encourages you to take the player who set the NFL record for receptions in a single season in 2019. Thomas is one of the best receivers in the league and everyone knows that he gets a ton of targets from Brees so one can expect a similar script against Tampa Bay's below average secondary on Sunday. This game has the potential to turn into a shootout and Brees should have no problems trusting his most reliable weapon all over the field. Although $9,000 might seem like a lot, Thomas averaged approximately 150 receiving yards per game against the Buccaneers last season so he has the potential to go off in this one.
D.J. Chark (Ryan)
Last season, Chark impressed the coaching staff as he recorded 1,008 receiving yards along with eight receiving touchdowns. Chark appeared to be Minshew's favorite target and he should now get a lot more opportunities due to game flow. Jacksonville got rid of its workhorse running back from last year and its defense should allow at least 28 points per game so one can expect the Jaguars to be slinging the ball around for the second half of games which should get Chark more targets. Plus, Indianapolis' secondary is not elite by any metric so Chark has the potential to be a DFS gem at $6,300.
D.K. Metcalf (Ryan)
After some initial struggles in the NFL, Metcalf became a reliable option in Seattle's receiving corps as he finished the regular season with 900 receiving yards and seven receiving touchdowns before setting the NFL record for receiving yards by a rookie in a playoff game against the Eagles so it is safe to assume that Russell Wilson fully trusts him at this point in time. Metcalf is an elite athlete whose size and speed make him extremely difficult to cover and Atlanta's secondary leaves a lot to be desired. As a result, expect Metcalf to have several opportunities to make big plays in one-on-one coverage as he has the ability to turn any catch into a touchdown.
D.J. Moore (Ryan)
Despite Carolina's offensive struggles in 2019, Moore was a consistent producer as he finished with 87 receptions along with 1,175 receiving yards and four receiving touchdowns as he was clearly the number one receiver on the depth chart. Now, the Panthers got him some help on the other side of the formation as they brought in wide receiver Robby Anderson. Anderson has always been used as a deep threat in his career and one can expect him to keep that same role in Carolina which should work wonders for Moore who does most of his work underneath. Anderson should successfully be able to take the top off of the defense while Bridgewater should have D.J. Moore in a ton of one-on-one coverages on the other side of the field against one of the worst secondaries in the league.
Tight End
Mike Gesicki (Sean)
While Gesicki is not that well-known as a tight end, he was very productive last season as he recorded 51 receptions along with 570 receiving yards. In addition, he recorded five touchdowns within the last six weeks of the season so one can hope that some of that chemistry with quarterback Ryan Fitzpatrick will carry over into week one of this season. New England had a great defense in 2019 but a ton of players from that unit opted out of the season and DeVante Parker will be busy dealing with Stephon Gilmore so one can expect Gesicki to get a decent amount of targets on Sunday which gives him a lot of value at a $4,500 price tag.
Hunter Henry (Ryan)
Hunter Henry seems to put up elite level tight end production before ultimately getting injured and that has been the case for his entire career. Henry managed to record 652 receiving yards along with five receiving touchdowns in just 12 games last season and he is healthy once again so he should be able to feast against Cincinnati's week defense on Sunday. Plus, wide receiver Mike Williams might not even play which could potentially lead to more red zone targets for Hunter Henry. At just $5,300, he might be in the perfect situation to finish as a top-five tight end in week one.
Looking for a free shot at millions of dollars in prizes? Download the DraftKings app and use promo code SGP
Flex
John Hightower (Sean)
The NFL is a "next man up" league which means that a lot of value can be found due to some expected promotions on a team's depth chart. John Hightower is one of those examples as he should be given an increased role due to the recent injury to Jalen Reagor that will keep him sidelined for week one. Philadelphia has an extremely thin wide receiver corps and Hightower might provide a bit of a spark if he receives some additional snaps. At just $3,000, he could be a serious diamond in the rough due to the low ownership and the quality matchup against Washington's mediocre secondary.
Miles Sanders (Ryan)
Last season, Sanders slowly became the starting running back after eventually taking the reigns from Jordan Howard. Now, Sanders is the lone running back so he should be getting a ton of touches over these 60 minutes. Sanders became a workhorse back late in 2019 and the coaching staff will most likely lean on him heavily again due to the lack of competition in the backfield. As a result, Sanders should be in a great position to secure at least 20 touches with several of those touches coming within the red zone as he could potentially get into the end zone on numerous occasions this Sunday which is definitely a plus for a $6,300 running back.
Defense
Arizona Cardinals (Sean)
Even though Arizona's defense was not great for most of last season, it showed flashes down the stretch and now it gets a huge addition in linebacker Isaiah Simmons who should make an immediate impact as a rookie. Although San Francisco is an elite team, it did struggle a bit with Arizona 2019 so perhaps it will be able to force Jimmy Garoppolo into making a few mistakes on Sunday. At the cheap price of $2,100, it might be worth the risk.
Los Angeles Chargers (Ryan)
While a lot of hype has been made about Joe Burrow's upcoming rookie season, it is still the NFL and one can expect even more rookie mistakes due to the lack of a preseason. Los Angeles does have to overcome the loss of star safety Derwin James but it still has an elite pass rush that should be able to manhandle Cincinnati's extremely weak offensive line. Bosa and Ingram are extremely skilled when it comes to getting after the quarterback and I would not be surprised to see both of them recording some sacks in this game. At a $2,800 price, there is definitely value to be found due to the significant advantage within the trenches.
DraftKings Millionaire Maker Related Posts
DFS Showdown Picks: Texans vs. Chiefs
DraftKings Promo Code: Best Way To Use Your Bonus