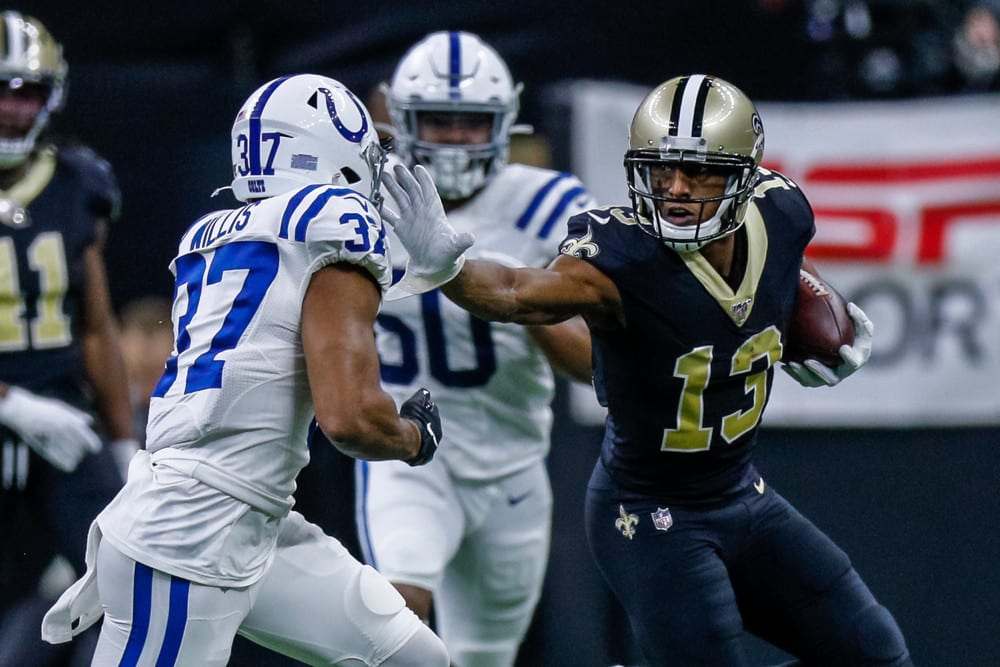 Daily fantasy football is back! So, if you are lucky enough to have a free ticket to the Milly Maker via a DraftKings Promo Code (enter code SGP), you are in the right place!
What you'll find here is a suggestion for a lineup to run this week. Keep in mind, these are our suggestions based on our research. You are free to take it as is, or, tweak it in a way to fit your favorite plays. 
Looking for a free shot at millions of dollars in prizes? Download the DraftKings app and use promo code SGP
Tom Brady – QB, Tampa Bay Buccaneers $6,500
If you are looking to roster Christian McCaffery, you have to look lower on the chain elsewhere while using your DraftKings Promo Code. One place to look is here. You may have your opinions about how relevant Brady will be in Tampa. You may even have a strong urge to fade him forever. For this week though, at his price, he gives you the best shot at competing for the big prize.
Two things he has going for him this week will be his low ownership, and a middle of the pack New Orleans Saints defense. On the first point, it's fun to downgrade Brady, it's been that way for years. Yet, he continues to produce. To the second, he's surrounded by a host of amazing wideouts. Mike Evans and Chris Godwin will be fun new toys for him; his old pal Gronk will ease his transition.
.@ClayTravis likes Tom Brady and the Bucs +3.5 to cover on the road in New Orleans:

"I have Brady fever because this offense is on fire… He's going to have the best receivers he's ever had in his career." pic.twitter.com/hYdFwrKvJk

— FOX Bet Live (@FOXBetLive) September 8, 2020
Don't give up too soon on what Brady can do for your lineup. With the others you can roster thanks to his salary relief, you may feel a little better about it.  
Christian McCaffery – RB, Carolina Panthers $10,000
There is no denying the hype around CMC all offseason. He comes into the week as the highest priced player on the board. That is reason enough to scare even the most hardened DFS players off his services. More often than not though, there is danger in trying to put too fine a point on your lineup. Sometimes, as they say, you have to eat the chalk. 
McCaffery has a new quarterback in Teddy Bridgewater this season. It is highly likely that means a heavy rushing attack early in the year to help ease the new signal caller into town. Not to mention, Mike Davis and one-time New York Jet Tenton Cannon are his backups. There is no doubt the leagues' fourth leading rusher in 2019 will get fed. It also doesn't hurt that he is also one of the more capable receivers on this team.
All he will need to reward you for your investment is score somewhere in the vicinity of 22-25 points. He will be going against an improved Raiders defense. That doesn't mean too much for a talented back like McCaffery. Don't try to get too cute here. Set him and forget him with your DraftKings Promo Code.
Raheem Mostert – RB, San Francisco 49ers $5,800 
While he may not be the most sexy DFS pick on the slate, there is production to be had here. We've already documented Mostert's season-long upside. But those same traits are what makes him a valuable daily play. Especially in week one against a suspect Arizona Cardinals defense. Last season, the unit was 23rd against the rush allowing just over 120 yards per game. 
This bodes well for Mostert as he enters the week at a price just under $6k. San Francisco has two big names in that backfield that will be attempting to jockey for dominance. While that is going on, Mostert will slip in and resume his outstanding efforts from last season silently, but effectively.
The 49ers are on a revenge tour after losing the Super Bowl last year. Expect them to fire everything they have against the Cardinals to help wipe the taste out of their mouths. This includes a powerful weapon like Mostert that is buried behind the likes of Tevin Coleman and Jerick McKinnon. 
Michael Thomas – WR, New Orleans Saints $9,000
It's week one and pricing always feels out of sorts. With that being said, this will likely be the cheapest you will see Thomas for the rest of 2020. He is one of the league's elites for a reason. And, much like McCaffery, will be a flavor of chalk you will have to stomach. 
This week, Thomas goes against an arguably improved Buccaneer defense. While improved, they were still almost dead last in the league last season against the pass. Drew Brees and Thomas have a connection that makes this matchup a favorite to produce. It also makes it too good to pass up. 
His potential is helped by the addition of Emmanuel Sanders to the Saints. Sanders will help split opposing secondaries attention and free up Thomas for some added looks. At least that is what fantasy players hope will happen. The first week of the season is always a chance to prove your worth. Thomas now has 100 million reasons to prove his. He could give you a million of your own. 
Marquise Brown – WR, Baltimore Ravens $5,100
Let's face it, anyone has value when they have one of the league's hottest quarterbacks on their side. That value increases when you are a talented receiver like Brown. The wideout known as "Hollywood" got off to a hot start last season only to fizzle out late. He reemerged in the playoffs with a seven catch, 126 yard performance against the Titans. 
At $5.1k and going against the Browns, a three fold return on his price tag is not at all out of reach. He led all Ravens wideouts in receptions and receiving yards in his rookie campaign. In year two, he could be that breakout star Lamar Jackson needs him to be. That breakout could start this week with your DraftKings Promo Code. 
Looking for a free shot at millions of dollars in prizes? Download the DraftKings app and use promo code SGP
Dontrelle Inman – WR, Washington Football Team $3,400
The threat of Washington's wide receiver corp in 2020 consists of Terry McLaurin. Full stop. After that, there are several names attempting to claim some status. Among them is Inman who has found his way onto the field taking snaps as the team's third wideout. Inman is a new addition to Washington. He's bounced around the last several seasons with multiple pit stops with the Chargers. 
Washington has four locks at receiver — Terry McLaurin, Dontrelle Inman, Steven Sims and Antonio Gandy-Golden — and four others left for one or two slots.

Isaiah Wright, Jester Weah, Jordan Veasy, Johnathon Johnson https://t.co/y471zc7mLb

— Sam Fortier (@Sam4TR) September 5, 2020
His main role will probably keep him in the slot. This should make it easier for Dwayne Haskins to find a safety valve enough times to make Inman rosterable. This is certainly not going to be a high percentage play. As a true WR3 play, what you are hoping for is a cheap guy who can break one loose. Inman has the talent to do and we hope he gets the opportunity this week.  
Irv Smith Jr – TE, Minnesota Vikings $3,100
Tight end is a tough position in fantasy in the first place. Trying to find the right combination to fit a George Kittle or Travis Kelse every week is even tougher. That is why finding a guy like Smith Jr. is important. It might be coach speak, but every indication from the last few weeks is Smith needs the ball more. It's true he is a little overshadowed by the great Kyle Rudolph. But, Smith is in a position to make his own name this year if he plays his cards right. 
Look at it this way, even three catches for 30 yards doubles your investment. Should he find the endzone, you're golden. 
Chris Thompson – RB, Jacksonville Jaguars $4,000
Someone has to step up to fill the Fournette sized hole left in the Jacksonville backfield. Thompson will likely be that someone as the elder statesman in a young backfield. 
His 2019 stats won't make you confident in this pick to be sure. Thankfully you aren't banking on what he did last season, you only need one good week. Fantasy is all about opportunity and touches. Thompson checks both of those boxes. 
At his bargain low price, he is an attractive flex pivot with upside. What's better, is he doesn't have to have a huge day to reach value. With his pass catching ability, his floor alone is enough to put him in your lineup with your DraftKings Promo Code. 
Btw for those in deeper PPR leagues Chris Thompson may wind up being the most valuable JAX RB. Health is always a concern with him but Jags are gonna be throwing a lot this year.

— Matthew Berry (@MatthewBerryTMR) August 31, 2020
Los Angeles Charger Defense – $2,800
Not a lot can be said here other than the fact that the Chargers are playing the Bengals. Their defense will be lined up against a rookie quarterback in Joe Burrows. All the buzz in the media is touting the Charger defense as one of the best in the league. So, you can imagine what Joey Bosa and company will be able to accomplish against a team that allowed 48 sacks last season. 
Look for the Chargers to manhandle Cincinnati, frustrate Burrows, and bottle up Mixon. At the price point, you are essentially getting an elite defense at a highly discounted rate with your DraftKings Promo Code.
Looking for a free shot at millions of dollars in prizes? Download the DraftKings app and use promo code SGP