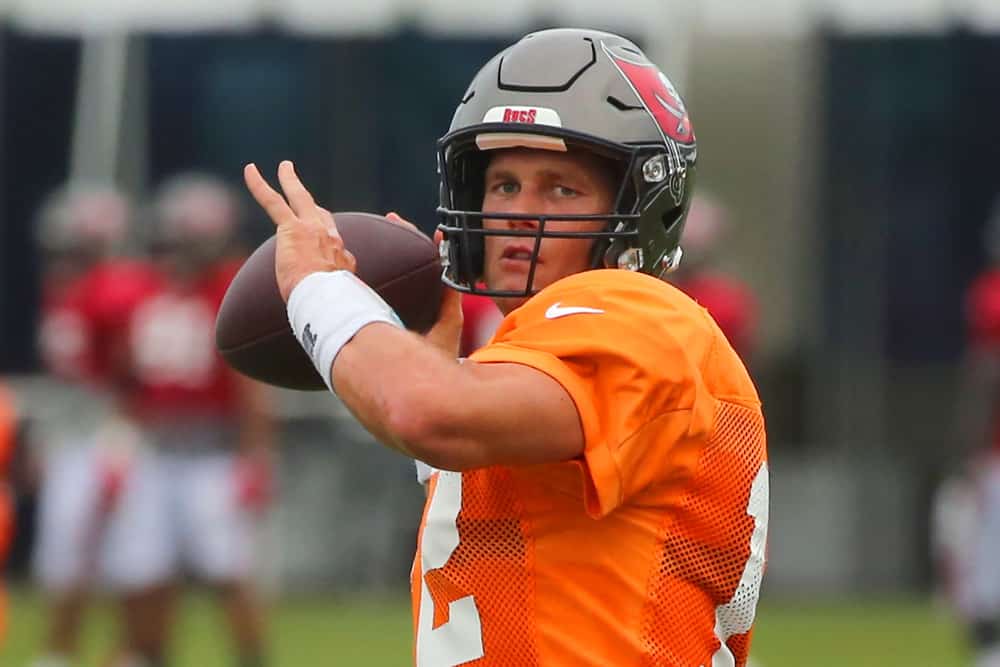 It's hard to believe we are getting close to the start of the 2020 NFL season. I can't lie. I had doubts we would ever get to this point, but here we are. And since we're here, we need to talk NFL teams to fade early in the season!
The season kicks off Thursday, September 10th with the Chiefs and Texans battling in Arrowhead. It will be a fascinating season due to the Coronavirus pandemic, but the NFL is prepared to play. All pre-season games were canceled and the majority of teams will have limited fans (if any) to start the season. That will obviously be a drastic change to everyone associated with the NFL. With the lack of a typical off-season training program and no pre-season, the teams that made big free agent signings and coaching changes could be at a disadvantage to start the season.
Below I'm going to breakdown the NFL teams to to fade early, because they'll be most affected by the Covid-19 ramifications.
RELATED
NFC East Win Totals Preview
AFC East Win Totals Preview
2020 NFL Teams To Fade Early In The Season
1. Tampa Bay Buccaneers
Tom Brady decided to leave the Patriots and sign with the Bucs on a two-year deal worth 50 million. Brady is the GOAT, but the past two seasons his play has not been up to his typical standards. Part of it is his age. And part of it was the lack of weapons around him, especially last season in New England.
This season he will have every weapon imaginable at his disposal. The Bucs have the top skill position talent in the league at receiver and tight end. The big challenges for Brady are being in a new environment for the first time in 20 years and learning an entirely new offensive system. He won't have the pre-season reps with his receivers so it's unfair to think the Bucs offense will be in sync early in the season.
Once the calendar hits October and November, and if the Bucs don't have any debilitating injuries, they will be a threat in the NFC.
2. Indianapolis Colts
Indianapolis had a disappointing 2019 season with the unexpected retirement of Andrew Luck. They started the young-but-adequate Jacoby Brissett. However, the Colts fell apart late in the season going 1-5 in their last six games.
In the off-season, they turned to Phillip Rivers. He had who left the Chargers after a brilliant 16-year run. Rivers is a future Hall of Famer but looks like he lost his fast ball last season.
He threw for over 4,000 yards but finished with 20 interceptions. Since the Colts play indoors and have a great offensive line, he should have every opportunity to bounce back in 2020. With the lack of pre-season games, the Colts offense will have some growing pains, but they have the talent to contend in the AFC South.
Indianapolis has a solid coaching staff led by Frank Reich and one of the top general managers in the league in Chris Ballard. Rivers will need to mesh with the coaching staff and his teammates in quick order in what has become an unprecedented time for professional sports teams across the board.
3. Carolina Panthers
Carolina is facing a daunting task breaking in a new quarterback and a new head coach in the same season. Times have changed with Cam Newton no longer in the building. Teddy Bridgewater is the new starter. At least he has the benefit of leaning on an elite back in Christian McCaffrey.
Matt Rhule takes over as Head Coach after doing a tremendous job at Baylor. Baylor was mired in scandal before Rhule, who cleaned up the program and took them to the Sugar Bowl last season. The Panthers will also break in two new coordinators, another challenge in an already unique season.
This is a clear rebuilding season for the Panthers and a lot of the pressure will fall on Bridgewater. He has always been considered a game manager. He needs to break out and prove to be more of a down the field passer. With Brady, Brees and Ryan in the division, he is clearly a step below the other quarterbacks he will routinely face in the NFC South.
4. Washington Football Team
2020 has been a year of change for the Washington Football Team. They have a new name, a new head coach Ron Rivera and they made multiple front office moves. Washington made a great hire in Rivera, but like most new coaches it takes time to build a new culture from top to bottom.
Second-year quarterback Dwayne Haskins is the starter in Washington and has a new offensive coordinator in Scott Turner, who has quality NFL experience but has never been a coordinator. A lot of the team's success will depend on how much Haskins improves in his second NFL season and how well he works with the new staff.
One area of strength should be the defensive line with Chase Young and second year pro Montez Sweat both having elite play making ability. Jack Del Rio takes over as defensive coordinator and does have head coaching experience which will be important with the unfortunate news that Ron Rivera is suffering from Squamous Cell Carcinoma Cancer. The plan is for Rivera to keep coaching as long as he can during treatment, but the team does have a Plan B in place.
READ ALSO
NFL Futures: Division-By-Division Bets, Including the Bills to win the AFC East
10 Tiers Of Hating Tom Brady