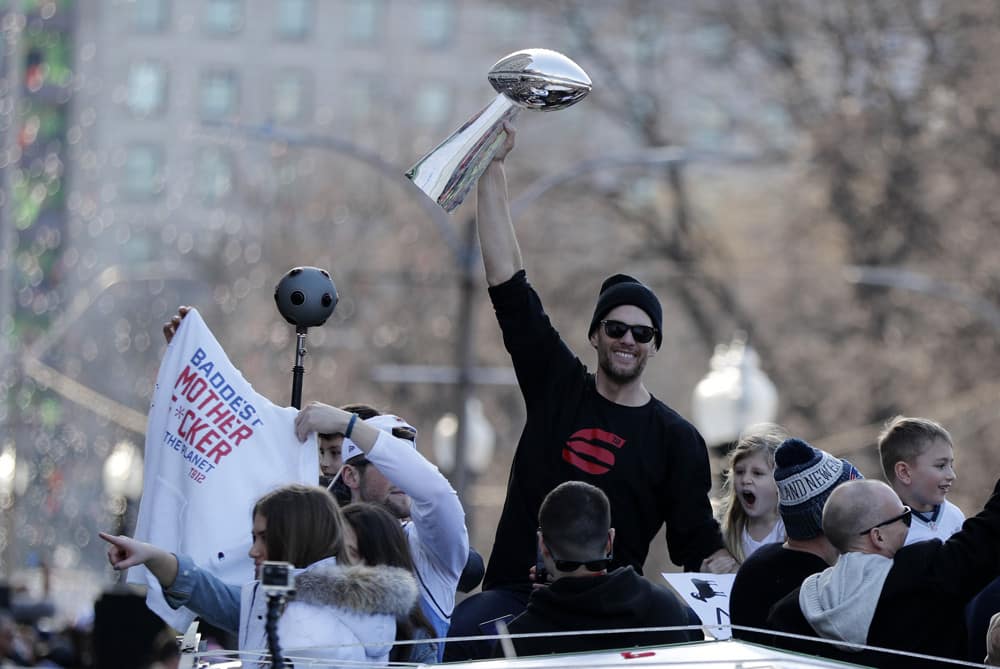 Chances are, if you're a football fan you have a feeling about Tom Brady. And if you're not a Patriots fan, that feeling is probably hating Tom Brady more than he hates going to sleep later than 9pm.
But how much do you hate Tom Brady? That depends on your team. Let's break this hate into tiers. With 100% accuracy, we'll prove how much you really hate TB12.
RELATED
10 NFL Players Tom Brady Hates

TIER 1:


I Actually Think He's Pretty Great
Team: Buccaneers
Let's move on.
TIER 2:


No Opinion
Teams: Cardinals, The entire NFC North, Cowboys, Washington, Browns, Bengals
Most people hate Tom Brady at least a little bit (especially if you're in the nightshade industry), but these teams don't have the football history to back up that hate.
The Browns and Bengals haven't mattered enough in the Brady era to care. At least half the NFC haven't played Brady enough to breed a real hate. Unless you don't like people involved in multiple cheating scandals and think every ailment can be cured with a nice, long stretch.
If you wanted to argue that Packers fans hate him because they think Rodgers is better I will listen to you. Packers fans are fueled by cheese curds and thinking Rodgers is still underrated. Also, he isn't.
TIER 3:


He's Always Been Nice To Me
Teams: Saints, 49ers
Full disclosure, as a Saints fan…I kinda like Tom Brady! He's got a winning record against my favorite men (that one win was pretty sweet though), but he also let us watch Matt Ryan and the Falcons disintegrate before our eyes. And it was glorious.
No one has a better "Oh, gee I really wanted to win this game!" face than Matt Ryan. And sure, Brady wasn't great in Super Bowl LIII, but the Pats humiliated a Rams team the Who Dat nation certainly wanted to be humiliated. Even though most of us were drinking on the street instead of watching the game. This has already been too many words on the Saints for this article.
For the 49ers, Brady's hatred of having another quarterback in his same realm of handsome got them Jimmy G. And that's a good thing! Probably!
TIER 4:


People Hate Tom Brady? Weird
Teams: Eagles, Giants
They've beaten Brady in a Super Bowl, and made Eli Manning and Nick Foles incredibly unlikely legends in the process. Did you know that Nick Foles called for the Philly Special? Have you ever heard of anything more fascinating in your life?!?!
Sure, Brady deprived McNabb and Reid, but one would imagine 2017 healed those wounds. Actually probably not. They're Eagles fans, which means they hate the sun for thinking it's so great. Rising every day and all. YOU THINK YOU'RE BETTER THAN ME, SUN! But their hatred is abated by the knowledge that Brady goes to bed each night thinking about how he wasn't as good as a backup QB or his nemesis' little brother. And for that we are all eternally grateful.
TIER 5:


We're A Little Mad, Bro
Teams: Seahawks, Titans, Chiefs
Tom Brady (and by Tom Brady I mean Pete Carrol) ruined any chance at a dynasty for the Seahawks with Super Bowl XLIX. But also Richard Sherman got to piss Brady off that one time in 2013. Which is probably just as good as two titles.
The Titans ended Brady's Patriots career, but also are in the AFC so there's a little hate. The Chiefs would have had a much higher hatred rating if not for this year's Super Bowl win and Patrick Mahomes agreeing to never leave Kansas City again. Guess who loves 2020? Chiefs fans! As long as you don't bring up the tomahawk chop.
TIER 6:


I Want Him To Feel Pain, But I'd Like His Children To Be Happy
Teams: Broncos, Ravens, Steelers
Sure, Brady has a winning record against all of these franchises, but they've also had their moments of sending the cleft-chinned one home in the postseason. Well, not the Steelers, they appear to get turned on by losing to Tom Brady.
The Ravens might be a bit of a stretch (something tells me they hate easy), but they've beaten Brady in the playoffs twice and have their own ring during Brady's reign. Plus they get to taunt Pats fans for not drafting Lamar Jackson for the next 100 years so they aren't complaining.
The Broncos also have a ring and a Brady AFC title game victory. While the Steelers have two rings that just happen to coincide with years they didn't face Brady in the playoffs. Which, if we're being honest, was pretty nice of Tom.
TIER 7:


He's Ruined Everything I've Ever Love and Must Pay
Teams: Jags, Falcons, Chargers, Raiders, Rams, Panthers
The Jags and Chargers have both seen their lone chances at happiness this century squashed before their very eyes due to a combination of Tom Brady being very good and their teams being very, very bad at the worst times. Also that one time Philip Rivers played without an ACL.
The most promising Rivers Chargers seasons? Ended shaking Tom Brady's gorgeous hand in defeat. Remember when the Jags nearly went to the Super Bowl, Blake Bortles seemed almost competent and Doug Marrone was a good coach instead of just some guy that looks like the dude complaining about having to wear a mask in Target? Feels like a lifetime ago.
In an alternate world, the dark lords don't choose Tom Brady as their anointed son and The Tuck Rule goes the other way. The Raiders win six titles, stay in Oakland and Tom Brady is the hottest JUCO QB coach to ever live. But our world is too cruel for that.
As for Falcons fans, they'll never be able to see the numbers two, eight or three for the rest of their lives without involuntarily weeping, and Brady is to blame for that. Also Matt Ryan fumbling. And bad play calling…
TIER 8:


I Never Knew Hate Until I Knew Tom Brady
Teams: Jets, Dolphins, Bills
Against the AFC East, Brady went 88-22. And people believe good things are possible.
TIER 9:


You Think You Hate Tom Brady? I'll Show You Hating Tom Brady!
Team: Colts
The Colts deserve their own tier in this hell of hatred. They've been eliminated by the Pats in the playoffs four times, started Deflategate and somehow seen two franchise quarterbacks retire during the Brady reign. Sure, they won a Super Bowl (and beat Tom on the way to it), but there's too much hate in Colt's fans heart to even think about that.
TIER 10: 


Brady is Without Blame, I Only Live to Hate Belichick
Team: Patriots
This is all Bill's fault. Bill pushed Tommy too far. Bill must pay.
RELATED
10 NFL Players Tom Brady Hates