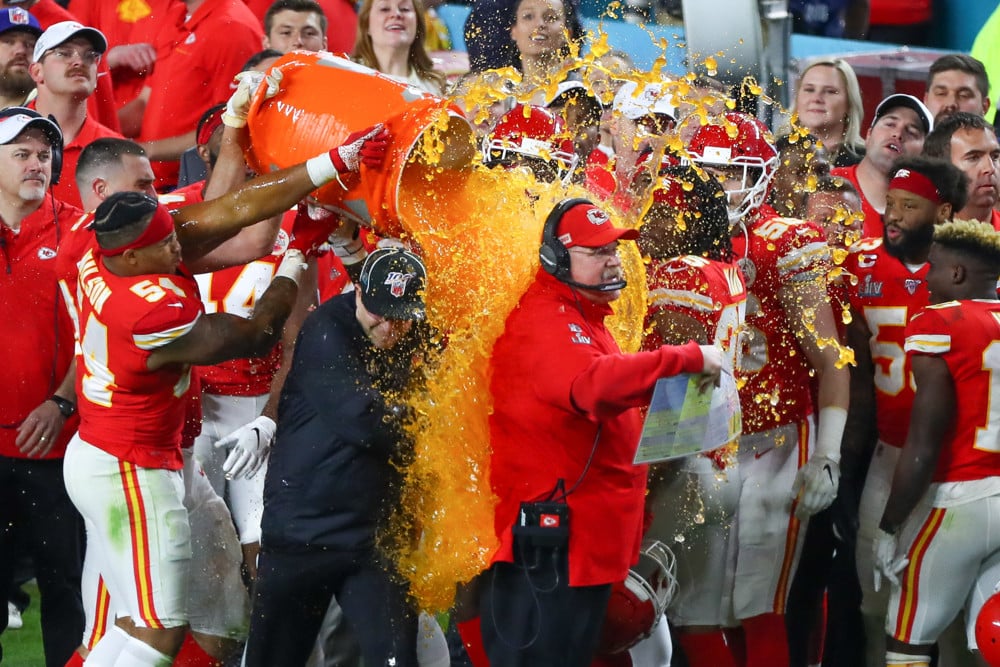 Don't overlook these NFL Awards Best Bets. With the NFL season right around the corner, there is a lot of uncertainty when it comes to making predictions. While most people are focused on predicting the potential success of specific teams or specific players, one area of speculation that others ignore is award winners.
The NFL Awards are about recognizing the achievements of NFL personnel over the course of a season and there is also quite an interest in this event when it comes to the betting markers. Here are my 2020 NFL Awards Best Bets.
Coach of The Year
Pick: Andy Reid (+2000)
Since this award is always based on team success, it makes perfect sense to me to choose the coach of arguably the best team in the league. The Kansas City Chiefs won the Super Bowl last season and they brought virtually their entire offense back so one can expect the Chiefs to dominate in the AFC West once again in 2020. Reid is a legend in today's NFL and he is respected by virtually everyone in the NFL so I was a bit surprised to see his odds being this high for this award.
As good of a coach that Reid has been over his entire career, he has shockingly won this award just one time and it was back in 2002. Following his first ever Super Bowl trophy, I can see Reid adding another trophy to his collection once Kansas City cruises to another phenomenal regular season behind one of the greatest offenses in the history of the sport.
Offensive Rookie Of The Year
Pick: Joe Burrow (+225)
After taking a longshot in the first award, I am going to get a bit chalky for this specific award. For reference, two of the last four winners of this award were quarterbacks and I think that Joe Burrow will make it three out of five. Quarterbacks generally have a huge advantage in award races because they are guaranteed to have the ball in their hands every play and Cincinnati has decided to invest the entire future in him which makes me believe that he should be able to get a lot of chances to showcase his Heisman Trophy winning skills.
Burrow has a ton of weapons on offense that should help him put up some gaudy numbers despite the lack of overall team success. A.J. Green is returning from injury and the Bengals also drafted Tee Higgins in the NFL Draft to join Tyler Boyd in one of the most underrated wide receiver groups in the league. Plus, Joe Mixon is a very solid running back who can help take some pressure off of him in the pocket. Lastly, Cincinnati is projected to be a terrible football team which means that there should be a ton of garbage time for Burrow to exploit in order to improve his stats en route to winning this award.
READ ALSO
Superflex Mock Draft 2020
10 Tiers Of Hating Tom Brady
Defensive Rookie Of The Year
Pick: Chase Young (+225)
Four of the last seven winners of this award were defensive linemen and I think that Chase Young has the talent to separate himself from the other competitors for this award. Despite the fact that Washington is projected to be terrible this season, it actually possesses a very talented defensive line and I think that Ryan Kerrigan and Jonathan Allen should help Chase Young by preventing opposing teams from being able to double team him which should help his sack numbers.
It is very tough for defensive players to put up flashy numbers and there is no flashier statistic on the defensive side of the ball than sacks. Young has the talent and the supporting cast to finish his rookie season with a ton of sack opportunities and I expect him to capitalize of them like he did in college. Nick Bosa won this award last season with nine sacks and I think that Chase Young has the ability to put up at least ten so I like his chances of winning this award.
Defensive Player Of The Year
Pick: Minkah Fitzpatrick (+4000)
When first analyzing the odds within this prop, I was shocked at the price by Minkah Fitzpatrick's name. Fitzpatrick single-handedly changed the culture of Pittsburgh's defense last season as he recorded five interceptions and one defensive touchdown while also forcing two fumbles. Fitzpatrick is one of the best ballhawks in the entire league and he can win this award if Pittsburgh's defense carries the Steelers to a playoff spot.
Last season, Stephon Gilmore became the first defensive back to win this award since 2010 and it was refreshing to see someone who was not a defensive lineman win the award for once. On a bigger note, it tells me that the voters might be paying a bit more attention to the performance of defensive backs in the future and I think that Minkah Fitzpatrick has the talent and the instincts to put his name in the conversation. Even if he does not win the award, 40-1 is such a ridiculous price that one has to at least consider taking it.
MVP Award
Pick: Patrick Mahomes (+425)
When breaking down any award, it is important to look at previous winners to see if there are any trends. The easiest trend to notice when analyzing the MVP Award is that it is a glorified award for quarterbacks. For reference, a quarterback has won this award each of the last seven seasons so taking a flyer with another position looks like a waste of money. Therefore, it seems to make perfect sense to gamble on the best quarterback in the league.
Patrick Mahomes has dominated the league ever since he showed up. Within his first two full seasons, he has an Offensive Player of the Year Award, an MVP Award, a Super Bowl Trophy and a Super Bowl MVP Award so he has been unstoppable and it would appear foolish to expect anything else for this upcoming season. Plus, Kansas City managed to keep almost its entire offense and its offensive coordinator which should give the Chiefs a huge advantage due to the lack of preseason games. Lastly, Kansas City is expected to finish with one of the best records in the entire league which should allow Mahomes to put up some huge numbers while also leading his team to a ton of wins.
READ ALSO
Superflex Mock Draft 2020
10 Tiers Of Hating Tom Brady