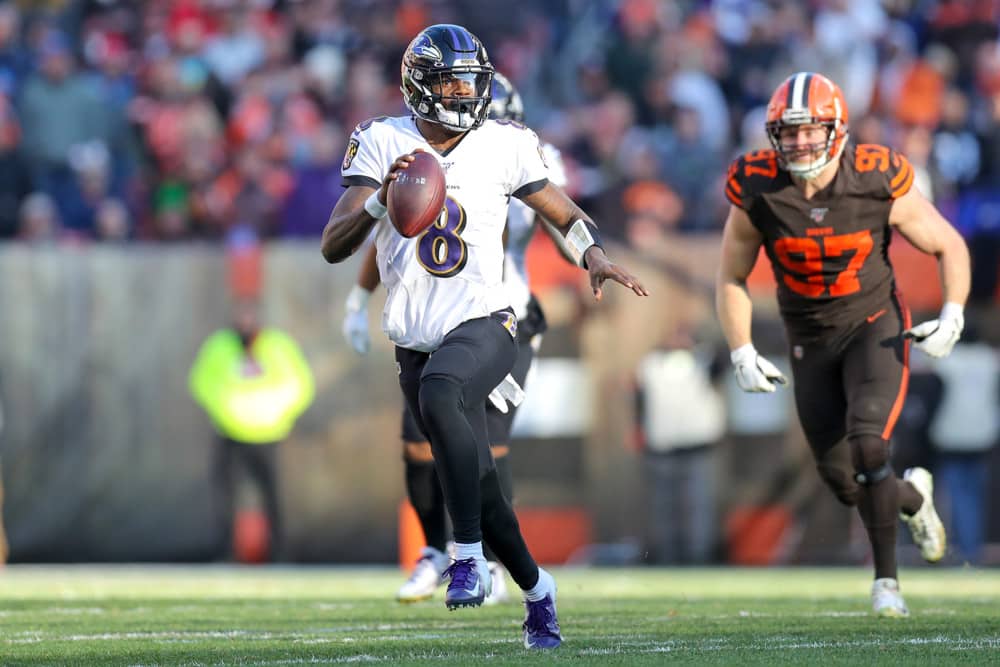 SuperFlex leagues are all the rage these days and provide a fun twist on traditional season-long fantasy leagues. Being able to start two quarterbacks, one at QB and one at SuperFlex, it makes quarterback a more valuable commodity. To get in on this growing fantasy trend we held the first Sports Gambling Podcast SuperFlex Mock Draft.
The inaugural Sports Gambling Podcast SuperFlex Mock Draft was a 12 team affair and drafted using PPR settings. Rosters consisted of one QB, two RBs, two WRs, one TE, two FLEX, and one SuperFlex with five bench slots.
Quarterbacks in SuperFlex Leagues
In a twelve-team SuperFlex league, almost all of the starting quarterbacks will be rostered and they will be drafted early and often. Lamar Jackson at 1.01 is something you will only see in SuperFlex leagues. The toss-up between Mahomes and Jackson, or Josh Allen and Tom Brady comes down to rushing upside.
Rushing yardage and touchdowns usually trump passing yardage and touchdowns. If you are weighing a player like Tom Brady against Josh Allen, take Allen. His rushing upside provides a much higher floor and upside than any production Brady can contribute. Similarly, Cam Newton provides some mid-round value with early-round upside in SuperFlex leagues if he is healthy.
Value Plays
With an early emphasis on quarterbacks, it is possible to sit back and wait to take quarterbacks in Rounds 3-6 and still be set at the position. Waiting on a quarterback opens up the opportunities to scoop up players like Austin Ekeler (2.11), Julio Jones (2.12), Josh Jacobs (3.10), and Travis Kelce (4.3), at draft slots far below market value. Similarly, strong RB2s like David Montgomery, Devin Singletary, Mark Ingram, and Kareem Hunt remained on the board until Rounds 8 and 9.
https://twitter.com/Htagsports/status/1251541035928432641
If you wait on a quarterback to scoop up talented running backs and wide receivers with late first and early second-round picks, you can still have a successful team. Philip Rivers went off the board at Pick 7.1 and Ryan Fitzpatrick went two picks later. You can also easily ensure your Amish Rifle stock by scooping up Tua in Round 8. Whether you want to wait on a quarterback or on your skill position players, both approaches can work.
Dice Rolls
Like any fantasy draft you have to roll the dice on some picks and hope that they come through for you. Looking at how our SuperFlex Mock Draft played out, a Cam Newton/N'Keal Harry stack at picks 3.9 and 11.9 respectively is one of those long-shots.
Cam Newton is not guaranteed to be the Patriots starter. However if, and when, he does start for New England, N'Keal Harry is a receiver to watch. Harry is a big and physical receiver similar to Kelvin Benjamin and Devin Funchess, both of whom Cam Newton made fantasy relevant. If Cam and Harry can capture some of that chemistry, Harry in late rounds is a league-winner.
Similarly, Henry Ruggs III has been sitting on draft boards well into the late rounds. Today the news came out that Tyrell Williams has a torn labrum and will be on the injury report for a while. This leaves the Raiders with 64 targets opening up in a low-volume passing offense. Ruggs figures to be in line to pick-up an even larger target share and has some major upside potential for a Round 13 pick. Round 13 was way too late for Ruggs, if you can get him starting in Round 11, go get him.
Patience pays for Pelletier
Just like any draft, this one all comes down to who scored value in the draft. Looking across all of the teams drafted, Kramer and JonBoy both managed to scoop up five "Value Picks," players selected one round later than their ranking, according to Fantasy Pros. Strong results, but yours truly ran away with the Value Picks with eight. Julio Jones fell from being the 12th best player according to FantasyPros all the way to pick 2.12, while talented young backs Singletary and Montgomery fell all the way to the Round 8/9 turn.
Late in the draft, Matt Breida and Darrell Henderson fell letting me scoop up two major upside guys in Rounds 11 & 13. Preston Williams looks like he might be the actual WR1 in Miami and he fell all the way to Round 12.
Last year, Williams looked like the better receiver than Parker until he got hurt and Parker became the dominant target.  With eight value picks and a patient approach emphasizing depth, they project me to finish the year in first place on the strength of dominant depth, earning me the highest grade on the day with a 94 out of 100, an A. What else do you expect from the fantasy guy at SGP?
FantasyPros' Algorithm hates Stacking the Money
However, in the words of Sean "Stacking the Money" Green, "The (FP) algorithm hasn't adjusted to gut handicapping." Now, this could be some sour grapes on Sean's part as FP has him slated to finish last in our hypothetical league. Picking from Slot 11 can be challenging and Sean started strong with Miles Sanders and Josh Allen, but he might have been better served by waiting and not taking Big Ben.
With supremely talented players like Aaron Jones, Kenny Golladay, and Mike Evans still available, Sean could have been more patient and waited on a second quarterback, but he got caught at the end of a QB run that saw Danny Dimes, Cousins, Brees, Brady, and Cam go off the board in Round 3. Learn from Sean and be patient on taking a second QB when there are highly talented skill position players available.
Kramer Sticks with What he Knows
Unlike his cohost, Ryan Kramer stuck with what he and everyone else knows. Christian McCaffrey is an absolute beast and always a league winner, the trophy with my name on it for 2018 & 2019 is evidence enough. Rather than get caught up in the shiny newness of a SuperFlex Mock Draft and jump on a quarterback like Russ or Kyler, he took CMC and profited. His patience was rewarded as he picked up bounce-back candidate Matthew Stafford in Round 2 to lock down a strong QB1 candidate.
The later rounds were also favorable to Kramer as he picked up low-hype big-production guys like Julian Edelman and Brandin Cooks in back-to-back rounds. Combine that with an all-time no-hype guy in Marlon Mack and stealing Darius Slayton in the last round gave Kramer a strong draft.
Losing your Draft Late with Ryan McKee

Similarly to Sean, Ryan McKee started off the draft strong and has one of the strongest starting lineups in the SGP SuperFlex Mock Draft. Once Round 9 came around though his draft started to fall apart. Again, it can be challenging picking in the latter half of the draft, but McKee made classic mistakes in Rounds 10-14. In Rounds 10 & 11 he went all-in on a confusing and potentially injury-prone Detroit backfield taking both D'Andre Swift AND Kerryon Johnson. Sure it can pay to handcuff a back, but with a murky situation, avoid taking Swift and Johnson.
He furthered his issues by taking John Brown and Jared Cook in Rounds 12  & 13. Even though both had strong seasons in 2019, you never win this year by chasing last year's production. Cook is in for regression with the arrival of Emmanuel Sanders in New Orleans. Cook has name recognition, but Ian Thomas and Jonnu Smith have a much higher upside in the late rounds. John Brown will take less of a production hit, but he does not have the upside of players like Ruggs, Jerry Jeudy, and Curtis Samuel, who all went after him. In the late rounds, take some shots and look for those lottery ticket players.
They Said it
"I firmly believe in Eno Benjamin in the last round." – Ryan McKee
"I stand by my Kittle pick. He will be the #1 TE in fantasy this season and like Gronk was a few years ago, interchangeable with having another WR1 on your roster." – Rodrigo Villagomez
"The site doesn't understand the art of punting weeks." – Scott Reichel
"Adam Pelletier one word amigo – championship!" – Nick Dant
"You're right Nick, I am going to win a chip." – Adam Pelletier