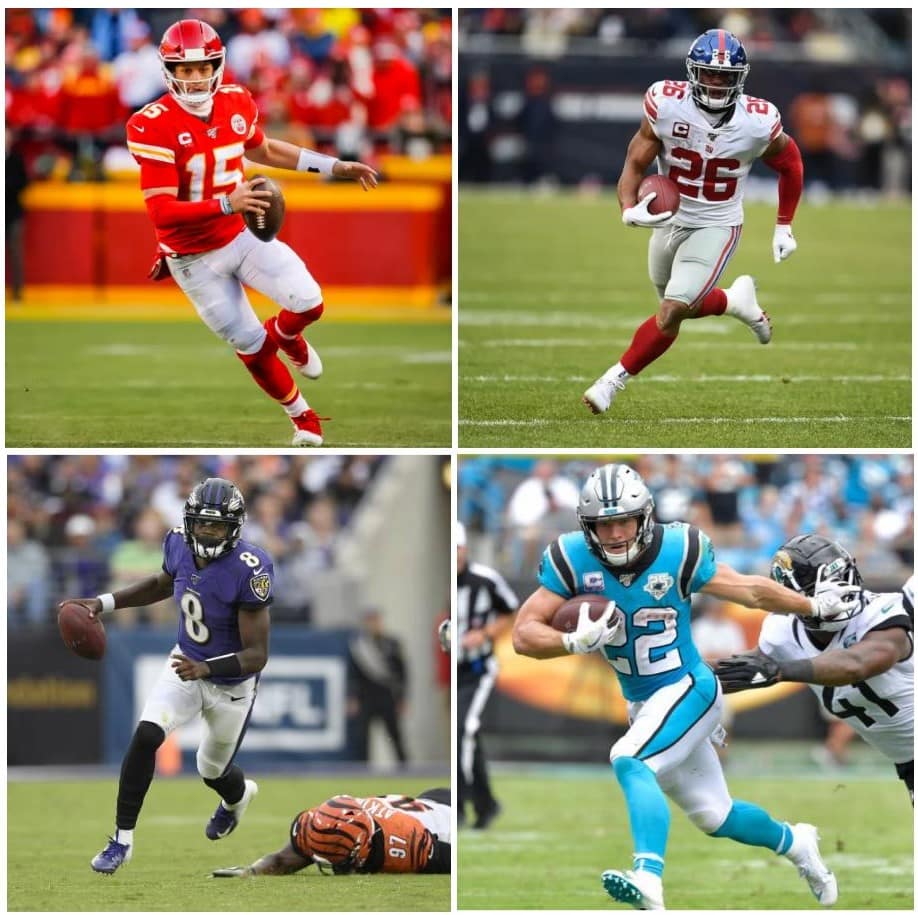 Now that the NFL Draft is in the rearview mirror, it's about time that we start thinking positively towards the Fall and Week 1 of the 2020 NFL season! While its still a little early to get started on your typical yearly redraft fantasy leagues (it's better to wait until closer to training camp), now is the prime time to get involved in a start-up dynasty league! Preseason injuries have a lesser impact in dynasty (even though they still suck), because you can use IR spots and are more likely to hold on to injured players with IR spots.
There are a few different options for dynasty out there, but my favorite website by far is the FFPC. They have a ton of unique league offerings, so last week I decided that I wanted to start my first dynasty league and signed up for a SuperFlex TE-Premium startup draft. SuperFlex is the new hot thing in fantasy where you have 2 flex positions and one of them can be used for another QB. In addition to this 2-QB league, it's also a TE-Premium league (a staple of the FFPC) so TEs get 1.5 PPR. This is just another way to try and help level out the importance of all positions. To recap, your starting lineup is as follows: 1 QB, 2 RB, 2 WR, 1 TE, 1 SFlex, 1 Flex, 1 K, 1 DEF. Every postseason I will have to cut my roster from 20 to 16 and then infill my roster with the next season's rookie draft.
Another unique thing that the FFPC offers is a slow draft option, and the draft I signed up for has an 8-hr timer on every pick. It sounds like a lot at first, but almost no picks go the full 8 hours and the slower pace is beneficial for numerous reasons. It really makes the draft drag on (which is beneficial during quarantine), it helps you do some research and not feel rushed on your decision, and most importantly it helps you wheel and deal for potential trade offers up and down as the draft goes on.
For the rest of this week, I will be writing a four-part series documenting the entire draft from pick #1 all the way to pick #240. I will provide my take on players as well as some general lessons learned and interesting trends that I noticed. I am live tweeting the draft on Twitter so feel free to follow along on there as well.
General Strategy
Before we get started, it is important to talk through some general strategy for dynasty. The absolute most important thing is a player's age. While the whole "average career of an NFL player is 3 years" statement isn't necessarily representative of the group of players we are talking about for the bulk of fantasy football, but it's no secret that QBs last a lot longer than WRs who last a lot longer than TE/RBs and almost any of them can have their career cut short by a stud rookie who comes in and takes over. In addition to age, your QBs are the next most important thing. Since every team will start 2 QBs and roster 3 QBs, there will most likely not be any starting QBs left on the waiver wire. If possible, you want to draft 3 starting QBs, unless you are dead set on a backup QB for the future. Last but not least, do not underestimate the power of the TE. Here's where the top 5 tight ends finished up last year in FFPC scoring (compared to their typical PPR ranking): Travis Kelce – 6th (16th), Darren Waller – 12th (33rd), George Kittle – 14th (35th), Zach Ertz – 18th (41st), Mark Andrews – 27th (46th).
Alright enough of the strategy, let's get into the draft! I was randomly chosen to get the 6th pick which I am very happy about as it ensures that I never wait more than 11 players until I get to make my next pick. Going in, I have the goal of acquiring an extra 1st through 5th round pick for a total of six picks in the top 60. We'll see how it goes!
First Round
My goal at 1.06 is to get Michael Thomas or trade back.
1.01 – Patrick Mahomes
1.02 – Saquon Barkley
1.03 – Lamar Jackson
1.04 – Christian McCaffrey
These four players are 100% the only ones that should even be mentioned in the top 4 this year. Mahomes and Lamar have proven their place at the top of the fantasy QB tier and it doesn't look like they will get dethroned for quite a few years. After a disappointing sophomore season, Saquon surprisingly goes #2 overall here, but he and Daniel Jones appeared to start clicking towards the end of the season highlighted by his 43.9 fantasy point outburst in Week 16 last year. A year after averaging 29.4 PPG, CMC somehow falls all the way to #4 overall in this draft. The owner who had the 1.03 pick was trying to sell hard and I was working everything I could to get CMC at 3, but he ultimately did not bite.
1.05 – Kyler Murray – It seems that Kyler is the consensus #3 QB, however getting drafted at the beginning of the first round is a little early in my opinion. I'm not sure how large the gap is between Murray/Watson/Dak, so I wouldn't spend a Top 5 pick on a QB not names Mahomes or Lamar.
1.06 – Michael Thomas – MY PICK: I was nervous that Thomas would get taken 5th, however he fell to me at 1.06 and the decision was easy. Thomas outscored the number 2-4 RBs last year by almost 60 total points. The gap between MT and the rest of the WR elite group may shrink this year, but I am banking on another season of total dominance.
1.07 – Ezekiel Elliott
1.08 – Dalvin Cook
1.09 – Alvin Kamara
This trio of running backs is the right choice here with the 7th through 9th picks, however they are all 25 years old (which is a year older than the average NFL running back) so they are potentially already getting towards a risky part of their career. If you have one of these picks, I recommend shopping around for trade offers. You should be able to get an extra 2020 2nd & 3rd plus a 2021 1st round draft pick for any of these slots.
1.10 – Dak Prescott – I am very surprised to see Dak show up in the first round. I know that the Cowboys loaded up his arsenal by adding CeeDee Lamb in the draft, but I'm not so sure that he separates himself that much from Deshaun Watson & Russell Wilson. This seemed like a reach to me.
1.11 – Nick Chubb – I'm as big of a believer in the Cleveland Browns this year (with the departure of Freddie Kitchens) as anybody, but I do not value Nick Chubb as a 1st round dynasty pick. There is no denying his upside as he has averaged over 5 yards per carry on each of his first two seasons, however I just don't think he has the same blow up potential as CMC and Saquon so therefore his value as an RB drastically falls off for me in the long term format.
1.12 – Davante Adams – This is a good pick at the end of the first round, and I see the potential for Adams to close the gap on Michael Thomas this year. Adams got double digits in 10 of the 14 games he played last year (including playoffs). If Emmanuel Sanders takes away even 2 targets per game from Michael Thomas, Adams will be pushing for the league lead. Oh yea one more thing, did anybody notice that the Packers didn't draft a Wide Receiver this year?
Second Round
I really like Mixon/Jacobs/Taylor, so my goal will be to get one of these young RBs at 2.07.
2.01 – George Kittle – Kittle is the only Tight End that is worthy of a top 2 round pick, and he goes early in the 2nd here. Kittle is 3 years younger than Zach Ertz and 4 years younger than Travis Kelce, so that upside alone is clear. There were only 5 WRs who outscored Kittle last season in the FFPC scoring, so this is clearly a guy who you can plug and play at the TE position for a lot of years to come.
2.02 – Miles Sanders – I am a bit surprised to see Miles Sanders as the RB7 off the board after a somewhat uninspiring rookie season. The upside is clear, however I don't trust that Pederson is fully going to turn him loose this year. Philadelphia has always been a RRBC team, so it seems a bit risky to spend so much draft capital on a guy the organization seems hesitant on making their bellcow RB.
2.03 – Joe Mixon – Mixon turns 24 years old in July and has been an extremely effective runner on an extremely inefficient offense at Cincinnati since he came into the league. The Bengals are looking to make a huge leap this year with the addition of Joe Burrow, and I think that Mixon has Top 3 potential this season. I would recommend him in the 2nd round in all dynasty formats.
2.04 – Deshaun Watson – It is silly to me that Watson fell this far in a SuperFlex league. He is arguably better than both Prescott and Murray, and even though Bill O'Brien is a Class A failure at constructing a competent football team, Watson has proved time and time again that he is a winner. The magic that he pulled off in the playoffs last year against the Bills cements his spot among the elite tier of QBs. He is an absolute steal as the 16th overall pick.
2.05 – Tyreek Hill – Everyone knows about the speed, everyone knows about the superstar QB, and after their showing in the Super Bowl absolutely everybody knows how explosive the Kansas City Chiefs offense is. Hill is the last of the three top young WRs who is a standalone WR1 on his team, so he is a must-buy in the 2nd round. I would have no regrets taking him at the end of the 1st round.
2.06 – Josh Jacobs
2.07 – Jonathan Taylor
MY PICK: After Jacobs was taken right before me, it made my selection of Taylor simple. There is some short-term concern this year about how much he will split time with Marlon Mack, but moving forward Taylor should be the cornerstone of the Colts rushing attack. For some context to just how spectacular Taylor was in college, Wisconsin only passed the ball on 35% of 1st downs so defense in the Big Ten knew that JT was going to get the rock early and often. He still managed to average 2000 yards in his 3 seasons and over 6 yards per carry. Dude is a workhorse.
2.08 – DJ Moore
2.09 – Chris Godwin
I view both players similarly in dynasty. Godwin was Top 3 in yards, touchdowns, and fantasy points last season and Moore has the potential to be just as good this season under Joe Brady's new offense in Carolina. Moore (23 years old) and Godwin (24 years old) are both well under the NFL WR average age of 26, and seemingly have a lot of upside years left. The only comment I would make here is that the Moore pick may have been a slight stretch. I believe that we would have been available in the 3rd round (Was one of my 3rd round targets pre-draft), so it seems like there was some wasted draft capital there.
2.10 – Clyde Edwards-Helaire – All the comments that I started off my Tyreek Hill paragraph with hold true for CEH here. The Chiefs clearly stated their position on their current RBs by taking this guy in the 1st round a couple weeks ago. The receiving threat is where CEH separates himself from the rest of his rookie class. While I don't think he will probably have a more successful rookie season, I value Taylor more for the long-term since he doesn't have to battle for market share with all of the other explosive weapons that CEH does.
2.11 – Russell Wilson
2.12 – Josh Allen
This is an interesting one for me as Josh Allen is 8 years younger than Russell Wilson, however I really view these guys on a similar tier. Allen and his huge rushing upside is still really inconsistent and shows signs of his youth quite often during the season. Wilson on the other hand, is one of the elder statesmen in the league, but as long as Seattle commits to the running game and then in turn relies on Russell to bail them out of games in the 2nd half, the fantasy upside will be long lasting.
Well that takes us through the first two rounds of the startup draft. I will be back tomorrow recapping Rounds 3 through 6! Follow me on Twitter to continue receiving live updates as the draft progresses.
READ ALSO
Madden Simulation Betting
10 Biggest X Factors for 2020 Fantasy Football Rankings
5 NBA Players James Harden Hates