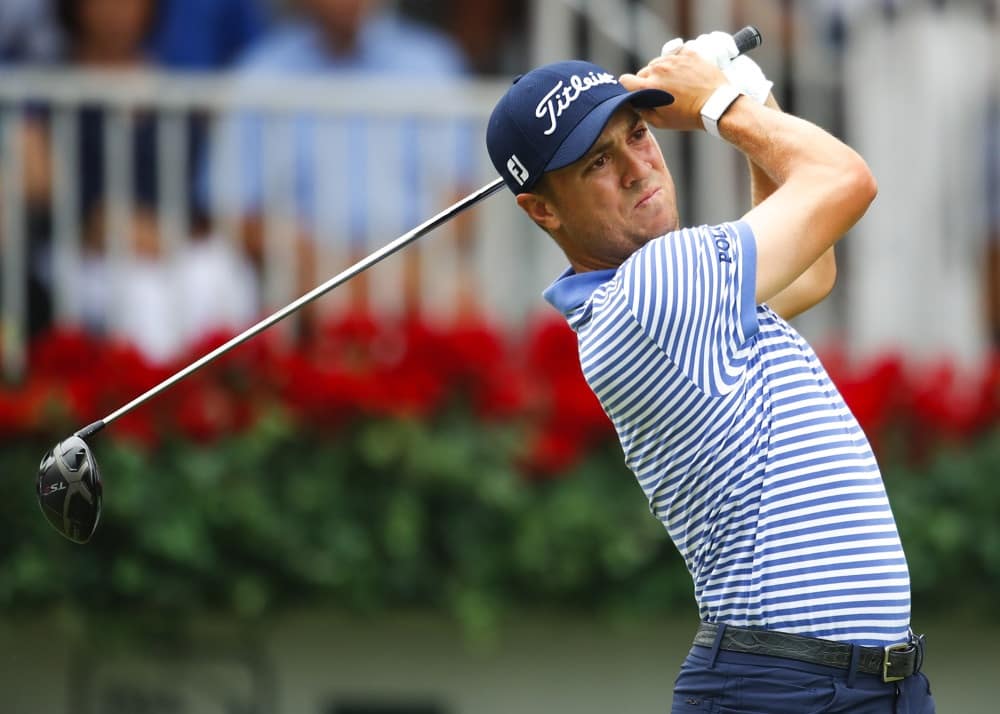 For those who missed it, please check out The Northern Trust Preview and Betting Strategies for the types of golfers you should look to target for your bets.
With that in mind, here's who I like this week at TPC Boston (with odds courtesy of MyBookie.ag).
Championship Futures
Justin Thomas – 12/1: It's been a bit of a mixed bag with the putter for Justin Thomas since the restart, blending in very solid weeks with dreadful weeks. But what has been spectacular is his ball striking, which comes as no surprise for an elite talent like him. He enters this tournament off the heels of gaining 1.5 strokes per round ball striking at the PGA Championship, yet losing 0.9 per round with his putter. He's demonstrated since the restart that he is capable of tournament winning levels of putting, and even managed to win the WGC-FedEx despite losing strokes putting on the week. With a positive regression there along with his usual elite ball striking, it'll be yet another victory for him at TPC Boston.
Xander Schauffele – 20/1: It seems like I say this every time I pick Xander to win a tournament, but he's overdue for a victory with the statistics he's achieving. Over his last four tournaments, Xander has gained 1.1 strokes ball striking and 0.99 strokes on and around the greens, showing great balance in all facets of the game needed to land on top of the leaderboard. My once concern I have for him (other than the crowded bandwagon) is with his irons, which haven't been great the last two tournaments. However, the prior two tournaments before that they were stellar, so he's not far off from regaining the elite form needed for a great finish. If he finds it, then he'll once again be in the mix for the win.
Jason Day – 25/1: The last time Jason Day put up ball striking numbers like we're currently seeing out of him, he ripped off eight victories over an 11 month stretch. Does it make me apprehensive to bet on him to win The Northern Trust considering how far and above his recent ball striking is compared with what he has shown over the last four years? You bet! But I can't just ignore the type of numbers he's put up since making a major change with the people around him and the seemingly positive impact that has had on his form. If he continues this level of play, a win is in his future very soon.
Patrick Reed – 28/1: After a few weeks of struggling with his ball striking, Patrick Reed is starting to get hot. Reed gained 0.6 strokes per round ball striking at the PGA Championship, and followed that up last week by gaining 2.25 strokes per round with it at the Wyndham. And while he putted well at the Wyndham, it wasn't at a completely unsustainable or unrepeatable rate given how good of a putter he typically is. He has a ton of momentum towards winning the FedEx Cup, and a win this week definitely puts him on the right track for one.
Daniel Berger – 33/1: The sub-40/1 price on Daniel Berger given the overall strength of the field is a little startling, but his play not just since the restart but for the entire year warrants it. Like Xander, Daniel Berger has shown a remarkable balance of success both ball striking and on the greens. That's why he won at Colonial and was in the mix at the PGA Championship. There's nothing fluky about his performance, and I love his chances to surprise any of his doubters once again.
Others to Consider:
Kevin Kisner – 66/1: Length is not a pre-requisite to success at TPC Boston, so a shorter hitter like Kevin Kisner won't be immediately priced out. Kisner's ball striking is also heating up at a great time, as he's gained 1.2 strokes per round with his approach shots over his last two tournaments. If he can sustain his hot putting for one more week he could come out with an underdog victory.
Matthew Wolff – 70/1: Wolff is the perfect dream for anyone who bets based off of putting regression. At the PGA Championship, Wolff gained over 3.5 strokes with his ball striking, which while well above his baselines isn't completely unsustainable given his recent form. However, Wolff lost 0.5 strokes putting, which kept him behind his peer and 2020 PGA Champion Collin Morikawa. While Wolff isn't a great putter traditionally, he has demonstrated his ability to post a tournament with winning-upside putting when he gained 6 strokes total on the greens at the Rocket Mortgage Classic. He has a huge ceiling that's worth betting at 70/1.
Shane Lowry – 100/1: Similar to the lead up to his Open Championship last year, Shane Lowry's ball striking is beginning to heat up. Over his last four tournaments, Lowry has gained just under a stroke per round with his overall ball striking, including +0.83 with his irons. His putting has been up and down and will need to be better if he wants to win at TPC Boston, but tee-to-green he's right up there with the favorites for what a bettor would look for in a winner.
Other Positional Props
Jon Rahm Top 10 – +200: I'm a little gun-shy about Rahm's 14/1 price to win the tournament, but given his recent form I really like getting 2/1 on him for a Top 10 finish. Over his last four tournaments, Rahm has gained 1.3 strokes per round with his ball striking and 0.55 on and around the greens. He also comes into this tournament off a mediocre putting performance at the PGA Championship, which is an area he has upward mobility for improvement. While I think he'll come up short, a solid Top 10 to start off his FedEx Cup playoffs should be in order.
Tony Finau Top 10 – +335: Until he does it, betting a futures price on Finau to win isn't for me. But he's definitely playing at a level capable of winning given how well his ball striking statistics are. Getting more than 3/1 for a Top 10 is a nice safe harbor bet and something I have much more confidence putting money on with him.
Patrick Cantlay Top 20 – +150: He's too good to be this mediocre. Slow starts have torpedoed good finishes over his last two tournaments, which has been frustrating for anyone who has backed him. The good news is that the ball striking numbers look good, as he's gained 0.9 strokes per round combined off-the-tee and with his approach shots over his last four tournaments. I'm still a little burned with a few bets I've placed on him over the last few tournaments, but I still have faith he can at least finish inside the Top 20 this week at +150.
Tyrrell Hatton Top 20 – +250: After a few weeks of gross overpricing, Hatton is back to levels where I'm comfortable betting on him. There were also some silver linings to his missed cut at the PGA Championship. Hatton gained 2.5 strokes per round ball striking, yet lost 1.87 strokes per round putting. Hatton should see a bounce back with his putter, and if he can sustain solid ball striking then a Top 20 is definitely in order for him.
Other Top 20 Props to Consider:
Scottie Scheffler – +250
Billy Horschel – +250
Viktor Hovland – +250
Si Woo Kim – +300
Harris English – +335
Russell Henley – +335
Harold Varner III – +400
Dylan Frittelli – +400
Zach Johnson – +450
Ryan Palmer – +500
Doc Redman – +500
Brendan Steele – +550
Sam Burns – +550
Adam Long – +550
Corey Conners – +600
Lanto Griffin – +600
Tom Lewis – +650
Talor Gooch – +650
Ryan Armour – +750
Adam Schenk – +900
Matchup Props
Justin Thomas over Rory McIlroy (-125): My affinity for Justin Thomas this week is above. As for Rory, the red flags continue to exist around him. Rory's struggles with both his irons and with his putting continued at the PGA Championship, and if those aren't clicking his ceiling his capped tremendously. JT should beat him head to head this weekend.
Shane Lowry over Cameron Champ (-110): My affinity for Shane Lowry is above. As for Cameron Champ, while he was impressive at TPC Harding Park he'll be exposed a bit at a trickier ball-striking golf course. Champ could afford to be mediocre with his irons at TPC Harding Park because the greens and the surrounds aren't all that complicated. At TPC Boston, however, precise iron play reigns supreme due to the nature of the greens, and that's still an area he's very deficient at. Lowry should beat him head to head.
Si Woo Kim +1.5 Strokes over Louis Oosthuizen (-125): At some point the party will end for Si Woo, and maybe it's this week. But looking at both Si Woo and Oosthuizen, there's absolutely no justification why Si Woo should be an underdog to the South African. Everything about Si Woo's current form is tremendously better than Oosthuizen's, and if you're really bullish on him you can grab Si Woo to beat Oosthuizen straight up at +110. For me, I'll grab him at +1.5 strokes just in case this is the week it all comes crashing down.