Hello everyone! All pandemics aside, the NFL appears as though it will play on this year. For those who don't know, the return of the NFL means that someone is about to be a whopping million dollars richer thanks to DraftKings! Let's talk daily fantasy football strategy!
The offseason was full of surprises (example: the reuniting of Brady-Gronk) and I'm sure everyone is just as excited as I am to watch some football. NFL DFS can be intimidating with a 12 game slate scheduled. However, I'm here to guide you through with a little daily fantasy football strategy.
We're going to take a look at some must have players and some value players as well from each position (minus the defenses) today. I'll share my lineup below as well and mention a few honorable mentions from time to time. Best of luck to all who enter, and I hope that you cash that sweet million dollar prize!
Looking for a free shot at millions of dollars in prizes? Download the Draft King's app and use promo code SGP
Quarterbacks
Drew Brees – NO ($6,800)
He's a little expensive, but I'm looking towards Drew Brees for my quarterback. He's been working on his arm strength during the offseason, and this is interesting because he's relied on a short game the past couple of years. A deep ball adds another level to his game and can only increase his potential given how stacked their receiving core is. The Saints will play the "redesigned" Buccaneers, and don't let the Brady-Gronk signing distract you. They still did nothing to address their horrid secondary. I expect Brees to carve the Tampa Bay defense and have an outstanding game, and I will take him any day with the price.
Kirk Cousins – MIN ($5,700)
If you're looking for a little bit of a cheaper option, then I highly recommend Kirk Cousins. The Vikings are playing a noon game, so we can expect to see the good Cousins (I'm joking Vikings fans). I'm not sure why there's so much hype behind Green Bay's defense as I don't expect their secondary to be very good. Cousins is priced the same as Baker Mayfield which is just disrespectful. I like the match-up and I believe that Cousins is a steal for this price if you want to spend in other areas.
RELATED
DraftKings Best Ball Preview, Strategy and Player Targets
Running Backs
Austin Ekeler – LAC ($7,000)
With Melvin Gordon finally out of his way, you can expect big things from Austin Ekeler this year. He's already shown that he can consistently put up 10+ fantasy points while only taking five to nine carries, and now his touches are about to go way up. The Chargers are taking on the Bengals who I don't expect to have a very good defense at all. It's worth noting that Mr. Chalk a.k.a. Christian McCaffery is worth playing, but I'm not spending $10,000 on a running back. Give me Ekeler and I'll sit back and watch the fantasy points pile in.
Miles Sanders – PHI ($6,300)
I know a certain host of the SGP podcast who will be giddy with this play. We saw glimpses of what Miles Sanders is capable of last year. Now, Eagles Head Coach Doug Pederson said he's "the guy" this year with Jordan Howard gone. Pederson has been known to stick to one running back in the past, and Sanders will arguably be the most talented back he's had to date. Philadelphia will take on the Redskins to open the season and although Washington's defense isn't terrible by any means, I expect Sanders to have a big game to open the year.
Ronald Jones II – TB ($5,200)
This is my cheaper play for the opening week slate. Don't let the repairing of Brady and Gronk scare you away from Ronald Jones. I have a very hard time picturing Tampa Bay moving too far away from the run given how poorly Brady's been passing the ball the past year or two, regardless of whether coach Bruce Arians is known for the ""air raid" or not. Jones saw at least 10 touches in 11 of his 16 games last year despite the team throwing the ball like crazy. I expect Jones to eat up carries and he's seen his fair share of great games before so he's worth a look in week one.
RELATED
NFL Fantasy Football Running Back Sleepers
Wide Receivers
Tyler Boyd – CIN ($6,100)
There are quite a few more expensive plays on this slate, but I don't see any that I consider worth playing for the price quite as much as Tyler Boyd. He's one of only 11 receivers with back-to-back 1,000 yard season the past two years, and he won't have to carry quite as much of the load this year. Cincinnati figures to have veteran wideout A.J. Green back this year, and this means that teams won't be automatically double-teaming Boyd as they were last year. The Bengals have a proven accurate quarterback under center (if NCAA translates to NFL as I feel it will), and I like Boyd to flirt with 100 yards in almost every game this year.
Emmanuel Sanders – NO ($5,700)
Some might be looking to Michael Thomas from this New Orleans squad, but I like Emmanuel Sanders to complete the stack with Brees. I expect that Thomas will still get a decent amount of looks, but at the same time he now has help around him and with Thomas drawing double teams, this leaves the door wide open for Sanders. I mentioned earlier that I expect the Tampa Bay defense to be horrid, and I can't pass up the chance to grab a lower-owned player in Sanders for the price tag.
Cole Beasley – BUF ($4,800)
Dare I dip into the wideout pool of Buffalo? Sure! Cole Beasley will once again run the slot for Buffalo, and I expect their quarterback Josh Allen to continue the trend of improvement after he looked much better last year. Beasley isn't a flashy player by any means and most of his looks come from the short-yard passing game. However, there's always that touchdown upside due to his almost for-sure hands. Beasley saw a career high 106 targets a year ago, and I expect another workload similar to this last year.
Jalen Reagor – PHI ($4,300)
Proceed with caution here, but if you're looking for a cheaper boom-or-bust guy Jalen Reagor is your man. He was originally supposed to be somewhat eased into the game plan, but it appears as though plans have changed. Alshon Jeffery is still on the PUP list, and Marquise Goodwin opted out of the 2020 season. Reagor is going to step right in to a starting job, possibly as either the number two wideout or as the slot. I like the speed mixed with size that Reagor brings to the table, and he could be a very sneaky play from Philadelphia.
Tight Ends
Austin Hooper – CLE ($5,100)
I could state the obvious and say that you might want to go chalk with your tight end position. However, I do believe there are a few solid options for a cheaper price, and this begins with Austin Hooper. He's stepping in to a Cleveland offense with plenty of options, but the Browns will still feature Baker Mayfield under center who loves to check it down to the tight end. Hooper is coming off a rather disappointing season, but I feel like the new home in Cleveland will benefit him and I expect Hooper to flourish this year.
Jack Doyle – IND ($3,600)
Jack Doyle has somewhat become a forgotten man, but I haven't forgotten. I can understand why no one's giving him much credit this year after a horrid year, but don't forget that Indianapolis had Jacoby Brissett at quarterback and their offense didn't look good at all. I don't necessarily expect a huge bump in his targets although Philip Rivers has been known to lean on his tight ends from time to time. However, I do expect his production to return to its old form now that he has a better quarterback under center.
Defenses
I'm not going to go in-depth with these as I normally will stream my defenses depending on the matchups at hand for the certain week. Instead, I'm just going to list a few defenses that will be worth streaming in week one.
Bills ($3,700)
Bears ($3,300)
Colts ($3,000)
Raiders ($2,600)
RELATED
NFL Fantasy Football Defense Preseason Rankings, Chargers Number One

My Lineup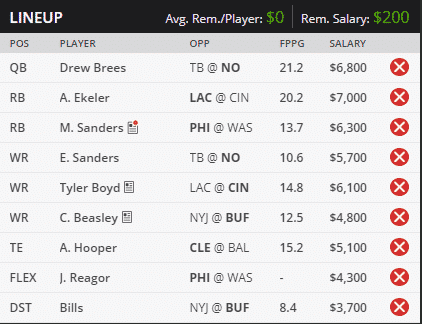 Looking for a free shot at millions of dollars in prizes? Download the Draft King's app and use promo code SGP