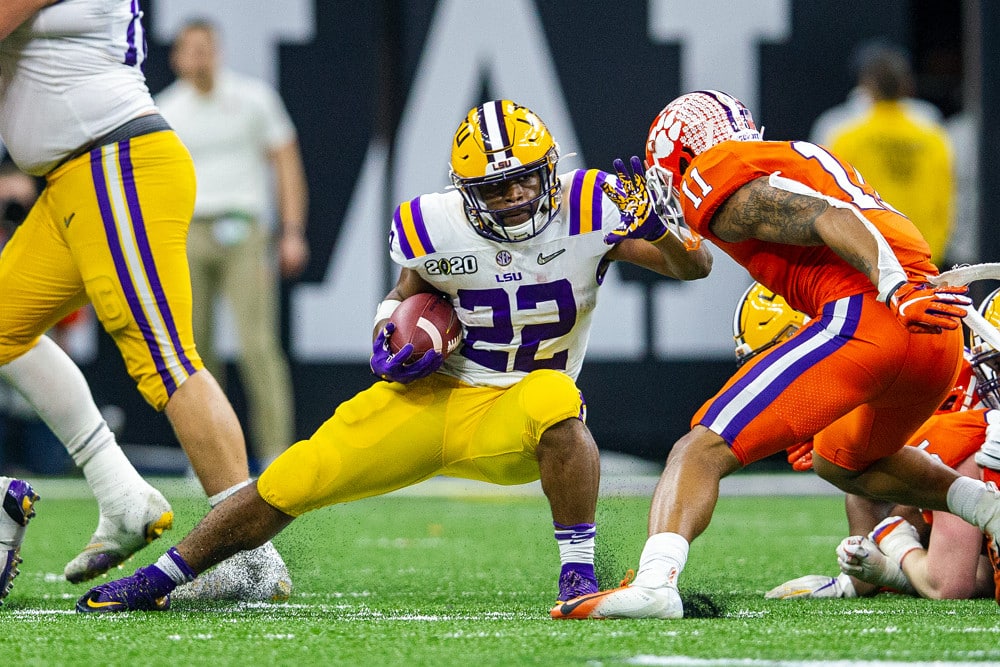 While fantasy football "experts" on TV might only focus on the elite running backs in the NFL, fantasy football veterans know the importance of finding sleepers and steals. A late-round gem or an early waiver pickup can be the difference between simply making the playoffs and winning the whole thing so let's dive into some running backs that are not on everyone's radar.
Clyde Edwards-Helaire, Kansas City Chiefs
Although he was selected in the first round of this past NFL Draft, it was a bit of a shock as he was projected to be a second-round pick. However, Kansas City viewed him as a fantastic prospect who is also a perfect fit for its elite offense. It is safe to say that the Chiefs had a plan in place regarding his role. Edwards-Helaire was great in college and he showcased his reliable hands in the passing game all season long.
While people should remember his consistency at LSU, others might have forgotten that Kansas City's original starting running back Damien Williams opted-out for this upcoming season which should turn Edwards-Helaire into the bell cow running back. With his ability to run with power and his ability to catch the ball out of the backfield, he should be able to produce in both standard and PPR formats due to the amount of projected playing time.
RELATED
DraftKings Best Ball Preview, Strategy and Player Targets
Chase Edmonds, Arizona Cardinals
While compiling this list, I was not sure if Chase Edmonds really counted as a "sleeper" since he made quite a name for himself in 2019. However, he is still going to be the backup running back for Week 1, so he is still not exactly getting the respect that he deserves from most fantasy drafters.
A common theme for finding sleepers at the running back position is fading unproven starting running backs. Kenyon Drake definitely fits that mold as he has never started for an entire season in his career. Drake is going extremely early in fantasy drafts due to his amazing production in the last few weeks of 2019.
However, during that same time, Edmonds was not too far behind, recording four rushing touchdowns on just 60 carries. Plus, Edmond averaged 5.1 yards per carry in comparison to Drake's 5.2 yards per carry so there should not be that much of a drop-off if something were to happen to Drake.
Although Drake will get most of the work for the first few weeks, I can see Coach Kingsbury dividing up the touches a bit more evenly down the road if Edmond produces similarly to the way that he did last season. Drake has had some injury issues in the past so Coach Kingsbury could also give Edmond more touches as a precautionary measure.
Brian Hill, Atlanta Falcons
Although he will not be the starting running back for the start of the season, Brian Hill should be a very solid handcuff option that could provide some value as the season progresses.
Atlanta decided to spend a decent amount of money to bring in Todd Gurley as the starter.  However, his injury issues are well-documented. Maybe I am just skeptical of Gurley's future with the organization but I do not expect him to stay healthy over these 16 games.
Hill was second on the team in carries last season so he should start the regular season as the second running back on the depth chart. That will make him the starter if Gurley's injury history carries over into 2020. Hill should not be selected in most fantasy drafts, but pay attention to him on the waiver wire if Gurley struggles.
Justin Jackson, Los Angeles Chargers
Similarly to Brian Hill, Justin Jackson will not be the starter when the regular season starts in September. That duty is reserved for Austin Ekeler, who had a great 2019 campaign. However, Ekeler has never been a starting running back for an entire season before, so it is fair to ask questions about his durability with that much of a workload. Plus, there is a lot of opportunity in that backfield now that Melvin Gordon is no longer on the roster.
The worst case scenario is that Jackson remains a "chance-of-pace" running back, which will still yield him some snaps every game. The best case scenario is that he becomes the starter if something happens to Ekeler.
In a very limited sample size, Jackson was very productive in 2019 as he averaged a whopping 6.9 yards per carry through 29 attempts. As a result, Los Angeles should be incentivized to see if he can duplicate those numbers with more reps considering the fact that elite running backs like Ezekiel Elliott and Dalvin Cook only averaged 4.5 yards per attempt last season.
Am I saying that Jackson will be able to average that many yards per carry with more touches? No, but it should lead to a bigger workload as the season progresses if Jackson continues to produce in limited work as the "chance-of-pace" back in the beginning of the season. Look for him on the waiver wire over the first few weeks if he maintains a similar yards per carry average.
RELATED
DraftKings Best Ball Preview, Strategy and Player Targets