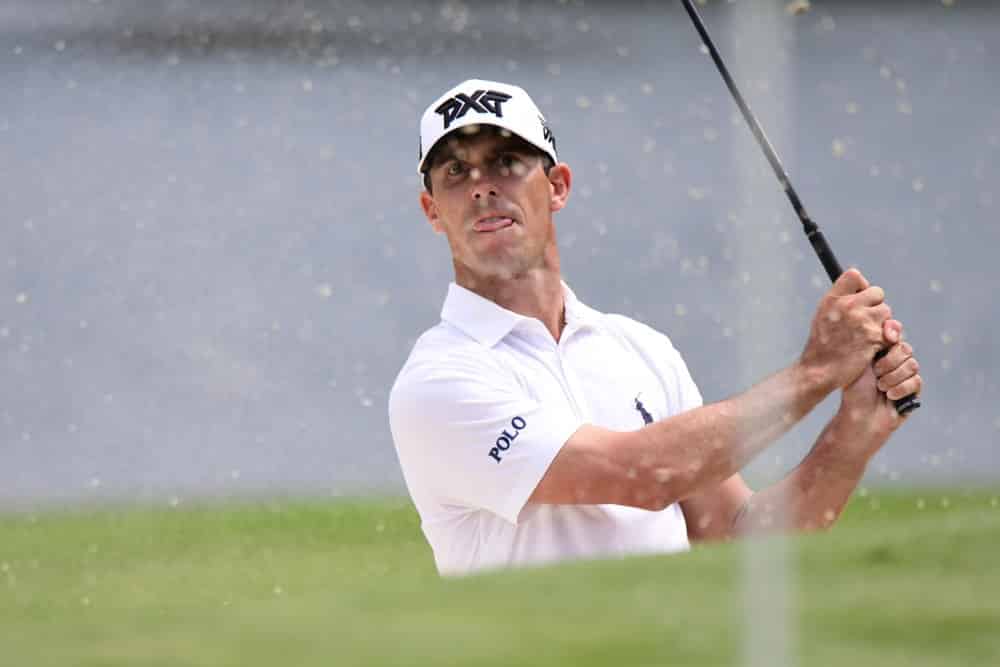 For those who missed it, please check out the 2020 Wyndham Championship Preview and Betting Strategies  for the types of golfers you should look to target for your bets.
With that in mind, here's who I like this week at Sedgefield Country Club (with odds courtesy of MyBookie.ag).
Championship Futures
Harris English – 25/1: Harris English is probably going to be a popular pick this week, but the attention is warranted. Over his last four tournaments, Harris English has gained 1.8 total strokes per round on the field, and over his last 50 rounds he's gained 1.46. Both metrics are the best in the field. English has been doing it with a great combination of accurate ball striking and good putting, and both his long term and short term trends suggest a win is coming. This could be his week.
Billy Horschel – 33/1: Horschel has a good history in this event and has started to see an improvement in his ball striking over his last handful of tournaments. He also fits the mold of the prototypical contender this week – an accurate player with a high birdie rate when he gets hot with the putter. His iron play has been a little up and down this year, but since the restart he's at least demonstrated enough upside in that category needed to win this week. Horschel has the ceiling to get to -20 and win this event.
Kevin Kisner – 40/1: Like Horschel, Kisner has a good history at this event and is seeing an improvement in his ball striking lately. Kisner is coming off a PGA Championship where he gained 4.9 strokes with his approach shots on the week, hopefully giving him some momentum to carry that into this week's event. Kisner is also riding a hot putter at the moment, which is a little concerning that it could regress in an instant. But if he can sustain it for just one more tournament the combination of that and his accurate ball striking could be enough to give him his first victory of the season.
Ryan Moore – 45/1: There's no question that Ryan Moore has the game tee-to-green to contend for the win this week. Over his last 14 rounds Moore has gained 1.04 strokes combined off-the-tee and with his approach shots, and he's deadly accurate in both categories. The problems with Moore stem from his short game, but he should be able to limit his exposure in that area if he has yet another great week ball striking. Moore's chances ultimately comes down to how well he'll putt, which is something I'm willing to chance at 45/1.
Others to Consider:
Henrik Norlander – 75/1: Henrik Norlander is on a heater, gaining 1.79 strokes per round on the field over his last four tournaments through a combination of accurate ball striking, solid short game and good putting. After a couple weeks off, he could be in the mix if that streak continues.
Doc Redman – 80/1: Redman is a bit like Ryan Moore in that he's a deadly accurate ball striker who hits a ton of greens and has a high birdie rate. His deficiencies with his scrambling should be muted if he can sustain his success with his irons, and ultimately his fortunes come down to how well he putts.
Adam Long – 110/1: Adam Long has enjoyed solid and accurate ball striking year, which has allowed for solid finishes as well as a good birdie rate. Long had a close call recently at the 3M Open and has a ton of the characteristics needed to contend for the win.
Pat Perez – 125/1: Much in the mold of Adam Long, Pat Perez is a good, accurate ball striker with a decent birdie rate this year on the PGA Tour. These are great characteristics for a player valued 125/1 to win the tournament.
Other Positional Props
Patrick Reed Top 10 – +200: In full disclosure, I'm not all that crazy about the top favorites this week. While Patrick Reed's ball striking leaves a little bit to be desired, over his last four tournaments he's gained the most strokes per round of all the favorites under 20/1 this week. Reed has some momentum after a good final round at the PGA Championship despite not putting well all week. That's due to regress at some point, and if it does I like him to finish inside the Top 10.
Russell Henley Top 20 – +300: Of everyone in this field, no one has gained more strokes ball striking over their last four tournaments than Russell Henley has. Over his last 16 rounds, Henley has gained 1.61 strokes off-the-tee and with his approach shots, tops in the field. Unfortunately, Henley has ruined a lot of finishes thanks to sloppy scrambling and putting. His deficiencies scrambling shouldn't be too big of a problem if he's striking it as well as he has, but he'll need to find something with his putter. Even if he loses strokes to the field on the green, his accurate ball striking is so good it should land him inside the Top 20 on the week.
Brice Garnett Top 20 – +450: Brice Garnett is pretty much an afterthought on the PGA Tour, yet he has found tremendous success at the Wyndham Championship. Why you ask? Garnett consistently is one of the most accurate players on the PGA Tour, hits a ton of greens and is a decent putter on bermudagrass greens. Those are three critical factors this week, and another Top 20 looks to be in order for him.
Other Top 20 Props to Consider:
Brendon Todd – +200
Chez Reavie – +250
Lucas Glover – +350
Mark Hubbard – +450
Cameron Davis – +450
Branden Grace – +450
Sam Burns – +500
Will Gordon – +550
Ryan Armour – +650
Matthew NeSmith – +750
Chase Seiffert – +800
Cameron Percy – +900
Chris Baker – +1000
Matchup Props
Harris English & Billy Horschel (-110) over Sungjae Im: My affinity for both English and Horschel are above. As for Sungjae Im, it's tough to see him struggle like this. The guy was so good for about 12 months, but ever since the Charles Schwab Challenge he has been really bad. The problems lay primarily with his ball striking, which has really fallen off from where it used to be. It's a tall order to try and turn it around quick given how bad he's been with it lately, and it's head-scratching why he's -110 against both these players this week.
Adam Long (-110) over Aaron Wise: My affinity for Adam Long is above. As for Aaron Wise, he's having difficulty reaching the potential many people thought he'd have. He played well at the Barracuda but there's usually not a whole lot to take from that tournament because of how easy the golf course is and how weak the field is. He's a mediocre, inaccurate ball striker who struggles with his putting, and at his last measured strokes gained tournament he gained more than 1.25 strokes per round on the green. That is screaming for regression, and given his other struggles Adam Long might wrap up this prop by the end of Friday.
Webb Simpson -1.5 Strokes over Brooks Koepka (-115): Webb Simpson is 10/1 to win this event because of his history at Sedgefield Country Club, but otherwise he hasn't been nearly as good recently as people perceive him to be. Nevertheless, he possesses all the attributes to play well at the Wyndham because he's deadly accurate and is a great putter. As for Brooks, I think he peaked at the PGA Championship and I have concerns about his health. He also is firmly locked into the FedEx Playoffs, so I expect him to be on cruise control for this tournament. Simpson should not only beat him straight up (which you can find at -150), but also beat him by 2+ strokes.