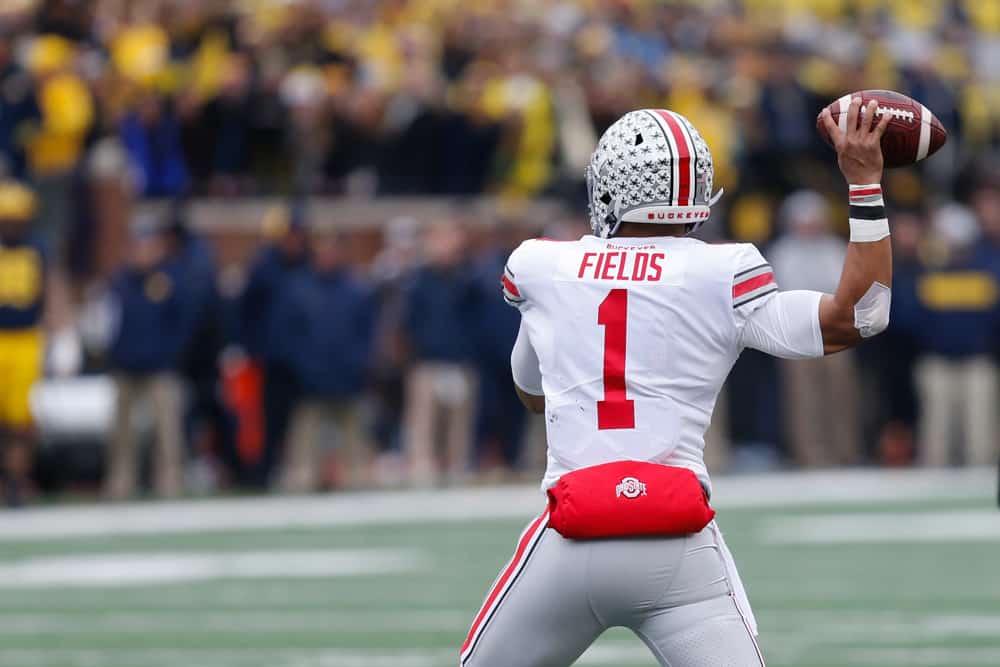 1. Justin Fields (Ohio State)
Yes, I think Justin Fields is the best QB in the nation for this upcoming College Football season. Fields threw 40 touchdowns and only had 1 interception in the regular season in a division and conference that is far superior to the ACC.
Trevor Lawrence is fantastic but let's face it, the ACC was a very poor conference a year ago. I had them ranked behind the AAC and Mountain West. Fields is back and although he loses some wideouts and JK Dobbins, he should be fine with another year of experience.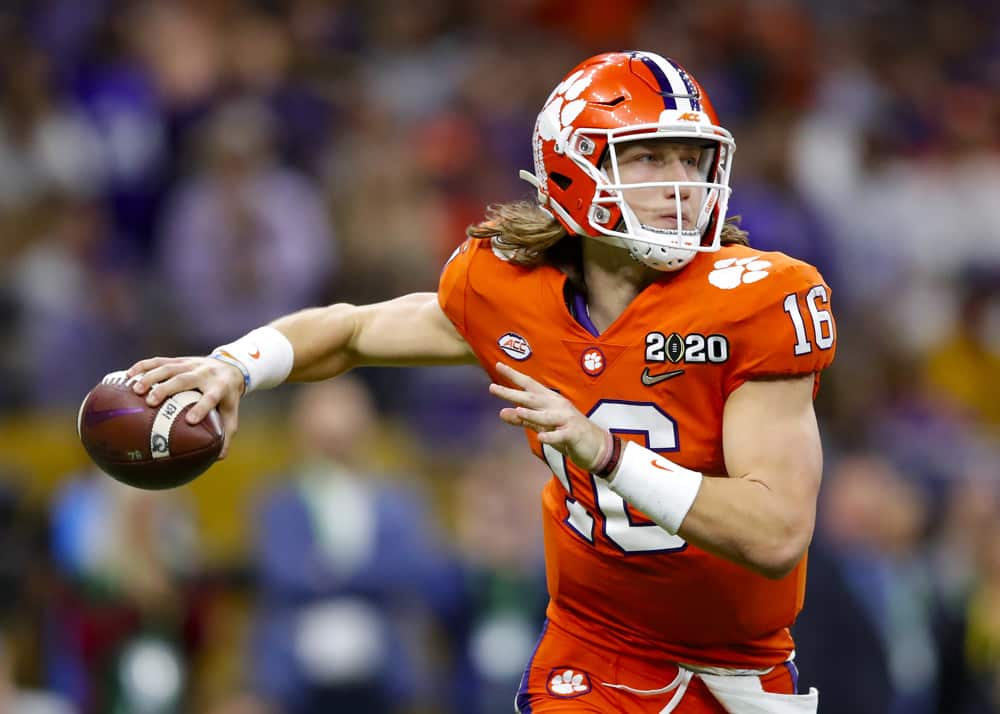 2. Trevor Lawrence (Clemson)
Lawrence has really done it all at Clemson but he'd like to go out on a high note of another National Championship victory. He has plenty of talent and athleticism, but he needs to work on his footwork some.
That said, Lawrence still threw 36 touchdowns and just 8 interceptions a season ago.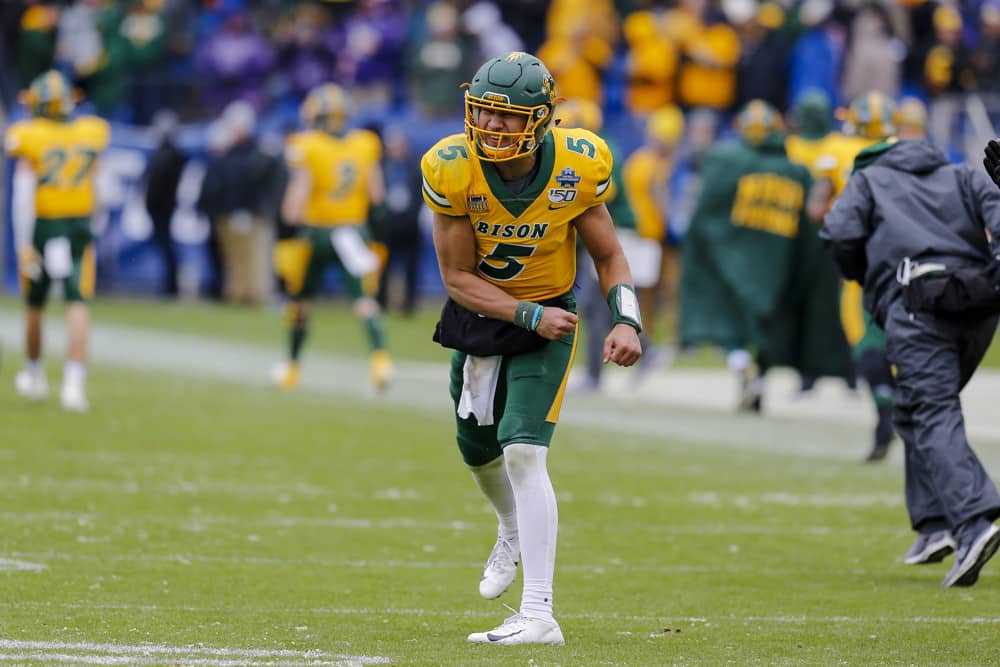 3. Trey Lance (North Dakota State)
For anyone who doesn't cover FCS football, then perhaps you are saying who? Don't look now but North Dakota State is becoming Quarterback U.
Trey Lance might be the best of them all after throwing 28 touchdowns and zero interceptions in his freshman season as he led the Bison to yet another National Championship.
We missed out on what could have been a great showcase with North Dakota State @ Oregon slated for Week One before COVID-19 hit. Still, Lance and North Dakota State should still have plenty of big games to show us why he'll be a top 10 pick next spring.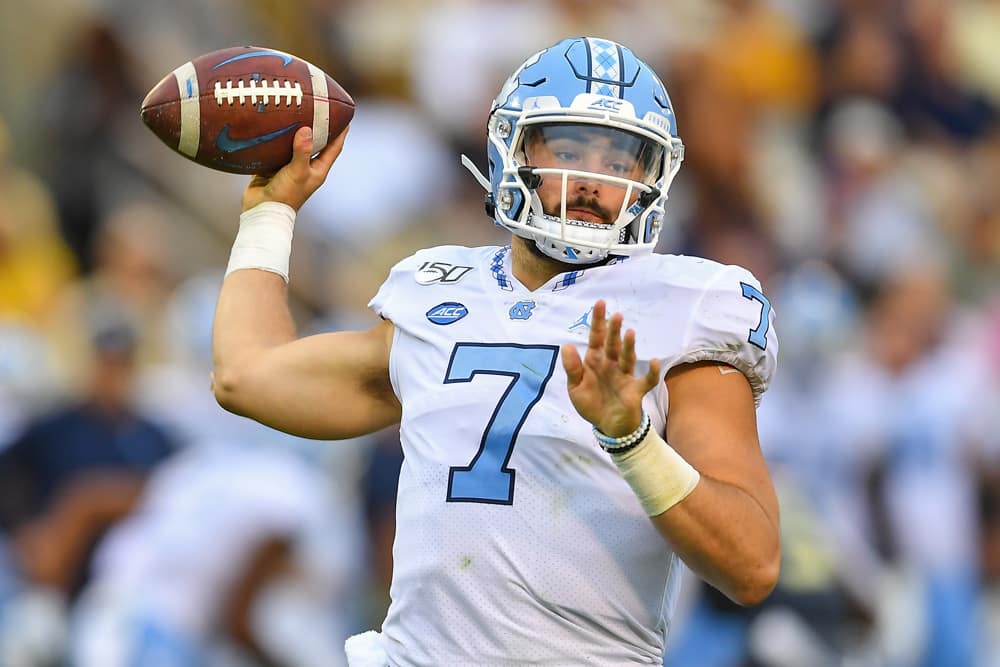 4. Sam Howell (North Carolina)
Howell was just a freshman a season ago but boy did he impress by throwing 38 touchdowns and just 7 interceptions. Those stats are better than Trevor Lawrences with less turnovers.
Now he must avoid the sophomore slump. Having two thousand-yard-receivers back should help him avoid a down year. Howell is perhaps the main reason why plenty of experts are picking the Tar Heels to win the ACC Coastal division this year.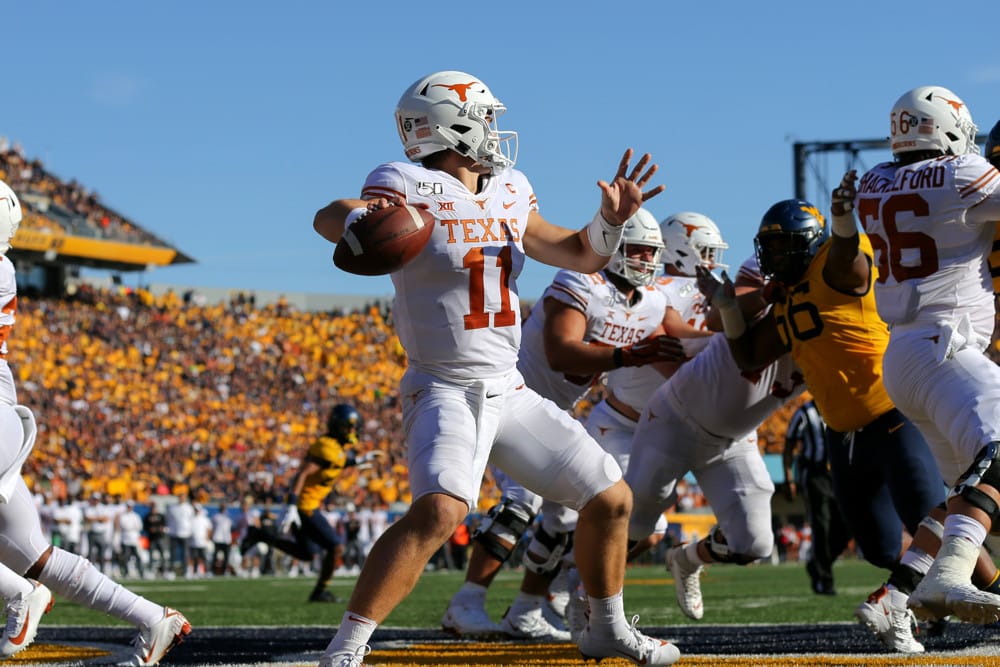 5. Sam Ehlinger (Texas)
For Sam Ehlinger, the time is now for Texas to emerge as the best team in the Big 12 and for him to push for a Heisman Trophy.
Ehlinger had 32 touchdowns and 10 interceptions a year ago but the Longhorns had a sloppy year overall. Texas has as good a shot as any to win the Big 12 this year so it has all the makings for what could be a magical year for Ehlinger and the Longhorns.
6. D'Eriq King (Miami, FL)
D'Eriq King has already had a 50 touchdown season in FBS College Football. Think about that real quick. In fact, King would be higher on my list if he wasn't transferring to a team that somehow always struggles with their quarterbacks. Plus, they're bringing in a new offensive coordinator in Rhett Lashlee from SMU. Mix all that with no spring ball for the Hurricanes to get used to the new spread offense and it has me wondering.
King isn't the one I'm worried about. It's the rest of the team.
7. Ian Book (Notre Dame)
Ian Book is back for his senior season after throwing 34 touchdowns and just 6 interceptions a year ago and those numbers should improve yet again. Book is a great QB but the main advantage he has this year is that Notre Dame is bringing back one of the best offensive lines in the country if not the best.
Book will have time to find his targets and now with COVID-19 making Notre Dame join the ACC for a season, I'd expect him to be even better since he misses out on playing Wisconsin, USC, etc.
8. Jamie Newman (Georgia)
Newman heads from Dave Clawson and Wake Forest to Kirby Smart and Georgia. Thus we enter the D'Eriq King situation. Georgia struggled throwing the ball last season and went out and hired a new offensive coordinator in Todd Monken, a cousin of Army triple option head coach Jeff Monken.
Monken wants to open up the offense and throw more than a season ago. However, I wonder about the effects of no spring ball and the fact the Bulldogs have to replace 4 of 5 offensive lineman including both tackles.
I'm a huge believer in Dave Clawson and what he was doing at Wake so perhaps I'd have Newman higher if he were back with Wake. Newman threw for 26 touchdowns and 11 interceptions a season ago.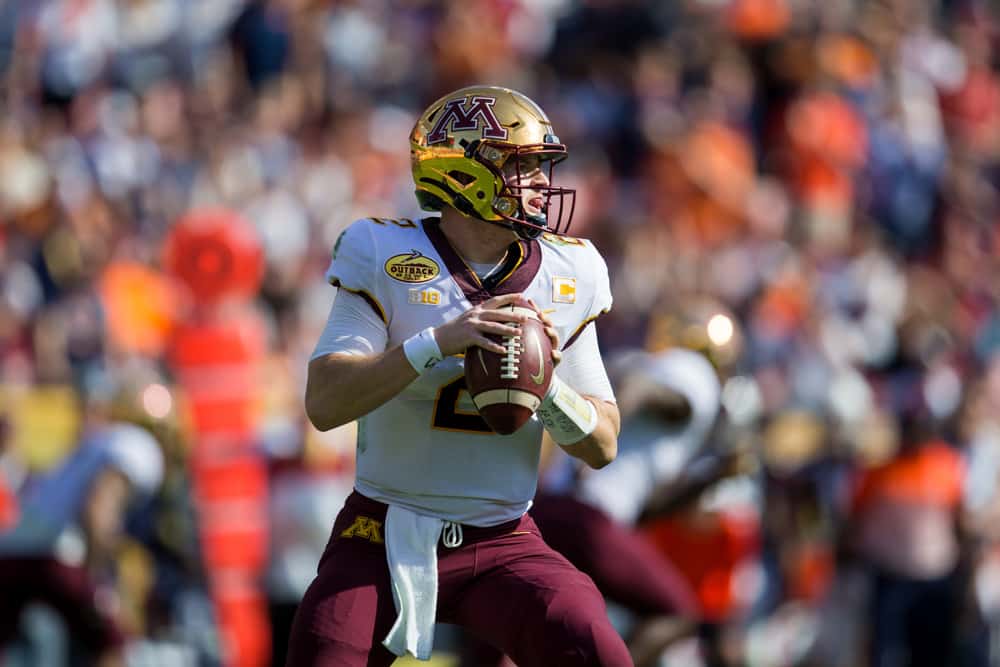 9. Tanner Morgan (Minnesota)
The Gophers made waves in college football last year and PJ Flecks "row the boat" philosophy isn't leaving anytime soon.
Tanner Morgan threw 30 touchdowns and just 7 interceptions in a division and conference with some great defenses. He is back this year, along with his top target in wideout Rashod Bateman, and might be the main reason why Fleck and the Gophers have us believing in the "Row The Boat" philosophy.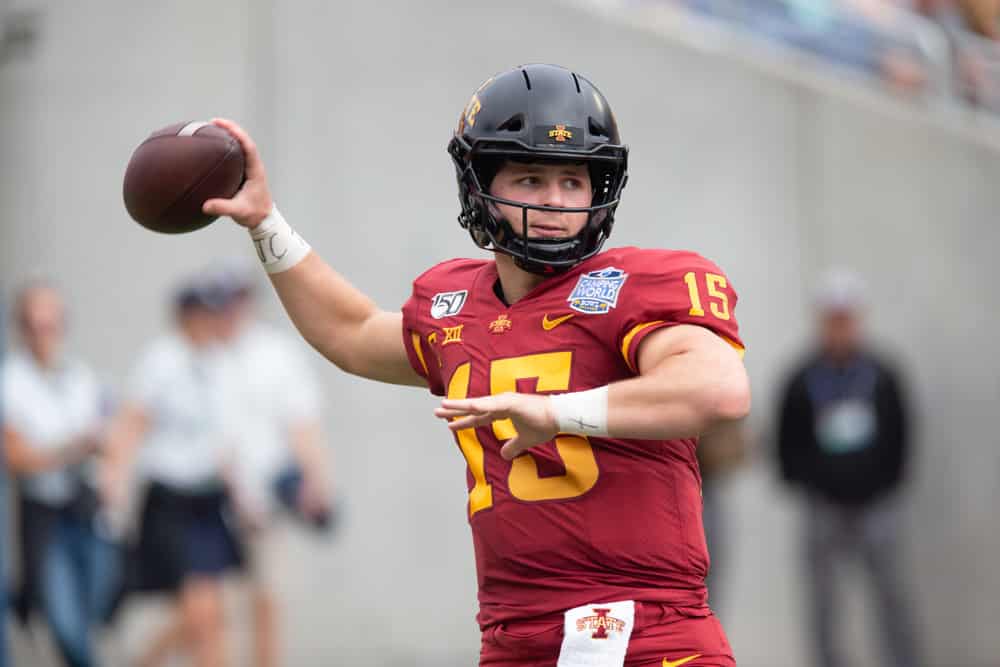 10. Brock Purdy (Iowa State)
It's no secret that Matt Campbell is doing one of the best coaching jobs in all of college football but Brock Purdy is one of the biggest reasons for Iowa State's success.
Purdy threw 27 touchdowns and 9 interceptions a season ago. He is just a junior and another year in Campbell's offense should have him taking even better care of the football.
11. Kyle Trask (Florida)
Believe it or not this past season was the first time since middle school that Kyle Trask started a football game and boy did he impress. In high school, Trask was a backup to now Miami (FL) quarterback D'Eriq King. While at Florida, he was the backup to now Arkansas quarterback Felipe Franks, who went down in the Kentucky game a year ago.
Trask checked into the game with the Gators trailing and rallied them to a victory and a great season. He ended the season with 25 touchdowns and just 7 interceptions. With another year in Mullen's offense, Trask has the potential to lead the Gators to a SEC East championship now.
12. Dillon Gabriel (UCF)
People can say what they want about UCF, but one thing we've learned is that they are quarterback proof. It's amazing they haven't been worse considering how many QBs have started for them.
Take last year for example when they started freshman Dillon Gabriel after injuries hit McKenzie Milton and Darriel Mack Jr. UCF went 10-3 with all three losses adding up a grand total of 7 points combined.
This team was very close to another undefeated season and perhaps Gabriel was the main reason. He threw 29 touchdowns and had just 7 interceptions in his freshman campaign.
13. Spencer Rattler (Oklahoma)
Yes, I'm aware that Rattler only threw for 81 yards and a touchdown last season, but here's one thing I know about Lincoln Riley offenses, the quarterbacks will be ready and will be very effective.
Rattler is a dual threat option who should absolutely excel in Lincoln Riley's offense. Maybe he should be higher ranked, but with such a small sample size, I couldn't go higher than lucky 13. Still, I expect a huge season with top 5 to 10 numbers.
14. KJ Costello (Mississippi State)
Before K.J. Costello transferred to Mississippi State, I had him penciled in the top 25 but towards the back of the group. Then Costello announced he was headed to Starkville to team up with legendary offensive mind Mike Leach and, boom, I bumped him up to 14.
Sure, he didn't have spring ball and he's learning a new offense, but if Costello can pass Stanford classes, he can pick up the Air Raid offense. The rest of the SEC better watch out because this QB is gonna put up big numbers.
15. Jayden Daniels (Arizona State)
Last year it seemed like plenty of freshman quarterbacks exploded on the scene and Daniels is surely one of them. He struggled a little bit out of the gate, but as the season progressed, so did Daniels. Just ask Oregon.
He ended the season with 17 touchdowns, just two interceptions, and had everyone in Tempe thinking they haven't had a QB this good since Jake Plummer. Daniels  loses a couple good wideouts in Brandon Aiyuk and Kyle Williams, but does still have Frank Darby.
READ ALSO
Top 25 College Football Power Five Coaches
Top 25 College Football Coaches in Group of Five Conferences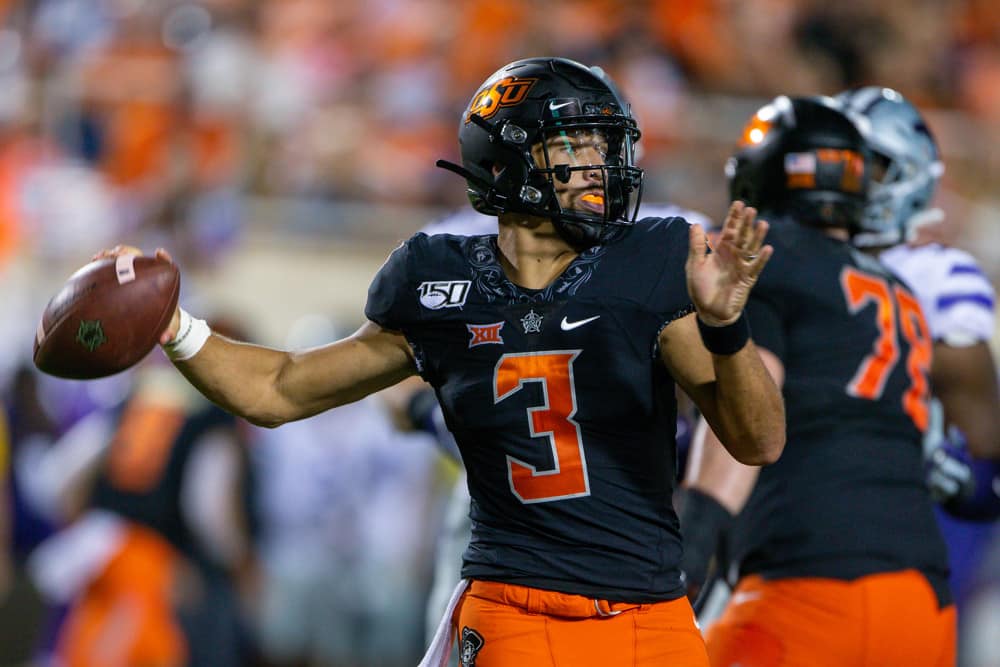 16. Spencer Sanders (Oklahoma State)
Here's yet another standout freshman quarterback from a season ago. Sure, Sanders got banged up some and missed some action. However, when healthy and playing his game, we all saw flashes of what could be in Stillwater.
Sanders ended the season with 16 touchdowns and 11 interceptions, which isn't amazing, but he also ran for over 600 yards. Enter another year in Gundy's system with elite talent at running back and wide out and Sanders could really have a special season.
17. Micale Cunningham (Louisville)
I know most list don't have Cunningham this high, but I believe in what Scott Satterfield is doing at Louisville. I think he is going to make a gigantic leap this year with his surrounding talent at the skill positions.
Last year, Cunningham was in year one of a brand new offense and still threw 22 touchdowns, just 5 interceptions and ran for 500 yards. Watch out ACC! Cunningham is electric and a headache for all defensive coordinators.
18. Kedon Slovis (USC)
Yet another freshman from a season ago on our list. USC was in year one of the Air Raid offense under former Texas Tech QB Graham Harrell's offense. J.T. Daniels went down in the season opener and in came in Kedon Slovis who did not disappoint.
Slovis threw for 30 touchdowns and 9 interceptions. That's with him getting banged up some. Sure, USC losses Pittman Jr. to the Colts, but this receiving core is talented. As long as the line can protect Slovis, he'll put up monster numbers.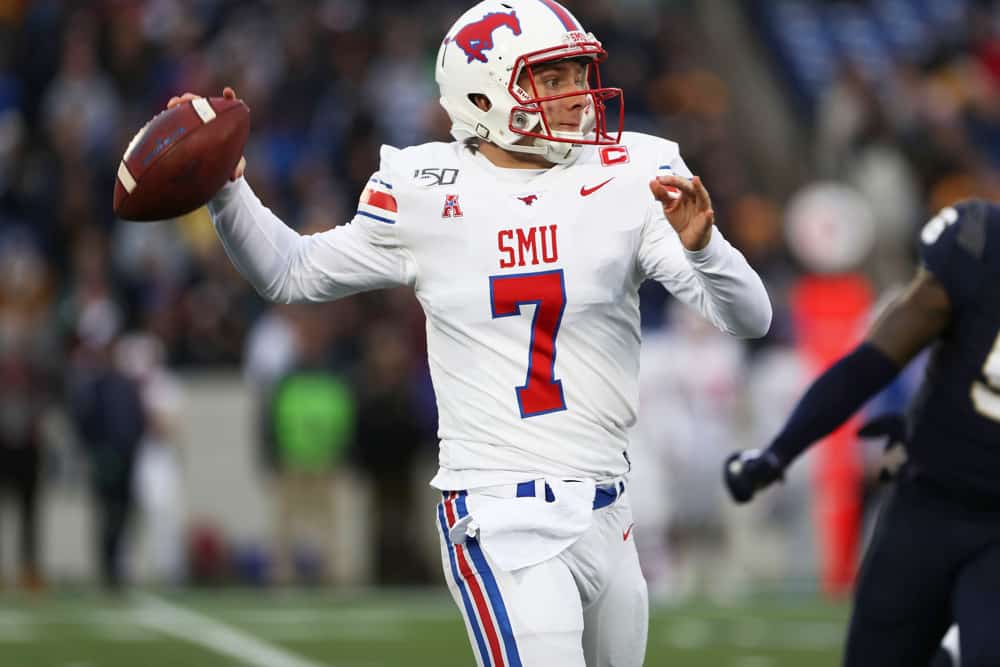 19. Shane Buechele (SMU)
Head coach Sonny Dykes and his Air Raid system looks to be the perfect fit for Shane Buechele, who threw for 34 touchdowns and 10 interceptions in his first season with the Mustangs.
Buechele led the Mustangs to a 10 win season and the former Texas Longhorn is back for his junior season. There's no reason to think he can't top those numbers.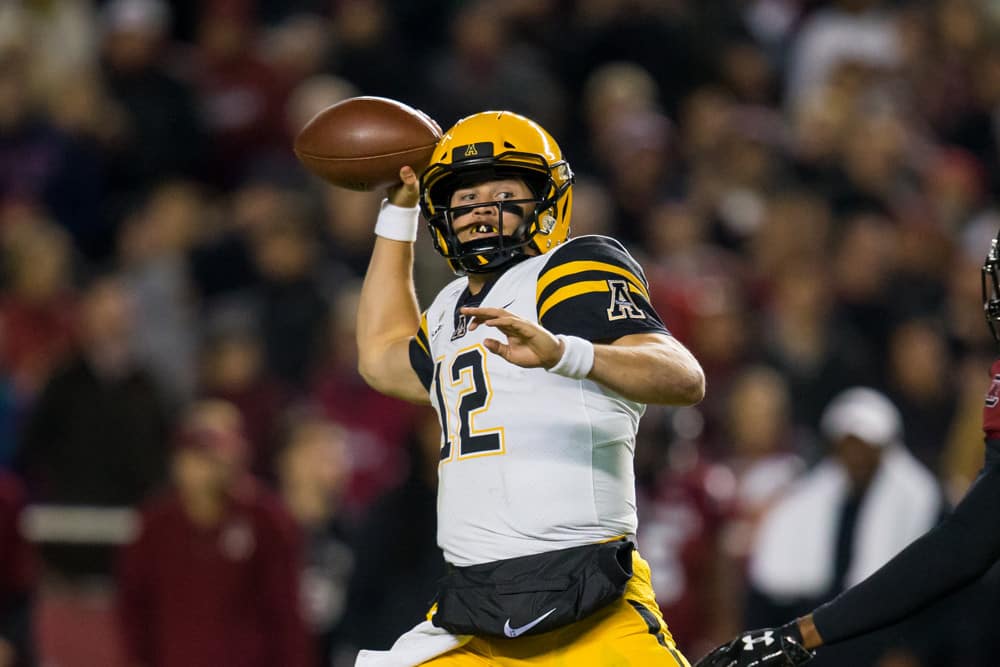 20. Zac Thomas (Appalachian State)
Not a huge name to the public, but Zac Thomas wins games! He's 24-3 as a starter for the Mountaineers.
Last year, Thomas threw for 28 touchdowns and just 6 interceptions. Sure, App State has lost two head coaches in two years but they hired Shawn Clark who's been an assistant there through all of it. For Clark, there's not much better than starting your head coaching run with the winning pedigree of Thomas as your senior quarterback.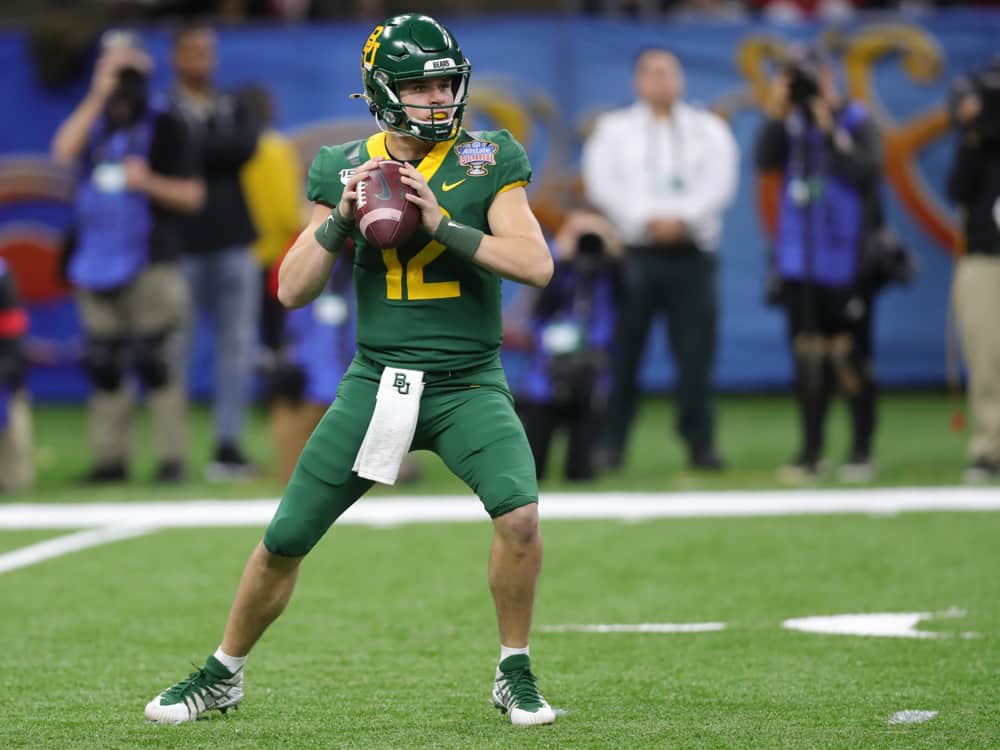 21. Charlie Brewer (Baylor)
Charlie Brewer and the Baylor Bears were one of college football's feel good stories a year ago. They almost shocked everybody and made the college football playoffs.
Brewer was a big reason for the great season, making great decisions down the stretch of several close games and ending the season with 21 touchdowns and 7 interceptions.
Matt Rhule is in the NFL now, so bring in new head coach Dave Aranda and longtime offensive mind Larry Fedora. Brewer mixed with Fedora should have even better numbers this year.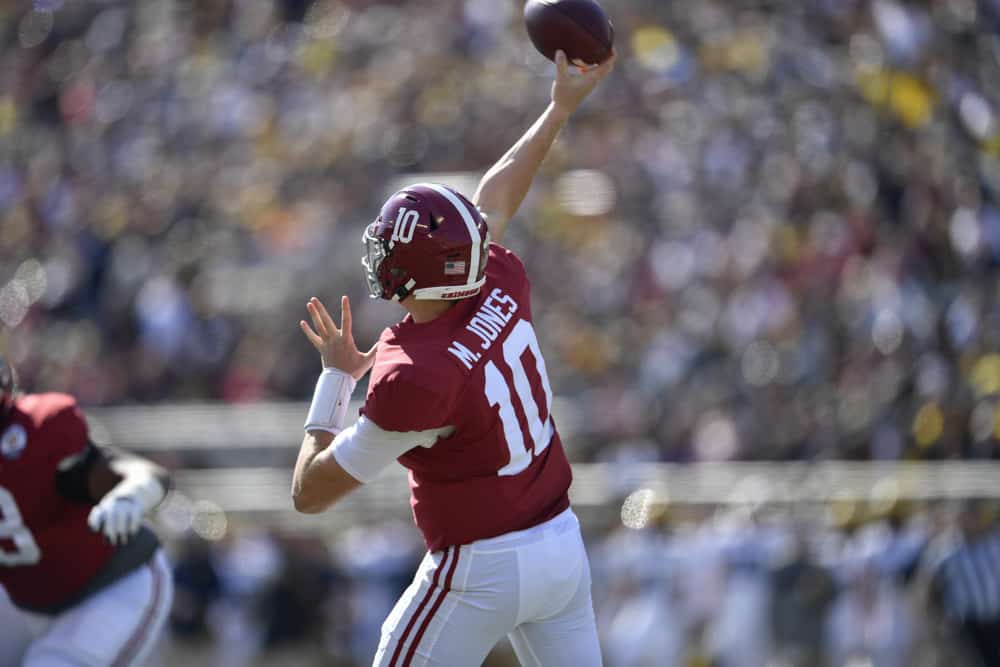 22. Mac Jones (Alabama)
I know some people who weren't overly impressed with Jones, but I thought he played well in his time starting with Mama.
Now he's got the keys to the car and perhaps the best set of wideouts in the country, so why shouldn't Jones be a top 25 quarterback? He finished the season with 14 touchdowns and 3 interceptions but he got looked better as the season went on.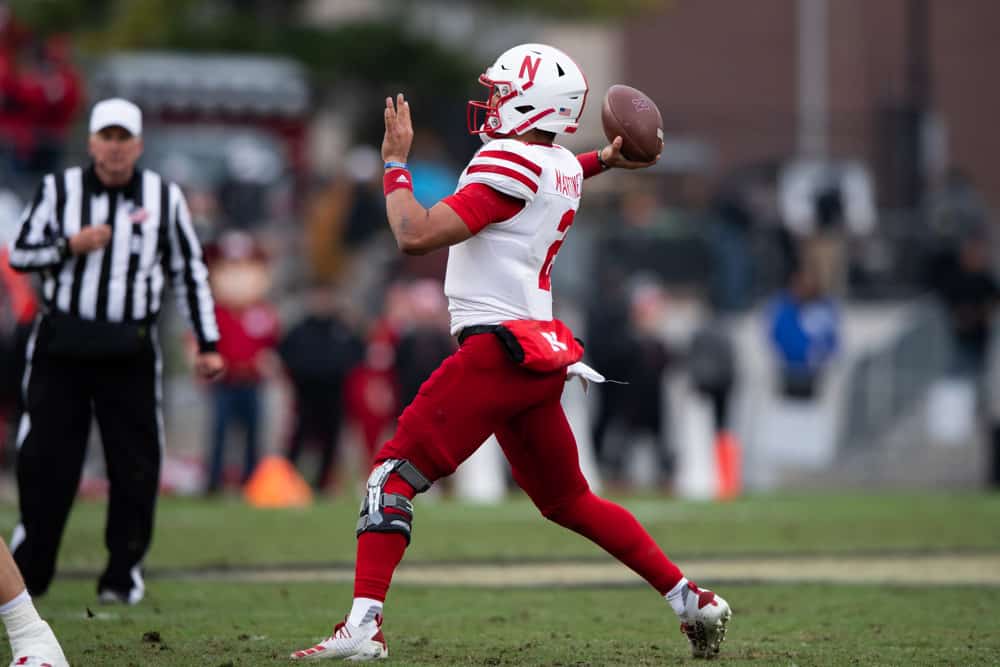 23. Adrian Martinez (Nebraska)
I know Martinez struggled some in his sophomore year, throwing 10 touchdowns and 9 interceptions. Those aren't top 25 stats.
However, going back to his freshman season, I've been impressed with Martinez. Now that he's a junior, I expect he and Nebraska to make big strides. Scott Frost must get Martinez to settle down, not try to do too much and let his athleticism do the trick.
24. Myles Brennan (LSU)
This one is almost on the Spencer Rattler level. I haven't gotten a big enough sample size to really see if Brennan is all the way legit, but with his surrounding talent, it will be almost impossible not to have a decent season.
Last year, Brennan threw just 1 touchdown and 1 interception but showed some flashes of being able to be a capable QB. Can LSU avoid the National Championship hangover and continue to excel with Brennan at QB? I think so.
25. Hank Bachmeier (Boise State)
We end things with yet another freshman quarterback who really impressed me a season ago. Hank Bachmeier turned down some Power 5 schools in favor of Boise.
Boy, he didn't disappoint after leading the Broncos back from 25 points down on the road at Florida State. Sure, Bachmeier got banged up and needs to learn to throw the ball away more often, but the tape doesn't lie. This kid can play and Boise State should be good for years to come with him at the helm.
READ ALSO
Top 25 College Football Power Five Coaches
Top 25 College Football Coaches in Group of Five Conferences