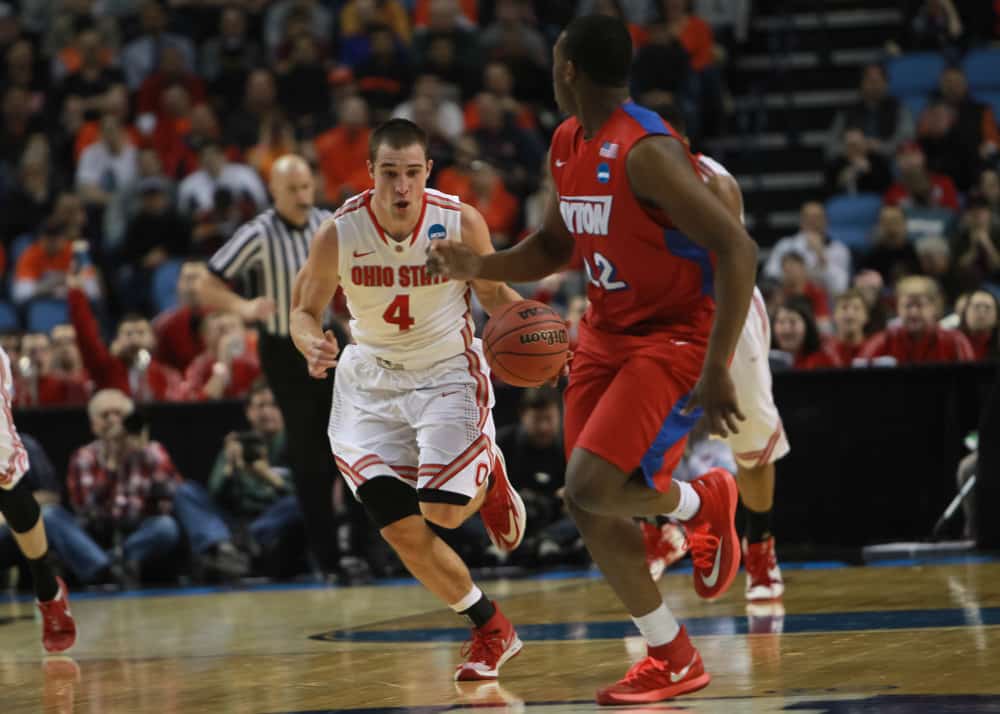 Another day of TBT is in the books and there were two tight games, and two missed overs. If you tuned in you were treated to two very entertaining games and did not leave disappointed by the games. Maybe you were disappointed by your betting action and the TBT picks that you made, but the games were enjoyable! Today is a new day though! Two new games and lots of chances to capitalize on the action with some TBT odds and picks.
#8 Red Scare (Dayton Alumni) vs #9 Big X (Big Ten Alumni)
Red Scare is here and ready to ball. Dayton was a projected #1 seed heading into March Madness 2020 and two of the leading players from that Flyers team joined Red Scare. Ryan Mikesell and Trey Landers both were starters for Dayton. Add in a roster of Dayton veterans and this Red Scare team has come to play. They are coming off a bye in Round 1, but they should come out hot and ready to play. Big X is the favorites right now, but do not trust them to win and cover. Big X has some talent and rode Nick Ward and Javon Best to a 79-74 Round 1 win. They did not look impressive and this Red Scare team mixes hungry young guns fresh off a dominant college season with seasoned veterans. Feel good about taking Red Scare for the cover and they have a good chance to win as well.
Although Red Scare is talented, this will most likely not hit the over. Only three games in TBT have seen a total score above 160. Big X played a collection of D2 all-stars in Round 1 and could not break 80 and looked sluggish and stagnant at times on offense. The Dayton alumni may have some better offensive options, but it takes two teams to hit an over. Red Scare and Big X do not have the firepower to carry this game to the over so take the under.
Picks: Red Scare (+1.5) and the Under 156.5
#1 Carmen's Crew (Ohio State Alumni) vs #16 House of 'Paign (Illinois Alumni)
House of 'Paign rode a high-scoring big three of Andres Feliz, Malcolm Hill, and Mike Daum to a dominating Round 1 win over War Tampa 76-53. They ride into town to take on the defending champion Carmen's Crew and are looking to pull off one of the biggest upsets in TBT history. The Buckeye alumni have a stacked team led by Aaron Craft and William Buford who led last year's team to a title. Despite that, Mike Daum scored buckets in bunches in Round 1 and one of the most prolific scorers in college basketball history should pour it on again against the Crew. With a high-powered trio at the top, House of 'Paign has a favorable spread and should cover it.
This could be the game to buck the trend of TBT games not hitting the over. TBT odds and picks have been tricky to nail down all tournament. Add in the Elam Ending that provides an interesting wrinkle to consider as it can extend games for a while as a trailing team chips away at the over. Look for the defending champs and House of 'Paign to both score in bunches in this one. Both teams have the offensive capabilities to pour it on so take the over in this one.
Picks: House of 'Paign (+6.5) and the Over 158.5