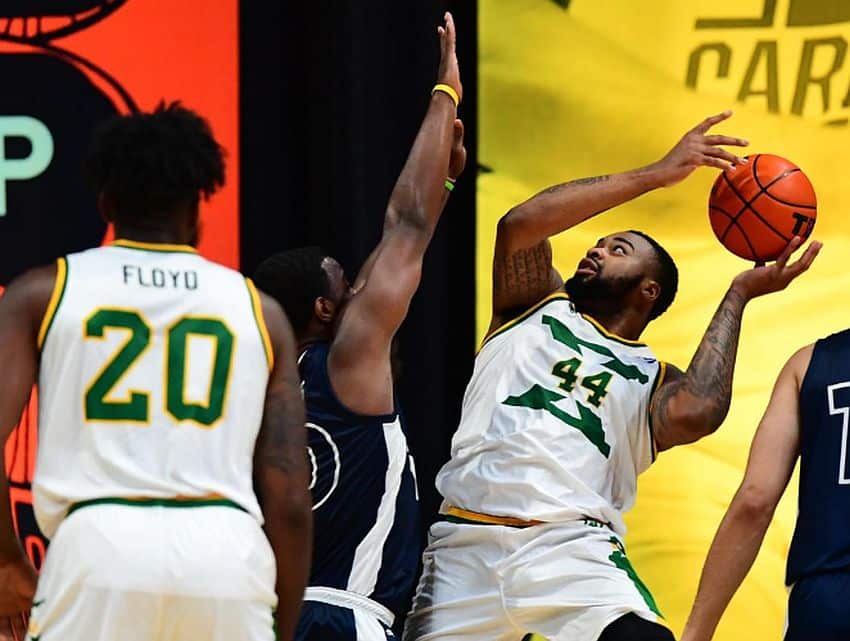 Not only are we getting early afternoon Daily Fantasy Basketball once again, but Wednesday's two-game slate features arguably the best game of the tournament to this point (and certainly the best slate as well in regards to stakes and talent levels combined).
We ready our lineups and align our work schedules for the chance at witnessing another intense, down-to-the-wire Elam Ending, as well as having a fun sweat en route to building our bankrolls should picks pan out as we'd hoped.
We're now progressing past rounds every other day toward the TBT Championship, with the most resilient top talents still on the table to take down the big Milly prize. Come Wednesday, the reigning champs in Carmen's Crew put their crowns on the line against a dominating House Of Paign squad. In addition to the fold, a traditional March Madness 8 vs. 9 matchup (which we were stripped of entirely this year) between Red Scare and Big X will be under way as well.
Let's get those Hump Day DFS dollars and relish in another slate of DFS basketball!

High/Mid
Mike Daum, House Of 'Paign
Forward ($8,900 DK/$23 FD)
Living up to every bit of his college nickname thus far in the TBT, "The Dauminator" Mike Daum has reminded everyone who holds the eighth-place career NCAA scoring title in his opening round clinic over War Tampa.
In a triumphant fashion, Daum notched a 21-13 double-double in a 76-53 beatdown that translated in the DFS realm to 40.09 FanDuel Fantasy Points, and 43.8 DraftKings Fantasy Points respectively.
Not only did Daum deliver reminiscence of his resonating scoring accolades, but he did so also as reminder-served to the ridiculous usage he commanded through college, rocking a 34.6% usage rate through his four years at South Dakota State.
Aaron Craft, Carmen's Crew
Guard ($8,000 DK/$18 FD)
The ex-Ohio State point guard not long since removed from a slew of formal recognition for his four years on-court, Aaron Craft is a spend-up option who looks to deliver fantasy value in other stat categories outside of scoring predominantly.
Averaging 2.8 steals per game and over four steals per 100 possessions, Aaron Craft was a two-time NCAA Defensive Player of the Year award winner along with a pass-first offensive prowess. The also-Big Ten Tourney MVP averaged 4.7 assists through his Ohio State tenure, working his way toward fifth-place career Big Ten total assists (694 AST).
Given the nature of his ball-sharing talent on offense, I will be stacking Craft along with at least one of his Carmen court mates in William Buford and David Lighty.
Nick Ward, Big X
Guard (DK)/Forward (FD) ($6,600 DK/$17 FD)
Clearly there were some positional disagreements between the two sites for Nick Ward on Wednesday midday slate, coming in as a Point Guard on DraftKings…and a Forward on FanDuel. And as added irony amidst the laughable confusion, the TBT website has Ward listed as a center to round out the entire assortment of basketball player designations.
Regardless of the positional exclusivity per site, the fact of the matter is I will gladly be burning a Utility position for Ward in many circumstances, as he strolls into this slate as a mid/high-priced value who is fresh off a team-high 18 points, 1 assist, 5 rebounds, and 1 block in a close victory against team D2 on Saturday, 79-74.
Lest anyone forget, Ward was every bit as ball dominant in college, and [nearly] as much as someone like Mike Daum: braving a 31.7% usage rate in three years competing within an annually contested Big Ten Conference at Michigan State. Manufacturing 25.5 FanDuel Fantasy Points was nothing to scoff at, and in what looms to be a battle-tested matchup with mutually-seeded Red Scare, Ward will likely be at the forefront of production for Big X regardless of outcomes.
Devin Oliver, Red Scare
Forward ($6,300 DK/$19 FD)
With star Dyshawn Pierre being replaced late on the Red Scare roster (and signing a deal with the Turkish club Fenerbahce a day ago), someone will have to pick up the slack for team Red Scare for the remainder of the tournament. And given his senior year's uptick in career productivity, Devin Oliver would be a worthy bet for who contributes to the cause.
In his final season with Dayton, Oliver averaged roughly 12 points per game, along with 7.4 rebounds and 2.3 assist per game averages. He also concluded his senior season with sixth-overall honors in True Shooting Percentage for the A-10 Conference (.594 TSP).
Red Scare will be missing familiar talent from just a year ago, but if they're to contend for the million dollar top prize they'll need to hold their ground against Big X. And this will start with players such as Devin Oliver, along with Kyle Davis, Ryan Mikesell, and Trey Landers.
Mid/Low
Jamel Morris, Big X
Guard ($5,200 DK/$14 FD)
Eeking his way toward a double-double in Big X's opening round, Jamel Morris provided value fantasy performance with ease as he picked up 23.7 FDFP (and 23.5 DKFP) ala 9 pts, 3 assists, and 6 rebounds. And coming into Wednesday as a modestly priced fantasy option on both sites, Morris may have another easier path to reaching value heights given the short-handed opponent.
Proving to demand the ball much through college, Jamel Morris' 26.6% usage rating in his two years at Fairmont State came in stride with 17.3 points, 2.4 assists, and 3.6 rebound averages to further compliment his cause. The current depth of Big X may prove to be too much for Red Scare's skeleton crew, and Jamel Morris is evidence of such.
Bargain
Kyle Vinales, House Of Paign
Guard ($4,500 DK/$9 FD)
Although he wasn't The Dauminator in their opening game by any means, Kyle Vinales' resume speaks to some Guaranteed Prize Pool ceiling potential on behalf of House of 'Paign's depth.
In his three years at Central Connecticut, Kyle Vinales averaged 19.2 points and 3.7 assists per game, in tandem with a career 30.1% usage rate that proves he can become a scorer if necessary and his well-rounded 5 points, 4 assists, and 2 rebounds in his first game of this tournament speak volumes to his value at the current fantasy price point.
If you're aligning your rosters with many of the above mentioned players in place, you'll certainly need to find a value flyer to throw into the variety, and Kyle Vinales provides solid upside with his maneuverable flexibility.