Welcome to the Columbus swing! A course so nice, they decided to play it twice.
For the first time in PGA history, they will be playing at the same course in back-to-back weeks. The John Deere Classic was cancelled and replaced with the Workday Charity Open to reduce travel before the Memorial next week at Muirfield Village.
This tournament is the inaugural, so when looking at past results we will have to look at the Memorial. Recent reports have shown that the rough will be slightly shorter and the greens will be a little slower, but overall the course will be very similar. Murifield has some of the most bunkers on tour so golfers will need precise approach shots and need to be able to get out of the sand when they head to the beach.
Key Stats
SG: Approach
Proximatey Gained 150-200
SG: Off The Tee
Sand Saves Gained
SG: Putting Bent
Par 4s Gained 450-500 yds
Hideki Matsuyama $10,000
Hideki loves Muirfield Village like we love betting him. In his last five events at the Memorial he has 4 top tens with one of them being a win. This course also has similarities to Firestone golf course, the former WGC- Bridgestone course, where Decki has also won. H
e is coming in with great form ranking 3rd in approach, 5th in opps gained, and 12th in Par 4s 450-500 yds. Decki may be one of the most overdue golfers on tour to get a win. With his level of ball striking he is going to win again soon and Muirfield is the perfect place to do it. However, if he posts another T35 with negative 5 strokes putting please refer to the graphic below.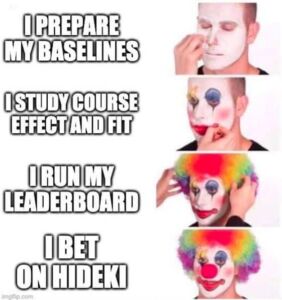 Viktor Hovland $9,500
Like the past few weeks, Muirfield Village puts a premium on ball striking and no one has been better than the young Norwegian since the Tour returned. Viktor ranks 1st in approach, 3rd off the tee, 2nd in opportunities gained, and 5th from 175-200 yards in his past 36 rds. He led the field in strokes gained tee to green the past two weeks with two top 12 finishes.
Unfortunately, he reads putts like a calculus book and has lost a combined 6.5 strokes over the past two weeks. The good news is that in his short career he actually gains on bent grass greens, which will he will see this week. If Viktor can just break even with the flat stick he is going to start winning tournaments in bunches.
Joaquin Niemann $8,400
The young Chilean has been hot from tee-to-green since coming back from the break, leading to three made cuts and a 5th at the RBC Heritage. He would have had a better finish at the Travelers if it was not for his 6 strokes lost on the greens which is not likely to happen again. Niemann, like many of the other golfers on this list, prefers bent grass and it is the only surface he actually gains on.
In his past 36 rounds, Niemann's ball striking has led to some good analytic data as he ranks 6th in opps gained and 15th in approach. Also, we really like his prox. numbers as h ranks 7th between 150-175 and 175-200, which a majority of the approach shots will come from this weekend. Look for Niemann to continue his strong play this week.
Byeong Hun-An $7,900
Benny An has not played the best golf since the quarantine with his best finish being 46th at the Travelers. Although that is not the finish we are looking for when you dive into the numbers, they were some positives from the tournament.
For starters, Benny did not lose strokes putting and ended up losing around the greens, which is the strongest aspect of his game. If he can continue to putt better and figure out his around the green game, there is no reason to believe An can not compete this week. Benny historically loves this course with four top 25 finishes the past four years. At $7,900 he is a nice value play for your squad.
Emiliano Grillo $7,200
Emiliano is an angrier, worse putting version of Viktor. He is one of the best iron players on tour and it shows in the numbers as he ranks 1st in opportunities gained in his past 36 rounds. While most weeks he putts and throws tantrums like an 8 year old at putt putt, he actually putts well at Murifield, gaining strokes on the greens in his past 4 events here. His improved putting here (and bent grass in general), has led to 9th, 23rd, 11th, and 40th place finishes in his last four events.
Although he missed 6 cuts in a row early in the season he has looked better in his last two starts making the cut in each event. Grillo has the irons to give himself plenty of looks this weekend and if he makes some putts, he should be in line for another top finish.
Max Homa $7,100
Another value play for your team is Mad Max Homa. Homa, similar to An, has not had the best start back from the break, with his best finish being a 41st at the RBC Heritage. We are not too concerned by his recent results because overall, Homa has had a very nice 2020 campaign.
Previous to the break, he had five top 25 finishes in a row, and we expect him to find his groove. While his finishes have not been the best, he is still striking the ball well. In the past five event's Max is still gaining 3.4 strokes on his approach and 3.1 tee to green. He finished 37th here last year and is a quality player to round off your team. At this low of pricing Homa is a great play.
Other Golfers to Consider:
Xander ($10,200), Morikawa ($9,500), Leishman ($8,700), Woodland ($8,300), Hadwin ($8,200), Streelman ($7,700), Dahmen ($7,700), Tringale ($7,300),  NeSmith ($6,800), Seung-yul Noh ($6,800), Swafford ($6,600)