We took it on the chin again last week at UFC Fight Night: Blaydes vs Volkov. 4-7 win no underdog picks coming through isn't pretty. But all that changes this weekend with UFC Fight Night: Poirier vs Hooker. Right?! Right.
It's another weak fight card, but we'll make the best of it and make some dollar dollar bills, y'all.
All odds courtesy of MyBookie
Dustin Poirier (-210) vs Dan Hooker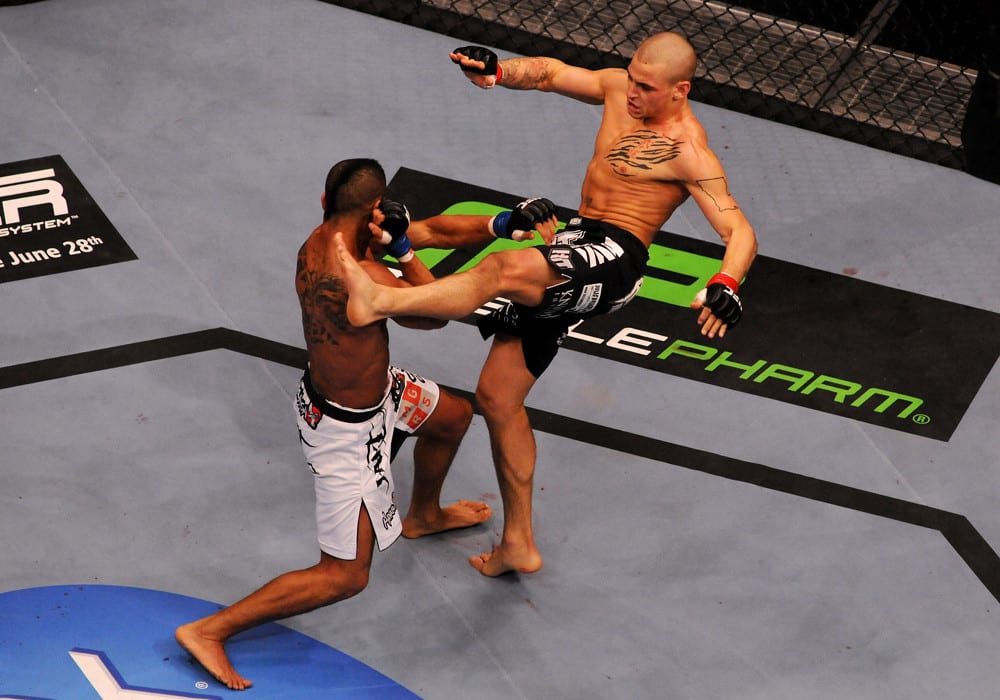 The main event Saturday night at the UFC APEX pits two hard-hitting top lightweight contenders in Dustin Poirier (12 KOs) and Dan Hooker (10 KOs). Despite being the smaller man in this matchup (Hooker has four inches of height on him and three inches of reach), I'm going with Poirier due to his experience, superior grappling, and better striking defense.
Mike Perry (-310) vs Mickey Gall
It's fitting that the ultimate Florida Man, Mike Perry, is fighting during the pandemic. Despite being 2-5 over his last seven fights, including being knocked out in his most recent fight, and despite vowing to only have his girlfriend in his corner coaching him on Saturday, Perry is a massive favorite over Mickey Gall. But it's probably fitting, as Gall gets hit far too often for a guy facing someone with Perry's power.
Brendan Allen (-300) vs Kyle Daukaus
Brendan Allen is another huge betting favorite as he's facing a newcomer, Kyle Daukaus, who just signed up for this fight a few days ago as a last minute replacement. Daukaus is 9-0, with eight submissions, but Allen has the wrestling and grappling chops to fight him off and win this fight.
Maurice Greene (-230) vs Gian Villante
Villante is a life-long light heavyweight who just seems to be tired of cutting weight so he's decided to move to heavyweight. Greene, meanwhile, is a legit heavyweight and will have the definitive size advantage here. He also has the finishing ability, both via KO and submission, to put Villante away.
Sean Woodson (-400) vs Julian Erosa
Erosa just stepped into this fight earlier this week as a last minute replacement, so MyBookie doesn't have a number posted yet. I've seen Woodson at -400 elsewhere, and rightfully so. He's a massive 6'2″ 145-pounder with a 78 inch reach – while only one inch taller than Juicy J, he's going four inches of reach on him. But, most importantly, Erosa is a journeyman – this is his third kick at the can in the UFC, after going 1-4 in his previous stints. Woodson should light him up on the feet.
Khama Worthy (+230) vs Luis Pena
Let's swing for the fences with a big underdog in Khama Worthy. He's got the power to turn Pena's lights out, and more than likely Pena will want to stand and trade with him regardless. Worth a play.
Miranda Maverick (-300) vs Mara Romero Borella
'Fear The' Maverick is an immensely talented 22-year-old prospect coming from Invicta FC for this fight. Borella has lost three straight, the last being via submission, while Maverick is a superb grappler. Look for a submission victory in this one.
Philipe Lins (-120) vs Tanner Boser
The PFL Champion Philipe Lins lost his UFC debut against Andrei Arlovski just last month, but I'm looking for a bounce back win here against Tanner Boser. He'll have the size advantage and finishing ability to take Boser out.
Takashi Sato (-135) vs Ramiz Brahimaj
Sato has bombs for hands, while the debuting Brahimaj relies on submissions to win fights. I think Sato's wrestling defense will be good enough to keep the fight standing and give him a chance to knock out the newcomer.
Youssef Zalal (-115) vs Jordan Griffin
'The Moroccan Devil' is the pick here – he's a relentless takedown artist, and the 'Native Psycho' struggles with stuffing takedowns, in this battle of, um, "interesting" nicknames.
Jinh Yu Frey (+140) vs Kay Hansen
I'm having a hard time calling this one, so let's take the underdog and try to make some money. This is another matchup involving recently "called up" fighters from Invicta. 20-year-old Hansen should have a size advantage, as she has previously competed at 125 pounds (this is at 115) while Frey is the atomweight (105 pound) champion (although she missed weight her last fight, so maybe a move up to strawweight was inevitable). But Frey will have a serious high-level experience advantage. Worth a try at plus money.
Overall Results 
Record: 49-36
Earnings: ($491.15)
Return on Investment: -6%