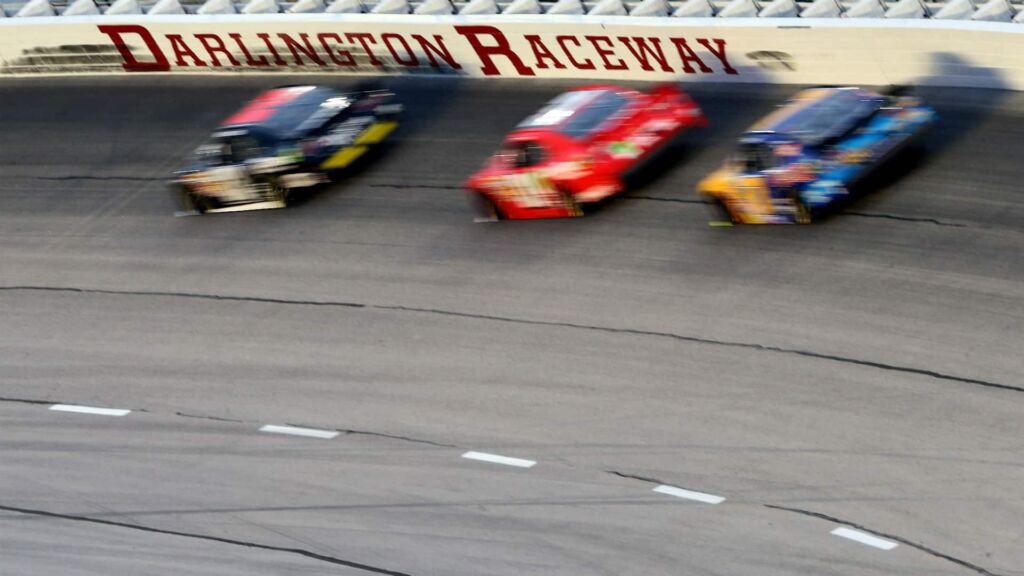 While certain elements of this weekend are definitely abnormal, the return of NASCAR signals the return of at least some normalcy to the sports and gambling world. The fastest stock car drivers in America put away the simulators and strap back into their cockpit to race in the Darlington 400 at Darlington Raceway in South Carolina.
Here's everything to know about the race for your DFS purposes (with values provided by DraftKings).
Recent Winners
2019 – Erik Jones
2018 – Brad Keselowski
2017 – Denny Hamlin
2016 – Martin Truex, Jr.
2015 – Carl Edwards
Track History
Darlington Raceway is a time capsule to the classic days of NASCAR and offers a much different test than the cookie cutter quad oval 1.5 mile tracks that are seen numerous times on the schedule. Darlington Raceway first held a NASCAR race in 1950 after Harold Brasington purchased 70 acres of farmland in Darlington, South Carolina and built a track. For years, the track would host two races a year, one in the spring and one on Labor Day weekend, which was one of the crown jewel races of the year. The Southern 500 was a race many drivers coveted to claim victory, with NASCAR including it as part of their Grand Slam and Winston Millions prize pool.
Darlington Raceway is a demanding 1.3 mile hairpin asphalt oval. The track hasn't had too many alterations over the year with the exception of flipping the front and back stretch in 1997. Known as "The Track Too Tough To Tame," Darlington is one of the more difficult tracks on the schedule due to the stress the track puts on the tires of the car, as well as asking the drivers to run a preferred line against the wall in the corners. The combination of excessive tire wear throughout a long run and debris that collects on the high groove often leads to drivers hitting the wall at any given notice. Aptly enough, many cars will don a "Darlington Stripe" like it was a badge of honor by the end of the race.
Due to the COVID pandemic adjusting the schedule, Darlington will host a race this Sunday, followed by another race on Wednesday, May 20th.
Other Race Notes
NASCAR is implementing special rules for this race related to qualifying and practice. There is no time trial qualifying or practice allowed for any of the teams. The qualifying order will be a random draw set based on owners points. Teams placed 1st-12th in owners points will be randomly slotted in the field for the first 12 starting positions, followed next by those placed 13th-24th and 25th-36th, with the remaining three slots filled by whatever competitors are left over at random.
Given there isn't any practice or qualifying times to see who has a fast car heading in, the only guide DFS contestants have at their disposals are past results at this track and similar tracks.
DFS Picks
Martin Truex, Jr. – $10,800: Truex has been a victim of some bad luck early on in the NASCAR season. His average finish is only 24.5 but he's third on the circuit in total stage points earned, indicating he's had very fast and competitive cars. The winner of the 2016 race should be hungry and motivated after the long layoff to get his season back on track.
Kurt Busch  – $8,500: Kurt Busch has an average finish of 5.3 in his last three races at Darlington and has amassed the fourth most stage points over that period of all drivers in the field. That indicates he hasn't lucked into good finishes and has had consistently fast and competitive cars at the track.
Jimmie Johnson – $8,300: In his final season in NASCAR, Jimmie Johnson has had consistently fast cars, amassed the 5th most stage points and has an average finish of 14.5 over his first four races. Though his recent track record at Darlington isn't stellar, he and his team seem like it's clicking on all cylinders. With no practice time available, his vast knowledge and experience should give him an edge.
Aric Almirola – $7,700: Almirola only has an average finish of 17th in his last three races at Darlington and hasn't been competitive in any of them, amassing zero stage points in those races. But he's had fast and competitive cars early in 2020 and historically has been pretty good on similar intermediate tracks over his recent career.
Matt DiBenedetto – $7,500: The Penske cars have had tremendous success at Darlington in the last three years, and DiBenedetto should benefit through the Wood Brothers strategic partnership with Penske. DiBenedetto finished 8th at Darlington last year in the cockpit of an inferior team, and his promotion to Wood Brothers in 2020 has paid dividends.
Chris Buescher – $7,000: Like DiBenedetto, the promotion to Roush Fenway Racing has paid dividends for Buescher, as he has an average finish of 12.5 early in the 2020 NASCAR season. He also has an average finish of 14th in his last three races at Darlington, a respectable clip given it was done on a much inferior team.
READ ALSO
Madden Simulation Betting
10 Biggest X Factors for 2020 Fantasy Football Rankings
Draft Dairies: Fantasy Football Dynasty Startup, SuperFlex & TE-Premium, Rounds 1-2