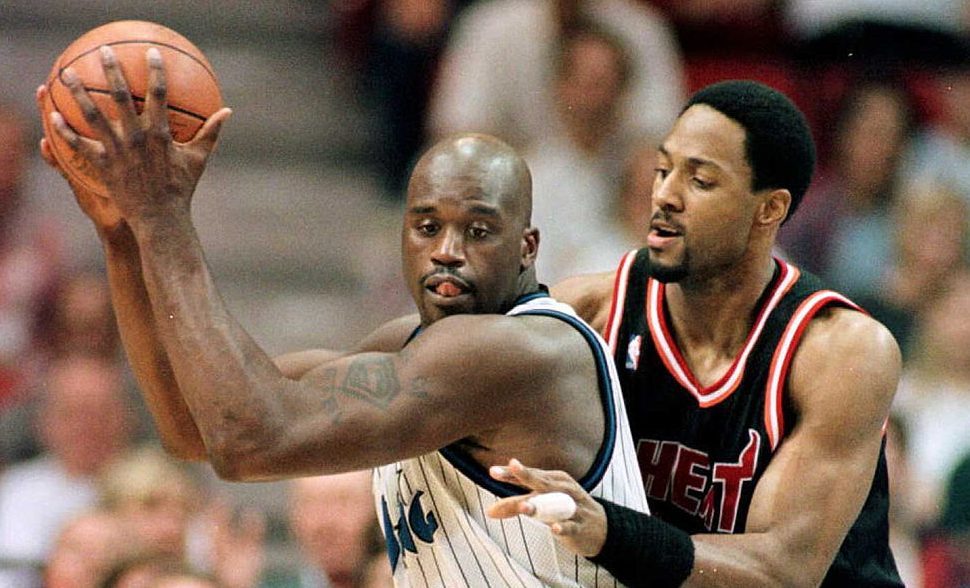 Watching The Last Dance reminded me of some tremendous players from the '90s, especially of some big fellows who dominated the league back in days. I'm pretty sure some of those guys would dominate today's NBA, but I also know many people wouldn't agree.
Therefore, I want to show you five big men who were unstoppable in the '90s and would continue to be so if they were transported into today's league, due to their terrific, timeless talent. I'll include some videos. You'll be surprised how good these guys have been.
5. Alonzo Mourning
The Charlotte Hornets drafted Alonzo Mourning with the second overall pick at the 1992 NBA Draft, and Georgetown product made an immediate impact. Zo was averaging 21.0 points, 10.3 rebounds, and 3.5 blocks in his rookie season.
After three years in Charlotte, Mourning was traded to Miami where he stayed for the next seven years. Due to kidney disease, Mourning had to miss the entire 2002-03 season. He returned a year later to play five more years, but Zo wasn't exactly the same player he was before.
Still, Mourning won the championship with the Heat in 2006. He's a seven-time All-Star and a two-time Defensive Player of the Year. Zo was a bit undersized at 6'10'', but his defensive awareness was exquisite. Also, Alonzo never stepped away and was often involved in brawls.
4. Patrick Ewing
As the first overall pick from the 1985 NBA Draft, Patrick Ewing certainly met the expectations. He's never won the championship, losing a couple of NBA Finals in 1994 and 1999. But he's been serving the Knicks for 15 years, becoming the franchise leading scorer.
Through his first 13 seasons in the NBA, Big Pat has never averaged below 20 points. Back in the 1989-90 season, Ewing was tallying 28.6 points, 10.9 rebounds, and remarkable 4.0 blocks per contest. And he was only the fifth in the MVP Award voting behind the likes of Magic, Jordan, Barkley, and Malone.
Big Pat was not just a huge threat in the paint, but he also knew to pull off a jump shot. Unfortunately, he had a lot of injury problems that slowed him down in the late '90s, but Ewing remains one of the best centers in NBA history.
3. David Robinson
After leading the Navy Midshipmen for four years and spending another two years in naval service, David Robinson finally joined the NBA in 1989. He took the league by storm, averaging 24.3 points, 12.0 rebounds, and 3.9 blocks per game.
The Admiral spent his entire career with the San Antonio Spurs, and I want to thank him for that. In 1995, Robinson won his only MVP Award, while he led the league in points a year before, posting 29.8 points per game. He scored 71 points in the ultimate game of the season to surpass Shaquille O'Neal.
David Robinson is undoubtedly one of the strongest athletes I've ever seen. He dominated most of his opponents thanks to his ridiculous physicality, but The Admiral also had smooth moves on the low post. He's a 10-time All-Star and the 1992 Defensive Player of the Year, while Robinson earned two championships in 1999 and 2003.
2. Shaquille O'Neal
I just have to include Shaq on this list, although his true domination started in the 1999-00 season. Shaquille O'Neal was a special player. He's been completely unstoppable for years, dunking on literally everybody.
You can have an opinion on the greatest basketball player ever, but you cannot argue with the fact that Shaq was the most dominant guy in the league over the last 30 years. I will always remember Allen Iverson's words to Kobe Bryant – "Man, you're not the best player even on your team".
So, Shaquille and Kobe have won three straight titles at the start of the century. The Big Aristotle was tallying 30.7 points and 15.4 rebounds per game in the 2000 NBA Playoffs, while next year, he was posting 30.4 points and 15.4 points per contest in the postseason.
Back in the late '90s, nobody could stop Shaq, and I'm pretty sure he would blow away any of today's NBA superstars. Rudy Gobert on Shaq? Blasphemy! Shaq would destroy Gobert any day with ease.
1. Hakeem Olajuwon
I knew from the very first moment who's going to top my list. Yes, Hakeem The Dream. He's the most gifted big man I've ever seen and an absolutely dominant force on both sides of the floor.
Back in 1994, Olajuwon led the Houston Rockets to their first NBA championship, becoming the only guy ever to win the MVP Award, Defensive Player of the Year Award, and the Finals MVP in one season. That tells you a lot about how different Olajuwon was.
READ ALSO
5 NBA Players James Harden Hates
5 Biggest Ball Hogs in NBA History
Selecting The 2019-20 All-NBA Fantasy Teams