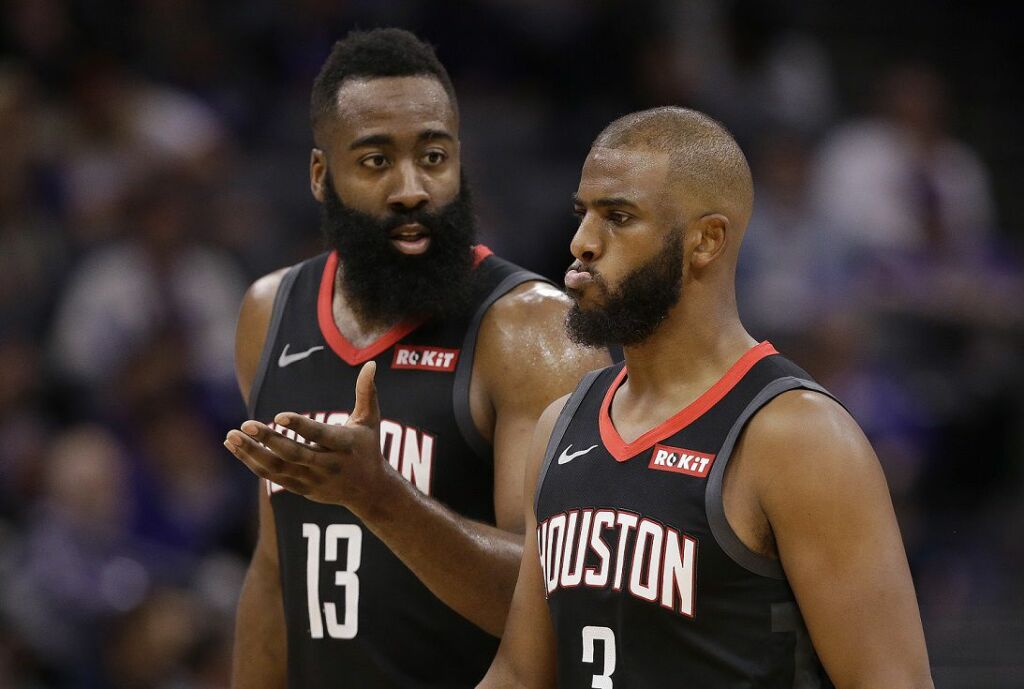 We all know that James Harden is one of the most hated players in the Association. Many basketball fans just can't stand his tendency for flopping, while some just cannot watch the Beard ruining their teams on the floor. It's a similar story with the players who hate guarding Harden.
Honestly, I'm not the Rockets fan, and I think James Harden is often disrespecting the unwritten rules of the basketball game. The Beard is kind of a whiner. However, I'm sure he is not thinking about me at all, so let's take a look at guys who James Harden hates the most.
READ ALSO
10 NBA Players Michael Jordan Hates
5. Metta World Peace
Or is he Ron Artest again? Well, he was World Peace at the time, and I remember this game like it was yesterday. I've never seen such a celebration. It was absolutely the most idiotic move on the basketball court ever. How can you not hate a guy after that?
4. Corey Brewer
James Harden and Corey Brewer were teammates in Houston five years ago, so they know each other well. Brewer brought everything he had when he met Harden in Philadelphia last year. Trash talking, ridiculous defense, bothering Harden in every single way; Brewer knew what to do and did it perfectly.
You have to see Corey Brewer provoking James Harden in the 76ers' rout of the Rockets 121-93. I'm pretty sure Harden remembers this clash and would rather forget it. El Chapo poured 37 points but took only eight free throws and was visibly annoyed by his former teammate.
"I was really happy to get to play basketball. I'm a competitor," Brewer said. "I love when I get to have a matchup like James Harden. It's great. Let's go."
Although Corey stated how much he admires The Beard, I doubt Harden would like to see his face again.
3. Rudy Gobert
The Rockets played the Jazz in the previous two postseasons, beating them in five games on both occasions. The Jazz are well-known for their solid defense, but guarding James Harden was quite a challenge, especially for Utah's best rim protector, Rudy Gobert.
James Harden loves isolations, always trying to beat his defender and attack the rim afterward. He dunked on Gobert a few times, while we remember a brawl from the regular-season clash back in 2018 when Harden got mad after Rudy fouled him hard.
Only a few weeks earlier, James Harden used his flopping skills to draw a foul from Rudy, and Gobert was furious. Let's hope the Rockets will meet the Jazz once more in the playoffs when NBA returns following the Coronavirus outbreak.
2. Giannis Antetokounmpo
Last year, James Harden started 78 games for the Rockets, averaging 36.1 points, 6.6 rebounds, and 7.5 assists per game. And he still didn't win the MVP Award. Harden got snubbed despite posting the second-longest streak of 30-point games in NBA history.
The Beard surpassed a 30-point mark in 32 straight games. He had seven 50-point displays including a couple of games with 61 points. And it wasn't enough. Giannis Antetokounmpo won the award, tallying 27.7 points, 12.5 rebounds, and 5.9 assists per game. If you ask me, Harden should have won it, no doubt.
"I wish I could be 7-feet, run and just dunk. That takes no skill at all," Harden said earlier this season. "I gotta actually learn how to play basketball and how to have skill. I'll take that any day."
James didn't mention a name, but it was obvious who's he talking about. Giannis made a joke at the 2020 NBA All-Star Game Draft, picking Kemba Walker over Harden because he wanted someone who would pass the ball. Of course, James didn't find it funny at all.
1. Chris Paul
Back in 2017, the Rockets acquired Chris Paul to create a strong one-two punch in the backcourt. They had a great chance in the 2018 Western Conference Finals, but the Warriors dodged the bullet. Houston had a 3-2 lead, but the Rockets missed Paul in the final two games of the series due to a hamstring injury.
Paul played 58 regular-season games in each of his two years with the Rockets, averaging 17.1 points and 8.0 assists per game. He's been tallying 21.1 points, 5.9 rebounds, and 5.8 dimes per contest through the 2018 playoffs, and his absence in those two games against the Warriors was a huge blow for James Harden and the Rockets.
After last year's loss to the banged-up Warriors in the semifinals, it was obvious there's friction between James Harden and Chris Paul. Things escalated quickly, and Paul was traded to Oklahoma City. Reportedly, Paul and Harden had fights over the preferred playing style.
"Chris wants to coach James," a source said. "James looks at him like, 'You can't even beat your man. Just shut up and watch me.'"
Harden played down the seriousness after Chris was sent to Oklahoma. Still, it seems like he couldn't stand Paul anymore.
READ ALSO
James Harden's Road Play with City's Strip Club Quality Analysis [Updated]
Michael Jordan's Worst 5 Gambling Losses
10 Current NBA Players Charles Barkley Hates