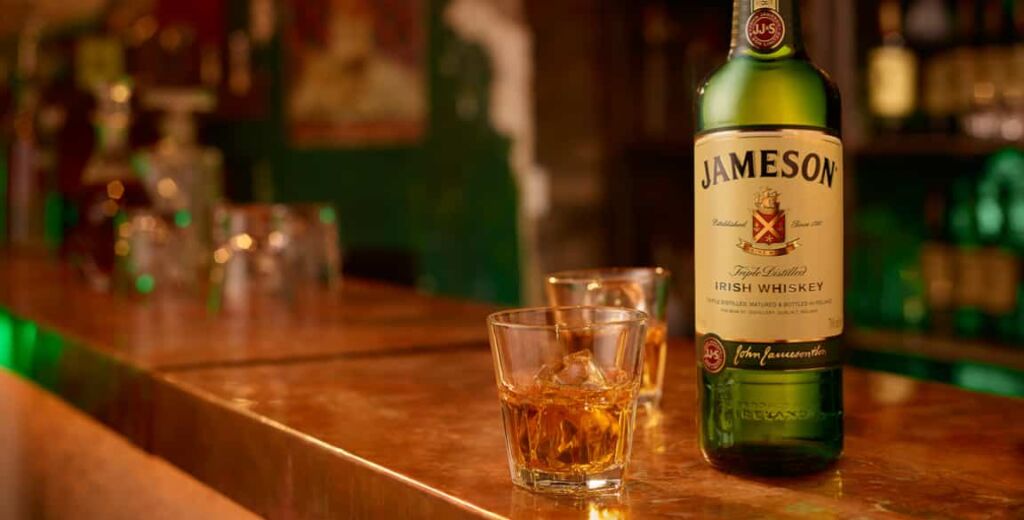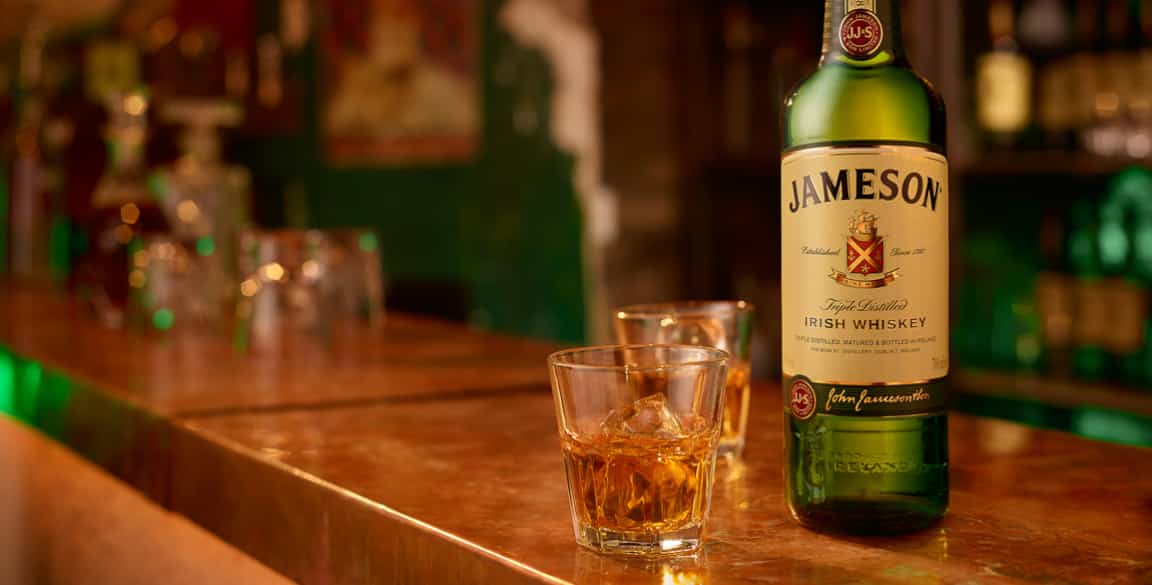 Regardless of what your favorite sport to watch may be, it's always enhanced by the right alcoholic beverage. If you are anything like me, I often find that beverage to be whiskey. I don't care if you are watching Monday Night Football, playoff hockey, a big-time bowl game, a heavyweight boxing title bout, or a Canadian curling championship, I'm am here to help suggest a fine distilled alcoholic beverage to accompany the athletic endeavor. For the sake of this column, the drink of choice will be one made from fermented grain mash (such as barley, corn, rye, and wheat) that is typically aged in wooden oak casks.
READ ALSO
10 Local Beers to Drink at the 10 Biggest College Football Stadiums
Madden Simulation Betting

Before we get to the list it is important to lay out some ground rules. First, the term "whiskey" can be somewhat confusing itself. For example, all bourbon is whiskey but not all whiskey is bourbon. Bourbon is a spirit, derived from at least 51 percent corn. Similarly, a "rye whiskey" is derived from at least 51% rye. If you don't see "bourbon" or "rye" in the whiskey's name, it's most likely derived from at least 51% barley or wheat. While that may be a very rudimentary breakdown of what whiskey is, it will suffice for the sake of this column. Also, although Scotch is also a whisky, it is not included in this list as it deserves its own column written by someone who drinks more of it than myself.
Lastly, I'm not here to provide a list of the best whiskeys on the planet. You won't find Pappy Van Winkle here. This list is for the average person who can pick up a bottle at a decent price and enjoy it while watching their sport of choice. Some are national brands while some are more local. Ok, enough nonsense, let's get to it:
10. Tower 56 Bourbon
Distillery:  Tower 56
Location:  Greeley, CO
Proof: 90 
Style:  Bourbon (corn)
You may not have heard of this fine spirit unless you have been around Greeley, Colorado and if that's the case, it's a shame. If find yourself in the Rocky Mountain state, do yourself a favor, get to a liquor store and grab yourself a bottle.
It's an award-winning wheat based bourbon aged in oak barrels that hints of vanilla and caramel. Perhaps you are a Broncos fan, you're tired of John Elway (who isn't quite as good in the front office as he was under center) and you need a good strong sip of whiskey to get thru a game. Then my friend, turning to Tower 56 is a better option than say, signing Joe Flacco.
9. Bulleit 95 Rye
Distillery: Bulleit Distilling Co
Location:  Louisville, KY
Proof: 90 
Style:  Rye based
I had to have at least one Rye on this list so let's travel to Lousiville, Kentucky to sip on one of the finest around. This is straight rye whiskey with a "character of unparalleled spice and complexity."
The Kentucky Derby is held annually (except for when MF'ing viruses are ruining our lives) in Louisville and there's no better beverage to sip on when throwing good money at a bad trifecta that has no chance of hitting. Rip up that loser ticket and turn to the bottle of Bulleit Rye. It'll make you feel better.
8. Defiant Whiskey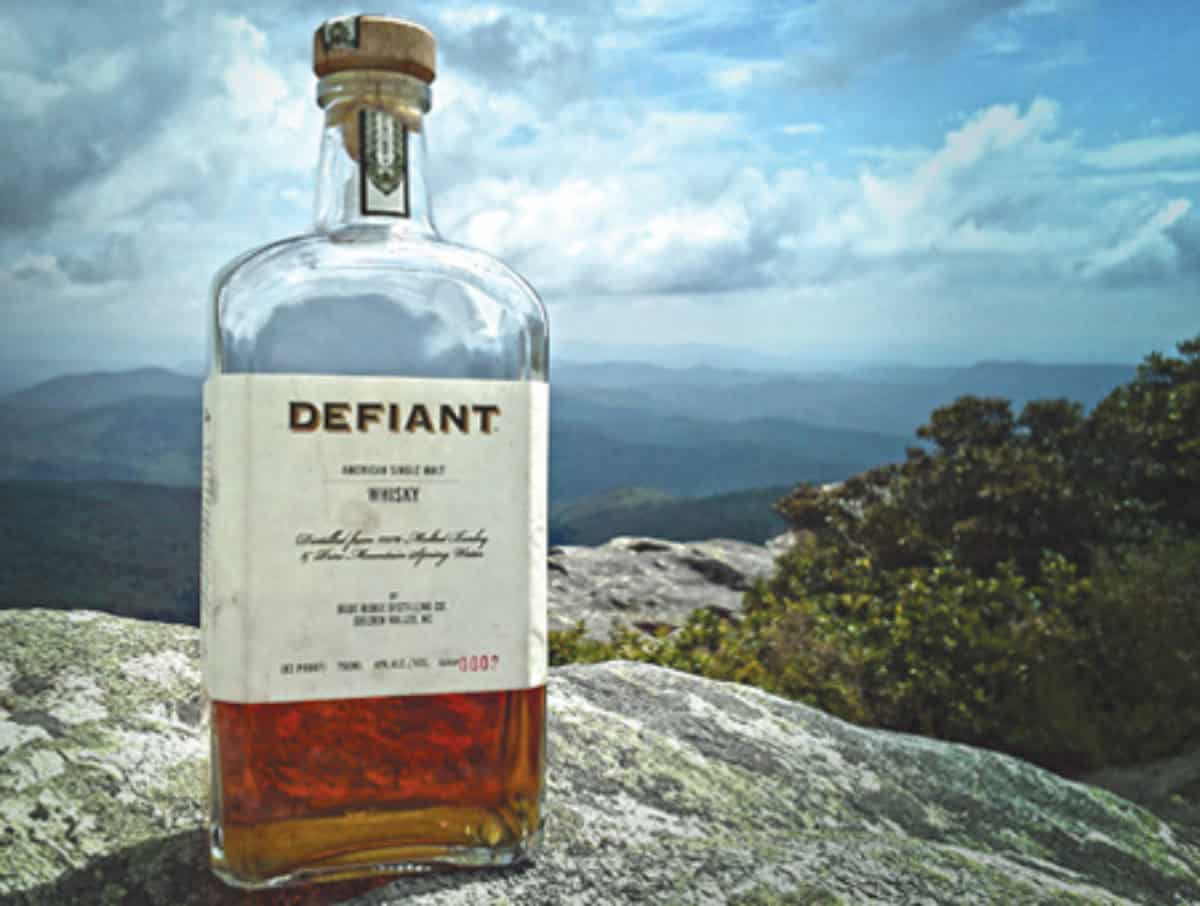 Distillery: Blue Ridge Distilling Company
Location:  Bostic, NC
Proof: 82
Style:  Barley based
Call me a homer, but I had to choose one spirit from my home state of North Carolina. Here we'll head to the Mountains and the home of Blue Ridge Distilling, the fine distillery pumping out this superior single malt whiskey.
It's not far up the road from Charlotte, NC so if you happen to be a Panthers fan, you can cheers and rejoice in the fact that Mam Newton  is no longer your quarterback.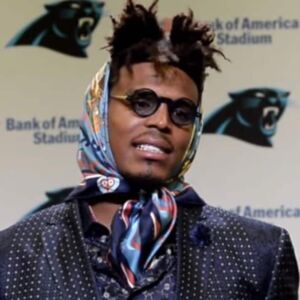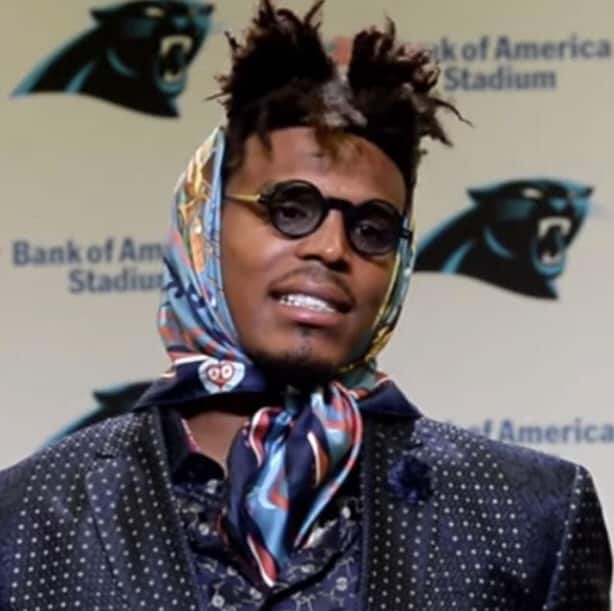 7. Jefferson Reserve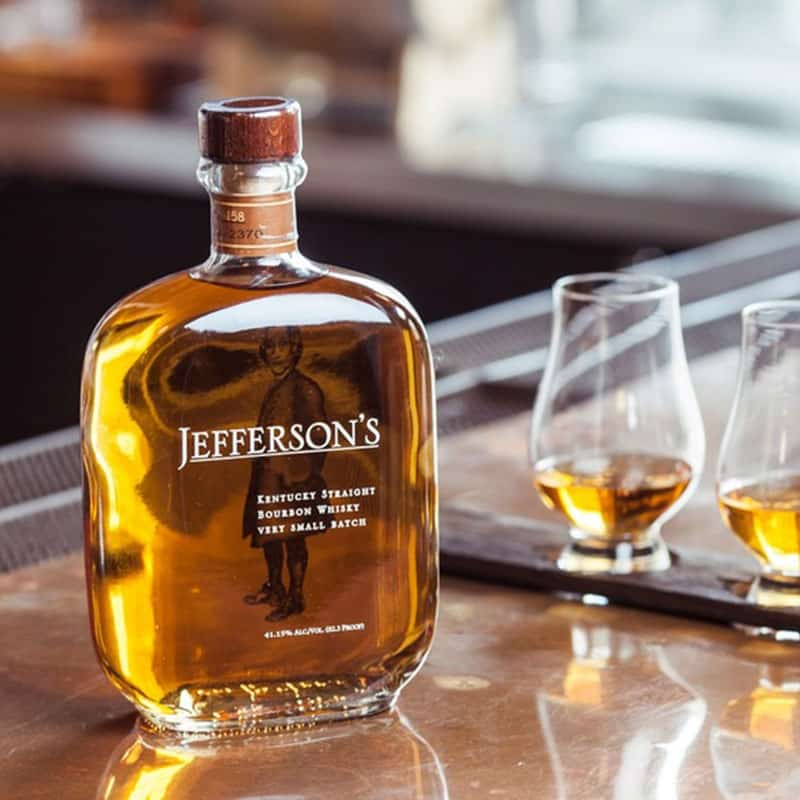 Distillery: The Kentucky Artisan Distillery
Location:  Crestwood, KY
Proof: 90.2
Style:  Bourbon (corn)
For our next stop, we head about a half hour NE of Louisville, following the Bourbon trail, to the small of town of Crestwood, Kentucky where Jefferson Bourbon is located.
According to their website,  this distillery was founded in 1997, continues a family tradition of whiskey making that dates back to 1799. Apparently, they chose the name Jefferson (as in Thomas Jefferson) because of his "curiosity and experimental spirit." Hopefully they are not referring to his alleged sexual relationship with an under-aged slave girl which may have led to illegitimate children, but instead his quest for fine alcoholic beverages. However, he apparently preferred wine and only purchased whiskey for "workmen and the plantation in general."
So while I have issues with the name (which I'm sure they just thought was clever branding) I don't have issues with the whiskey. Try it yourself and tell me otherwise.
6. Stranahan's Colorado Whiskey
Distillery: Stranahan's
Location:  Denver, CO
Proof: 94
Style:  Barley based
Now we head West and back to the state of Colorado, where we travel to the first distillery that I have had the pleasure of visiting in person. This is a distillery started by the partnership of Mike Shanahan and Michael Strahan who both happen to enjoy a nice glass of whiskey themselves. I kid – nor Shanahan or Strahan are involved in this fine company.
However, those folks who are involved, make a distinctively smooth and flavorful American single malt whiskey that's perfect for sipping or mixing into your favorite cocktail. It's hand-crafted in small batches and made with rocky mountain water in Denver, Colorado. Check them out and you won't be disappointed.
5. High West American Prairie Bourbon
Distillery: High West Distillery
Location:  Park City, UT
Proof: 92
Style:  Bourbon (corn)
When Park City, Utah comes to mind, you might think of downhill skiing or those wacky Mormons, but probably not Whiskey. Maybe you should as it happens to be home to the High West American Prairie Bourbon which is a blend of straight bourbon whiskeys aged from 2 to 13 years with 75% to 84% corn as the main ingredient. I don't claim to have the best pallet in the world but apparently you will taste light caramel, sweet vanilla, and a hint of caramel apple. Honestly, I don't know about all that but it is a nice tasting, respectable whiskey. Much more respectable than Utah Jazz legend Karl Malone and his past transgressions.
4. Red Breast 12
Distillery: Irish Distillers 
Location:  Cork, Ireland
Proof: 90
Style:  Barley Based
It's about time we cross the pond and head to a country that has been making whiskey much longer than Americans. Hello Ireland – Whiskey Motherland. The multiple time gold medal winning Red Breast is aged 12 years and boasts the flavor complexity and distinctive qualities of Pot Still whiskey.
Its uniqueness comes from maturing in a combination of bourbon and sherry casks, not just the standard Oak. Some folks say it's a bit spicy and fruity but whatever, it's freaking delicious. If you happen to be on the Emerald Isle, you're probably watching Soccer or Rugby and if you'd like to partake with the locals, you'll probably be drinking some whiskey. I've been to Dublin when there was a big rugby match and lemme tell you – those fine folks know how to have fun.
3. Blanton's Single Barrel Bourbon Whiskey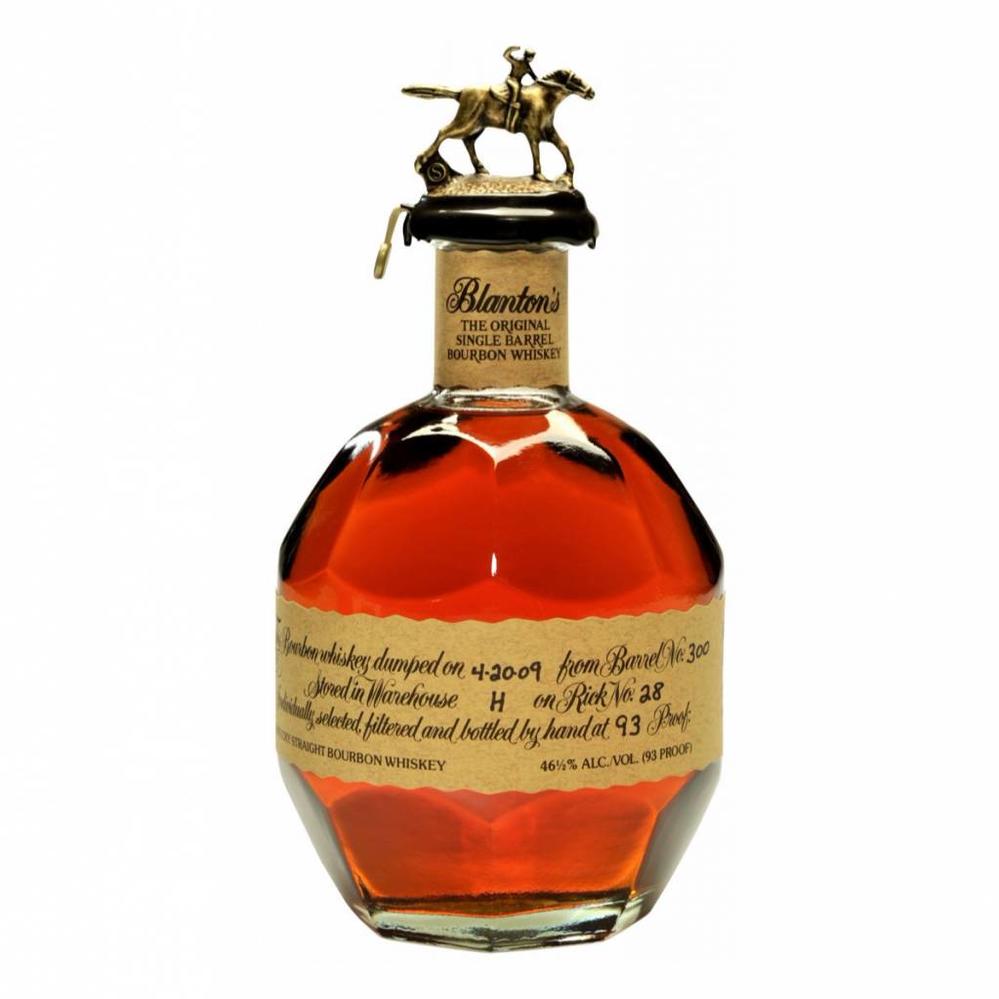 Distillery: Buffalo Trace
Location:  Frankfurt, KY
Proof: 93
Style:  Bourbon (corn)
Let's get back to the blue grasses of Kentucky. Blanton's original single barrel bourbon made at the Buffalo Trace Distillery in Frankfurt, KY is one of my favorite whiskeys in the world. Located between Louisville and Lexington makes me wonder if they bleed Kentucky Wildcat blue or Louisville Cardinal red.
Rumor has it when Rick Pitino got canned at Louisville he rapidly visited all of the distilleries around the state for a quick drink to drown his sorrows. Since there are over 70 licensed distilleries in Kentucky you may be wondering how he was able to visit each one, but apparently he would only enter for 15 seconds before finishing up.
2. Woodford Reserve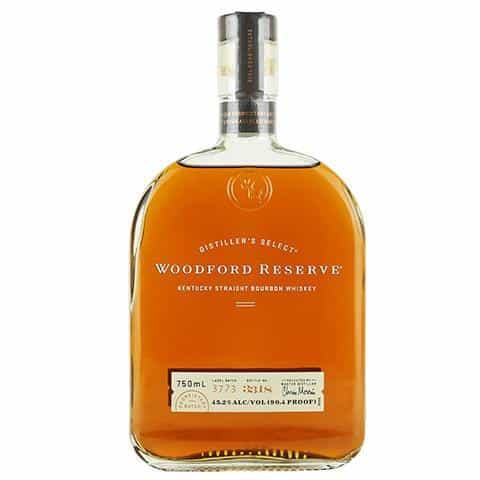 Distillery: Woodford Reserve Distillery
Location:  Versailles, KY
Proof: 90.4
Style:  Bourbon (corn)
Ok, now we are getting close to holy ground. Yes, we're still in Kentucky and now in the small town of Versailles just West of Lexington. Here lies the makers of Woodford Reserve, Kentucky Straight Bourbon Whiskey. It's been dubbed the world's finest bourbon and perfectly balanced, and I honestly cannot disagree. I'd rather you not mix this in a cocktail as it's kinda like putting ketchup on a steak or tartar sauce on fish but let's be honest, do whatever the hell you want. This is definitely not a high-brow column stating how one should and should not drink whiskey (god, I hate those). For the record, I usually like my bourbon with an ice cube or two. While some whiskey purists may disagree, I don't give a damn.
1. Jameson Irish Whiskey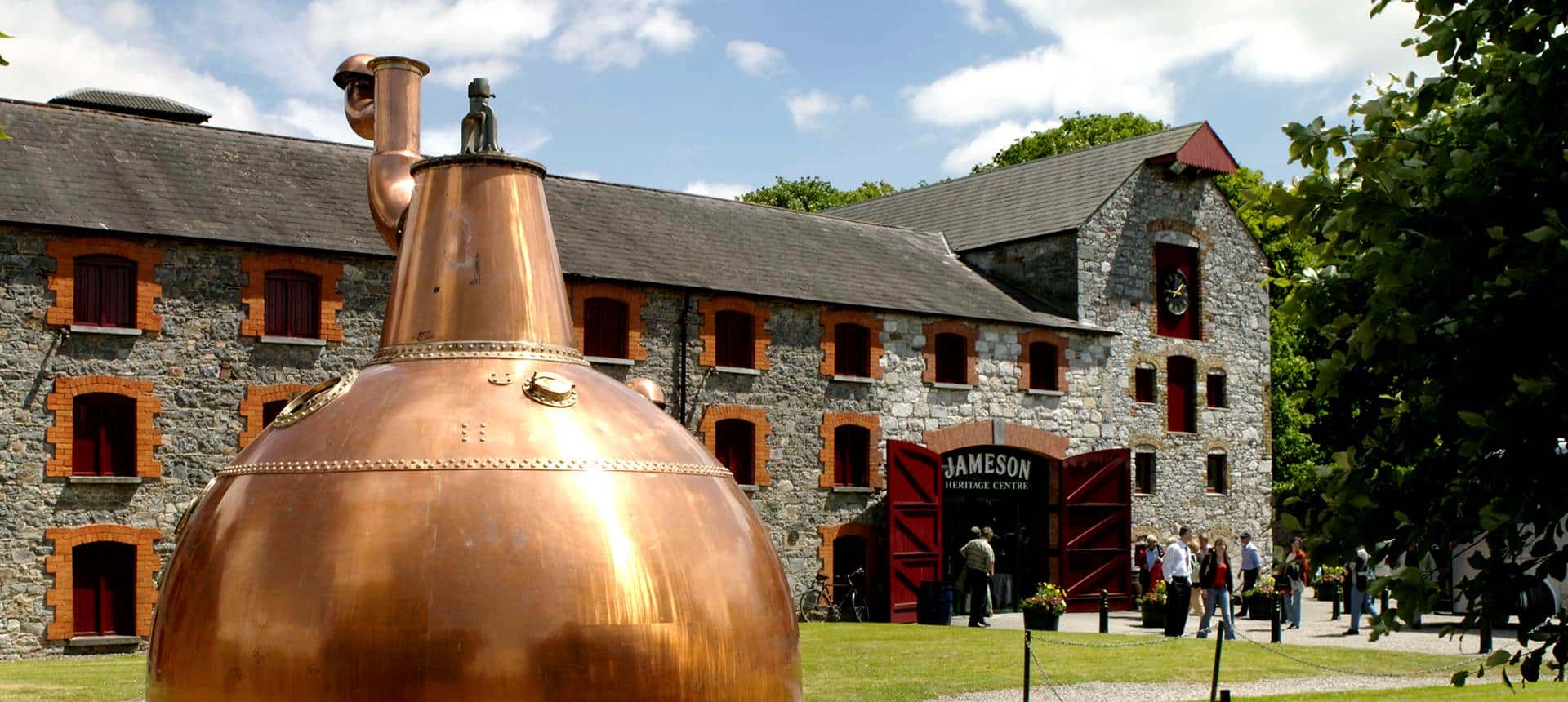 Distillery: Irish Distillers
Location:  Cork and Dublin, Ireland
Proof: 80
Style:  Barley based
Ahh, back to Ireland and the second distillery I've had the pleasure of visiting in person. A few years ago, while visiting the birthplace of at least ½ of my ancestors, I made a pilgrimage to the sacred ground where they produce one of the finest beverages in all of the land.
The aging room in the Cork distillery just may be the most impressive area I have ever entered. I'm still trying to capture that aroma and turn it into a candle that I can sell into every man cave in America. I'm sure they wouldn't allow it, but when my days are done on this planet, I'd like to be buried in that aging room so my spirit can keep company with those spirits I cherish so much.
This is the epitome of an Irish whiskey. It's affordable, remarkably smooth, and without the pomp and circumstance that I detest. So go ahead and spend $100+ on a fancy-marketed and over-priced whiskey, and I'll buy a Jameson while I tune into my sports and root for whoever I have a wager on.  Cheers Mr. John Jameson. We salute you.
READ ALSO
10 Local Beers to Drink at the 10 Biggest College Football Stadiums
Madden Simulation Betting