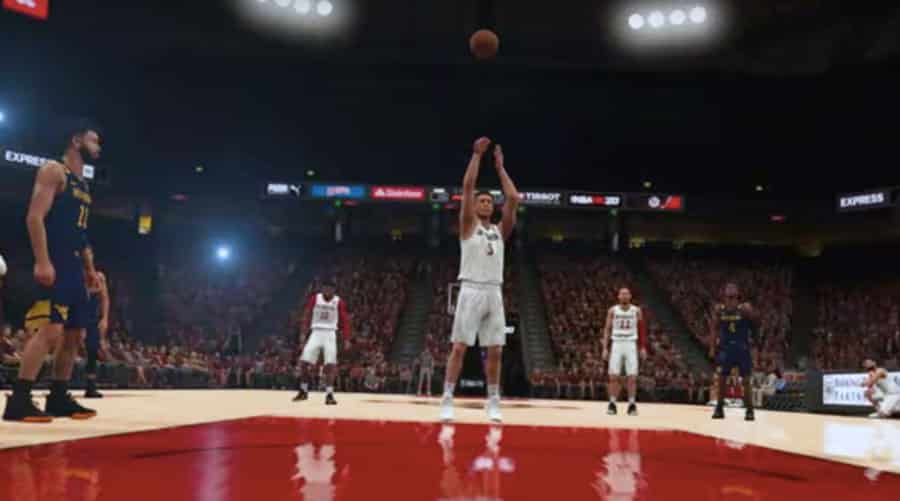 If you're a bettor or even just the casual fan of a good basketball game, then Degen Madness has been more than satisfying. The first round was full of shockers, and likewise this left fans of the favorites questioning things. The trends have been strong in one direction, and you almost have to wonder if could they continue.
Where can you catch the action, you say? All games will be simulated and streamed live on YouTube, Twitter, Twitch, Facebook and Periscope. Head on over to MyBookie to place your bets. They're offering spreads, totals, live betting, and you can even bet on the total to be odd or even.
*For sim data, rosters, and more Degen Madness related material, visit HERE*
*To view the leaderboard, visit HERE*
Degen Madness Day 8 Recaps –  Sweet 16
Washington Huskies 55 – Louisville Cardinals 52
Spread – Louisville -5
Total – 90
This was a great start to the second round of action. Watching this contest, you felt like Washington was in control for most of the game. Louisville showed plenty of fight and even held a brief lead in the fourth quarter, but the Huskies wouldn't be denied. Maybe just maybe this is the cinderella story of the tournament.
Washington wasn't expected to make it out of their first round game, but now they look like they could be a contender for the title. It was a hard fought game for the Cardinals, however Isaiah Stewart II wouldn't be denied. The Huskies took care of business with clutch late free throw shooting and as a result find themselves moving on.
hope I win enough to finally pay rent … https://t.co/TrM8hAirf6

— Ryan McKee (@TheRyanMcKee) April 6, 2020
Wow! Louisville won't go away! #DegenMadness

— Sports Gambling Podcast (@GamblingPodcast) April 6, 2020
Virginia Cavaliers 58 – Gonzaga Bulldogs 45
Spread – Gonzaga -7.5
Total – 81.5
If you're looking for the definition of tale of two halves, this is it. You got the sense that Virginia was almost outmatched throughout much of the first half. However, Gonzaga fell apart in the second half. The Cavaliers who trailed by double figures at one point came on fire and cruised back.
Gonzaga's collapse may go down as one of the worst in the Degen Madness NCAA 2K Tournament history. Whether it was Virginia's willpower or also partially the fault of the Bulldogs, most importantly the Cavaliers find themselves in the Elite 8 once again. Are they a legitimate threat to take home the title of the tournament?
Cmon Zags, @KramerCentric needs this! And so do I, bet my last dollar on MyBookie- @TheRyanMcKee

— Sports Gambling Podcast (@GamblingPodcast) April 6, 2020
Ryan "Real Money" Kramer @kramercentric putting the MAD in #DegenMadness! pic.twitter.com/HPkFw96n7a

— Sports Gambling Podcast (@GamblingPodcast) April 6, 2020
Degen Madness Day 8 Highlights Of The Day
@GamblingPodcast
Washington +5.5 ✅
UVA +8.5 ✅
UVA TT over 36.5 ✅ pic.twitter.com/mzIfBDGaAG

— Kye Timothy (@kyejames88) April 6, 2020
— Sports Gambling Podcast (@GamblingPodcast) April 6, 2020
Ready for Sunday night's #DegenMadness! @GamblingPodcast pic.twitter.com/wv5ETsgCtT

— AUFCSTILLY (@AtlufcStilly) April 5, 2020
Little Sunday night #DegenMadness @GamblingPodcast pic.twitter.com/ILIupirTvg

— Dylan Heider (@DylanHeider23) April 6, 2020
Degen Madness Day 9 Recaps – Sweet 16
Arizona Wildcats 57 – Creighton Blue Jays 54
Spread – Creighton -4.5
Total – 91.5
Have you heard me say before how close it seems like these games are? Besides the third quarter, almost all of this game was a close fight. Creighton went into halftime with a small two point lead although this would not last long. Nico "Fire Crotch" Mannion and the Wildcats started heating up later in the third quarter.
Due to the fact that Arizona held such a nice lead, the fourth quarter was easy for them. All of the fight that the Blue Jays had shown was gone and as a result, their tournament run came to a conclusion. Consequently, the Wildcats will find themselves in an interesting conference clash with their Pac 12 foe Washington in the Elite 8.
firecrotch is already taking this game over! #DegenMadness #BearDown

— Sports Gambling Podcast (@GamblingPodcast) April 10, 2020
Cash it
Az + 4 ✅
Over ✅#DegenMadness

— NC__NicK (@NC__NicK) April 10, 2020
San Diego State Aztecs 57 – West Virginia Mountaineers 54 (OT)
Spread – San Diego State -3.5 
Total – 88.5
I have watched a lot of these games, and although this one was probably the most exciting game to date, I am still trying to figure out what happened. As a West Virginia backer, I am still not sure that I was on the wrong side, but I was. San Diego State was almost always in the game, although they were never in control.
West Virginia scored a clutch three pointer with 3.9 left in on the clock to send the game to overtime. The Aztecs held a small lead before the Mountaineers once again tied the game with a late three. Malachi Flynn had enough of that nonsense though, and he finally put an end to the game with an isolation buzzer beating three.
Our gals gave us a thriller last night! Thoughts and prayers to anyone on SDSU -3.5 🙏 #DegenMadness returns tonight! 9E / 6P Mich at Kansas & 10E / 7P OSU at Dayton.https://t.co/uEmRQMlRvR pic.twitter.com/fGw7rZ3XZ1

— Sports Gambling Podcast (@GamblingPodcast) April 10, 2020
Worst part about this quarantine is that Malachi hit an insane buzzer beater in OT to send us to the elite 8 and the world doesn't even know 🙃 #degenmadness #iykyk

— Eazy-P (@plainprest) April 10, 2020
Degen Madness Day 9 Highlights Of The Day
6-1 Tonight:
Creighton Team Total Under❌
Arizona +4 💵
WVU TT Over 💵
SDST TT Over 💵
WVU +3.5 💵
WVU/SDST Over 💵
WVU/SDST Odd 💵 https://t.co/Y9dYq3NWeS

— tWTU🧈 (@WelcomeToUAB) April 10, 2020
Anyone wanna flip for their stimulus checks? #DegenMadness

— PokerSNCO (@PokerSNCO) April 10, 2020
The best notification I've received all week. Let's go baby. #DegenMadness pic.twitter.com/sjTZhliEI7

— tWTU (@WelcomeToUAB) April 10, 2020
*Be sure to check back after the conclusion of Saturday night's games for part two of the recap*