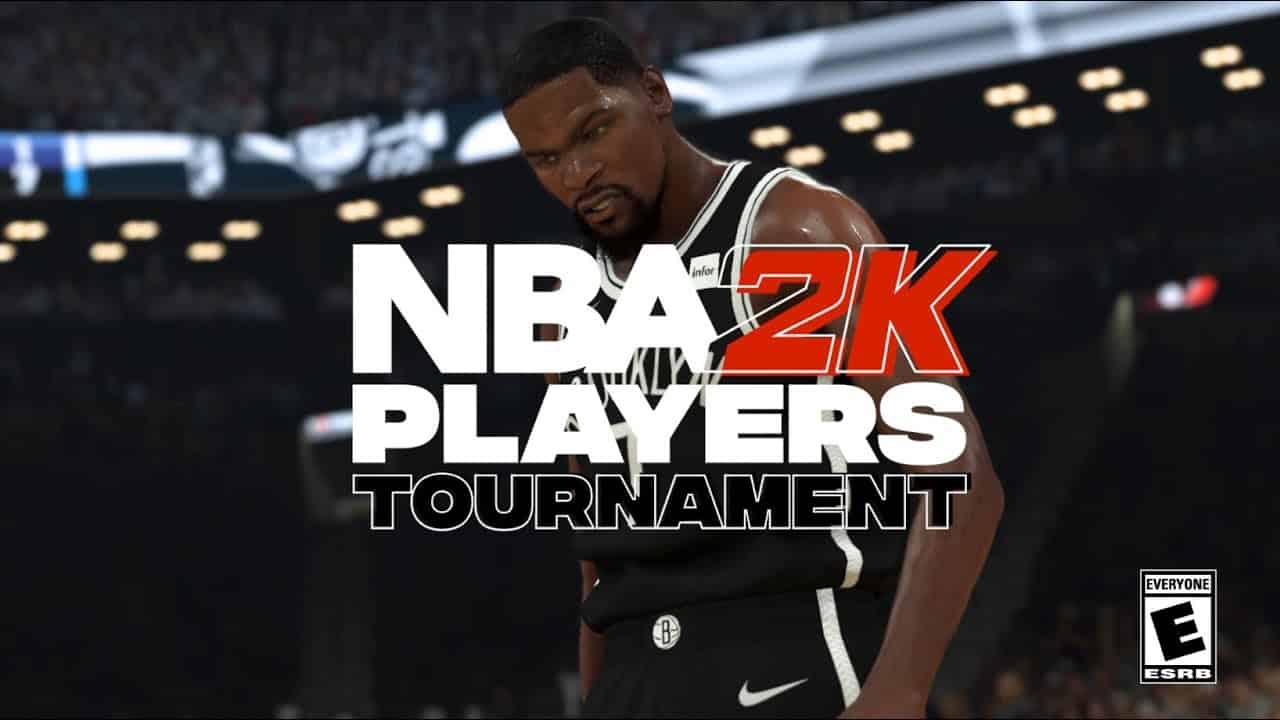 Back in the day, Monty Python implored us to always look on the bright side of life, so I'm taking that advice to heart in the midst of the COVID-19 lockdown. Other than the lovely benefits of this "forced family time" I'm, uh, enjoying, I'm also spending far more time doing something that the majority of bored NBA players are doing to pass the time – playing NBA 2K20. In fact, I've played enough to build up my floor-spacing Phoenix Suns power forward (conveniently named "Jeff Fox") to a 69 rating. Yes, I know, I'm amazing. And no, Kelly Oubre Jr doesn't pass the ball to me. Ever. Art imitates life.
Unfortunately, I haven't been invited to participate in the NBA 2K Players Tournament, which kicks off tonight. Maybe the fact that I'm not a, you know, NBA player (and never was an NBA player), might have something to do with it.
In case you haven't heard, this is a tournament pitting real life NBA players going up against each other in a single elimination NBA 2K20 tournament to see who rules supreme (semi and finals are actually best of three). Also, the winner gets to choose a COVID-19 charity to donate $100,000 in winnings to, so that's a good thing.
Below you'll see the bracket for the tournament – the seedings are based on a player's NBA 2K20 ranking. So it doesn't necessarily mean they are better at the game than a lower seeded player – in fact, you could argue lower ranked players have more free time to play video games (less media demands, sponsor demands, groupie demands, etc.).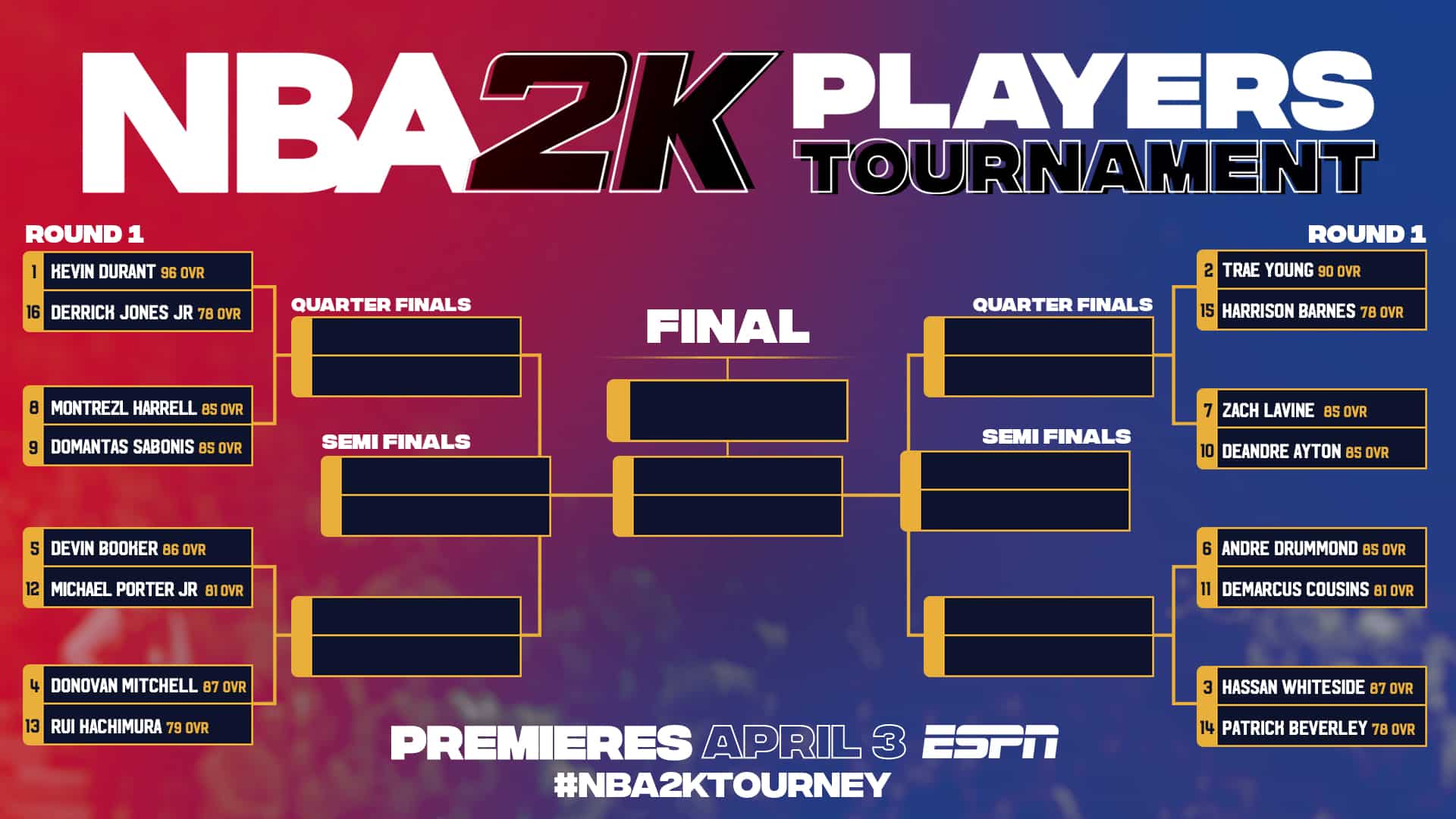 Most importantly – this is being aired live on ESPN, and MOST IMPORTANTLY, you can bet on it!
First, the schedule:
Friday, April 3
Preview show: 7-7:30 p.m. ET on ESPN
Jones Jr. vs. Durant: 7:30-8:30 p.m. ET on ESPN
Other first-round games: 8:30-11:30 p.m. ET on ESPN2
Sunday, April 5
Rest of first-round games: 12-4 p.m. ET on ESPN2
Tuesday, April 7
Quarterfinals: 7-11 p.m. ET on ESPN2
Saturday, April 11
Semifinals and finals: Time TBA on ESPN
And, for all you bored #degens out there, the first round odds:
Kevin Durant +2 -105
Derrick Jones Jr -2 -115
Trae Young -2 -120
Harrison Barnes +2 +100
Hassan Whiteside +3 -105
Pat Beverley -3 -115
Donovan Mitchell -3 -120
Rui Hachimura +3 +100
Devin Booker -4½ -120
Michael Porter Jr +4½ +100
Andre Drummond +1 -105
Demarcus Cousins -1 -115
Zach LaVine +4 -120
DeAndre Ayton -4 +100
Montrezl Harrell -3½ -110
Domantas Sabonis +3½ -110
And if you are into prop bets when it comes to watching NBA players play video games against one another (televised on ESPN – what has this world come to?!), some fun ones here:
Conference to Have More Players Advance to Rd 2
West -140
East +100
LA Clippers Player to Advance Furthest
Pat Beverley -140
Montrezl Harrell +100
Largest Margin of Victory in the First Round
Over 10½ Pts -140
Under 10½ Pts +100
Phoenix Suns Player to Advance Furthest
Deandre Ayton -120
Devin Booker -120
Player to Score Least Points in the First Round
Domantas Sabonis +700
Harrison Barnes +800
Michael Porter Jr. +800
Rui Hachimura +800
Demarcus Cousins +1000
Montrezl Harrell +1000
Derrick Jones Jr. +1200
Pat Beverley +1200
Zach Lavine +1200
Andre Drummond +1400
Donovan Mitchell +1400
Hassan Whiteside +1400
Kevin Durant +1400
Trae Young +1400
Deandre Ayton +1800
Devin Booker +2000
Player to Score Most Points in the First Round
Devin Booker +450
Deandre Ayton +600
Donovan Mitchell +1000
Hassan Whiteside +1000
Kevin Durant +1000
Pat Beverley +1000
Trae Young +1000
Andre Drummond +1200
Derrick Jones Jr. +1200
Zach Lavine +1400
Demarcus Cousins +1600
Michael Porter Jr. +1600
Montrezl Harrell +1600
Domantas Sabonis +1800
Harrison Barnes +1800
Rui Hachimura +1800
Will Any First Round Game go to Overtime
No -150
Yes +110
After opening as the odds-on favorite to win it all, Kevin Durant has been eclipsed by two Phoenix Suns players (McKee must have put big money on them) to win the whole shebang.
Players-Only Tournament Winner
Devin Booker +350
Deandre Ayton +500
Kevin Durant +700
Derrick Jones Jr. +1000
Donovan Mitchell +1000
Pat Beverley +1000
Trae Young +1000
Rui Hachimura +1200
Demarcus Cousins +1600
Hassan Whiteside +1600
Montrezl Harrell +1600
Andre Drummond +1800
Harrison Barnes +2000
Michael Porter Jr. +2000
Zach Lavine +2000
Domantas Sabonis +2800
READ ALSO
All-NBA Quarantine Teams w/ Georgea Brooks | NBA Odds Pod (Ep. 30)
10 NBA Players Who LeBron James Hates