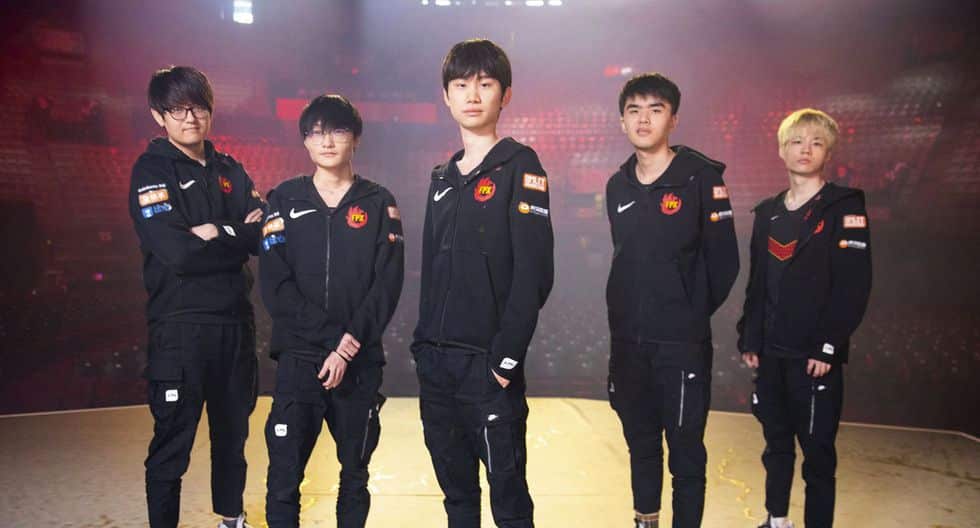 DraftKings LOL contests have enjoyed increased prize pools since there's not much else running. Similar to any DFS sport, you have your various cash games and tournaments.
Arguably the most important thing in LOL DFS is knowing which teams have substitute players and how frequently they use them. This can make or break a lineup before the game even begins. Look around on Twitter and other social media to see who is getting the start. The LPL is the only major league that releases this information while other leagues do not unless the team itself says something.
Assembling LOL DFS lineups isn't just about which teams will win. In the NFL you want to look at games with high totals for the best opportunity at getting a piece of that pie. In LOL, the equivalent of a high scoring game is a game with a lot of kills to go around. More kills usually leads to more assists and overall fantasy points. In the industry we call this 'blood' or which teams are the 'bloodiest.'
READ ALSO
League of Legends Odds, Picks, Best Bets: Tuesday, March 17
For leagues that play best of three series' you also get 15 points each for GNP or 'games not played' on both the team slot and players. That's equivalent to five kills. The challenge becomes figuring out and balancing which teams and players you expect to 2-0 and which games you expect to be bloodiest.
The highest scoring positions are typically MID and ADC. In League of Legends these are your 'carries.' They're the primary damage dealers, often score the most kills, and get the most resources. They're kind of like the quarterback and running back, the rest of the team protects them most of the time. Since there are only so many kills to go around in a single game you typically want to avoid playing both primary carries from the same team although there are exceptions.
DFS Picks for Tuesday in the LPL (China)(Start Time: 5am Eastern on Twitch)
Cash Games
Two match slates are always tricky especially with two massive favorites. There's very little lineup differentiation you can do. For cash games I'm going with this very chalky look. No losers allowed. Looking to secure players from the winning team at every position with the off chance we get a double sweep at which point the captain slot will be the tiebreaker.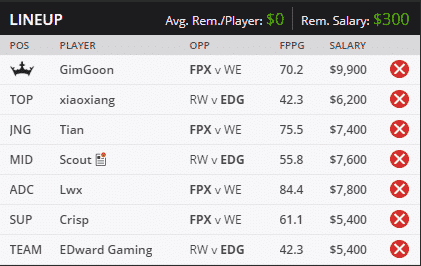 Tournaments/GPPs
For tournaments on a two game slate you've often got to get really wild to take down the whole thing. I like either a Rogue Warriors/EDG game stack OR a FunPlus/RW stack. If you really want to go for a long shot you can mess with the Rogue Warriors top, jungle, and mid lane positions. I'm staying away because they often use substitutes at all three positions but it could be a good way to get some lineup differentiation.
READ ALSO
League of Legends Odds, Picks, Best Bets: Tuesday, March 17