The NBA season can tend to drag at times, but this isn't one of those times, as we've finally come to the homestretch of the regular season. Most teams have dipped under the 20 games left to play plateau, and with only a small few of them having clinched playoff spots, every game from here on out is a must win.
As a public service to all you NBA fans out there, whether you are casuals or #degens, here's a preview of the top games on the slate for this upcoming week, with a gambling slant to it, naturally.
(all against the spread data from Team Rankings)
READ ALSO
Daily ATS NBA Picks
24 Amazing Tribute Tattoos for Kobe Bryant
3 Reasons Zion Williamson Can Win Rookie of the Year Award
Mon, March 9th – Milwaukee at Denver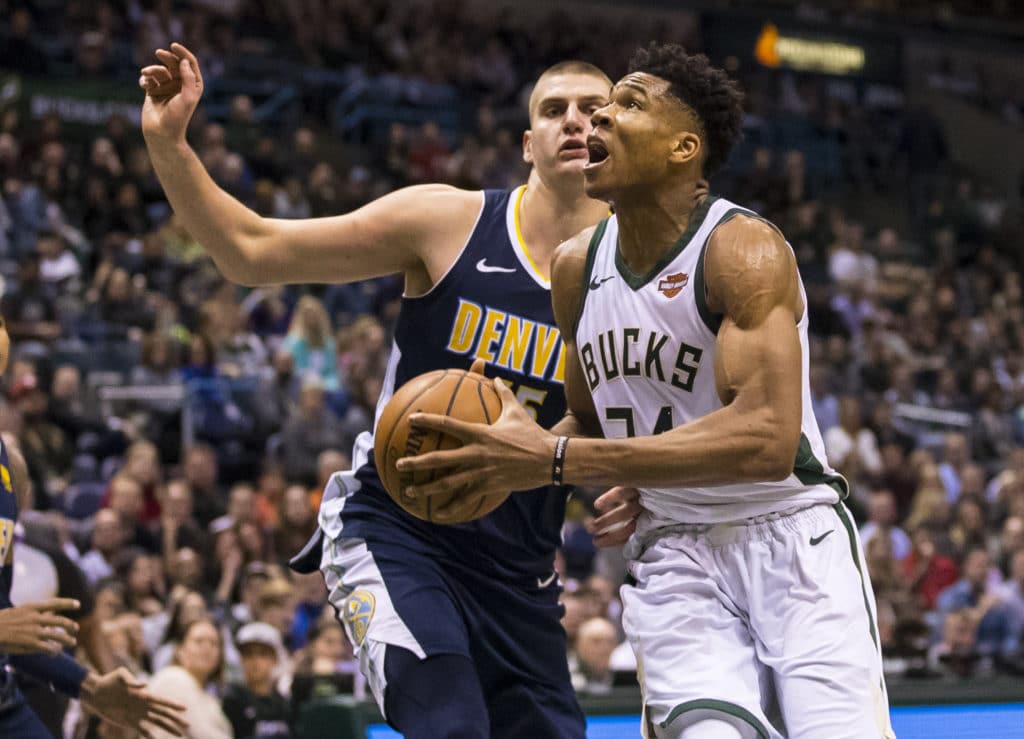 Even if you aren't betting the game, seeing Giannis Antetokounmpo (assuming he suits up) go up against Nikola Jokic is worth your time. Editor's Note: Giannis has been ruled out for the game. 
The Bucks are steamrolling the league this year, and are among the best in the NBA against the spread (57% as of this writing). However, depending on the line, this could be a game to put your money against them. Their trip to Denver will be the last game of their three games in four nights road trip. It'll be the end of a back-to-back, as they played in Phoenix on Sunday.
Giannis banged his knee up on Friday in their loss to the Lakers. And there's that dreaded Denver "mile high" elevation. Fear the Bucks? More like Fade the Bucks.
Tues, Mar 10th – Dallas at San Antonio
Any game with Luka Doncic in it is must see TV, so this is definitely making this list. But, on the betting side of things, this is also one where you might want to splash some cash.
The Mavericks are 56% against the spread this year, among the best in the NBA. Gregg Popovich's crew, meanwhile, are second-worst in the league at 40%. But this is a road game for Dallas, you argue. The Mavs are even better on the road than at home, so don't sweat it.
Wed, Mar 11th – Utah at Oklahoma City
One of the league's best against the spread (OKC), at home, against the so-so ATS Jazz. Go Thunder Go.
Thurs, March 12th – Houston at Lakers
You can always count on marquee games on Thursday nights, and this week is no different, as Boston travels to Milwaukee in the early game, and Houston visits the Staples Center for a date with the Lakers in the nightcap. You don't get much more marquee than a game involving James Harden, Russell Westbrook, LeBron James, and Anthony Davis.
Regardless of what the line is, put your money on the home team – they are 10 percentage points better than Houston ATS.
Fri, Mar 13 – Minnesota at Oklahoma City
See Wed, Mar 11th (expect the Wolves are even worse ATS). Wash, rinse, repeat.
Sat, Mar 14th – Detroit at Toronto
Who clinched a playoff spot first this season, Kawhi Leonard's old team or his new one? Surprise, surprise – it was the Raptors who did it (as of these words being typed, the Clippers have yet to clinch).
This despite their whole team basically being injured at some point during the season. They are also great ATS, while the Pistons are terrible, so I'm putting my colorful Canadian currency on the home team (except we spell it 'colourful').
Sat, Mar 14th – Phoenix at Dallas
By beloved Suns suck again, in the win-loss column and ATS, while the Mavericks are great. Following my brain, not heart, in betting on Dallas
Sun, Mar 15th – Boston at Chicago
The best ATS team travels to the tanking Bulls. Greenbacks go on the men in green.
READ ALSO
Daily ATS NBA Picks
24 Amazing Tribute Tattoos for Kobe Bryant
3 Reasons Zion Williamson Can Win Rookie of the Year Award