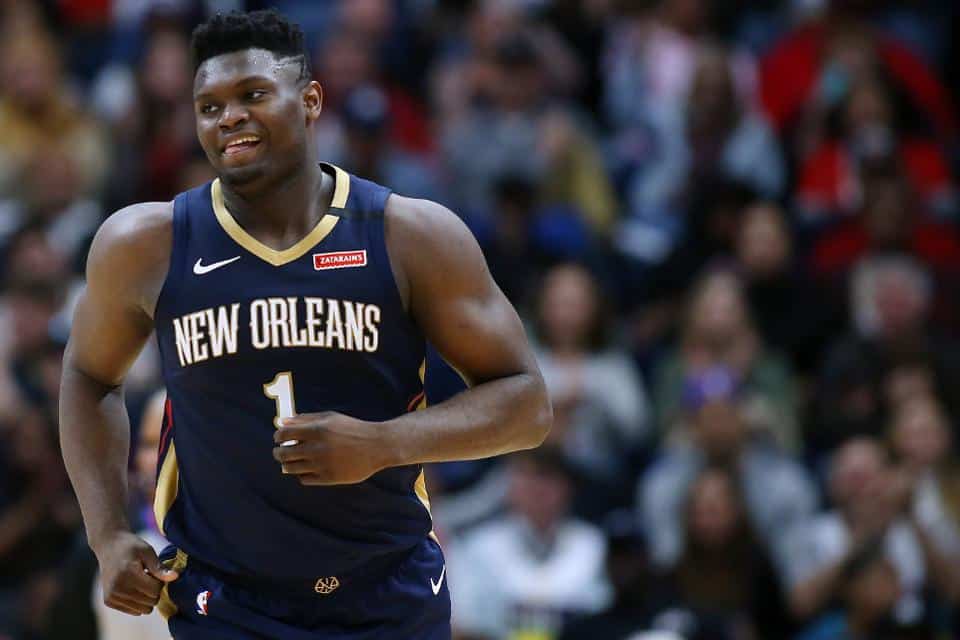 Just a month ago, Ja Morant was a runaway fave to win the NBA Rookie of the Year Award. It looked like nothing's going to stop the No. 2 pick from the 2019 NBA Draft on his way to the prestige trophy. He's been leading the Memphis Grizzlies since the opening day of the season, and his team has been one of the most pleasant surprises.
At the moment, Ja is still the strongest contender, and some sportsbooks are pretty sure Morant will win the award, offering -600 odds on Murray State product. However, Zion Williamson returned from a knee injury on January 22, and since then, he's been doing a great job. He's a +350 underdog at the moment. Zion reminded the basketball world how good he is, so can the No. 1 pick from the 2019 NBA Draft upset the odds and literally still the ROTY Award from Morant's hands?
Zion's numbers are ridiculous for a rookie
Since his debut, Zion has dominated his rivals. In his very first NBA game, Williamson posted 22 points on 8-for-11 shooting from the field and 4-for-4 from beyond the arc to go with seven rebounds and three assists in just under 19 minutes on the floor. In his next seven games, Williamson has been tallying 19.4 points and 7.6 rebounds per outings while making 55.7% of his field goals, and the Pelicans have won four games in that span.
After his first eight appearances, Zion got a day off on a back-to-back set. Since then, he's been completely ridiculous, averaging 27.7 points and 6.2 rebounds per game while making 58.7% of his field goals. He became the first teenager in NBA history to tally 20-plus points in 10 straight contests, and Zion's on pace to break Wilt Chamberlain's record of 29.2 points per 36 minutes for a rookie.
At the moment, Zion is averaging 24.0 points on 58.2% shooting to go with 6.8 rebounds and 2.2 assists per game. On the other side, Ja Morant is posting 17.6 points, 3.5 rebounds, and 7.0 assists per contest while shooting 49.1% from the field and 35.4% from beyond the 3-point line. Interestingly, Morant has one 30-plus point performance in 56 games, while Zion has surpassed a 30-point mark three times in just 17 outings.
Williamson is undoubtedly the fans' favorite
You can hardly find someone who doesn't like Zion, especially after his first 17 games in the NBA. Williamson quickly proved he's not just a freak of nature but also a smart guy with a terrific sense for the basketball game. I don't say there are a lot of people who don't like Ja Morant, but it's clear who has more fans.
Zion is expected to be a new LeBron, the next kid to take the league by storm. And, he's living up to the hype. Williamson has already signed the richest annual rookie shoe deal in NBA history, surpassing King James' rookie shoe contract. If you have seen Zion playing, you know that he's a real deal, and everyone's excited about his future.
The playoff berth will be a key factor
As I've mentioned, Ja Morant and the Memphis Grizzlies have been playing above all expectations so far. They are No. 8 seed in the West at the moment, three and a half games ahead of the closest rivals and five games ahead of the New Orleans Pelicans. If Zion wants to win the ROTY Award, the Pelicans will have to sneak into the playoffs and send the Grizzlies home.
It seems like a very difficult task at the moment. Portland, San Antonio, and Sacramento are chasing the playoff berth, too, and have a slight advantage over the Pelicans. If Memphis and New Orleans both miss the postseason, Ja Morant will beat Zion in this race. Only two guys have won the Rookie of the Year Award with fewer than 60 games excluding the lockout-shortened seasons – Patrick Ewing (50) and Brandon Roy (57).