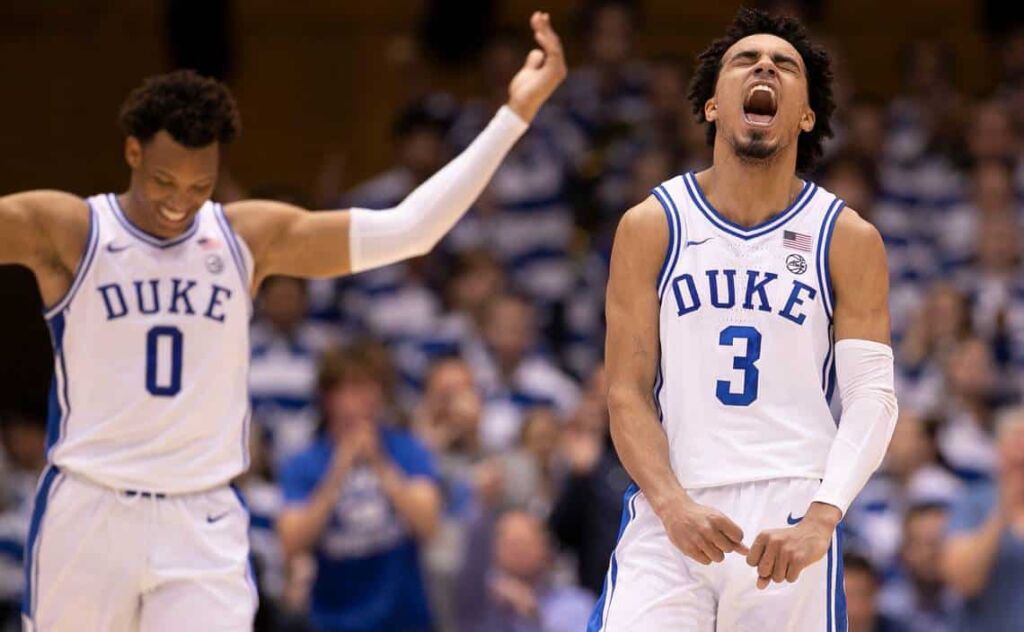 The 2020 edition of the Atlantic Coast Conference men's basketball tournament tips off Tuesday afternoon in Greensboro, NC. It's important to note that Georgia Tech has finally accepted their postseason ban and will not be participating. That leaves the remaining 14 universities vying for the automatic NCAA tournament berth. Tuesday's games will be comprised of the league's bottom four teams with the championship game set for Saturday night. The top 4 seeds get a double bye which obviously gives them quite the advantage over the rest of the field.
SEE ALSO
Printable March Madness Block Pool 2020 Edition
Reason to watch…
Do I really have to sell you on the fact that the ACC has been college basketball's premier conference over the last 20 to 30 years?
Last year, the ACC fielded three of the four #1 seeds in the NCAA tournament and the eventual national champion, the Virginia Cavilers. Going even further back, 5 of the last 10 national championship teams all hailed from the ACC. Last year,  behind some dude named Zion, the Duke Blue Devils took home the trophy. So yeah, you might want to pay attention.
The Bracket
Favorite
Duke +115
Going into Saturday's games, there were only two teams in the country that were ranked in the top 10 in offensive and defensive efficiency. Those teams were Kansas and the Duke Blue Devils. Being ranked in the top 10 in both categories has been a major leading indicator used to predict success in March. After a stretch that saw Duke lose 3 of 4 games, they responded with commanding wins over NC State and UNC to close out the regular season. Duke could potentially play NC State on Thursday, the #1 seed Florida State in the semifinals and then UVA or Louisville in the final. My hunch is that the Blue Devils are primed for a run.
Contenders
Florida State +350
The Seminoles closed out the regular season with a blowout victory over Boston College to clinch the #1 seed in the ACC Tournament. You have to give it up to Leonard Hamilton and his gang as most preseason projections did not predict his team winning the regular season. Against the top echelon ACC teams, FSU swept Louisville, split with Virginia, and lost a close one at Duke. Statistically speaking, they are a rock-solid team in the upper half of the league in most categories. One glaring weakness is how often they commit turnovers (ranked 13th in the conference). If they are able to value the ball a bit more, they may find themselves with an ACC tournament championship to go along with their regular season one.
Louisville +260
At one point in the second half of Saturday's game @ UVA, the Cardinals were down 12 and it was looking like another lifeless and uninspiring loss on the road. To their credit, they battled back and had a chance at the end. I've been saying all year that this team is talented enough to go to a Final Four, but they've lacked toughness and leadership. Can they take a moral victory from their comeback attempt and turn it into a positive? As a three seed they will be on the bottom half of the bracket which could mean a rematch against those very same Cavaliers. Personally, they've burned me too many times this year for me to put money on them. If I'm ranking my top 4 teams in the conference to win this tournament, Louisville is my fourth.
Virginia +900
7 of the last 8 UVA games have come down to one possession and UVA has won them all. Bottom line – they are an incredibly well-coached team that hits free throws, locks down on defense and doesn't beat themselves. Due to their style of play, the Wahoos have a chance to win every game they play or just as easily fall to lesser opponents. While their streak of wins is impressive, it's also important to note that KenPom ranks them the 6th luckiest team in the country. Usually it's not wise to pick against the hottest team in the conference, but is their luck about to run out?
Darkhorse
NC State +3200
UNC might have been my sleeper pick but they weren't able to advance high enough in the standings to earn a first-round bye. That leaves me with the Wolfpack. After an up and down year, NC State was able to secure the 5 seed and are just dangerous enough to make some noise in this tournament. Remember, they routed Duke by 20+ not that long ago. Plus, they are desperate for wins in order to secure a spot in the NCAA tournament. Hey, a few breaks go their way and who knows, stranger things have happened.
Pretenders
Syracuse, Notre Dame, NC State, Clemson, Boston College, Virginia Tech, Miami, Wake Forest, Pitt
Prediction
Although it seems like the top tier ACC teams can lose to just about anyone, would you put money on any other team in the conference to win 4 or 5 in a row? Not me and that's why this tournament is a 4 horse race. The double byes pay major dividends here. The winner of the Duke vs Florida State game in the semi-finals will go on to win the 2020 ACC Championship and I have Duke edging the Seminoles and then getting revenge on either Louisville or UVA Saturday night.  The issue with this prediction is the question if there is any value in taking Duke at +115.  Are their odds of winning really that much higher than those of FSU or UVA?  Probably not.  Throwing a couple bucks on the Seminoles or Cavaliers isn't the worst idea in the world.
Good fortunes to all……NC Nick
READ ALSO
2020 Big East Tournament Preview, Odds, Picks and Best Bets
2020 SEC Tournament Preview, Odds, Picks and Best Bets