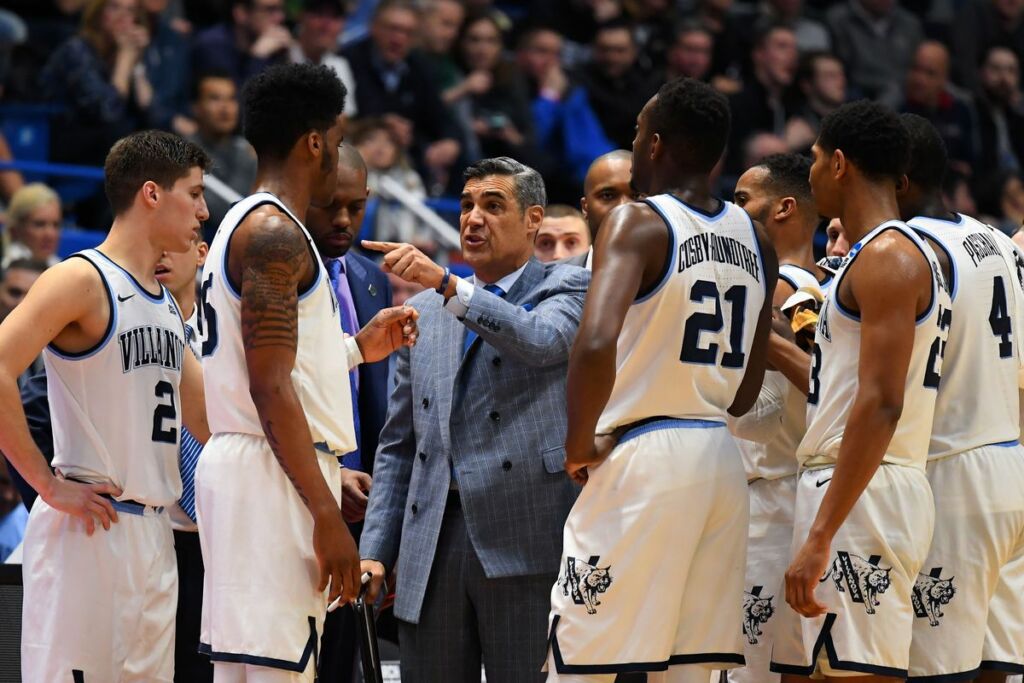 The 2020 edition of the Big East Conference men's basketball tournament tips off Wednesday evening at the epicenter of basketball, Madison Square Garden. All 10 Big East teams will participate with the championship game set for Saturday night. The two games Wednesday will pit seeds 7-10 against each other with the top 6 getting a bye and not tipping off until Thursday.
Reason to watch…
Whether it's the historic venue or the extremely high level of basketball being played, it seems like the Big East owns some of the most memorable conference tournament moments in recent history. This year's rendition will once again include some of the best teams in the country. In fact, there's a chance the Big East could send up to 7 teams to the NCAA tournament. I'm no math wiz, but I believe that's 70% of the league. With teams like Xavier and Marquette still needing to pad their resumes, it should make for some of the most exciting basketball games to watch this week.
READ ALSO
2020 ACC Tournament Preview, Odds, Picks and Best Bets
2020 SEC Tournament Preview, Odds, Picks and Best Bets
The Bracket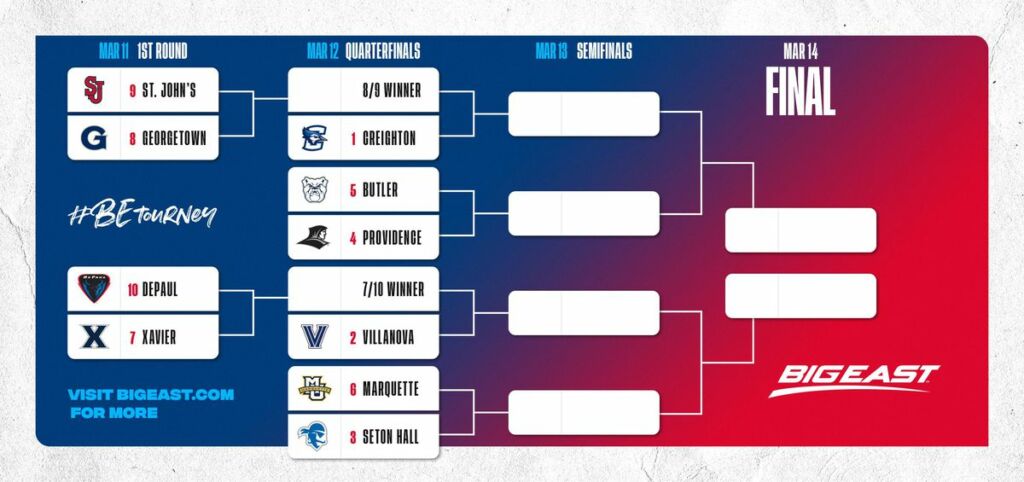 The Favorite
Creighton + 240
The Big East regular season ended in a three team tie with Creighton, Villanova, and Seton Hall all ending with 13-5 conference records. Due to tiebreakers, the Blue Jays locked up the #1 seed which should put them in an advantageous position to cut down the nets in NYC.
If all top seeds advance, Creighton will get a lower seed in the semifinal while Villanova and Seton Hall duke it out. The crew from Omaha is a dangerous and well-balanced team with all 5 starters averaging at least 9.4 points a game. They lead the Big East in adjusted offensive rating, field goal percentage, three-point shooting percentage, assists, and total points scored. Basically, if you look up an offensive category, you'll find the Blue jays at or near the top.
The Contenders
Villanova + 315
'Nova has dominated the conference, winning the last 3 Big East tournaments. Can they make it 4 in a row? After a 3 game losing skid in early February, the Wildcats righted the ship and have won 7 of 8 to end the regular season.
Jay Wright is one of the best college basketball coaches in America and one of the only three current coaches to have won multiple national championships (Coach K and Roy Williams are the others). Against the top Big East teams this year, Villanova has split with both Creighton and Seton Hall. Bet against Jay Wright at your own peril.
Seton Hall + 385
Led by Myles Powell, the Pirates are legitimate Final Four contenders and could easily take home the Big East championship as well. However, they do enter this tournament on a two-game skid, losing to Villanova and Creighton.
Last year, Seton Hall lost a heartbreaker in the Big East championship game to 'Nova so don't think revenge isn't on their mind. With the toughest strength of schedule rating in the Big East (11th toughest nationally) the Pirates are battle-tested and hungry to avenge last year's defeat.
Butler +500
The Bulldogs enter the Big East tournament as the 5th seed after a thrilling win on the road at Xavier where star guard Kamar Baldwin dropped 36 points and hit the game winner. The prize is a first-round matchup with red-hot Providence and if fortunate to win that game, a potential meeting with Creighton in the semi-finals.
With such a tough row to hoe, I am looking to fade Butler in the Big Apple.
Marquette + 700
I haven't been able to trust the Golden Eagles at any point during Wojo's tenure as head coach. For such a tough, scrappy, and floor-slapping player, his teams in Milwaukee have always seemed a bit soft. His two NCAA tournament appearances have both resulted in first round blowout losses: as a 5 seed last year against Ja Morant and Murray State and two years before as a 10 seed vs South Carolina. Marquette has also never played in a Big East championship game. Oh by the way, they have also lost 6 of their last 7 games which includes defeats to bottom-dwelling teams DePaul and St John's. I'm looking to bet against the Golden Eagles in the Big East tournament and in the NCAA's (if they make it).
The Darkhorse
Providence +1000
The Friars may be one of the most intriguing teams in the country coming down the stretch this year. Here's a team that started the season going 6-6, including losing three games in a row to Penn, Long Beach State, and Charleston.
Left for dead, Ed Cooley has done one of his best coaching jobs of his career by resurrecting this team and molding them into a tough-out for anyone. Providence enters the conference tournament on a 6 game win streak which includes victories over Seton Hall, Villanova, and Marquette. I expect them to beat Butler on Thursday and at least give Creighton a hell of a game on Friday.
The Pretenders
Xavier, Georgetown, St John's, DePaul
Prediction
I'll say right now that at least one of the Big East's top 3 teams (Creighton, Villanova, and Seton Hall) will make the Final Four this year. But that's next week. Here in NYC, gimme the best coach in the conference and the Villanova Wildcats to win their 4th straight Big East Championship. I think Providence has a real shot at knocking off Creighton in the top half of the bracket and 'Nova is more of a complete team than Seton Hall in the bottom half of the bracket. This should be a heckuva tournament. Tune in.
Good fortunes to all……NC Nick
READ ALSO
2020 ACC Tournament Preview, Odds, Picks and Best Bets
2020 SEC Tournament Preview, Odds, Picks and Best Bets