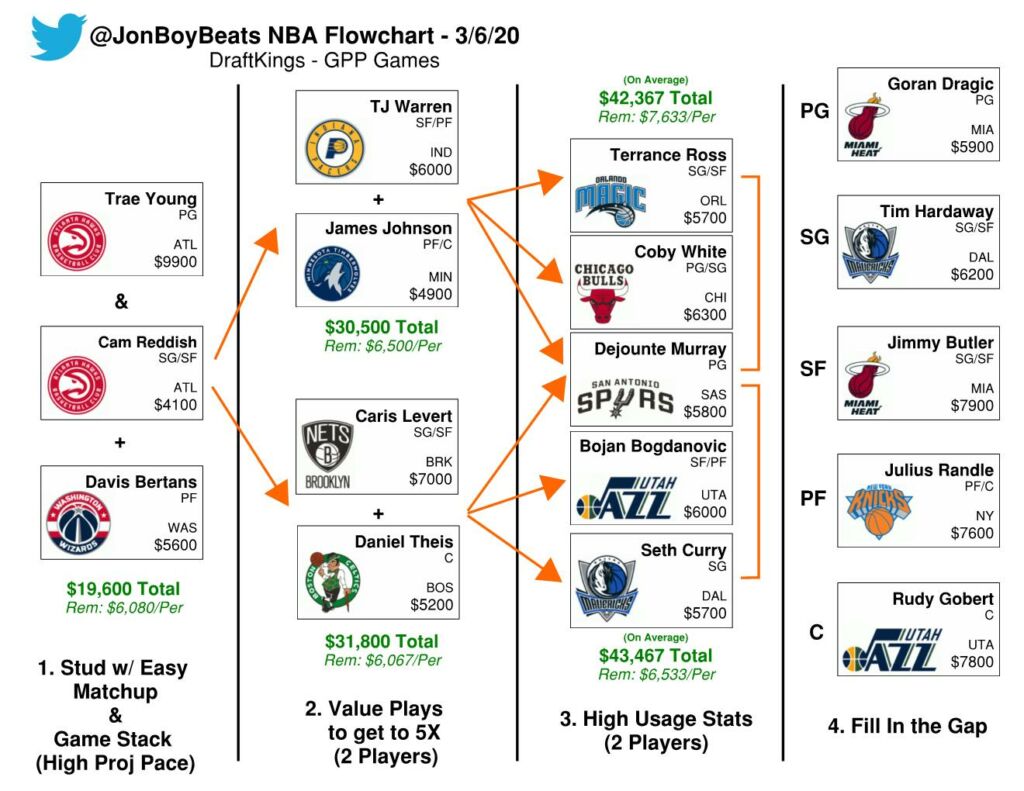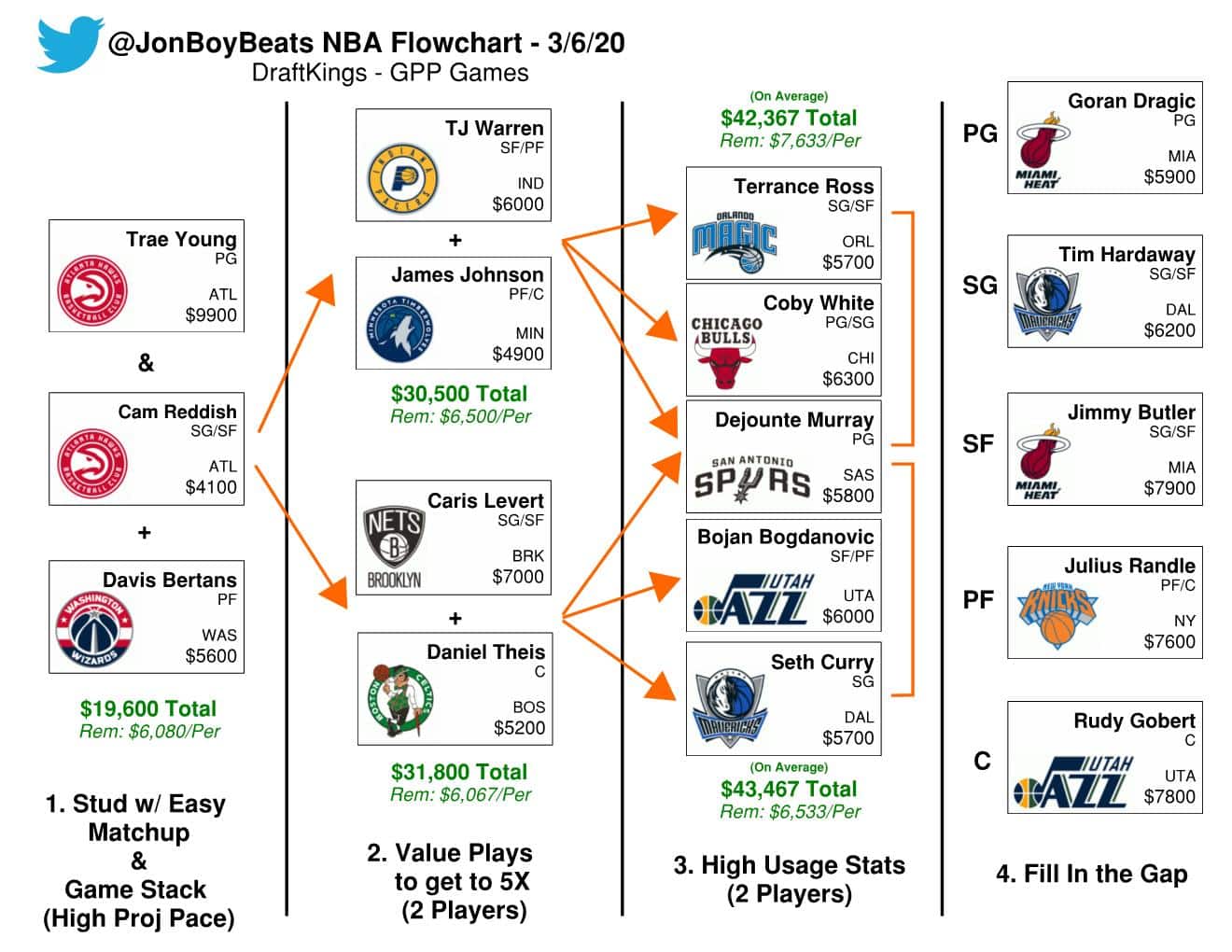 Time to wrap up the week with one more NBA Flowchart. It's been an interesting week in the Association with a multitude of in-game injuries popping up seemingly every day this week (Hayward, Brown, Porter, Gordon, Brogdon). Let's hope for some easy injury news today as we lead up to lock! Here's my breakdown and flowchart for the Friday 3/6/20 slate of games. For those who didn't read the initial article with all the explanations about the flowchart, you can find it here.
Stud with an "Easy" Matchup
Trae Young is playing a Wizards team who have allowed 29% more 3-pointers and 17% more points to opposing Point Guards over the past two weeks. On top of that Young is coming off a rough shooting performance on Monday and his price has dropped below $10k for the first time since January. Oh yea, and the Over/Under for this game is set at 246.5. Any other questions? Plug in Trae Young and don't think twice. (PS…last time he was priced below $10k, he scored 77 DKPts)
Game Stack w/ High Projected Pace
Well I already touched on it, but the matchup between the Hawks and the Wizards features the highest Vegas total of the day with an Over/Under of 246.5. In addition, both of these teams play at an extremely high pace with Atlanta checking in at #5 and Washington #6 in Pace rankings this season. We know this game has a chance to be high scoring, so let's look at where we can find the best matchups. This season, Washington has been an absolute dream matchup for opposing Small Forwards as they rank 1st in Points, 6th in Assists, and 7th in Three-Pointers over expectation from their opponents. Cam Reddish will look to exploit the mediocre trifecta of Wizards Small Forwards, and at this price point, only needs to break 20 DKPts to be a good value. On the other side of the floor, Davis Bertans has been an absolute maniac from downtown this week with 18 made threes over his last 3 games. Luckily for him, the Hawks are giving up an extra 14% more threes to opposing Power Forwards over the last two weeks. In this high-scoring matchup, we should see him approach value pretty quickly.
Bargain Players to get to 5X Value
When Karl-Anthony Towns went down for the Timberwolves, it left a large void needed to be filled on the frontline. Enter James Johnson, who has scored double-digits in 5 of his last 7 games. In that same stretch he is averaging almost 30 DKPts per game, which makes his price tag of $4,900 really enticing. Johnson has been sneaky on the defensive end and his stats sheet is littered with big steals and blocks nights. The Magic are giving up 48% more steals, and 35% more blocks to opposing PFs. Another player I love to hit their Value tonight is Caris Levert. After exploding for 51 pts on Tuesday against the Celtics, his price tag inexplicably lowered. The Spurs have been a good matchup for Shooting Guards this season, providing plus values in a lot of stat categories over the course of the year. He's not going to get 50pts again, but at a flat $7,000 the 5X Value mark is clearly in sight.
Other Players to Consider
Just getting out a quick article today, so I'll stop there with the full breakdowns…here's a few others that I love for today! Bojan Bogdanovic $6,000, Dejounte Murray $5,800, and Jimmy Butler $7,900.
I have included the full Player Ranking sheet at the bottom of the post here so you can get a feel for any of the players that I didn't go into detail in the writeup. I post these sheets everyday on my Twitter page, so if you find them useful and can't wait until next week's article to scratch the NBA DFS itch, make sure to check it out!