Welcome to a Monday edition of NBA Monkey Knife Fight picks! After a weekend laden with injury report news, we're likely off toward a similar situation here with an eight-game slate in the final stretch of the season, so be sure to keep an eye on starting lineups before locking in any of your plays.
Use promo code SGP and receive a $100 match bonus up to $50 at Monkey Knife Fight
Anytime Giannis is playing against a subpar team (although the Wiz are still vying for Playoff contention) following recent significant playing time, along with recently having a newborn, his potential of sitting looms in the background and this is just one select example of situations to keep your eye on. [However, Brook Lopez will be out so this may not be the case tonight.]
Luka Doncic is another stud performer who may or may not be missing in action tonight, so keep those Twitter notifications turned on leading up to lock and keep your options open with where you shift focus. Houston's backcourt with James Harden and Russell Westbrook taking on the New York Knicks also catches my eye as a potential rest situation.
I warn this before getting started here, as picks on MKF can't be changed after you lock them in, and doesn't work like a roster you can adjust leading up to tip-off. But let's check out some of the interesting offerings for today!
Washington Wizards vs. Milwaukee Bucks
More or Less (Fantasy Points)
(Prize: 2.5x)
Khris Middleton: MORE than 40.5 FP
Ish Smith: LESS than 26.5 FP
Part of this play is chasing the introductory notion of Giannis Antetokounmpo sitting today, but regardless, I find Khris Middleton to be an outstanding play against the Atlanta Hawks. And with Brook Lopez already certain to be out with a back injury, increased usage will be in store for Middleton.
For a guy already averaging 45.3 fantasy points per game over his past five games, Middleton has my attention facing a Hawks team with a 113.8 Defensive Rating that stacks up as the third-worst in the league. Averaging 32.6 minutes per game in that time span, the absence of Brook Lopez will add to that total along with bolstering an already-sound 25.7% Usage rate.
The side of this I find to be difficult is on behalf of Ish Smith, as I could easily see this going either way. However, I am not inclined to go over on a fantasy point total for a player who's averaging a 13.12% usage rate in his past five games and facing the top-ranked defense in the league in the Milwaukee Bucks. And averaging 3.2 rebounds per game isn't really any means for incentive to lean over here, so I will be content with going Less Than 26.5 fantasy points for Ish Smith here.
Utah Jazz vs. Phoenix Suns
More or Less (Fantasy Points)
(Prize: 2.5x)
Devin Booker: MORE than 38.5 FP
Donovan Mitchell: MORE than 36.5 FP
Averaging 44.75 fantasy points per game over his past three games, Devin Booker is on a hot streak. But while heading into Utah to square off with the Jazz would typically be a place to hesitate considered fantasy play, the case for Booker seems like one that may fly under the radar for many.
The Jazz are surrendering the fifth-most fantasy points per game to shooting guards, allowing 57.18 fantasy points per game to the position this season to the position, and James Harden just dropped 60+ fantasy points in Utah on Saturday. Averaging a 27% Usage rate in his past five games, Devin Booker is primed to thrive in a spot that a number of DFS players won't consider.
In the sake of Donovan Mitchell, the theme is actually very much mutual, with the visiting Phoenix Suns allowing 55.66 fantasy points per game to the same exact shooting guard position being exploited on the other side of this play, surrendering the eighth-most fantasy points per game to shooting guards.
Donovan Mitchell is averaging 38.2 fantasy points per game for the season, and after dropping six of their past ten games while most recently losing to the Houston Rockets at home, I believe Mitchell will come out swinging in hopes of keeping his fifth-seeded Jazz from plummeting in the Playoff standings any further.
Use promo code SGP and receive a $100 match bonus up to $50 at Monkey Knife Fight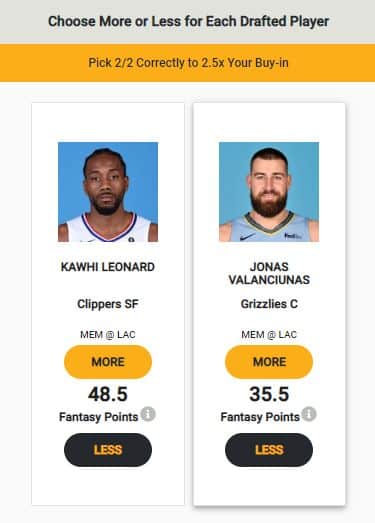 Los Angeles Clippers vs. Memphis Grizzlies
More of Less (Fantasy Points)
(Prize: 2.5x)
Kawhi Leonard: MORE than 48.5 FP
Jonas Valanciunas: MORE than 35.5 FP
I would opt for one of the larger-sized Rapidfire plays here normally, but being that action is cancelled for any entry involving a player who ends up becoming out for the game, I'm steering clear of any play that includes Paul George. And being that this isn't a back-to-back game for the Clippers, Kawhi Leonard will be of utmost interest for my fantasy considerations on the day.
The 2020 All-Star Game MVP is averaging 53.08 fantasy points per game over his past three games played, and may be without Paul George once again, meaning all-systems-go for the Clippers star point forward, who has dropped as many as 72 fantasy points in a game this year in George's absence.
The Memphis Grizzlies play at a paced-up spot as the fifth-fastest paced team in the league (103.58) and are the giving up the seventh-most fantasy points per game to small forwards this season (44.64).
And on the other side of the court comes center Jonas Valancinuas, who's ranked eleventh in the NBA in rebounds per game, averaging a whopping 10.6 RPG. He's come out of the gates in the first two games since the NBA All-Star break in a bit of a skid, but missed most of the fourth quarter against the Lakers and all of the fourth quarter against the Kings, both due to blowouts.
However, in the eight games before the break he averaged 46 fantasy points per game and stands in an excellent spot to clean up the boards in this matchup. The LA Clippers are among the worst teams in the league against opposing centers, allowing 15.5 rebounds per game to the position in the past 30 days, along with 26.4 raw points per game in that span.
It may seem risky but I believe Jonas Valanciunas makes significant impact against the post-weakened Clippers, especially if the game stays close, and further making 35.5 fantasy points completely within realistic reach.
Use promo code SGP and receive a $50 match bonus up to $100 at Monkey Knife Fight