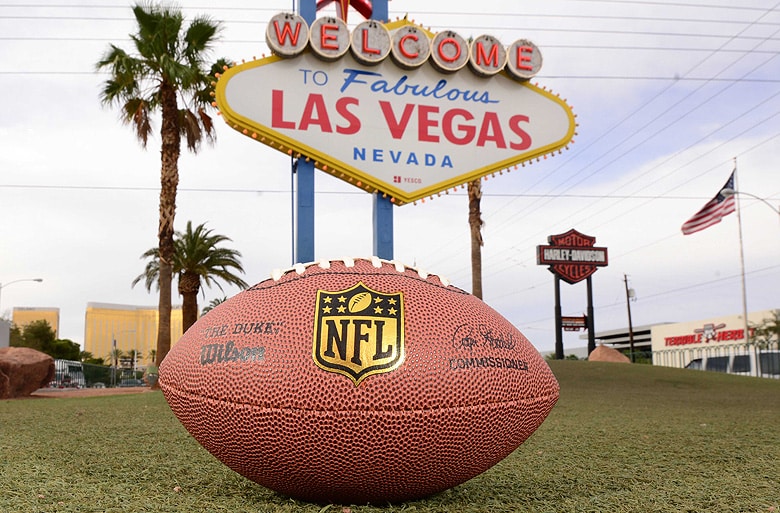 There are a few weekends every year that stand above the others for sports fans in Las Vegas. Super Bowl weekend in Las Vegas is easily one of the great times for sports fans to visit Sin City. While gambling is legal in states across America, there's nowhere to enjoy the "Big Game" like Las Vegas.
You can argue that sitting at home or in a bar in Anywhere, USA and betting on the game is the better option. If money is a concern, you shouldn't leave your hometown where the price is right. If you're looking for a casino experience with legal sports betting, try going outside in Atlantic City on Super Bowl weekend.
With all due respect, there's no other city like Las Vegas for watching and wagering on sports. There are so many casinos, bars, and restaurants in Las Vegas showing the Super Bowl that there's something for all budgets. No other city even comes close to matching the viewing options.
In addition to watching the game, there's the rest of Las Vegas to enjoy during the 48-72 hours you might be in Sin City. We can discuss that another day.
You should visit Las Vegas if you're looking for a one of a kind experience to watch the Super Bowl. Watching the Big Game in Las Vegas is so much easier than enjoying the first weekend of March Madness. While the town is packed with football fans and bettors for the Super Bowl, there's only one game for everyone to watch. The first weekend of March Madness has as many as four games being played at the same time. That's what makes the NCAA Tournament so exciting. We'll get to that another day.
Unlike the first weekend of March Madness, it's not difficult to watch the Big Game. Since it's the only game happening, the Super Bowl will be on every TV at a casino, bar, or restaurant. The real question to ask yourself for the Super Bowl is how you want to experience the game and what wagers you want to make.
Betting On The Super Bowl
Betting on the Super Bowl in Las Vegas is vastly different than it used to be. You no longer have to be inside of a casino to wager on the Super Bowl. Additionally, prop bets now account for about half the wagers made on the Big Game. Sportsbooks offer hundreds of prop bets.
I bet on NFL games every week but rarely wager at a sportsbook. Betting mobile is the way to go every day but especially during big events like the Super Bowl. Having a mobile account is even more important if you're on the Vegas Strip.
Las Vegas locals like me use mobile wagering so the lines to bet at casinos away from the Vegas Strip are a little shorter for big events. However, when you're at a casino on the Vegas Strip or at the Westgate there will be a line to wager on the game most of the weekend – especially on Super Bowl Sunday.
The lines go especially slowly because there are many new bettors and people are placing prop bets. Lines move at a snail's pace because there are people placing their only wagers of the year. They have no idea how to expedite the process by using the rotation number of their wagers.
I recommend signing up for a mobile wagering account as soon as possible when getting to Las Vegas. Signing up for a new sports wagering account in Nevada must take place in person at a casino using cash or chips.
If you're looking for the best lines and prop options stop off at the Westgate, South Point, Circa Sports (The D or Golden Gate), or Caesars property. If you're just looking to save time, sign up at the casino you're staying. It will be easier to cash out when the game is over.
There's so much to do in Las Vegas and there's no bigger waste of time like standing in an hour-long line to place a wager. You're in Vegas for a good time, not a long time. Use your time wisely.
Where To Watch The Super Bowl
Watching the Super Bowl in Las Vegas is fairly simple. The following statements are useful references for the Super Bowl and are examples for just about everything in Las Vegas:
Vegas Strip: Great location and more expensive.
Off-Strip and Downtown Las Vegas: Less expensive.
The majority of visitors in Las Vegas stay at a casino-resort on the Vegas Strip. The average visit to Las Vegas is just over two days. In general, the typical visitor in Las Vegas will stay and play in the same area. This makes the demand for everything greater on the Vegas Strip. High demand usually means high prices.
These are generalities and not everyone is the same. That said, if someone is staying at the South Point, for example, they're more likely to watch and wager on the game there.
Similarly, someone staying on the Vegas Strip will likely stay in that area since travel time away might be too much. That's cool, there's something for everyone.
Sportsbooks
There is no better place to watch the Super Bowl than in a Las Vegas sportsbook. There's really nothing like a massive crowd roaring with every play.
Most sportsbooks around Las Vegas still offer general admission seating. However, many sportsbooks on the Vegas Strip charge to reserve a seat. For example, most Caesars properties charge to reserve a seat in its sportsbook.
Caesars Palace even adds seats behind the bar in the walkway near Omnia for more than $100 per chair. The seats inside the sportsbooks are more expensive. All will sell out for the Super Bowl. This might sound silly but there are so many guests at the hotel and there are enough people who want to watch the game in a social environment without traveling.
Unrelated to anything, Caesars is the only casino company allowed to use the term "Super Bowl." The national casino operator is the first-ever casino partner of the NFL.
Sportsbooks away from the Vegas Strip will be crowded but seating is usually free. The catch is that seating is General Admission and seats are first come, first served. You'll typically have to arrive a couple hours before the game to find an open seat.
Obviously, any food or drink will be extra. The price is right for seats but time is money. There are more than a few people that would prefer to pay to guarantee a seat in a sportsbook to watch the Super Bowl than sit around waiting for a couple of hours.
Some sportsbooks like The Mirage and Westgate offer both free and reserved seats in the sportsbook. This is a fair combination and caters to all fans. If all casinos had huge sportsbooks they could do the same. Unfortunately, not every sportsbook has space.
Paid Watch Parties
Just about every bar and restaurant in a casino has a Big Game watch party. There are even local bars and strip clubs that have watch parties for the Super Bowl. Most, if not all, of these parties, come with a cost as they offer a guaranteed seat to watch the game in addition to food and drink. Some are better than others and you typically get what you pay for.
Watch Parties can be a fun time because of the large crowds. However, going to a ballroom to watch the game can be done anywhere. Look for some unique options that you'll only find in Las Vegas. The Hyper X esports Arena at Luxor and Brooklyn Bowl at The Linq are unique locations to watch the Super Bowl in Las Vegas.
Free Watch Parties
Free watch parties are mostly offered downtown and off-strip. These parties are free to enter but don't include food or drink. Seating is usually general admission so it's first come, first served. These are great options for anyone that's looking to save a few bucks. Like sportsbooks, you'll have to arrive early to get a seat. There are some locations that will reserve a seat for a small fee.
Since there is no charge to enter these are typically ballroom style watch parties. The Downtown Las Vegas Events Center (across from The D) has a unique free/reserved seating party. The Downtown Watch Zone is outside and there's nothing else like this available.
VIP Watch Parties
VIP watch parties are closed to the public but available to high rollers and some high tier players club members. These parties are fantastic because they're free and include food, beverage, and sometimes appearances from athletes.
If you didn't receive an invite, reach out to a host where you spend the most time and money to see if you can get a ticket.
Suite Parties
This is unique to the Super Bowl since it's only one game. Anyone can rent a massive suite and buy food and booze. You can find snacks and drinks at any CVS or Walgreens on the Vegas Strip. Food can be ordered from restaurants inside the casino or from an app like UberEats or Postmates.
Splitting the cost between people might be the only way you can enjoy a weekend in one of the nicest suites in Las Vegas. The Venetian and Cosmopolitan have some great suite options. If you're just looking for a large room for a lot of people check out suites and Rio or Palms Place.