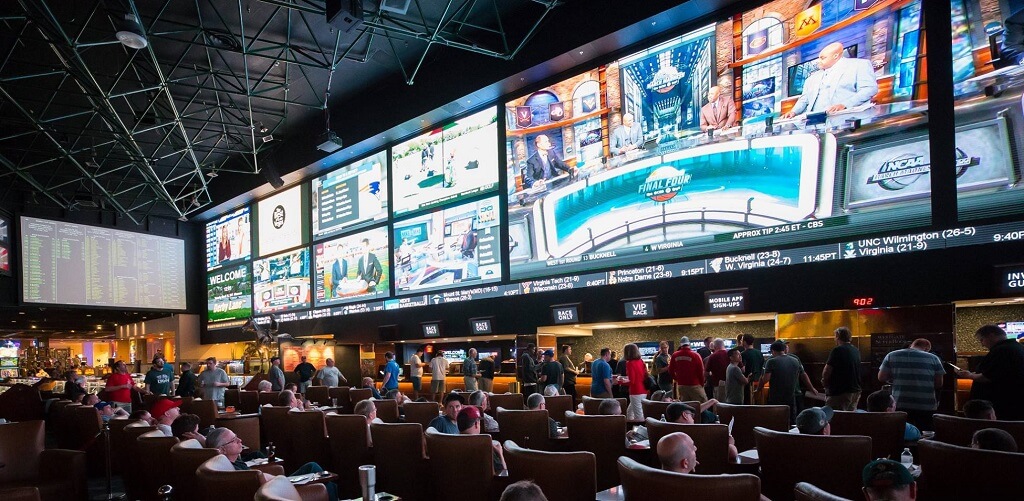 The first weekend of March Madness is one of the most fun times to be in Las Vegas. In addition to wall-to-wall college hoops games to watch and wager on it's also Spring Break for many colleges. The temperatures may only in the 70's and 80's but it's still warm enough to party outdoors. Many dayclubs are already open if you need some fresh air.
March 21-24 will be the best kind of chaos in Las Vegas. You probably know that every single sportsbook will have huge crowds. Betting on the games and watching the games aren't as easy as just rolling up a few minutes before tipoff.
Use promo code SGP to sign up for DraftKings' $64,000 March Madness Bracket Challenge  
The crowds continue outside of the sportsbook. Shows will sell out, pool parties are banging, and the best restaurants won't have last minute reservations. The first weekend of March Madness is a unique and amazing weekend to be in Las Vegas. Preparation is the key to having the most fun.
Let's start the March Madness guide with the most important thing – gambling!
Betting at March Madness
The first weekend of March Madness is an animal unlike any other. There are 16 games on Thursday and Friday and another eight games on Saturday and Sunday. There's so much action and there are always lines to bet. Betting on the games isn't as simple as most days.
March Madness brings a lot of people betting for the first time. They often don't know how to place a bet and aren't always sober. The lack of knowledge of the bettors makes the lines in some casinos move very slowly.
Know the rotation number of your bet(s), how much you want to wager, type of bet and double check your ticket. It's a long weekend for ticket writers too. Feel free to drop a tip for the writers. You might even get an extra drink ticket or two.
Set up a mobile wagering account before the games begin. Betting with an app allows you to skip the lines bet from anywhere. Bets can be placed from anywhere inside the state of Nevada. Bet from a casino, a watch party, poolside cabana, or even hiking at Red Rock Canyon.
The Westgate and South Point usually have the sharpest lines. However, their location might not be conducive to setting up an account and removing funds after winning. Depending on your betting preferences it might not be a good use of time to travel to and from these casinos to set up an account.
If cashing out is a big deal it might make sense to set up an account at your home hotel. Sometimes convenience is more important than the best line. If by chance you run out of funds many of the sportsbook apps will allow you to fund again directly from your phone. Check the app to see if that's available.
I posted iOs and Android links for all Las Vegas sports betting apps on my blog.
Prepare for the Madness
The first weekend of March Madness in Las Vegas is no joke. A little planning goes a long way in having the best time. Downloading an app and funding a mobile app before the games is a good start but there's so much more to prepare for.
Bring a mobile charger or USB cord and look for outlets. Some bartops and slot machines have USB outlets for charging but most walls in sportsbooks, bars, and restaurants have outlets to charge a mobile device. If you're wagering from your phone there's a good chance you'll need a charge during the day.
Scout the casino for alternative restrooms. Seriously, March Madness is amateur hour. The closest restroom to the sportsbook will have hordes of bros – many of whom will miss the urinal. There's usually a fairly close option that only 30 seconds away with no lines and less urine on the floor.
Drinking, dining, and…marijuana
The basketball action usually slows down towards the end of happy hour and in time for dinner time in Las Vegas. If you want to splurge for a nice dinner make sure you have a reservation – especially at a steakhouse. Dudes love steak and the first weekend of March Madness brings out lots of guys.
The best restaurants are always packed. You can always cancel the reservation if the day doesn't go well. Download the open table app to make reservations. I've been in a sportsbook and saw reservations for a restaurant in the casino were available. In the time it took my friends and me to gather our stuff and walk over to the restaurant, there wasn't a single table available. Make a reservation whenever you can.
Las Vegas has so many Happy Hour deals. These bars and restaurants are great options if you're just looking for a quick bite and drink while watching the late games. Here's a solid list of some Las Vegas Happy Hour deals.
If you're looking for the best bang for your booze buck, head out to one of the drug stores on the Vegas Strip or around town. Prices for beer and spirits at CVS and Walgreens are much less expensive than casino bars. You can also grab some snacks in case you get the munchies.
Recreational marijuana is legal to buy in Las Vegas. However, you cannot legally consume (smoking or edible) marijuana in public. The only marijuana store on the Vegas Strip, Essence, told me that 80% of their sales are edibles. That's the opposite of their off-strip locations that sell 20% edibles. Why? Edibles are easier to discreetly consume.
Here's a useful article about legal marijuana in Las Vegas I wrote for Covers.com that explains everything. Word of caution – edibles take time to make an impact on the body. It can take two hours to feel the impact of an edible so don't get crazy if you don't feel anything right away. Weedmaps is a great resource if to find a dispensary.
Watch March Madness games
Again, this is not a normal weekend to watch and wager on sports. I'm asked about the best way to enjoy the games. That's a personal preference. I did my time on the Vegas Strip and it was amazing. Reserved seats at parties are great but so is watching the game at a casino bar while drinking too much vodka and playing video poker.
Over the years I've changed and my preferences have changed. I'm much more low key and hang out close to a sportsbook and wait for the roars to draw me in. Here are some different ways to watch games during the first weekend of March Madness.
Use promo code SGP to sign up for DraftKings' $64,000 March Madness Bracket Challenge  
Free in Sportsbooks
The sportsbooks during the first weekend of March Madness are electric. The first game of the day will tip off around 9 am on Thursday and Friday. You should be able to find a free seat in most sportsbooks on the Vegas Strip (and the Westgate) or smaller off strip casinos an hour or two before tip.
You can find free seats in large locals sportsbooks like Red Rock and Green Valley Ranch less than an hour before the games start. Many locals use mobile apps and tend to get to the casino a little later than tourists on the Vegas Strip.
It will be nearly impossible to find more than a single seat in the sportsbooks once the games begin. The betting action, passion for college hoops and boozy buzz make for an amazing environment in the sportsbooks.
Seriously, there's no better experience than a buzzer beater in the sportsbook if you don't mind hanging out early or standing and watching the later games.
Reserving sportsbook seats
Some sportsbooks will reserve a seat each day in the sportsbook…for a price. Most Caesars Entertainment sportsbooks sell reserved seating. All seats at Caesars Palace and The Linq are reserved but other Caesars properties might have a mix of free and reserved seating. The Cosmopolitan charges for all seats in the sportsbook and adjoining bar as well.
The Mirage, Westgate, and Wynn offer a limited number of reserved seats. Most other sportsbooks are first come first served. Space is limited and prices vary on casino and day. Make sure you have reservations in advance. For example, most seats are already sold out at Caesars Palace.
Paid Watch Parties
Watch parties are great because they usually include food, booze, and most importantly a seat to watch the games. Just about every casino has multiple watch parties. Some viewing parties take place inside bars and restaurants while others are in ballrooms and theaters.
The parties on the Mezzanine at Planet Hollywood and Beaumont Ballroom at Cosmopolitan are great because they offer other entertainment in addition to the games. Both parties usually have casino games like blackjack. The Cosmopolitan party usually has a regulation hoop to add to the fun.
Paid watch parties can range in price anywhere from $75 per day to $400 depending on the location. The best parties might sell out, so try to make reservations in advance.
Mixed Watch Parties
The Downtown Las Vegas Events Center (across from The D valet) is an outdoor party with free general admission, reserved seating and "Man Caves." This is a great combination and a unique outdoor location to watch the games. While general admission is free, the reserved sections will cost money.
The Westgate opens the International Ballroom for March Madness and it will be packed. They have a limited number of reserved seats if you don't want to arrive well before the games start to wait in line for a free seat. This is a great environment for the games since you're around some of the most passionate sports bettors.
Prices vary depending on location and start at $25 per person for reservations at the Westgate theater.
Free Watch Parties
Mixed watch parties are a great option to reserve seats for larger groups at lower prices. Free watch parties are great for groups that plan on spending most of the day sitting in the same place watching the games. These are no frills parties with general admission seats. The casinos charge for food and drinks.
The viewing party at the South Point is great because they do this for every big event including the Kentucky Derby. There are plenty of betting stations, mobile bars, and cheap food.
Other Places To Watch
Sapphire (The world's largest gentleman's club) has solid watch party deals. They have a separate party room so the strippers don't get in the way of the action. You can always walk into the main room if you need a distraction from the games.
Sitting around in one place isn't for everyone. Casino hopping is a great way for two or three people to watch the games. Just about every TV will have the games on. Play blackjack or video poker and keep an eye on the games. Remember you'll have to step away from the table to place a bet on a mobile device.
Topgolf is a very different location to watch March Madness. In addition to massive screens at the end of the driving range, they have hundreds of TVs around the venue.
Mobile apps make every bar, restaurant, club or pool a sportsbook. Rent a cabana at one of the dayclubs and turn the TV to a particular game that might have some action.
The March Madness In Las Vegas group on Facebook is a great resource for new visitors. Here's a big list of March Madness parties if you're still looking for a place to watch the games.
Use promo code SGP to sign up for DraftKings' $64,000 March Madness Bracket Challenge