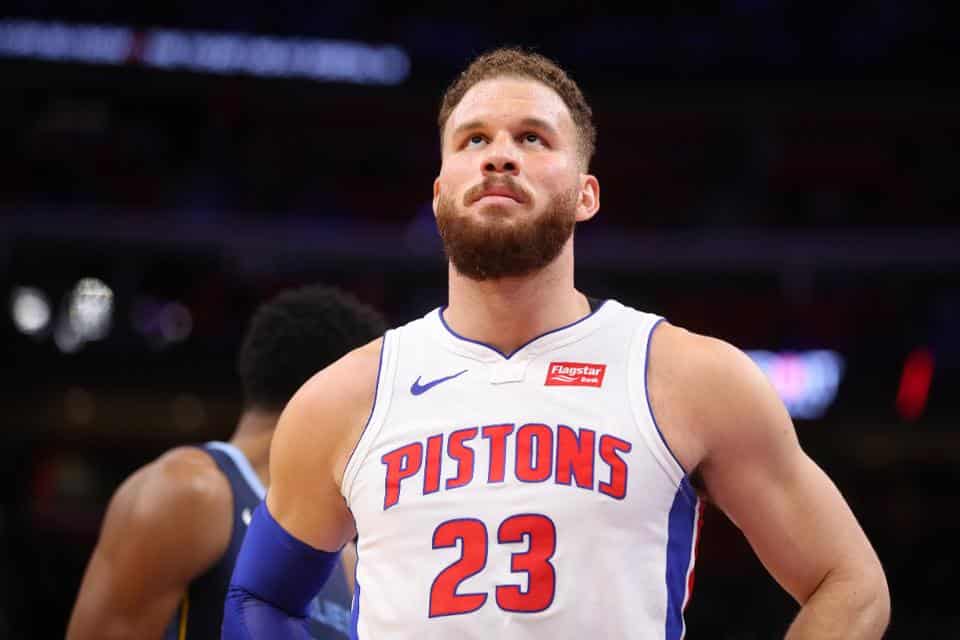 It's Friday night in the NBA and we're back with our favorite props for the primetime slate.
Season Record: 2-4.
Blake Griffin over 18.5 Points
I really like this spot for Blake here. After missing the first 10 games of the season due to injury, Blake came back at home against Minnesota on Monday night. He got his feet wet in that game and played pretty well, putting up 19 points (over this total) in just 24 minutes as the Pistons eased him back into playing time. Then, he skipped the second night of their back-to-back and now comes to play a Charlotte team after getting a full three days of rest.
Blake looked pretty good in his season opener and is now a full-go here on Friday night, not even listed on the injury report. He should get closer to a normal 30 minutes, which bodes well scoring-wise for a guy who averaged 25 per game in this offense last year.
The matchup also looks right, with Griffin getting undersized rookie PJ Washington as veteran Cody Zeller will be occupied with Drummond. This Charlotte team has given up 115 points per game in their last five games and the Pistons (4-8) need to take out their anger on somebody. In a game where I expect the Pistons to get over 100 easily, Blake gets going here and goes for 20+ in his first full-health spot of the year.
Ja Morant over 15.5 Points
We got burned by Morant a week ago but I have no choice but to go back to the well here with the prop line moved down a full two points. Morant has gone over this total in every home game except for his first one of the year, and I see no reason this number is set so low except for two aberrational shooting performances on the road (where he has admittedly struggled). Now, Morant comes home after the first game-winner of his career and should be on center-stage as Memphis great Mike Conley comes back into town. If you've followed Morant at all these past couple of years, you know he's going to take it straight into Conley's chest.
While the Jazz defense is great, this is a team that has given up 27 to Kyrie and 33 to DLo in their last two games. While Morant isn't in the same class as those guys, he's easily in the same stratosphere. 15.5 feels super low here and I expect Morant to push over 20 points tonight. I don't hate over 20.5 points and assists at all, either.
Domantas Sabonis over 33.5 Points + Rebounds
Sabonis has a super-juicy matchup tonight going into Houston against a banged-up Rockets frontcourt. Capela is out with a concussion, leaving Tyson Chandler (really old) and Isaiah Hartenstein (really young) to man the middle. Sabonis is one of the most physical bigs in the NBA and should absolutely feast inside against a Rockets team that is not only vulnerable to motivational letdowns but also just came off their biggest spot of the year, a home-win against the Clippers that was surely celebrated (see Houston strip club ratings for more info).
Sabonis has had a fantastic start to the year and has gone crazy with Myles Turner sidelined due to an ankle. Turner has already been ruled out for tonight, yet the Pacers also haven't played since Tuesday, giving them the full two days for rest. That should allow Sabonis to go off around 35 minutes here tonight. The best part about this spot is we should see some scoring efficiency regression, as Sabonis is averaging close to 18 a game since the Turner injury despite shooting below 50% from the floor in those spots. This is a great spot here and Sabonis will dominate inside.