After a nice slate of Thursday and Friday games, we preview this three-day-weekend's best games in order of what you should watch and enjoy while partaking in some online sports betting.
Virginia @ Pittsburgh
A huge conference game to start the season? Both these teams are legit contenders in the Coastal Division so this one has huge implications.
Auburn vs Oregon (Arlington, TX)
A neutral site game between two power 5 conferences. I'm not ready to buy into Oregon until I actually see it. Auburn is breaking in a new QB in Beau Nix but the rest of their team is completely loaded. Oregon QB Justin Herbert turned down the NFL for another year at Oregon behind one of the best offensive lines in the country. 
Northwestern @ Stanford
Two of the most overachieving programs the past 5 or 6 years. Northwestern beat Stanford a few years back when Stanford came into Evanston and now the Cardinals are looking to return the favor. Stanford's QB KJ Costello is one of the best QB's in the nation and is on the NFL radar. While Northwestern has former 5 star Clemson recruit Hunter Johnson and Trent Green's son TJ Green fighting for playing time. 
Virginia Tech @ Boston College
Another huge conference game to start the season. Virginia Tech is a contender in the Coastal and Boston College is looking to make a run in the Atlantic. The Hokies legendary Defensive Coordinator Bud Foster has announced it's his last season after a 30 plus year run at Virginia Tech. Boston College returns their star RB AJ Dillon. 
Fresno State @ USC
The Trojans begin the air raid era. During the offseason the trojans brought in Graham Harrell as OC and well he's going to need to deliver right away because Clay Helton can't afford a loss here. Jeff Tedford came to Fresno two years ago and has won double-digit games each year including a Mountain West Championship last year. 
Boise State @ Florida State
This game was originally supposed to be played in Jacksonville but the hurricane projection changed the location and the time of this game. The Broncos will now play the Seminoles in Tallahassee at 9am PST. Boise State breaks in a brand new freshman QB. Florida State just named James Blackmon the starting QB as the Kendall Briles offense begins it's era. This is a must win for Florida State. 
Houston @ Oklahoma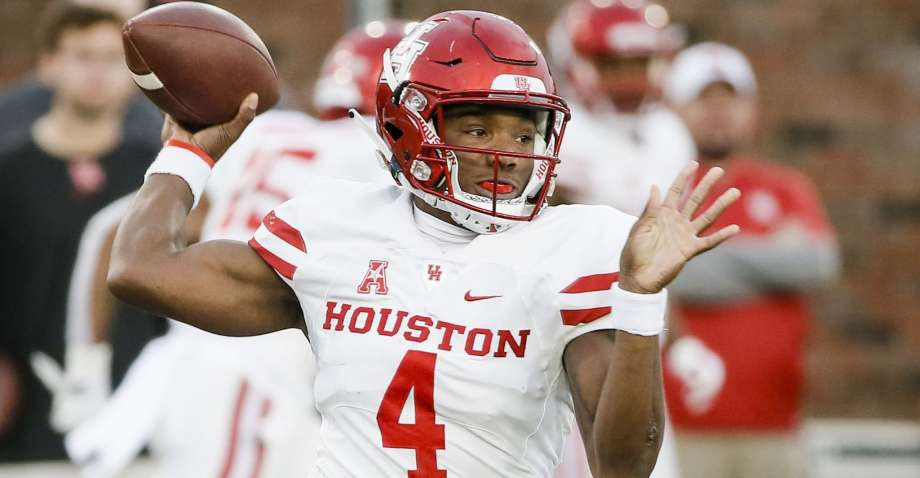 Two former Mike Leach assistants going head to head in the only Sunday college football game on the schedule. Houston beat Baker Mayfield and Oklahoma just a few seasons ago and now its a chance at revenge. All the eyes will be on former Alabama QB Jalen Hurts but perhaps the better QB may be on the Houston sidelines with D'Eriq King who had 50 touchdowns last year. This one should be fun. 
Ole Miss @ Memphis
Ole Miss is breaking in a new offense and a new defense. Memphis is bringing back star QB Brady White and his head coach Mike Norvell. Norvell has had the Memphis offense rolling since the first day he arrived in Memphis. These two teams are not that far away in distance so it should be chippy. 
South Carolina vs North Carolina
Will Muschamp will be coaching for his life this season and well North Carolina hired a head coach in Mack Brown that knows Muschamp all to well after all Brown was Muschamps boss at Texas for a few years. 
Toledo @ Kentucky
Kentucky won 10 games last year but Benny Snell and Josh Allen and others are long gone. Can they sustain their success over a feisty Toledo coached team. 
East Carolina @ NC State
NC State replaces a ton of players on both sides of the ball but perhaps the biggest loss was losing offensive coordinator Eliah Drinkwitz. East Carolina is breaking in brand new head coach Mike Houston after an absolute awful run with Scottie Montgomery. 
Georgia @ Vanderbilt
Look, I know it's Georgia and Vandy but cheers to another conference game to starting our season. Derek Mason is doing a great job in Nashville but do they stand any chance against a Georgia team that returns a killer unit at almost every position. 
Louisiana Tech @ Texas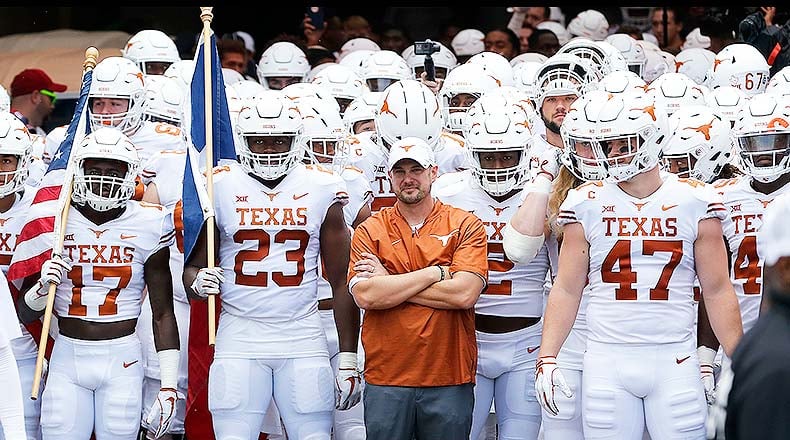 Texas has lost its season opener both years he's been in Austin so tread lightly Tom Herman. Skip Holtz brings in a Louisiana Tech squad that can play up to the big boys. 
Missouri @ Wyoming
Woah. The SEC playing an actual away game against a mid major. This deserves a standing ovation. Missouri brings in former Clemson QB Kelly Bryant to fill the void Drew Lock left. Wyoming is coming off a 6-6 season where they got hot towards the end of the year. 
Syracuse @ Liberty
For the first time since 1998 Syracuse begins the season in the preseason top 25. We don't believe in preseason rankings here at SGP but hey Dino Babers did win 10 games last year and that I will say was quite an achievement. Liberty begins the Hugh Freeze era and they welcome the Orange to Virginia. Keep an eye out for Liberty QB Buckshot Calvert he's easily my favorite name in college football.
James Madison @ West Virginia
Both these teams are breaking in a new head coach. WVU is breaking in a brand new system that is much different that what they were used to running. JMU is ranked #2 on the FCS level. It's Morgantown so the place should still be rocking. 
Akron @ Illinois
Lovie Smith welcomes like a million grad transfers to the team this year so this could really good or really bad. The biggest name of the transfers is most likely former Michigan big time recruit in quarterback Brandon Peters. Akron is breaking in a new coach but let's not forget the Zips did knock off Northwestern in Evanston just a year ago. 
Notre Dame @ Louisville
Ian Book and most the O line is back for the Irish. Louisville is in the process of rebuilding after the Bobby Petrino era. Scott Satterfield is the new HC in Louisville and he has quite the track record after a great run at Appalachian State. 
Duke vs Alabama (Atlanta, GA)
Not sure why this game was ever scheduled. Not sure why it's being played in Atlanta. Regardless Alabama should roll in this one. Not only did Duke lose a ton last year they just aren't even close to the same talent level as the Crimson Tide. 
Indiana State @ Kansas
The Les Miles era begins in Lawrence, Kansas and he better start thinking about his because Indiana State is a good FCS team that is certainly capable of giving the Jayhawks a big fat L. The process should take time but I'm curious to watch Miles and his system. 
Eastern Michigan @ Coastal Carolina
Don't look now but in my opinion Eastern Michigan has one of the most underrated coaches in America with Chris Creighton. Coastal Carolina is replacing a ton of players and a head coach but the weather should be nice and hot. Eastern Michigan is a sleeper pick for me in the MAC this year. 
Mississippi State vs Louisiana Lafayette (New Orleans, LA)
Interesting game here in the SEC. They aren't playing a true away game but hell I'm just excited to see them somewhat play a mid major not at home. I expect Miss State will win this one big with Tommy Stevens coming over at QB. Louisiana Lafayette is coming off a nice 7 win season but I have my doubts on them being able to stay in this one. 
Indiana vs Ball State (Indianapolis, IN)
Kudos to Indiana for playing a mid major in a neutral site much like Miss State and LA Lafayette. Ball State is replacing a ton and their coach is on the hot seat. Indiana needs this win if they want any shot at making a bowl. The Hoosiers shocked some people when Tom Allen named Michael Penix the starting QB. 
Nicholls @ Kansas State
Chris Klieman begins his era in Manhattan, Kansas and it's not easy taking over for a legend like Bill Snyder. Klieman better have some things in order because Nicholls is not a bad FCS team at all. Nicholls ended the season in the top 15 of the FCS and has won 17 games the past two seasons. 
Georgia Southern @ LSU
If only this game were being played in the middle of the season. Yes, LSU is way more talented than Georgia Southern but as Georgia and Florida found out in the past decade the Georgia Southern triple option can be a nightmare to play in the middle of the season.  LSU played this one well as they had a month to prepare for the triple option. 
Northern Iowa @ Iowa State
Iowa State and Matt Campbell sure are getting some hype this year and with great reason. Campbell returns Brock Purdy at QB but they need to be ready in this one because Northern Iowa has been a quality FCS team for like 20 years. 
Weber State @ San Diego State
Our gals open up with a tough one in Weber State. Weber State was one of the last 4 FCS teams in the playoffs a season ago and well they should be really good this year too. San Diego State returns star RB Juwon Washington but they did lose senior QB Christian Chapman. Rocky Long better not overlook this one. 
Miami (OH) @ Iowa
Kirk Ferentz is back for yet another season with the Hawkeyes. He's the longest tenured coach in the nation. This year is Iowa team is certainly flying under the radar when you actually analyze the roster. Miami (OH) is coming off a decent season but head coach Chuck Martin can't just be happy with going .500. 
Georgia State @ Tennessee
The Panthers of Georgia State were bad last year. Really bad after head coach Shawn Elliott had a decent first year in Atlanta. Tennessee is getting a ton of preseason hype. That should most likely continue after Georgia State comes to Knoxville. 
Eastern Washington @ Washington
EW comes to Seattle. Former Georgia QB Jacob Eason gets the start against one of the best FCS teams in the country. Chris Peterson doesn't lose games like this so maybe just tune in to see how Eason is slinging the rock around. 
SMU @ Arkansas State
This is a nice mid major matchup that should be a fun one. Sure, it would of been better had Arkansas State head coach Blake Anderson not had to take a leave of absence because his wife's ongoing battle with cancer. 
Sam Houston State @ New Mexico
Bob Davie and the New Mexico triple option better take care of business against a solid FCS team or Davie will be gone. Davie is already on the hot seat and well they are looking for reasons to fire the man. 
Illinois State @ Northern Illinois
This could be a fun one. Northern Illinois is breaking in a new head coach and well Illinois State did beat FBS Colorado State last year. Dekalb is a tough place to play but if anyone has a chip on their shoulders perhaps it's the players at Illinois State. 
Middle Tennessee @ Michigan
Josh Gaddis is the most talked about name in Ann Arbor this past year and with great reason. Jim Harbaugh finally gave up on his old offense and Gaddis brings in a spread offense for the first time ever in the Harbaugh era at any of his stops. Middle Tennessee was a good team last year as they played for the Con USA Championship, but they also took a big hit as many of the key players from last years team graduated. 
UC Davis @ California
Justin Wilcox is doing a great job in Berkeley and I'm excited to watch this years Cal team. Dan Hawkins the former Boise State and Colorado coach is doing a great job at UC Davis so don't overlook this one Coach Wilcox.
Florida Atlantic @ Ohio State
Ryan Day sorta begins his era in Columbus. Lane Kiffin is still one of the most overrated coaches in America so well you know the rest. Buckeyes should roll big in this one. 
The best of the rest is below in order:
Grambling @ Louisiana Monroe
Incarnate Word @ UTSA
Montana State @ Texas Tech
Abilene Christian @ North Texas
New Mexico State @ Washington State
Alcorn State @ Southern Miss
Howard @ Maryland
Mike Locksley in game one against former Kansas State coach Ron Prince. Locksley has only 3 career wins at head coach and 30 some losses so he'll take anything he can get.
Colgate @ Air Force
Rhode Island @ Ohio
Houston Baptist @ UTEP
Monmouth @ Western Michigan
Campbell @ Troy
Southern Utah @ UNLV
Keep an eye on UNLV QB Armani Rodgers who's returning from a injury that kept the rebels out of bowl season last year. 
Stephen F. Austin @ Baylor
East Tennessee State @ Appalachian State
Norfolk State @ Old Dominion
Bucknell @ Temple
Idaho @ Penn State
Portland State @ Arkansas
VMI @ Marshall
The last line I saw had Marshall by 39. Don't think I need to say more.
Arkansas Pine Bluff @ TCU
TCU is 52 point favorite. Stay away from this one.