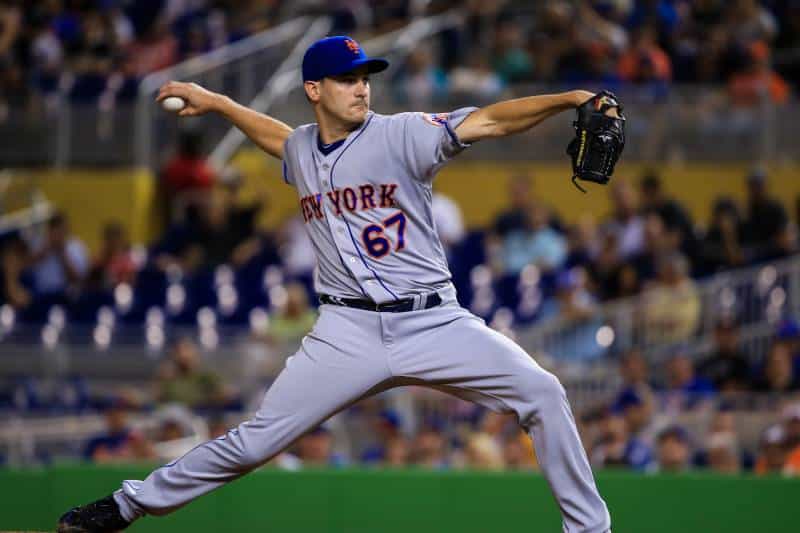 Risers
Seth Lugo, RP, NYM
Lugo picked up his third save of the season on Saturday as the Mets appear to employing the dreaded closer committee with Edwin Diaz. Diaz has struggled greatly this year (5.44 ERA, 4.49 FIP, 75 Ks in 46 IP) but continues to get save opportunities because of his high salary and the fact that the Mets gave up so much to trade for him last year.
Lugo is clearly the better pitcher this year (3.36 ERA, 3.10 FIP, 76 Ks in 59 IP) and has earned the confidence of Mets' manager Mickey Callaway of late, notching all of his three saves in the last three weeks. The Mets want Diaz to be the closer but it's getting harder and harder to continue to do so with Lugo's impressive numbers.
Lugo's ownership numbers are on the low side: 39% in CBS leagues, 37% in Yahoo, 15% in ESPN. While other owners wait for him to be named the official closer, now is the time to pounce on him. The ceiling is high with Lugo as he could easily be a top-10 closer if given the opportunity. Lugo will help your ratios and deliver a lot of Ks while contributing saves as well.
J.D. Davis, 3B/OF, NYM
Davis has been a big part of the Mets' strong second-half performance. Since the clock turned to August, Davis has a .365 batting average, four home runs, and 11 RBIs.
On the season Davis is batting .310 with 14 bombs. Davis is not a power hitter but he has an excellent approach at the plate, registering a BB% of 8.8% versus a K% of 20.3%. He will help fortify your average while contributing in the counting stats as well.
There is a bit of risk with Davis as he currently has a minor calf injury that caused him to miss a few games. But this is an upside play to have a versatile bat to deploy at third base or in the outfield as we hit the final weeks of the fantasy baseball regular season.
Fallers
D.J. LeMahieu, 1B/2B/3B, NYY
The super utility man has made the most of his playing time for the Yankees this season, batting .338 with 20 home runs and four stolen bases. If you need further evidence the ball is juiced. LeMahieu has already bested his previous career high in home runs of 15 that he achieved playing half his games at Coors Field. So now here comes the part where I explain why I'm selling LeMahieu in my leagues.
LeMahieu has a BABIP of .360, a pretty high number considering his Hard% is only 39.9%. He's also hitting the ball on the ground way too much with a GB% of 48.1%. His Fly Ball% is quite low (28.1%) and his HR/FB% is the on the high end at 18.2%. While it's not quite the herculean mark of 55% of the top waiver pick up off last week, Aristides Aquino, it's definitely going to fall going forward.
It's time to sell LeMahieu while his value is at its highest. You should be able to get a solid starting pitcher back for him so kick the tires in your league and see what you can get.
If you're looking for traditional ATS action you can go here for MLB Picks.